raygun
Chorizo



Since: 24.7.02
From: winnipeg

Since last post: 5500 days
Last activity: 3045 days

#1 Posted on | Instant Rating: 4.00
I thought I'd throw this thread out there: What is your dream line? I'm talking your favourite player at each position. It doesn't have to be a grouping of the best at each position, just of your personal faves.

Here's mine:

C Eric Lindros
I might get some serious flack for this, but I've been a Big E mark since his junior days. Many feel he was a big time jerkoff for listening to his parents and refusing to play for Quebec, but I was elated to see him join the Flyers and help turn the team around in the early 90's. He is (was?) the prototypical power forward, and I admired his unselfish play in the 1998 and 2002 Olympics. He has 817 points in 678 games.

RW Rick Tocchet
My favourite player of all time, Tocchet is truly one of the best and most underrated two-way forwards of the last 20 years. He combined grit with a good touch around the net. He netted 952 points in 1144 games. He also racked up 2972 penalty minutes.

LW Mats Naslund
Don Cherry used to make fun of Naslund back in the 80's, but I loved watching him play. At 5'7 and 160 pounds, he played with a lot of heart and compiled 634 points in 651 games.

D Randy Carlyle
Carlyle is a former Winnipeg Jet, which is probably why he makes it on this list. The Norris Trophy winner in 1981, Carlyle played in 4 All Star Games and had a ridiculous hairstyle. His career stats include 647 points in 1055 games.

D Eric Brewer
Brewer's goal against Sweden in the first game of the 2002 Olympic tournament opened my eyes to this d man's talent, and I've been a fan ever since. Big, quick and skilled, Brewer should be a force on the blue line for years to come. He has 113 points in 401 games.

G Pelle Lindbergh
Lindbergh was a rising star in net when his life was cut short in a auto accident. In 1985, I was in awe of his presence in the crease, though the Flyers were ultimately unable to defeat my most hated team, the Oilers, in the Stanley Cup Final. And while my hatred for the Oil has subsided since the departure of the Winnipeg Jets from the NHL, Lindbergh remains my favourite 'tender of all time. In 157, he posted 87 wins, 15 shutouts and had a 3.30 GAA.



---

[GP] 1144 [G] 440 [A] 512 [PTS] 952 [PIM] 2974
Promote this thread!
Dave Gagnon
Mettwurst



Since: 25.7.03
From: Rimouski

Since last post: 6171 days
Last activity: 6168 days

#2 Posted on | Instant Rating: 1.79
C: Wayne Gretzky. My favorite player ever. I am a big Habs fan but I felt bad when they defeated Gretzky's LA Kings in the '93 finals. And he is the best hockey player ever so...

RW: Mark Recchi. A very underrated player. Loved him when he was in Montreal. One of the few Flyers that I actually like. Always work hard, rarely get injured.

LW: Owen Nolan. I don't care if he is a LW or not, I wanted to include him in the list. It's a funny thing because I love Nolan but he played in two teams that I absolutely hate: the Toronto Maple Leafs and, of course, those damn Quebec Nordiques. A physical forward who knows how to score goals.

D: Scott Stevens. What a player. My favorite defenseman ever. He checks hard. He is a real captain. The New Jersey Devils are not the same without him.

D: Larry Robinson. Once again, a terrific defenseman. The Habs should retire his jersey soon. He was my pick for replacing Therrien as head coach but they picked Julien and things are working great.

G: Jose Theodore. Yeah yeah. Being a Habs fan, I should probably pick Patrick Roy but I never liked him. Of course, I loved the fact that he was the reason the Habs won their last two Stanley Cups but I don't like the guy. Theo is my favorite player in the entire league right now.

Coach: Scotty Bowman. Greatest hockey coach ever. Period.

(edited by Dave Gagnon on 30.3.04 2203)

---

Columnist and NWA TNA recapper at www.411mania.com . Check out the good stuff NOW!

Everything I say is a lie. Except that. And that. And that. And that. And that....And that.
fuelinjected
Banger



Since: 12.10.02
From: Canada

Since last post: 5730 days
Last activity: 5730 days

#3 Posted on | Instant Rating: 5.15
C Wayne Gretzky - Awe inspiring.

LW Cam Neely - The prototype for today's power forward. I loved watching Neely punish guys, fight, and make the pretty plays.

RW Brett Hull - Tremendous player, awesome pure goal scorer, and talks a lot of shit! More hockey players should follow his lead and not be afraid to ruffle some feathers and show their personality.

D Bobby Orr - I've watched a lot of Orr on video and he was the best. Probably even better then Gretzky but injuries ruined his longevity.

D Scott Stevens - Everything you could want a hockey player to be.

G Kirk McLean - Loved his stand-up style which he played for my Vancouver Canucks.
Took the team to the '94 Finals and robbed Robert Reichel on the greatest save ever. Patrick Roy would be a close #2 because I also worshipped him.

Coach - Roger Neilson - No explanation necessary.
StaggerLee
Scrapple



Since: 3.10.02
From: Right side of the tracks

Since last post: 458 days
Last activity: 458 days

#4 Posted on | Instant Rating: 3.97
I guess saying "1990 Penguins" isnt what you wanted, SO....

C- Mario Lemuiex. I always lose the argument, but I still insist he is better than Gretzky.

F- Bryan Trottier - Tons of Assists and goals. Isles and Pens Stanely Cup winner.

F- Brett Hull, Although I loathe him, his talent cannot be overlooked.

D- Al MacInnis - Played more minutes later in his career than kids half his age could, and has the most feared slapshot by anybody not named Iafreti (spelling?)

D- Darrius Kasparaitis - Possibly the most physical Russian ever to play. Played a hard game, and always was coming up with a big hit.

G- I was going to say Hasak, but he's too much of a pussy, so I will go with Patrick Roy. Hasak may have been a more dominant player in the regular season, but Roy was the most consistant, smart goalie around.


Coach, Scotty Bowman. NINE Stanley Cups, and only missed the playoffs TWICE (of course, that was with some TERRIBLE Buffalo teams) How did he only win Jack Adams award two time?

(edited by StaggerLee on 30.3.04 2321)

---

Thank you for your irrelevant opinion.
dMp
Knackwurst



Since: 4.1.02
From: The Hague, Netherlands (Europe)

Since last post: 211 days
Last activity: 13 hours

#5 Posted on | Instant Rating: 7.21
Center - Wayne Gretzky. Nuff said (backup: Mario, nuff said)

Leftwing: Paul Kariya (he's my favorite player)

Rightwing: Teemu Selanne (not the current version)

Defense: Brian Leetch, Scott Stevens

Goal: Martin Brodeur. (he is so good I have no choice but to hate him)

Or a FW line of Neely, Lindros, Hull..or..or..*argh!
This is kinda hard btw, I am leaving out some of the best players of the past and the present.
Forsberg, Richard, Bure, Howe, Orr, Roy, etc etc etc....

(edited by dMp on 31.3.04 1033)

---

*sigh* Why bother?
Net Hack Slasher
Banger



Since: 6.1.02
From: Outer reaches of your mind

Since last post: 6058 days
Last activity: 4478 days

#6 Posted on | Instant Rating: 6.50
C Wayne Gretzky - The greatest pure skill player I've ever seen.

LW Wendel Clark - It was really too bad his peak was during the horrible Leaf eras. He was amazing, one of the best wrist shots I've seen, had skill and can knock you out with his fists or with the body.

RW Theo Flurey - Loved the little guy play. He'd be a total pesk even at 5'6 I became a major fan of his. Those Calgary team of the early 90s were so much fun to watch. It's really unfortunate on how things seem to turn out for him at the end

D Scott Stevens - Lots of respect for him, big smashmouth defenseman.

D Al MacInnis - For a bit more of an offense punch, hardest slapshot in his era again another one from those fun Calgary teams of the early 90s

G Ron Hextall - I never was a huge goalie watcher. Hextall was a goalie I thought was kind of cool and he looked insane as well.

(edited by Net Hack Slasher on 31.3.04 0431)

---

smark/net attack wienerville advisory stays at BLUE alert - Guarded (With Benoit & Eddie being World & WWE champions you'd expect the alert to be Green but couldn't do it due to Trish heel turn & brands re-draft)- 3/16

Honors for Smartest thing ever written, 5th Horseman "When Victoria, Trish, Molly, and Lilian were in the ring.. I commented to my friends that all of the 4 ladies in the ring were hotter than the all 4 that are fighting over who is the hottest in the WWE"
haz
Landjager



Since: 2.1.02
From: Whitby, Ontario, Canada

Since last post: 2540 days
Last activity: 1204 days

#7 Posted on | Instant Rating: 7.00
C - Wayne Gretzky - The best there is, the best there ever will be. Not even a contest...

RW - Mike Bossy - pure scorer. With Gretzky at center, this guy would've scored 80 goals...

LW - Wendel Clark - Tough as nails, with the touch to match.

D - Bobby Orr - Greatest D man ever, one can only imagine what his career stats would've been if he had a normal set of knees...

D - Viacheslav Fetisov - Greatest Soviet defenseman ever and tough as nails. It was too bad that he did not get to play in the NHL for a greater part of his career.

G - Bernie Parent - The one and only. Lots of choices for Goalers. Fuhr, Roy, Billy Smith, Brodeur. Parent still stands out to me. In the 70's when teams actually scored goals, he had a GAA under 2.00...

Coach - For NHL coaches, I will take Bowman, he was the best. If I could, though, I would take Brian Kilrea, the best of the best.



---



----------
WHO'S NEXT?!!!
----------

----------Where the wild are strong, and the strong are the darkest ones, you're the Darkest One.----------

dunkndollaz
Banger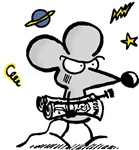 Since: 3.1.02
From: Northern NJ

Since last post: 673 days
Last activity: 129 days

#8 Posted on | Instant Rating: 6.55
C - The Great One

RW - Rod Gilbert - I played RW as a kid because I wanted to be him so badly

LW - Bobby Hull - every kid wanted a slapshot like his

D - Brad Park - My first house league jersey was a Rangers #2 - I never thought there would be another Rangers defenseman that I could like more until....

D - Brian Leetch - he is the only reason I am cheering for the Leafs to win the CUP this year.

G - Mike Richter - I remember seeing him play for the Colorado Rangers of the IHL right after the 1988 Winter Olympics and thinking "this kid is going to win the Rangers the CUP someday"

Coach - Herb Brooks - Lake Placid 1980


---

5 Time 5 Time 5 Time 5 Time 5 Time Wiener of the Day Runner-up
StaggerLee
Scrapple



Since: 3.10.02
From: Right side of the tracks

Since last post: 458 days
Last activity: 458 days

#9 Posted on | Instant Rating: 3.97
IF we were including Russians who never played in the NHL, you cant go wrong with Valery Kharlamov. Best skater ever, EVER. SO talented he was allegedly offered a million dollar contract after the 72 Summit Series with Canada.


---

Thank you for your irrelevant opinion.
JayJayDean
Scrapple



Since: 2.1.02
From: Seattle, WA

Since last post: 2009 days
Last activity: 1587 days

#10 Posted on | Instant Rating: 6.99
C - Gretzky
RW - Hull
LW - Neely
D - Ray Bourque (what's wrong with you people?!)
D - Lidstrom
G - Hasek


---

"To get ass, you've got to bring ass." -- Roy Jones Jr.

"Your input has been noted.
I hope you don't take it personally if I disregard it." -- Guru Zim

"Speak English or face admin retribution." -- CRZ
Von Maestro
Boudin rouge



Since: 6.1.04
From: New York

Since last post: 1630 days
Last activity: 1203 days

#11 Posted on | Instant Rating: 4.48
Originally posted by JayJayDean

---

RW - Hull

---


Which Hull?


Originally posted by JayJayDean

---

D - Ray Bourque (what's wrong with you people?!)

---


Forget Bourque, I can't believe no one's mentioned Coffey yet?!?

(edited by Von Maestro on 31.3.04 0949)
canucklover
Pickled pork



Since: 16.7.02
From: Vancouver, BC

Since last post: 5926 days
Last activity: 5544 days

#12 Posted on | Instant Rating: 4.74
C- Gretzky (the Great One, 'nuff said)
RW- Mike Bossy (the best pure goal scorer I've ever seen)
LW- Cam Neely (the best player the Canucks ever traded away, adds toughness to my top line)
D- Borje Salming (so tough and talented that Tiger Williams made him an honourary Canadian)
D- Ray Bourque (class and excellence in everything he did)
G- Martin Brodeur (not as flashy as Hasek or Roy, but every bit as good)

My alternates would be Lemieux, Lafleur, Hull, Chelios, Robinson, and Fuhr

(edited by canucklover on 31.3.04 0858)

---

"...Don't the sun look angry through the trees? Don't the trees look like crucified thieves?"
--Warren Zevon, Desperadoes Under the Eaves
Reverend J Shaft
Toulouse



Since: 25.6.03
From: Home of The Big House

Since last post: 462 days
Last activity: 168 days

#13 Posted on | Instant Rating: 2.35
C Trevor Linden
Just my favorite player ever. Big, tough, nice guy. Was a great leader while he had the C in Vancouver and almost never bitched (even after Messier came in, stole the C, and the team went to pot).

RW Brett Hull
One of the only guys with an ACTUAL on-camera personality in the whole NHL

LW Cam Neely
Might've been the best LW of all-time if injuries hadn't limited him. Plus, Seabass and those ESPN News commercials were hilarious.

D Ray Bourque
Everything's been said.

D Nicklas Lidstrom
Always seems to be the most consistent Red Wing.

G Grant Fuhr
Loved him on the Oilers and then he went on to have probably his best statistical years with the Blues in the mid to late 90s.

Of course, my pick of the BEST players would be completely different.




---

Where the population of Ann Arbor doubles every home football Saturday.


THOSE WHO STAY WILL BE CHAMPIONS- GO BLUE!!
raygun
Chorizo



Since: 24.7.02
From: winnipeg

Since last post: 5500 days
Last activity: 3045 days

#14 Posted on | Instant Rating: 4.00
Originally posted by Reverend J Shaft

---

Of course, my pick of the BEST players would be completely different.

---


Mine, too. I mean Randy Carlyle?? The only "best players" list he would make would be the "best defensman to coach the Manitoba Moose, then move on to be the assistant coach in Washington."


---

[GP] 1144 [G] 440 [A] 512 [PTS] 952 [PIM] 2974
evilwaldo
Lap cheong



Since: 7.2.02
From: New York, NY

Since last post: 5876 days
Last activity: 5656 days

#15 Posted on | Instant Rating: 0.00
C - Mario Lemieux

RW - Brett Hull

LW - Cam Neely

D - Viacheslav Fetisov. Say what you want but one of the best defensemen to ever step on the ice.

D - Vladimir Konstatinov. When he played he was a brick wall on the blue line.

G - Jacques Plante. One of the greatest goalies of all time.
http://www.hockey-fans.com/players/plante.php

Thanks for the reminder Freeway, the Badger behind the bench.

(edited by evilwaldo on 31.3.04 1940)

---

Are you a professional halfwit or talented amateur?
Socks
Landjager



Since: 25.6.02
From: Ottawa

Since last post: 2007 days
Last activity: 1883 days

#16 Posted on | Instant Rating: 6.21
Great thread....

My picks...

Center: Gotta go with Gretz---greatest.player.ever.

Forward: Wendel Clark. If any players played with half the heart he did, the league would be in much better shape.

Forward: Reggie Leach. Great hockey player---horrible life.

Defence: Ray Bourque. Nodoby has a first pass like he did.

Defence: Paul Coffee. Played like a forward his whole career. Great numbers, and a steady player in his own zone.

Goal: Patrick Roy. I hate the guy, but you cannot dispute the fact that he is the epitome of the ``Money Goalìe`` Although my heart was telling me either Jon Casey or Allan Bester......I had to go wtih numbers...


---

This Space For Rent...

Inquire within.
Dagent913
Bockwurst



Since: 18.11.02
From: Strong Island

Since last post: 6141 days
Last activity: 5671 days

#17 Posted on | Instant Rating: 4.77
Center: Gretzky- I missed out on seeing DiMaggio play baseball, but I'm damn proud to be able to say I've seen The Great One play hockey.
Forward- Mike Bossy
Forward- Pat Lafontaine- My favorite player of all time.
Defense- Ray Borque
Defense- Clark Gilles
Goal- Patrick Roy- God I used to hate this guy when he was in Montreal because of how consistently he used to shut the Isles down, but I have to respect the guy as one of the greatest goalies ever.

Alternates include: Super Mario, Bobby Nystrom, Brett Hull, Bryan Trottier, Darius Karparitis, Martin Brodeur.

Hmm, methinks this team would go over pretty well on Long Island! ;-)

(edited by Dagent913 on 31.3.04 1754)

(edited by Dagent913 on 31.3.04 1754)
---

"Moistening your dreams with man-urine."
Freeway
Scrapple



Since: 3.1.02
From: Calgary

Since last post: 2773 days
Last activity: 2461 days

#18 Posted on | Instant Rating: 6.33
I'm going decidedly old school:
-Gary Roberts, Joe Nieuwendyk & Theoren Fleury as the forwards (Best line in Flames history).
-Al MacInnis & Bobby Orr on D.
-Martin Brodeur in net.
-Oh, and Badger Bob Johnson behind the bench.


---

THE FLAMES: 40-29-7-3 for 90 points in 79 games
3rd in Northwest Div.; 6th in Western Conf.; 13th in NHL
MAGIC NUMBER: 1.5
BigVitoMark
Lap cheong



Since: 10.8.02
From: Queen's University, Canada

Since last post: 5846 days
Last activity: 5755 days


ICQ:
#19 Posted on | Instant Rating: 5.10
C: Lindros...maybe the biggest "coulda shoulda woulda" hockey has seen in a while, but my fave player since I was nine years old. A skilled player who could fight his own battles, it's just a shame that it was him and not Clarke that got bumped off Broad St.

RW: Ulf Dahlen. Not quite sure why, but he was always a fave of mine. OK, that's a lie, I know why he was a fave of mine...he overachieved in hockey pools for me in grade seven and eight. What can I say, sometimes I impress easily.

LW: John LeClair. Love that legion of doom! I never really cared for Brett Hull or Cam Neely, I'd rather have...

D: Ulf Samuelsson. Dirtiest bastard whoever played, granted, more of a choice from a personal encounter. I don't think I ever laughed so hard as when he and some of his Swedish club team came to town and broke some stuff in the hallway of the arena with a soccer ball during the lockout in '94. Plus I never liked Cam Neely anyway.

D: Rob Blake. Just all around a great player, maybe not on the level of Bourque or Coffey, but I cheered for the Kings in the pre-Lindros era so when Blake was breaking in, so I'll go with him.

G: Kelly Hrudey. Same rationale as with Blake, I was pulling real hard for LA to win that Cup in '93 and always felt Hrudey didn't get the credit he deserved that year. One of the more underrated goalies of the late 80s and early 90s.

Coach: Ted Nolan. Kinda got a soft spot for Nolan, having met him a couple times as a kid when he coached Sault Ste. Marie in the OHL. I was always impressed that he always had a moment and a polite word, even for a young kid during intermissions of road games. To see him get dicked around in the NHL the way he did because of Hasek and Muckler is just flat out bogus.


---

Don't you hate pants?