Kevintripod
Knackwurst



Since: 11.5.03
From: Mount Pleasant, Pa.

Since last post: 2 days
Last activity: 2 hours

#1 Posted on | Instant Rating: 6.30
https://sports.cbslocal.com/2020/02/06/wwe-vince-mcmahon-investors-earnings-stock-declining-interest/?fbclid=IwAR1HQoUQNDNC13rc9_4Ur8etRZMUuMRo7YAZGzu1YSy192l7MRG19Ndw8h0

Very interesting read.

(Excerpts from article)

World Wrestling Entertainment is taking a beating from investors who appear to have lost confidence in the company following a massive management shakeup last week. Now WWE says other major changes could be on the way in the near future, including a significant overhaul of its over-the-top streaming service, WWE Network.

Stock prices, which traded near $100 per share last April, have shed more than half their value.

The sacking of long-time co-presidents George Barrios and Michelle Wilson on January 30 seemingly came out of the blue. Many within the company were reportedly stunned when the immediate departures were announced. The reverberating shock waves sent shares of WWE into a free fall.

To date, WWE maintains content and storylines have not been changed to better compete with AEW.

Despite trailing AEW in ratings on Wednesday nights, McMahon says NXT is still performing "extremely well" and will continue to have success in the future.

So, then why is WWE hemorrhaging value? Because Wall Street finally realized what many in the business had been noticing for years — fans are losing interest.

Also troublesome? So many fewer fans are purchasing tickets to live shows that the company is scaling back the number of events it produces each year. Last year, the company ran 56 fewer non-televised events in an effort to "optimize its touring schedule" and stop what had become a revenue drain.

Additional alarms are sounding from the WWE Network. The number of subscribers has fallen substantially despite continued substantial investments in the product.

The future of the WWE Network now appears to be in doubt, as the company evaluates "strategic alternatives" to the streaming service, which debuted in February 2014. McMahon says that the company has numerous options, including moving forward with plans to transition from a flat-fee service to a tiered-subscription platform.

It appears more likely, however, that WWE's online distribution rights could be sold to another "major" streaming service.

It is possible that it could resemble something akin to the partnership between UFC and ESPN, which is now the exclusive home of the MMA leader. In order to watch a UFC pay-per-view, fans must first subscribe to the ESPN+ streaming service and then pay an additional $64.99 to watch each premium event. For the past six years, wrestling fans have grown accustom to paying $9.99 per month for a WWE Network subscription, which includes all pay-per-view events. Given the company is struggling to retain subscribers at that price, it seems likely that any price hike would further erode the fan base.
For WWE, however, the move makes sense, as it would immediately turn the fledgling service into a guaranteed revenue stream. McMahon has previously stated that WWE was "open for business" regarding the possibility of selling the entire company outright to another entity.

Regarding concerns that Vince McMahon is being stretched too thin between his duties with WWE and the kickoff of the XFL season this weekend, the 74-year-old said he has no plans on slowing down. "I have pretty broad shoulders and I can handle a lot," he said.





















Promote this thread!
BigDaddyLoco
Scrapple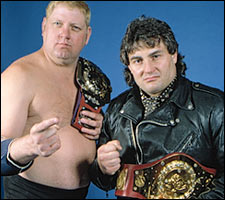 Since: 2.1.02

Since last post: 12 hours
Last activity: 4 hours

#2 Posted on | Instant Rating: 5.97
I mostly hang around because The Network is such a tremendous value and I can loosely follow the weekly shows and just watch PPVs. but the day the WWE go back to regular PPVs is the day I take a big step back from the whole thing.

The biggest mistake WEE made when launching The Network was putting the Big Four PPVs on there for free. It's going to be tough putting toothpaste back in the tube.


Tenken347
Knackwurst



Since: 27.2.03
From: Parts Unknown

Since last post: 3 days
Last activity: 16 hours

#3 Posted on | Instant Rating: 5.40
Originally posted by BigDaddyLoco

---

The biggest mistake WEE made when launching The Network was putting the Big Four PPVs on there for free. It's going to be tough putting toothpaste back in the tube.

---


Honestly, I don't think that's the problem. The weekly shows are bad and also too long. They've oversaturated the market with mostly mediocre-quality programming. I don't know what they thought was going to happen as a result. I watched RAW last night for the first time in a couple weeks, and it was mostly good, but honestly, by the start of hour three, who isn't going to be tired of watching it? And I gave up on Smackdown ages ago, but I keep up with the results, and as far as I can tell, they've run literally the exact same show for the last 7 weeks. Same guys, same matches, same segments.

The problem is that no one in charge of the shows cares about the shows. A literal child could do a better job, because the child would care about the finished product. As long as they fill the required TV time and Vince doesn't yell at them, I don't think anybody involved has any investment in what they're doing.

NXT is the exception, I think, because not only do I actually like that show, but I think that its "problems" are something more or less completely different. I do think the second hour was unnecessary and bloats up the product a bit, but I don't think their numbers are suffering due to people being unhappy with the show or even the length. NXT's issue is that you can watch the whole thing the next day on the Network, which is by far a better way to watch it. It cuts those terrible picture-in-picture adds (the worst thing to ever happen to televised wrestling or advertising. Who came up with those?), and gives you pause/rewind/ffw functionality. Nobody cares if it's live anymore. Live is a bad way to make your television product, and it always was. In a digital environment, they have to get out of that mindset. I'd love to see NXT's ratings next to their online viewership and get their "true" numbers.

(edited by Tenken347 on 11.2.20 0647)
Matt Tracker
Scrapple



Since: 8.5.03
From: North Carolina

Since last post: 28 min.
Last activity: 10 min.

#4 Posted on | Instant Rating: 9.26
The product has to improve before I pay more for it.

I think they need to work out a deal for discounts for network subscribers. New shirts are $27. Cut that in half for subscribers. Give people a reason to want more gear, and they advertise for you. Subscribers get reduced ticket prices. Then raise the network price by $5 a month. That seems fair.

But don't split PPVs into a separate cost atop the network price.


---

"To be the man, you gotta beat demands." -- The Lovely Mrs. Tracker
ekedolphin
Scrapple



Since: 12.1.02
From: Indianapolis, IN; now residing in Suffolk, VA

Since last post: 67 days
Last activity: 53 days

#5 Posted on | Instant Rating: 2.93
I wouldn't buy the pay-per-views on top of the Network.
---
"Lazy Tuesday was an afternoon of TV. Hard working was giant robot attack. Great life lesson, Scrooge!"
--Louie Duck,
DuckTales
(2017)
Certified RFMC Member-- Ask To See My Credentials!
Co-Winner of Time's Person of the Year Award, 2006
andy1278
Bockwurst



Since: 11.1.02
From: Brunswick, GA

Since last post: 674 days
Last activity: 653 days

#6 Posted on | Instant Rating: 7.54
Unless it's on an app I already pay for, I'm not paying for yet another service's app for PPVs or paying for the PPVs standalone now that they've given them to us $9.99 a month (granted, I hadn't ordered a PPV in over a decade before the app).