PizzaMan
Linguica



Since: 27.3.04

Since last post: 6283 days
Last activity: 6248 days

#1 Posted on | Instant Rating: 3.25
for Highschool Football?

Sure the logistics would be hard, but wouldn't it be great! Have your local schools involved .. conferences .. state titles ... highschool super teams ...

Is it even possible?


---

Thanks for reading! Want something more interesting to read? How about the history of Jim Crockett Promotions? Then go here: http://www.jcpwrestling.com
Promote this thread!
CubsWoo
Bauerwurst



Since: 25.4.02
From: Chi-town burbs

Since last post: 6468 days
Last activity: 1353 days

#2 Posted on | Instant Rating: 3.87
It seems like it'd be a nightmare. Illinois alone has about 550 different schools split up into 8 classes. Not even considering having 'true-to-life' fields and stadiums, that's over 1000 different jerseys, 500+ logos, uniform designs, and so on. The NCAA games only have 150 or so teams to worry about. Illinois has over 3 times that, and that's nothing compared to, say, California or Texas.

Plus you'd likely have to get licensing from each individual state (and maybe even on the school-by-school level) instead of just from one national body.

It'd be fun, sure, but I don't think too many producers want to deal with the hassle.
Zeruel
Thirty Millionth Hit
Moderator



Since: 2.1.02
From: The Silver Spring in the Land of Mary.

Since last post: 1382 days
Last activity: 1382 days

#3 Posted on | Instant Rating: 4.05
There would be WAY too many barriers in the way.

It's bad enough we can't get player names in NCAA football, but the names of MINORS? Never happen.

Plus, how many high schools play football? And most of them use pro/college logos. Mine old high school ripped off the Duke Blue Devil.

In Maryland alone there are 309 high schools (public and private). I can't imagine how many there are in Texas and California.

Would you exclude private schools? How could a publisher pay for the rights of all the high schools?

Who is going to rate all those players? How do you schedule the games? Would one DVD hold all the school logos? Are you going to do like in NCAA 2005 and have people miss games for bad grades? How about transfer students?

One super cool thing would be if you could have the ULTIMATE Career Mode. Have your high school player get recruited by a college in NCAA 20xx and then get drafted in Madden 20xx.

THAT would be pretty cool, but never happen.

Edit:

What cubswoo said, but typed faster


(edited by Zeruel on 24.5.05 1814)

---

"You want to tempt the wrath of the whatever from high atop the thing?" --Toby, West Wing
Battlezone
Potato korv



Since: 27.2.03
From: Seattle, Washington

Since last post: 5295 days
Last activity: 28 days

#4 Posted on | Instant Rating: 3.52
Originally posted by Zeruel

---

One super cool thing would be if you could have the ULTIMATE Career Mode. Have your high school player get recruited by a college in NCAA 20xx and then get drafted in Madden 20xx.

THAT would be pretty cool, but never happen.

---


Already did.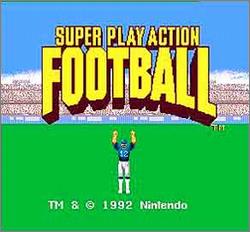 From RottenTomatoes.com:

SUPER PLAY ACTION FOOTBALL gives you the chance to star on three levels of the football hierarchy: high school, college, and the NFL. While the high school and college levels offer fictitious schools and players, the NFL competition offers all teams and players, thanks to the NFL license. Each level of difficulty follows specific rules, so you'll have a realistic experience no matter which way you play. The pro game is the focus though--there are 32 offensive and 16 defensive plays to choose from, and you can call audibles at the line if you don't like the way your opponents are lined up. You can play against a friend or the computer, or you and a buddy can team up and play together. With SUPER PLAY ACTION FOOTBALL, all your football fantasies can come true, whether you've dreamed about being a high school star, the big man on campus in college, or winning the Super Bowl at the pro level.


---

"It's the four pillars of the male heterosexual psyche. We like naked women, stockings, lesbians, and Sean Connery best as James Bond because that is what being a [man] is." -Jack Davenport, Coupling
Quezzy
Scrapple



Since: 6.1.02
From: Pittsburgh, PA

Since last post: 1615 days
Last activity: 1614 days

#5 Posted on | Instant Rating: 3.84
Actually, not all the details have been revealed yet but this year's NCAA Football has a career mode where you are an actual player and you start off your career choosing what school to go to. If the team you want to play for won't take you, you can either settle for a smaller school or try and make it as a walk-on. I'm not sure how the games work when you're that player. Do you just sit around if you aren't a starter? If you're on defense do you just watch the offense? But anyway, you play as the player not the coach or GM. You can leave early and declare yourself for the Draft or play the four 4 years. Then, you can load your character on Madden and it has the same kind of career mode where you are the player. The career starts off with you going through the combine, complete with the silly questions they ask players.

As for high school teams? That's what create a team option is for. Sure you'll never get to play your team's rival, but it's probably the best you're going to get.


---

Lance's Response:

THAT IS AWESOME!
Oliver
Scrapple



Since: 20.6.02

Since last post: 3021 days
Last activity: 3015 days

#6 Posted on | Instant Rating: 2.48
In Arch Rivals (if I recall correctly) there was a way for the arcade operators to change the colours of the teams' jerseys to represent local schools.

At least, I recall that from the documentation that came on the Midway Arcade Treasures 2 disc for my PS2. That option wasn't included on the actual game, though. For shame.


---
Help save MXC
LanceJr
Head cheese
Banned



Since: 21.1.03
From: Boston, Ma

Since last post: 6194 days
Last activity: 6074 days

#7 Posted on | Instant Rating: 0.35
Exactly what is the difference between any football games that would be different if it were a High School football game? Quarter length? More shltty plays and fumbles? The one cheerleader on the squad with huge boobs on the sidelines?

Any football game now its a high school football game use your imagination


---

I'm am LanceJr hear me...I mean see me post
ShotGunShep
Frankfurter



Since: 20.2.03

Since last post: 5688 days
Last activity: 5575 days

#8 Posted on | Instant Rating: 5.21
Plus there are plenty of different rules for high school football. For example, in some places, D-lineman cannot jump offsides at all even if the center doesn't snap the ball.

There are also varying yardage punishments for different penalties.

BTW, while we are on the subject of this year's NCAA football game, does anybody know if they are going to add replays for the conferences that have adopted them(although since you can't challenge, I don't see how it would be done...)
thecubsfan
Scrapple
Moderator



Since: 10.12.01
From: Aurora, IL

Since last post: 654 days
Last activity: 34 days

#9 Posted on | Instant Rating: 10.00
I may still have Super Play Action Football around here somewhere.

IIRC, the high school teams were generic teams with no particular abilities. You got to pick a color, and play about ten games versus other teams. They drew up a sparse high school statdium to play in, and you had all of four plays to use on offense and defense.

Don't recall exactly what the playoffs were like. But the college and NFL modes were much more intersting.


---

thecubsfan.com - CMLLBlog
JoshMann
Andouille



Since: 17.11.03
From: Tallahassee, FL

Since last post: 5443 days
Last activity: 5440 days

#10 Posted on | Instant Rating: 5.77
---

and you had all of four plays to use on offense and defense.

---


Sounds like my high school's team playbook. No wonder they were 5-23 for the three years I went there. Although to be fair, that district was the SEC East and we were the Vanderbilt of it.


(edited by Blanket Jackson on 25.5.05 1327)
---
"Did you get your Journalism degree from a box of Cocoa Puffs?"