ekedolphin
Scrapple



Since: 12.1.02
From: Indianapolis, IN; now residing in Suffolk, VA

Since last post: 17 days
Last activity: 3 days

#2 Posted on | Instant Rating: 4.52
You know something brother, I was thinking the exact same thing.

Actually what I was thinking was, "DAMMIT ALL TO HELL! Back in the good old days of the Horsemen, if someone tries to screw Ric Flair, the only way that guy would leave would be on a stretcher!"

Then I was doubly pissed after the interference, when Arn simply walked to the back. He had several seconds after Lesnar left to run back in the ring, give Vince the Spinebuster, and put Flair on top of Vince. DUH!


---
"What's so great about crack?"
"Uh, uh, it enhances your personality."
"Yes, but what if you're an asshole?"
--Bill Cosby
Randomly Selected Weiner of the Day, 5/27/02
Nate The Snake
Liverwurst



Since: 9.1.02
From: Wichita, Ks

Since last post: 6181 days
Last activity: 5651 days

#3 Posted on
Originally posted by BigDaddyLoco

---

...were Benoit and Eddy G, when Brock was running amok, during the mainevent? I thought this was going to be a run in fest. Shouldn't Arn be calling out the troops? Or is Arn betraying Ric now (that better not be the case)? So where the fuck was Flair's backup anyway? They weren't written out.

(edited by BigDaddyLoco on 11.6.02 0350)

---


Judging by the segment earlier in the evening between Eddie, Chris, and Flair, I'd say they didn't come out because they were pissed off at him and decided to let him twist in the wind.

Either that or HHH called and left an anonymous message saying that Dean Malenko had fallen down a well, and they were off looking for him. CONSPIRACY~!


---

Kansas-born and deeply ashamed
The last living La Parka Marka: HE raised the briefcase!
dMp
Knackwurst



Since: 4.1.02
From: The Hague, Netherlands (Europe)

Since last post: 175 days
Last activity: 4 days

#4 Posted on
Nobody ever does a run-in when the previous run-in is done to further the storyline..
Lesnar had to do the deciding run-in so Vince would win..
Eddie and Chris were obviously not expected to do so..

Unless it's the final show before the Royal Rumble then nobody does a sudden counter run-in.

Oh...'in theme explanation'? They were caught off guard and were nowhere near the ring area. Why? 'Arn helping out will be enough..let's go enjoy the salad bar'


---

"...And I use that to fuck them some place fairly uncomfortable."
"What, like the back of a volkswagen ?"
-Mallrats
oldschoolhero
Knackwurst



Since: 2.1.02
From: nWo Country

Since last post: 4420 days
Last activity: 4354 days

#5 Posted on
"Either that or HHH called and left an anonymous message saying that Dean Malenko had fallen down a well, and they were off looking for him. CONSPIRACY~!"

Funniest. Sentence. Ever.




---

Dear God! He's Back To Kill Us All!
shea
Bockwurst



Since: 1.2.02
From: Brooklyn NY

Since last post: 6432 days
Last activity: 6318 days

#6 Posted on

about those run-ins, or lack thereof:

I just got completely confused about whether I was watching Heel Owner Flair or Face Co-Owner Flair (a role that apparently kicks in automatically whenever Heel Owner Vince comes within 100 feet of Heel Owner Ric)

sooooo ..... questions about who should have run in, and on behalf on which Heel Owner, were more than my little pea brain could handle at that point

Let's make it best four out of seven, how about that?

dskillz
Landjager



Since: 2.1.02
From: Houston Texas

Since last post: 5632 days
Last activity: 5337 days

#7 Posted on
I was wondering why Arn didn't help, doesn't he always have a tire iron near by? Why did Arn, not only leave the ring, but walk up the ramp to the back also? I was wondering why Benoit and Eddie G didn't come out.

I figured that was some crap they came up with and Austin was supposed to have something to do with the main event. You gotta think that alot of the segments were meant to show Flair being Austin's assistant and that was totally screwed up, so I will cut the WWE some slack on this one.


---

January 4th 1999 - The day WCW injected itself with 10 gallons of Liquid Anthrax...AKA...The day Hogan "Defeated" Nash to win the WCW title in front of 40,000.
BigDaddyLoco
Scrapple



Since: 2.1.02

Since last post: 245 days
Last activity: 245 days

#8 Posted on
But, man, we're talking about THE ENFORCER, DOUBLE A, ARN ANDERSON here. Not Pat Patterson or Gerry Brisco. Anderson at least should have thrown a shot at Brock and then taken the punk out. I don't think I've EVER seen Arn Anderson back down like that, from anybody. If you're not going to have a run in fest, fine. But Arn should have done something for Flair.


---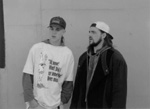 Net Hack Slasher
Banger



Since: 6.1.02
From: Outer reaches of your mind

Since last post: 6022 days
Last activity: 4442 days

#9 Posted on
Ben?..oit? Oh ya that guy, the guy who was out for a year and came back to a huge pop and turned heel in his home town. I forgot about him because just a mere 7 days later the showstoppa HBK made HIS debute and completley overshadowed everything. But I'm sure it was just a coincidence that happened like that, I'm sure.

The postition of being backstage and telling Flair "ummm you better not mess up ummm" is more then enough for the vanilla midget. Because we all know the supergroup of The Brokendown Kid, Big Lazy, Big Slow, and XPuke is going to save the WWF oops E (shawn is so cleaver in calling it F on purpose and acting like it's an accident, he's got attitude you know)




---

I don't get it, everyone loves rats, but they don't want to drink the rats milk?
The Sham
Kolbasz



Since: 20.1.02
From: Hamden, CT

Since last post: 4158 days
Last activity: 3510 days

#10 Posted on
I think that the skits earlier in the show set up the run-in and the no shows.

Arn let Vince push him around in the back, without retaliation. Benoit and Eddy were pissed at Flair because he was taking a stupid risk. I don't think I need to explain Lesnar.

When Vince announced the "no holds barred" stip, we all knew there would be run-ins. At this point, Vince has the upper hand. Everyone knows that there are only three men in the back who would be on Flair's side: Arn, Benoit and Eddy. The reason those men didn't do a run-in was because they knew that everyone else in the company would come out to help Vince because they'd want to have the same sort of favoritism shown towards them as will be shown toward Brock.

Also, we were already past the standard seven-minute overrun period.


---

"Cram it with walnuts, ugly!"- Mr. Homer Simpson

The European Title MUST go to Smackdown and Carthage MUST be destroyed.