AWArulz
Scrapple



Since: 28.1.02
From: Louisville, KY

Since last post: 55 days
Last activity: 16 hours

#21 Posted on | Instant Rating: 7.28
Originally posted by Karlos the Jackal

---

Qix.

--K



---



Oooowww Loved thatone! And it reminded me: Q-Bert!

Yeah!




---

We'll be back right after order has been restored here in the Omni Center.
Bullitt
Shot in the dark




Since: 11.1.02
From: Houston

Since last post: 1758 days
Last activity: 1758 days

#22 Posted on | Instant Rating: 5.56
Tapper

I was a huge pinball guy, too...Addams Family and High Speed 2:The Getaway were my favorites.


---
I'm out to prove I've got nothing to prove
drjayphd
Scrapple
Moderator



Since: 22.4.02
From: New Hampshire

Since last post: 7 days
Last activity: 6 days


ICQ:
#23 Posted on | Instant Rating: 5.69
The one that did: Top Skater.
The one that would, if I could find a machine: Pepper II. Not like you'll ever find a machine around here.


---
You wanted the best, you got... Out of Context Quote of the Week.
"...but that doesn't mean he can't relate an amusing anecdote about the Haiti Kid and one of the Frenchman's testicles." (Hogan's My Dad)
Wolfram J. Paulovich
Frankfurter



Since: 11.11.02
From: Fat City, Baby

Since last post: 5392 days
Last activity: 4762 days

#24 Posted on | Instant Rating: 5.66
Tapper

Yes, you serve beer. And you have to serve it fast. God, I loved that game.


---
The Obtuse Angle Archive.
Lise
Mrs. Guru



Since: 11.12.01

Since last post: 2082 days
Last activity: 1855 days

#25 Posted on | Instant Rating: 9.63
Star Wars Pinball is my absolute favorite (though Guns n Roses pinball is a close second, I've just had less access to it) arcade machine of all time.

However, if money isn't an issue I have to say that there's really no better way to start your morning than going completely through House of the Dead 2. It was a favorite pre-opening ritual at GameWorks Seattle for Game Hosts. There's just something about blowing the crap out of a whole bunch of zombies before dealing with the general public... but I don't particularly suggest trying it on your own dime because the game takes on average 10-15 credits per person (both players are really needed) to finish. And that's why you see it all over the place, it is a serious money making machine.


---

...oh bother.
Quezzy
Scrapple



Since: 6.1.02
From: Pittsburgh, PA

Since last post: 900 days
Last activity: 899 days

#26 Posted on | Instant Rating: 3.97
Wow, I didn't think this was a tough one at first because I've always been more of a console gamer, but once I thought about it it was tough. I'd have to say that just barely it would go to Double Dragon. I remember once I went to a birthday party at Putt Putt and me and my friend stayed in the arcade while everyone else played golf. Then when it was time to open presents someone came and told us but we never left Double Dragon, not even to watch our friend open his presents.

Runners up are probably Rampage because it extra character on the arcade version, Teenage Mutant Ninja Turtles because one arcade party we had unlimited tokens and me and a friend played it until we beat it, and Ghosts and Goblins because they had it at my favorite pizza place.


---

Lance's Response:

THAT IS AWESOME!
Roy.
Pepperoni



Since: 25.2.04
From: Keystone State

Since last post: 4793 days
Last activity: 757 days

#27 Posted on | Instant Rating: 4.84
Either NARC or Final Fight. My buddy and I put dozens of quarters into those for about two and a half summers. I think we beat them each two or three times.

Pinball would have to be Attack From Mars! (klov.com). Up until a year ago, I'd spend about 10 bucks a week on that thing (RIP Playland), and it was a finals week tradition of ours (along with not shaving until your last final) to go play pinball before each final (to relax).
jwrestle
Lap cheong



Since: 4.4.03
From: Nitro WV

Since last post: 314 days
Last activity: 314 days


ICQ:
#28 Posted on | Instant Rating: 1.61
Tekken 3
TMNT Arcade
Simpsons...Brother and I spent 20 dollars actually beating one day.

Finally a 80's classic GALAGA. I've found myself searching the old game out in every arcade I can find. I have no idea why I'm doing it either.


---

Fear Prophet.

J.J. Dillon: "I'd rather flip burgers at McDonald's than work for Vince McMahon again." July 3, 2004
New Era Of Wrestling
pieman
As young as
he feels



Since: 11.12.01
From: China, Maine

Since last post: 15 days
Last activity: 1 day


ICQ:
#29 Posted on | Instant Rating: 7.87
Originally posted by Bullitt

---

Tapper.

---


Yes, I had completely forgotten that one. It was one of my all-time favorites and I was actually old enough to be drinking beer while playing it, too.


---
Gabba gabba hey!
Torchslasher
Knackwurst



Since: 17.1.02
From: New F'n Jersey

Since last post: 355 days
Last activity: 355 days

#30 Posted on | Instant Rating: 5.75
In terms of pinball, one of the bowling alleys had an Austin Powers game (made after the second movie but before the third movie) not too long ago and I would devote much time after bowling a few games to play it.

Mortal Kombat II would be a second choice, followed by Street Fighter II.


---

Click Here (czwfans.com)

For all your CZW and Nickels Trivia information. I am now the Sex Division Trivia Champion, and on September 10 I face someone who actually works part time in the WWE! Will I be starstruck, or will I hold him down worse than the WWE holds down Val Venis? STAY TUNED!

"Look guys, it's 'Lake Man!' Hope you can fit into our NARROW office, Mr. Big Lake" --MST3K The Collection V. 7
raygun
Chorizo



Since: 24.7.02
From: winnipeg

Since last post: 5467 days
Last activity: 3012 days

#31 Posted on | Instant Rating: 6.01
I used to play alot of vids at Victoria Beach, where I spent every summer from the ages of 7 to 18. I played a TON of Street Fighter I, Off-Road, APB, and Golden Axe. Also, my friend and his brother worked at the Library there (where it was 25 cents to "rent" a book), and they would steal quarters so we could play the best arcade game ever: Snow Bros.

In later years, we poured copious amounts of money into the old WrestleFest game at the University of Winnipeg.


---
Brain Of J
The Nautilus Hockey Klassique
Alpha Dog
Pickled pork



Since: 10.2.03

Since last post: 1914 days
Last activity: 1123 days

#32 Posted on | Instant Rating: 6.53
Mat Mania bay-bee!

"1........ 2........ THREEEEEEEEEEEEEEEEEEEEEEEEEEE!"

Man, that Coco Savage was one tough mofo.


Honourable Mention to:
- SF2
- Cyberball
- The two-cabinet WWF Wrestlefest. Damn, that was a fun game. When the Road Warriors would get you set for the Doomsday Device, the announcers' pained "Oh no!" is something I still quote to this day.
- WWF Superstars. Randy Savage was awesome in that game, as well he should've been. The trick with pulling the extra body out of Andre was one of the first cool things in video game I discovered.
- Punch-Out (the original). That Pizza Pasta was a little bitch.
- Pac-Man/Ms. Pac-Man. Probably the only game I actively seek out at Jillian's and such.


(edited by Alpha Dog on 24.9.05 1939)
---

The People's W of the Day - 6/3/05
Mr Heel II
Lap cheong



Since: 25.2.02

Since last post: 883 days
Last activity: 619 days

#33 Posted on | Instant Rating: 6.61
The last arcade game I could officially call my favorite was "Millipede". I still play the thing regularly on PS2 to this day. Pretty much EVERYTHING I play on PS2 is retro arcade crap from that era...I have fewer than a half dozen modern games made for PS2.

If you catch me in an arcade today (and THAT is limited to the one at the multiplex), I'm playing pinball. My favorites from back in my actual arcade days included Centaur, Pinbot, Addams Family, and Mr & Mrs Pac-Man.
jfkfc
Liverwurst



Since: 9.2.02

Since last post: 1878 days
Last activity: 1687 days

#34 Posted on | Instant Rating: 4.06
Originally posted by Karlos the Jackal

---

Qix

---
I totally did NOT expect to see Qix in this thread, as I thought I might be the only one remembering that one. I apologize for assuming this, and not giving enough credit to the W's

Qix also gets the nod for me, above Bubble Bobble, LifeForce, Vanguard, Omega Race, BurgerTime, Tron, Joust, Crazy Taxi, and Berzerk. I tried explaining Berzerk to my son, and he could not get past the part about "the bouncing smiley face of death named Evil Otto".


---

Oderint dum metuant.
Iago
Chourico



Since: 17.2.04
From: Eugene, Oregon

Since last post: 5542 days
Last activity: 4845 days

#35 Posted on | Instant Rating: 4.51
Originally posted by Zeruel

---

Marvel vs Capcom 2: The new age of heroes.

---


Second that nomination (and heck most SNK and Campcom fighting games). Though the sidescrolling Dungeons and Dragons games were kinda fun too.

To this day my friends, and my brother always run out of money before me whenever I go with them to an arcade.





---


Mediocrity! Yay!
orangeman
Salami



Since: 21.8.04
From: ...that would be telling

Since last post: 5483 days
Last activity: 5429 days

#36 Posted on | Instant Rating: 3.83
Samurai Showdown, mostly the 2nd and 4th versions.


---
EDC: William Henry Westcliff
Cerebus
Scrapple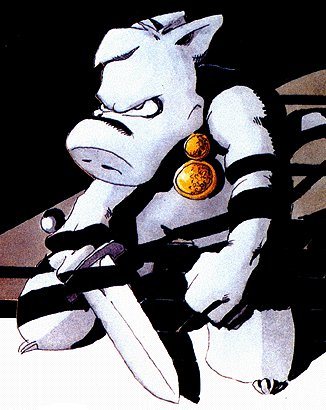 Since: 17.11.02

Since last post: 1452 days
Last activity: 1174 days

#37 Posted on | Instant Rating: 2.86
I gotta go with TEMPEST. The simpler the graphics, the better I was at them.

Rounding out my top five would be CRYSTAL CASTLES, DIG DUG, SPACE ACE, and TOOBIN', all in this order.

(Off subject... from the same company that did SPACE ACE and DRAGON SLAYER, there was another game that used scenes from Lupin The 3rd. Does anyone know the name of it. That and the one that used scenes from GALAXY EXPRESS 999. Those were fun, but if you know the movies, they were really easy to play.
ekedolphin
Scrapple



Since: 12.1.02
From: Indianapolis, IN; now residing in Suffolk, VA

Since last post: 20 days
Last activity: 6 days

#38 Posted on | Instant Rating: 2.29
Gotta go with Vs. Super Mario Bros., the one game I absolutely have to put a quarter into every time I see it. Also, Teenage Mutant Ninja Turtles, the eight-player version of X-Men, and Street Fighter II.
By the way, thanks for the link to VGMusic.com, Zed! Great site! Already downloaded several MIDIs from it.
---
"Great. He spends skill points on Perform (Kazoo), and now I have to make a Knowledge (Limits of My Own Sanity) skill check."
--Roy Greenhilt, The Order of the Stick
Four-Time Wiener of the Day (5/27/02; 7/3/02; 7/30/04; 8/28/04)
The Only Five-Time (and Last) N.E.W. World Heavyweight Champion
Certified RFMC Member-- Ask To See My Credentials!
Reverend J Shaft
Toulouse




Since: 25.6.03
From: Home of The Big House

Since last post: 430 days
Last activity: 135 days

#39 Posted on | Instant Rating: 2.45
Originally posted by The Goon

---

Blades of Steel and Wrestle War.

---


WrestleWar!! OMG, I forgot about that insane game. I remember seeing that for the first time and putting in a quarter. They had the moves listed on the cabinet and I went for a pildriver in my first match and was flabbergasted to watch my guy leap about 30 feet in the air and plant the guy into the mat.

I spent about $20 on that game that day....
messenoir
Summer sausage



Since: 20.2.02
From: Columbia, MO

Since last post: 2981 days
Last activity: 2848 days

#40 Posted on | Instant Rating: 6.00
Rampart. Especially when you had 4 people playing and cannonballs flying everywhere.




---

A strict constructionist interprets the Constitution according to the language and original intent of the text at the time of its writing, in much the same way as a fundamentalist views the Bible. Fortunately, for strict constructionists, they have been endowed by God with the superhuman gift of being able to read the minds of people who died 200 years ago. Naturally, they use this power only for good -
America (The Book)
Pages: Prev 1 2 3 4 Next