Net Hack Slasher
Banger



Since: 6.1.02
From: Outer reaches of your mind

Since last post: 6609 days
Last activity: 5029 days

#1 Posted on
Rikishi/Hurricane v. Billy/Chuck - week in week out proves to be the weakest division in all of wrestling. Another throw in team against BillyChuck, not the greatest way to start off the show... Stinkface after the match, hate that more then anything while watching wrestling (and I don't give a rats ass about it getting a reaction)

Angle/Storm v. Val/Edge - You could really tell the crowd was kinda mixed for Angle, wanna cheer the hometown boy but he's such a jerky jerk... Angle running up and grabbing someone from the top might be the coolest looking mid-match move right now... Cool ending, liking that Storm played a pretty big role in setting up the pin.

Orton stuff - If they are planning for Stacy to get it on with Orton, what better way to be brought in.

Faarooq/Henry v. Christian/Test (d-von) - a blah match. I'm bored already of D-von and Henry's act.

Vince making out with Stacy - well at least it isn't as graphic as Trish. Still annoying, seen it a year ago and afterwords Trish slaps Vince and is off TV for 3 months, and did very little for her.

Jericho rant - I love it, I've been digging everything he's done since WM. I really like that he's so out of his mind that he actually truly believes Undertaker is going to interfere in the match to help Hogan? THe SHame came out and mumbled something, I thought he said he's got a dick. But it might have been tip.. who knows.

Tributes to fallen stars, I wonder what the spin on this now is from the McMahon is Saton group.

Tajiri v. Kidman - Torrie hasnt' turned yet, talk about holding it off untill no one cares. Decent short match. Decent paint by numbers match, decent bump by Torrie.

HOGAN V. Y2J - I was worried at the beginning when Hogan totally no sold the lock up right at the start. But it got better. Jericho was awsome, his prickitude was in full force (maybe because hogan needs soo much time to heel after each bump) They played up that Jericho is quick and many times you think Hogan is going to nail something and Jericho out-quick him (big boot Chris slides underneth.. leg drop chris hooks the walls). Ending was bad (no not because hogan won) but the roll up was so weak, it was weaker then Austin broken neak roll up of Owen.

sign of the night "Jesse Jackson fears D-von"
Line of the night " shhh, shhh, shut up listen" - Jericho telling the fans to listen to Hogan time running out.

Over all the same as most Smackdowns. main guys ruled (jericho match and interview.. Angle match and backstage stuff and people involved there) the other stuff is really nothing jumping out.






---

I don't get it, everyone loves rats. but they don't want to drink the rat's milk?
Promote this thread!
Mr Heel II
Lap cheong



Since: 25.2.02

Since last post: 1467 days
Last activity: 1203 days

#2 Posted on
Did you notice that on at least two occasions, the WWF post-edited crowd signs (one was held up by an aisle-walker) to effectively be blank?

The tributes were overdue, but nice.

Angle is the king. The tag match was the one match I really enjoyed all night.

Hogan gets HOW much time in the ring?!? I don't CARE who the opponent is. Hogan couldn't carry a match that long in 1986! (Okay so Hogan doesn't carry ANY match, the opponent does, but you knew what I meant.)

When Vince was going in for the kiss, I thought he was going in for the kill. He looked like he was going to BITE her.

Yeah, it's about as good as Smackdown has been since the split...which isn't that great, but not that bad either.



(edited by Mr Heel II on 2.5.02 2112)
Kawshen
Liverwurst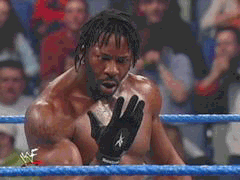 Since: 2.1.02
From: Bronx, NY

Since last post: 4978 days
Last activity: 3238 days

#3 Posted on
Did Vince assign Hardcore Holly to stiff Randy Orton? He almost loosened his windpipe with that chop.

S-I-C-K.


---

mskj
Summer sausage



Since: 10.1.02
From: Tennessee

Since last post: 3988 days
Last activity: 603 days

#4 Posted on
I enjoyed the Hogan/Jericho match and hope the wwf keeps giving long matches as the main event for Smackdown. Jericho was on tonight, and it seems his promos have gotten much better since he lost the belt.

Val, Big Valbowski, whoever, looked good in the ring tonight. Maybe they can try a semi push on him. That was a pretty solid tag match he was in too.

I didn't catch Ortons match or segment backstage last week. I saw both this week. I didn't think he did too well in the skit with Stacy. It was just really bad acting and I don't usually notice bad acting.

Other than that I wish Rock would hurry back.








---

RIP The Rock's Show.
April 29, 1999-April 4, 2002.

Dormouse
Cotto



Since: 25.2.02

Since last post: 7331 days
Last activity: 7331 days

#5 Posted on
I like how Michael Cole was culturally sensitive by saying that wearing a Geisha is "degrading."
ManiacalClown
Landjager



Since: 2.1.02
From: Houston, TX

Since last post: 3565 days
Last activity: 3565 days

#6 Posted on | Instant Rating: 0.00
I find the mere existance of Michael Cole "degrading" to people everywhere.


---
BigDaddyLoco
Scrapple



Since: 2.1.02

Since last post: 10 days
Last activity: 10 days

#7 Posted on
I'm sorry but Smackdown is becoming a fairly shitty show, and Hogan is just an embarrassment. I don't know if I'm more embarrassed for him or for me for watching the crap he's trying to pull out there.


---
benny567
Pinkelwurst



Since: 22.4.02
From: London

Since last post: 7557 days
Last activity: 7557 days

#8 Posted on
hogan still thinks that it is 1980. the tag team match was pretty good....but raw is defitney the better show now..... smackdown has turned bad since the spilt... something new needs to be done with smackdown.... what do u guys think should be done?


---

i am the man
Spaceman Spiff
Knackwurst



Since: 2.1.02
From: Philly Suburbs

Since last post: 912 days
Last activity: 1 day

#9 Posted on
Smackdown was the better show this week, for once.


---

Matthew: You would've loved it, David. A week in a foreign country, strange people, strange customs...
Dave: Oh, I know what you mean. I've been to Canada.
bigwavedave
Blutwurst



Since: 3.1.02
From: morro bay ca

Since last post: 7343 days
Last activity: 7343 days

#10 Posted on
at least lance storm got to wrestle. and he looked good hanging with the bigger guys. even hurricane was busting moves on chuckabilly.


---

"My parents said I could be anything, so I became an ASSHOLE!"
lmo911
Italian



Since: 2.1.02
From: A ways past Parts Unknown and to the left of Dudleyville

Since last post: 6554 days
Last activity: 4303 days

#11 Posted on | Instant Rating: 4.06
Well I enjoyed Smackdown more than Raw this week. While they both didn't really click, Smackdown seemed more consistant (where Raw was in a nosedive in the second hour until the Regal promo.)

-Man, they have to ditch the towel on Val. I don't mind if they keep him a ladies man, but just get rid of that awful towel! No man deserves to be held down by a towel!

-Jericho's been cutting some good pormo's lately. Jericho/Hogan was more enjoyable than I expected as well. Ending was extremely dippy though.

-Lance in a match!

-Did the hair vs hair match just seem kind of oddly set up to anyone else? So, why don't we put your hair on the line? Oh no!

Of course Hair matches never made much sense to my anyway. I was hoping Edge would say something about Angle not having much hair left to lose.

-Vince and Stacy doing the nasty was fine(Actually it wasn't but it's par for course.)...but did we have to come back with a close up on Vinny's crotch?

-Orton can pin real nice...it's just the rest that was kind of lackluster.
shea
Bockwurst



Since: 1.2.02
From: Brooklyn NY

Since last post: 7019 days
Last activity: 6905 days

#12 Posted on

An Angle/Edge hair match only makes sense if, say, one guy had lost a shampoo commercial to the other guy. Something totally lame like that.

Vince is so completely slimy with Stacey, something tells me he's not acting. NO MORE OF THIS, PLEASE.

And like someone said before (I forget who, sorry), when the hell are the heel announcers going to rag on Hogan, the face champ? Damn it, that's the primary function of the heel announcer: to rag on the faces. It's like, Ventura/Heenan 101. Can't these people do anything right?

Spiraling_Shape
Bierwurst



Since: 2.1.02
From: PA

Since last post: 18 hours
Last activity: 14 hours

#13 Posted on
I reallly dug SmackDown, as the gap between it and RAW widens. My only real complaint about the show was "Creepy old man Vince." Good to see Val and Lance hanging around with Edge and Kurt. Does that mean their respective Jakked/Metal feuds with Godfather and Hugh Morris are over? Didn`t the two of them have their own Jakked/Metal feud right before the split?

Hogan`s match with Jericho entertained me more than the PPV HHH match. Hunter`s psychological warfare was clever.

And now what do all those furious Torch readers have to say after they did acknowledge the deaths of Wahoo McDaniel and Lou Thesz?


---

"Why don't you say 'what' if you like to sleep with your own sister." - The Undertaker
Mr Tuesday
Kolbasz




Since: 6.1.02
From: Chicago, IL

Since last post: 3887 days
Last activity: 3592 days

#14 Posted on
Smackdown this week was... eh?

I found myself watching more "Return of the Jedi" and "Charmed" than Smackdown.

I may just stick to Raw from now on, Smackdown just plain sucks now.

Why have the tag team championship on Smackdown, when all the decent tag teams are on Raw?


---
Take The Pokemopolis Pokemon Personality Test.
Created by Dodgemaster Lex

Take The "Which WWF Wrestler are you?" Quiz.
Created by
Potman

BDC
Chourico



Since: 26.1.02
From: Falls Church, VA

Since last post: 7485 days
Last activity: 6942 days

#15 Posted on
1)You don't think the WWF saw from Monday night on the level of negative feedback about not acknowledging either Wahoo McDaniel or Lou Thesz? You think that the WWF planned all along to do the tribute on Smackdown? Give me a break. I'm just glad they did it, though. But in no way does that mean the critics are wrong. The critics made the tribute happen.

2)D-Von feuding with Faarooq and Mark Henry...why's there always gotta be black on black violence???

3)Vince McMahon rivals Woody Allen in the "write, produce, and direct yourself to get with attractive women you otherwise too old and have no shot with therefore making it extremely unnerving to watch" department. Woody Allen gets him some of Tea Leoni in "Hollywood Ending" so Vince counters with some Stacy action. Although in real life, Woody has Sun-Yi and Vince has Linda....hmmm--call it a push?

4)Gotta love Triple H. Or not. Turn heel, already.

5)Rico getting the stinkface is something that they could have built up to. Hell, it could have gotten people interested in Rikishi again.

6)The WWF is run by monkeys pushing buttons in one of those IQ testing lab experiments.

7)Kurt Angle was magnificent as always. The WWF is obviously doing this hair vs. hair gimmick match based on my series of posts about how Edge can't be taken seriously as a main eventer with this hairdo. I hope he loses so that he has to get a haircut, see how the fans react to it, and then either stick with it aaallll the way to the the Main Event (my prediction) or grow it back out and keep getting his hair caught when the glass ceiling opens up just a little bit and he can't ever make it through.

8)I think the WWF knows Hogan's usefulness has a shelf-life that decreases exponentially with every trip down the aisle. At the same time, they need to milk it, they need to give him this last run so that when he retires...he retires.

Notes to Michael Cole: When Kurt Angle is cutting a promo about a t-shirt that Edge messed with the week before, its NOT a surprise when Edge shows up.

When there's no referee in the ring and a wrestler's entrance music fires up, and he's walking down the ramp to the ring, or if the guy he's feuding with interrupts either the promo OR the match, the answer to "(insert wrestler)? What the hell is HE doing here?" is more than likely going to be "cutting a promo" or "interfering somehow." Yeah, maybe your first show you could honestly ask that question--but after 4 years and seeing it happen at least 3 times a show....you'd think you would notice a pattern.

On the same note, Captain Obvious, stop acting so surprised when the guys you root against in matches cheat to win. It's why you're rooting against them in the first place.

BDC



(edited by BDC on 3.5.02 1323)
---
"Hitler had pieces of flair that he made the Jews wear."
Enojado Viento
Potato korv



Since: 12.3.02
From: Your Grocer's Freezer, NC

Since last post: 3741 days
Last activity: 3013 days

#16 Posted on
Smackdown, like RAW this week, kinda left me cold and didn't make much of an impression, save for this one thought. . .

. . .If Rico's chops get any bigger, he's gonna look like a vagina in a suit.




---

-LS
"I fight alone, but at least I'm gonna die."
BobHollySTILLRules
Bockwurst



Since: 3.1.02
From: C-Bus, Ohio

Since last post: 7404 days
Last activity: 7404 days

#17 Posted on
My only reaction to Smackdown:

Holly is starting to get over! AND they put him talking at the beginning of his music, sure sign of a push! WHOOOOO!


---
And I think you're fat. So how do you like me now?
CarlCX
Salami




Since: 1.5.02
From: California.

Since last post: 2975 days
Last activity: 985 days

#18 Posted on
Bob Holly, the seasoned veteran, is overcome by the young'un Randy Orton. Rather than letting himself be disgraced again, he blasts Orton one in the crotch, takes the disqualification, and proceeds to beat the crap out of him as an act of vengeance. In our final, powerful moment, after this wonderful buildup, Holly makes his strongest impact, delivering his signature move to Orton atop the unforgiving steel stage--and stops to yell to Orton, "How do you like me now?", one final taunt before he leaves. Michael Cole, our narrator, the man whose words will forever cement this moment, speaks:

"You want to know what I think now, Holly? I think you're a JERK."

Smackdown in a can, for me. Lots of groin-poundingly good buildups; lots of "I think you're a JERK" letdowns.

And s much as I may respect Vince McMahon, I really don't want to see him booked into sleeping with the attractive female again.
Zero
Loukanika



Since: 3.5.02
From: Buffalo, NY

Since last post: 7568 days
Last activity: 7568 days

#19 Posted on
Originally posted by CarlCX

---

Bob Holly, the seasoned veteran... ..."How do you like me now?", one final taunt before he leaves. Michael Cole, our narrator, the man whose words will forever cement this moment, speaks:

"You want to know what I think now, Holly? I think you're a JERK."

Smackdown in a can, for me. Lots of groin-poundingly good buildups; lots of "I think you're a JERK" letdowns.



---


Zero found that "I think you're a jerk!" line the most hilarous moment of the show. Cole says the most retarded lines, one can't help but laugh.

It's like a Sid Vicious promo: literally, it's sad, but when not taken serious, it's hilarous. And to his credit, the only bright-spot during the dark ages of WCW.



And s much as I may respect Vince McMahon, I really don't want to see him booked into sleeping with the attractive female again.

---

Agreed.

Vince is at his best IZO when he's on his "Quite frankly, the fans don't know what they want; I know what they want." rants.

(edited by Zero on 3.5.02 1955)
---
Zero™: The Random Jackass
Scorpio
Boudin rouge




Since: 18.2.02
From: Laurel, MD, USA

Since last post: 6884 days
Last activity: 6835 days

#20 Posted on
Zero found that "I think you're a jerk!" line the most hilarous moment of the show. Cole says the most retarded lines, one can't help but laugh.

---


Gotta agree, I cracked up hardcore for that as well.


---


PMMJ