It's False
Scrapple



Since: 20.6.02
From: I am the Tag Team Champions!

Since last post: 1188 days
Last activity: 435 days

#1 Posted on | Instant Rating: 9.04
TONIGHT! After wiping out Randy Orton with the title belt, I'm assuming he wants a rematch. Will he get it? Plus, a whole bunch of random crap! SmackDown is NOW!

WWE - The Champ Is Here!

Video package for last week's shananigans.

No opening credits, as we go straight to Christian making his entrance. He's making a bunch of his old heelish mannerisms as he makes his way to the ring, so I can take a wild guess how this is going to go. Announcers point out that Randy Orton isn't here tonight, as Christian grabs the mic. Considering that both rosters are starting to get heel heavy, they wouldn't be dumb enough to fully turn Christian with a heel promo, would they? Let's find out! It's promo time!

"You know, I have to be honest with you, I was...I was curious to see what kind of reaction I got when I came out here tonight. If you cheered for me, then...that means you got it. That means you understood that I was screwed out of the World Heavyweight Championship just five days after winning it. You understand that I was screwed out of the #1 Contender's spot just two weeks ago. That means you really got, you understood that I was justified in doing what I did to Randy Orton in the middle of this ring...last week on SmackDown. But as I look around the SmackDown audience tonight, as I listen to you, as I look at your faces. I'm convinced that some of you, that most of you, maybe all of you, you don't quite get it. Which is why I'm gonna tell you this right, which is why I am through with all of you! Why I'm through with all of my so-called peeps. You know something, I don't want to talk to you anymore. I don't want to talk to you, I don't want to you, actually, I'm not sure if I want to talk to any of you ever again. But there is one person that I will talk to tonight and that person is sitting right over here. Michael Cole! Would you please come in the ring. I would love to talk with you right here tonight."

And because we clearly don't get to hear enough from Michael Cole across both shows, he takes his headset off and enters the ring.

Christian: Michael...I just want one more match for the World Heavyweight Championship. I feel I've earned one more match for the World Heavyweight Championship. I feel like I deserve just one more match for the World Heavyweight Championship. There's a lot of things I've gotta get off my chest. You know something I don't understand? I don't understand the same people that cheered for me and supported me through all these past few years, the same people, the "peeps," that cheered for me so loudly when I won the World Heavyweight Championship, the same people that blew Twitter up, that were so up in arms, that were so upset when I lost the World Heavyweight Championship after just five days...are now seemingly the same people that are even more mad that I smashed Randy Orton in the face with the World Heavyweight Championship last week on SmackDown. There's a lot of things I don't understand, Michael. I...there's a lot of things I don't understand right now. I don't understand what kind of show Teddy Long is trying to run. I don't get it. Polling the SmackDown audience, asking their opinion, I don't get that. Say Bob in accounting, right? Bob in accounting is in for a big promotion. Do you think his boss gives him that promotion based on merit, based on what he's earned? Or do you think he just walks out on the street and asks a bunch of clueless, useless people what they think he should do? That's basically what Teddy Long is doing. But you know what? The way I see it, these people...these people had no right to try and control my life. These people had no right ruining something that I worked so hard for for 17 years. They had no right! It's disrespectful, Michael. It's disrespecful and you know something, I've never been so disrespected in all my life. Especially by one person. By Randy Orton! Becuase you know something, you know, if Randy was any kind of man at all...there's no way he would have accepted that title match knowing, KNOWING that I had just competed in a grueling ladder match just five days previous. You know something, Michael? I need you to do something for me, I need you to help me out, I need you to do me a solid. Since I'm not talking to them...I need you to ask these people a question for me. I need you to ask them if Christian deserves to be the World Heavyweight Champion?

Cole: Can I have your attention please? Christian would like to know if you people believe that he deserves to be World Heavyweight Champion?

Christian: Just what I expected, Michael. Exactly what I expected. Completely and utterly clueless. Christian will be the World Heavyweight Champion again. And when I do become the World Heavyweight Champion, I'm gonna do it for myself, because I won't be sharing it with any of them. Good talk, Michael. Good talk.

So there's ANOTHER heel turn, because we haven't had ENOUGH guys turning heel in the last few months. I'll rant on that a little more after the show.

We take a look at The Corre guys walking backstage. They're in six-man action next.

Ad break

The WWE Smack of the Night is brought to you by Popeyes - Here's the latest crappy ending to Ezekiel Jackson/Wade Barrett. Only six or seven more shitty endings and they'll match Kofi/Dolph from last year!

THE CORRE v. EZEKIEL JACKSON & THE USOS
As if they're TRYING to prove my point about the scarcity of babyfaces on this show, now we have The Usos hastily thrown onto the babyface side without any rhyme or reason after they've been heels for their entire tenure. We find out that Ezekiel Jackson and Wade Barrett are having another Intercontinental Title match at Capitol Punishment.

Jackson wants Barrett, but he'll get Slater and like it. Jackson tosses Slater around easily and toys with him for a bit. Tag is made to Jimmy, who applies the side headlock. Slater tags out to Gabriel and Jimmy gets the armbar. Jimmy pops 'n locks for no good reason and kicks Gabriel in the gut. Tag is made to Jey and the Usos hit a double-team elbow. Jey misses the running Umaga buttsplash in the corner and Gabriel hits a drop toehold and applies a headlock. Jey clears himself out of the heel corner, but gets taken out. Slater picks up Jey on the outside and drops him on the announce table to take us to our next ad break.

We come back with Barrett pounding away on Jey. Bossman Slam gets 2. Tag is made to Slater, who stomps on Jey in the corner. Time to hit the chinlock. Jey backs Slater into the corner, but gets pulled by the hair and pushed into the corner. Running neckbreaker gets 2. Gabriel comes in with a springboard stomp for 2 before tagging out to Barrett. Barrett hits a headbutt, but telegraphs the backdrop. Tag is made to Jackson and Barrett quickly tags in Gabriel. Jackson hits a bodyslam (1), as Barrett starts to take a walk. Slater tries to stop Barrett, but Barrett's heading to the back. Slater runs in, but walks into another Jackson bodyslam (2). Slater gets up and turns around into a double Uso superkick! Jackson bodyslams Gabriel (3). He bodyslams him again (4). Torture Rack finishes at 11 minutes and 40 seconds.
FINAL JACKSON BODYSLAM COUNT: 4

WINNERS: Ezekiel Jackson & The Usos - A slow match, but the Usos helped make it pretty watchable.

Backstage, Teddy Long makes a bet on this weekend's horse race. Sheamus comes into the picture and demands a match with Christian. Sheamus blames Long for what happened last week, since Long named Christian the referee. Man's got a point there. Long instead gives Sheamus a No DQ match with Randy Orton. Didn't the announcers start the show by saying that Orton wasn't here tonight? That was HALF AN HOUR AGO...on a TAPED show! This lack of internal logic annoys me!

Backstage, Slater and Gabriel take umbrage to Barrett taking a walk. Slater and Gabriel wish Barrett luck, as they walk out and declare The Corre done. Finally! Scratch one inept stable.

TRENT BARETTA v. JINDER MAHAL (w/THE GREAT KHALI)
And wouldn't you know it, the announcers are backtracking now and saying, "Well, gee, what do you know? Randy Orton's here, after all! He just got here right now, yes sir he did!"

Trent Baretta gets no entrance, because he's cannon fodder, of course. At least they're consistent with him. Full Nelson slam, goodbye.

WINNER: Jinder Mahal - SQUASH!

Post-match, Khali applies the Kona Crusher (SHAKA!!!) for fun.

Backstage, we go to Random Backstage Interview #4 (I'm sure he has a name, but I can't be bothered with it) standing by with AJ. AJ gets a couple of words out, before Tamina and Rosa come into the picture. They give her a piece of cheese, because she's a mouse, you see. AJ scores a lot of points with me by pointing out that this is pretty much a poor woman's LayCool act. Natalya comes into the picture in time for some FART HUMOR! You know, I'd ask when they turned Rosa heel, but I honestly don't care anymore.

Ad break - Yes, they're still shilling for the Randy Orton DVD

TAMINA (w/ROSA MENDES) v. AJ (w/NATALYA)
Cole gets in his best line of the night with "The comic stylings of Tamina and Rosa...one night only." He burns his goodwill quickly by relentlessly making fun of AJ by calling her a nerd. I'm surprised he hasn't called her "Daniel Bryan" by accident.

AJ tries to outquick Tamina and gets nowhere. Announcers note that Team Natty has had issues with Tamina and Alicia Fox, without offering any kind of explanation to why Rosa's out here instead of Alicia. AJ gets a seated dropkick, but Tamina asserts the power advantage. She gets a big powerslam and an armbar. Gorilla press misses. Seated dropkick and running knee to the head get 2. AJ gets whipped into the corner and elbows her way out of a corner charge. She goes for a springboard crossbody and gets caught. Samoan Drop looks to finish, but AJ rolls Tamina up for the quick pin!

WINNER: AJ - Two-minute special. Quick and harmless.

Backstage, Randy Orton walks to the ring.

Ad break - Capitol Punishment promo offers up the antics of R-Truth

Here's the exact same video package that opened the show. Why are they showing this again?

I guess it's to lead into Randy Orton, who's coming to the ring for a promo. I have little patience, so let's get Randy Orton Promo Template #724 out of the way quickly.

Orton: So Christian...I hear that you were out here earlier tonight running your mouth before I arrived. So what I would like you to do is come down to this ring and say what it is you have to say to my face.

Christian opts for the TitanTron, instead. Hey, do I see Randy Orton's bus that we never hear about, except for when it's convenient to the plot?

Christian: Randy...Randy, you want me to come out there right now, then do me a favor. Why don't you ask the people what they want? Actually, why don't we do what Teddy Long does, "Hey playas, who wants to see Christian come out and confront Randy Orton? Holla holla holla! Holla holla holla! You want me to come out there? Want me to come out there and confront him?" Forget it, Randy. I know you want to do more than just talk. I'm not coming out there.

Orton: You're right, Christian. I want you to be a man, come out here and deal with this man-to-man, FACE-to-face! And let me tell you something, let me tell you something, Christian. Beating the hell out of you is only going to be an added bonus.

Christian: One more match for the World Heavyweight Championship, Randy. One more match. One more match. One more match.

Orton: I do not CARE what you want!

Christian: Well, you should care, Randy! You should! Because you see, before I smashed you in the face with the World Heavyweight Championship last week, I was the special guest referee...and I could have counted your shoulders to the mat, but I didn't. Because I didn't want to beat Sheamus for the World Heavyweight Championship, Randy. I want to beat you. I know I can beat you, Randy. I know I can beat you. You should be thanking me. You should be thanking me right now.

Orton: Thanking you? You know what, Christian? Five days after you became World Champion, I beat you. And then another three weeks after that! And I am ready to beat you again right now!

Christian: Right now?

Orton: YEAH! So come on!

Christian: Ok, you convinced me. Right now? Randy, I'm finished doing things on your terms, I'm finished doing things on Teddy Long's terms, I'm finished doing things on "the peeps'" terms. From now on, we do things on Christian's terms. And my terms are this...Christian versus Randy Orton for the World Heavyweight Championship at Capitol Punishment.

Orton: Christian, you're on! But it doesn't matter where we meet next, the result will be the same, I will beat you, like I always do. And I will remain the World Heavyweight Champion.

Christian: I'll see you in DC, Randy.

So Christian gets into his car and the camera makes sure to point out that he's driving away, so naturally he'll be back later. Orton poses in the middle of the ring as his music hits.

Backstage, Ted DiBiase and Cody Rhodes make fun of Anthony Weiner's dick photo. No, seriously. Cody wants to call the shots, considering how things are going. DiBiase points out that they used to be equals as part of Legacy. Thank God SOMEONE got that continuity out there! Cody points out that while DiBiase was screwing around with money and women, he made something of himself. DiBiase shoots back that Cody just got his face busted up. In response, Cody demands one of his bagboys bring over a bag and put it on himself. Cody admits that it took the loss of everything he had to realize he could gain anything. "So yeah, I may be nuts, but I may be a genius, too."

Ad break - Wrestlemania DVD promo

WWE Rewind - Last week's fun with Daniel Bryan and the DiBiase/Rhodes tandem featuring Sin Cara

SIN CARA v. TED DiBIASE (w/CODY RHODES)
Cody has his minions hand out paper bags to the crowd, as the announcers (having heard someone else mention it first, naturally) finally point out Rhodes and DiBiase were once a part of Legacy. Of course, calling them "one of the most successful groups in WWE history" is a Schiavone-level hyperbole, Michael Cole!

The mood lighting comes up as the bell rings and we start with a side headlock from DiBiase. Springboard crossbody gets two for SC. SC gets his double springboard corkscrew armdrag. SC hits a series of kicks, but gets whipped into the ropes. He does the handspring counter, but botches a backflip. Spinning headscissors takes DiBiase. SC runs into a weak boot in the corner. SC backflips out of a Dream Street attempt and hits a dropkick. DiBiase backdrops Sc over the top, but SC lands on the apron and hits an enziguiri. SC looks for a springboard and gets pulled down by Rhodes for the DQ at less than two minutes.

WINNER BY DQ: Sin Cara - Well, that was a waste of time.

Post-match, the lights come back up and the beatdown is on. Daniel Bryan makes the save and clears out the heels. Teddy Long comes out and makes a tag match for right now. It begs the question of why they didn't just book this as a tag match in the first place, but what do I know?

Ad break

SIN CARA & DANIEL BRYAN v. CODY RHODES & TED DiBIASE
We come back with Bryan hitting the armbar on DiBiase before DiBiase tags out to Rhodes. Cody charges in, but gets kicked for his troubles. Bryan dodges Rhodes and ducks out, with the diversion allowing SC to come in with a springboard. I missed the tag at some point, because SC is apparently legal. SC quickly gets chucked into the steel post, shoulder-first. Tag is made to DiBiase, who works over SC's arm. DiBiase targets the arm. DiBiase scoops up SC, who rolls him up into the ropes, causing the pin to be broken. DiBiase tags out and Cody stomps away. Time to hit the armbar. Sc tries to kick his way out, so Cody hits a single-arm DDT for 2. Back to the heel corner, DiBiase gets tagged in and keeps working over SC. Tag back to Rhodes, who waffles Bryan for fun. Double team from the heels as the ref tends to Bryan. Back to the armbar. SC hits Cody with an enziguiri. Tags made on both sides and Bryan cleans house on DiBiase, with Cody noticeably bailing to the outside. Belly-to-belly suplex sends DiBiase to the face corner. Running corner dropkick hits for 2. Bryan climbs the turnbuckles and he shoves away an incoming Rhodes. SC wipes out Cody with a suicide dive! DiBiase tries to intercept Bryan, but gets shoved off. Tornado DDT attempt is caught (!), but Bryan easily slides himself into the LeBell Lock for the tap out!

WINNERS: Daniel Bryan & Sin Cara - Decent tag match and a nice showcase for all four guys.

Later tonight, Randy Orton faces Sheamus. It's No DQ! No title, either, but I'm sure Sheamus doesn't mind. It's not like that's what he was LOOKING FOR or anything!

Ad break - Best of Nitro DVD promo! See the patron saints of moronic announcers as they fall for Fake Stings over and over again!

Here's Johnny Curtis. He's got a potato chip on his shoulder. This is as stupid as it sounds.

Your announcers three guys that are rapidly getting on my nerves. They announce last week's Tough Enough winner, as we segue into another idiotic dream sequence.

Backstage, the demoted Matt Striker asks Randy Orton about tonight's match. Orton looks at tonight's match as therapy. Yup.

Sheamus makes his entrance for tonight's main event. We've got about a half-hour left, so this will at least be nice and long. The main event is next!

Ad break

"THE CELTIC WARRIOR" SHEAMUS v. RANDY ORTON: NON-TITLE, NO DQ MATCH
You know, the more everyone points out that Sheamus got screwed last week and that it was pretty much an admitted fact that Sheamus got screwed, it makes me want to scream at my TV, "Then why isn't this for the title???" But then I'd be screaming at my TV...and that would just be weird.

Sheamus starts off by overpowering Orton and having his way with him. Orton comes back with the Thesz Press BY GAWD! Corner whip is reversed, but Orton hits a clothesline coming out of the corner. Orton dumps Sheamus and takes the fight outside. Sheamus is chucked into the barricade repeatedly and Orton takes him down with a clothesline. Back in the ring, Orton misses a kneedrop, so Sheamus hammers away. Running knee to the face hits, as Sheamus soaks up some heat. Sheamus wants the vaulting shoulderblock, but Orton's got it scouted and hits a dropkick to send Sheamus back out. Orton tosses Sheamus around some more and bangs his head onto the steel steps. Orton places Sheamus's head onto the steel steps and winds up for a big stomp (your babyface, ladies and gentlemen), but misses. Sheamus slams Orton's head onto the steps and clotheslines Orton to send us to our final ad break of the night.

We come back with Sheamus hitting the chinlock. Orton breaks it, but charges into an elbow. Back to the chinlock and some methodical offense. Vaulting shoulderblock hits this time, but it only gets 2. Gotta love how many times I've heard that this is "No disqualification", but that's hardly come into play at all. Both men exchange blows in the corner and Sheamus hits the Irish Hammer for 2. Back to the chinlock again! What an exciting No DQ match! Orton breaks it with a back suplex. Both men exchange blows again with Sheamus winning out. Sheamus telegraphs a backdrop and gets clotheslined. Snap powerslam takes Sheamus down. Hanging DDT is countered with a backdrop that sends Orton over. We fight outside again, as Orton gets whipped into the steel steps. Sheamus grabs the steel steps, as NOW he starts taking advantage of the stipulation. He whacks Orton in the back with the steel steps. Sheamus brings both Orton AND the steel steps into the ring! Orton intercepts Sheamus and hits his backbreaker for 2. Orton stalks Sheamus, but Sheamus recovers and stomps away on Orton. Sheamus looks for the Davey Boy powerslam on the steel steps, but Orton shakes out of it. He takes Sheamus down with a powerslam onto the steel steps! It only gets 2! Orton takes his time again and walks into the Irish Curse for 2! Sheamus exits the ring and looks for plundah! He has a kendo stick! He goes to work on Orton and hits him repeatedly, with a mild head shot taking Orton down. The assault only gets 2! Sheamus measures Orton for the Brogue Kick, but misses and crotches himself. Orton hits Sheamus with a right and Sheamus is hung up by the ankle! Orton eyes the kendo stick and decides to make Sheamus the world's whitest piñata. Hanging DDT hits! VIPER COIL! Here's Christian from behind. You mean he drove away from the arena and still managed to come back? I'm shocked! SHOCKED, I say! Orton wants an RKO, but Christian escapes it, as Sheamus swoops in and hits Orton with the Irish Hammer! It only gets 2! Sheamus sets up for the High Cross, but Orton slips out. Orton ducks the Brogue Kick and hits the RKO, but Christian immediately wipes out Orton from behind with the title! Sheamus covers for the pin at 21 minutes.

WINNER: Sheamus - Took a while for that to get going and it was starting to get really good, before the Captain Obvious ending kicked in.

Post-match, Sheamus gets his hand raised and leaves the ring. It's not like he has an issue with Christian or anything, after all. Christian poses with the title to end the show.

FINAL THOUGHT

So just for the sake of argument, let's reel off the top heels across both shows. You've got Christian, Sheamus, R-Truth, Miz, Del Rio, Punk and not too far behind them you've got Barrett, Khali, Mark Henry, Rhodes, and Swagger. As for top faces, you've got Cena and Orton and...Mysterio and...yeah, that's pretty much it. What the hell is it with this company and turning everybody not named Cena and Orton heel, especially when Orton's such a terrible babyface? It's not so much that I'm getting Cena/Orton fatigue (even though I am), but how many of these heels are going to get lost in the shuffle because there's nothing for them to do? Del Rio's already getting put in a throwaway feud with Big Show. Unless he gets thrown into the title match next week, Sheamus suddenly has nothing to do. Henry's heel turn is already a waste, because he has no one to feud with. And poor Cody Rhodes. He's worked so hard to make himself one of the hottest heel acts in the company and he can't break through because he's now behind Christian, Sheamus, and Henry (and depending on how generous you feel, Barrett and Khali) on the heel pecking order. It's really disheartening and I'm starting to feel really bad for the guy. Both of these shows need new top babyfaces and soon, even if one of the solutions does end up being Ezekiel Jackson.

I will say one thing, though. Anyone else find it hilarious that SmackDown's main event featured more wrestling than the entirety of this week's Impact Wrestling? Wrestling matters, indeed.

Until next week!

(edited by It's False on 11.6.11 0310)

---
Promote this thread!
CRZ
Big Brother
Administrator



Since: 9.12.01
From: ミネアポリス

Since last post: 5 days
Last activity: 10 min.


ICQ:
#2 Posted on | Instant Rating: 9.85
They have GOT to stop overly mic'ing the refs on this show. It's been more than once so I have to believe it's intentional, but surely it has to be distracting to other folks besides me.

(Although...hearing Rod Zapata speak that crazy language to Sin Cara is semi-amusing - clearly, it's not even English!)

I have to say I really feel you're selling these outstanding promos by NXT Season 4 Winner Johnny Curtis short. HE is LIVING the CLICHE - I mean DREAM!


---

BigDaddyLoco
Scrapple



Since: 2.1.02

Since last post: 245 days
Last activity: 245 days

#3 Posted on | Instant Rating: 4.00
Originally posted by It's False

---

FINAL THOUGHT

So just for the sake of argument, let's reel off the top heels across both shows. You've got Christian, Sheamus, R-Truth, Miz, Del Rio, Punk and not too far behind them you've got Barrett, Khali, Mark Henry, Rhodes, and Swagger. As for top faces, you've got Cena and Orton and...Mysterio and...yeah, that's pretty much it. What the hell is it with this company and turning everybody not named Cena and Orton heel, especially when Orton's such a terrible babyface? It's not so much that I'm getting Cena/Orton fatigue (even though I am), but how many of these heels are going to get lost in the shuffle because there's nothing for them to do? Del Rio's already getting put in a throwaway feud with Big Show. Unless he gets thrown into the title match next week, Sheamus suddenly has nothing to do. Henry's heel turn is already a waste, because he has no one to feud with. And poor Cody Rhodes. He's worked so hard to make himself one of the hottest heel acts in the company and he can't break through because he's now behind Christian, Sheamus, and Henry (and depending on how generous you feel, Barrett and Khali) on the heel pecking order. It's really disheartening and I'm starting to feel really bad for the guy. Both of these shows need new top babyfaces and soon, even if one of the solutions does end up being Ezekiel Jackson.


---


I think it is only a matter of time until the fans turn R-Truth into one of those guys who gets cheered for doing heelish things potentially turning him into one of those "shades of grey" guys. This could work out well, unless they have him go back to sucking up to the fans, which would then ruin everything.


JustinShapiro
Scrapple
Moderator




Since: 12.12.01

Since last post: 753 days
Last activity: 405 days

#4 Posted on | Instant Rating: 9.09
The lovable Alex Riley is the new #3 babyface. Duh.

On the serious front, to some degree you need more heels than babyfaces. Because we're in a heliocentric system with Cena and Orton and the center of their solar systems, and they cycle through heels and move on to the next one. And on the way up and the way down the heel works with Kofi/Big Show/Rey, or the Smackdown equivalent of uhh, well that's less defined, but there are analogues in Bryan/Kane/Sin Cara.

Raw at least seems to have reached clarity, for this second, thus things like the "Kofi rules!" video and actually putting Evan Bourne in a program. For the summer, you've got Truth as a placeholder until Cena/Del Rio, then Morrison/Truth if JM recovers well, and Miz/Riley for the foreseeable future and later Miz/Rey as something new and worthy of both guys. And Punk is available and great depending on whatever agreement they come to on his future. So Raw looks like it's in good shape, unless you're Swagger and you were excited about your career benefiting from the gigantic Cole push.

Smackdown, not so much, as they've got all of one feud, with Sheamus sprinkled in. (Okay, three, with Zeke vs. Barrett and DanielSin vs. Priceless.) I think there was more mileage in Christian as a new top face before doing the turn, but in a vacuum the angle has been one of the better things they've done in a long time. That's more of a priority to me than the overall face/heel depth chart.

Plus, the accepted pitch for Christian to win the title, lose it quickly, and then turn heel out of that -- as opposed to Del Rio winning and losing in a short turnaround and Christian fading back down to his usual spot -- is probably what politically allowed him to stick around in the top mix. And he's pretty much been the co-focus of Smackdown since Extreme Rules, which as a Christian fan is pretty much all I can ask for.

If this was a world where they still booked finishes for an actual purpose, I'd think Sheamus getting a pin on Orton would set him up as the next challenger for the July PPV and put Christian in MITB. But my suggestion where Christian would use the briefcase to get the belt back involved him turning heel out of that and he's already done that. So you'd probably want to keep Christian/Orton going. Maybe Orton/Sheamus/Christian in a threeway and then Christian/Orton in a blowoff gimmick match for SummerSlam? Getting four months out of that first Orton/Christian title change would be pretty impressive by the standards of WWE patience.

Plus, hey, Smackdown (might've) turned Gabriel and Slater so perhaps there will be dynamic new 450ing babyface Justin Gabriel too. Isn't that sad, on their one-year anniversary of friendship with Wade? :(
JustinShapiro
Scrapple
Moderator




Since: 12.12.01

Since last post: 753 days
Last activity: 405 days

#5 Posted on | Instant Rating: 9.09
holy
crap

holy
crap

this song
is the new best song



it makes Insatiable seem Satiable


jwrestle
Lap cheong



Since: 4.4.03
From: Nitro WV

Since last post: 311 days
Last activity: 311 days


ICQ:
#6 Posted on | Instant Rating: 2.63
Just watched the Christian promo & was it me or was the crowd still cheering him? Ok, first off that was a pretty darn good promo & decent turn but I think I'm going to agree with It's False on this one. Why is it needed? Ok, yeah he's been since he return but let the people cheer him.

As for Orton, It's False analysis is correct on his bland face deal yet the WWE has attempted to manufacture "Stone Cold" Steve Austin v2.0 in what Orton is right now. It's been ok but still comes of very blah. Why? HE'S NOT STEVE AUSTIN!


---


Goto http://www.indywrestlers.net
Also: http://youtube.com/indywrestlersdotnet
***New Items added daily and weekly***



09.30.08 1st time W of the day.
24.05.09 2nd time W of the day.
John Orquiola
Scrapple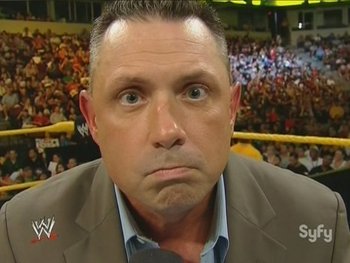 Since: 28.2.02
From: Boston

Since last post: 2549 days
Last activity: 2549 days

#7 Posted on | Instant Rating: 6.23
Originally posted by JustinShapiro

---

holy
crap

holy
crap

this song
is the new best song



it makes Insatiable seem Satiable



---


This is boomie-tastic. It's like Jim Johnston magically turned into Sailor Moon to compose an entrance theme.


---

@BackoftheHead






www.backofthehead.com