CANADIAN BULLDOG
Andouille



Since: 5.3.03
From: TORONTO

Since last post: 2773 days
Last activity: 394 days


ICQ:
#1 Posted on
Hi there.... Been a long, long time since I've posted on this forum, and I apologize if I'm in the wrong forum for this (if there even is one), but read the following on Slam! Wrestling just now and wanted to make sure the news was passed along:

SLAM! Wrestling was shocked to learn this morning about the passing of Montreal publicist Michael Ryan, who wrote a couple of pieces for this site over the years -- our favourite was the remembrance of Stinky the Homeless Guy. His screen nickname was "Llakor." His mother, Michele Ryan, posted the news on Michael's Facebook page: "Since Terry & I don't know all of Michael's friends and collegues, we decided to post the passing of our beloved son Michael Dylan Ryan. We called 911 last evening due to a number of people looking for him, he missing appts., card games, etc, and within an hour the St. Sauveur police were knocking at the door giving this terrible news. We haven't decided what our plans will be for this occasion and we will keep you updated. Michele & Terry Ryan." We will have more as we know more. Michael was also a key figure in the Young Cuts Film Festival.


Personally, I didn't know Michael all that well, but reached out to him from time to time when I was doing DVD reviews about the Montreal wrestling scene and wanted to know more background, and of course, I enjoyed reading his posts here and elsewhere.


---

The only book you'll ever need!!!

Inside The Ropes!!! New column on World Wrestling Insanity!!!
Even more plugs: The official Canadian Bulldog Blog, Website, and Merchandise Center.

Promote this thread!
El Nastio
Banger



Since: 14.1.02
From: Ottawa Ontario, by way of Walkerton

Since last post: 5 days
Last activity: 5 days


ICQ:
#2 Posted on | Instant Rating: 3.44
Considering Micheal's long-standing efforts to promote independent wrestling and his work in the Quebec indie scene, I think posting it here is apropros.

Rest in peace, Llakor.


---
"You can't put a price on integrity"
JimBob Skeeter
Bierwurst



Since: 2.1.02
From: MN

Since last post: 462 days
Last activity: 421 days

#3 Posted on | Instant Rating: 7.91
CB, thanks for the heads up. RIP, Llakor.
Sec19Row53
Lap cheong



Since: 2.1.02
From: Oconomowoc, WI

Since last post: 19 days
Last activity: 11 hours

#4 Posted on | Instant Rating: 6.07
I'm just stunned. I never met Llakor, but always loved his work.

Just wow. Godspeed, Michael.
John Orquiola
Scrapple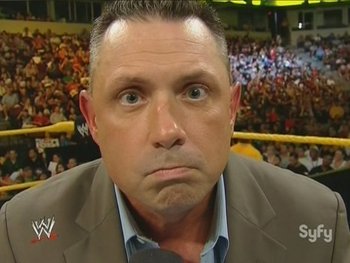 Since: 28.2.02
From: Boston

Since last post: 2344 days
Last activity: 2344 days

#5 Posted on | Instant Rating: 6.45
I'm in shock. In the last few months, Michael reached out to me about possibly taking over the Arrow recaps for his website Sight and Sound. It didn't work out, but we'd been corresponding here and there. And of course, I've read his movie reviews. I can't believe it. RIP Llakor.


---

"Cody, I mustache you a question." - The Miz
DrHogie
Cotechino



Since: 2.1.02
From: Starkville, MS

Since last post: 2773 days
Last activity: 2772 days


ICQ:
#6 Posted on
Stunned and shocked. I still get the updates for the Young Cuts Film Festival he stayed very involved with. I know he was extremely passionate for it and indie wrestling in general. RIP Llakor :(


---

--DrH
pieman
As young as
he feels



Since: 11.12.01
From: China, Maine

Since last post: 23 days
Last activity: 2 days


ICQ:
#7 Posted on | Instant Rating: 7.30


I too am stunned by this news. Michael and I corresponded many times over the years, but we never met in person. Recently, he had reached out to my son and any of his friends to submit to the Young Cuts Film Festival. I am very saddened by this news and were I more fervent about checking my Facebook would have seen this, too. Thanks for the heads-up, Bulldog.


---

WaxyBo
Cotto



Since: 2.1.02
From: New York

Since last post: 2773 days
Last activity: 2492 days

#8 Posted on
Shocked to hear this. RIP, Llakor. You will be missed.

(edited by WaxyBo on 25.4.13 0948)
samoflange
Lap cheong



Since: 22.2.04
From: Cambridge, MA

Since last post: 2599 days
Last activity: 2591 days

#9 Posted on | Instant Rating: 6.32
Following the same message board for 9 years means things stick in your mind, mostly the usernames and personalities of frequent posters. Llakor is one of those usernames I saw around here a whole lot and I've probably read hundreds of pages worth of text that he wrote. When scrolling down I'd see 'Llakor' on the left side and think, "this is most likely going to be something informative/interesting/funny/good". He will surely be missed here.
BrewGuy
Kolbasz



Since: 2.1.02
From: Pickering, Ontario

Since last post: 2773 days
Last activity: 1312 days


ICQ:
#10 Posted on
I am shocked and devastated to hear this news. I've met Michael on several occasions, the earliest of which was when he and a bunch of great people came to my place in Toronto for WrestleMania 18. We had been friends long before that on this and the ITVR message board, and as he was from Montreal and I was from Toronto, we naturally enjoyed ribbing each other about the Leafs and the Habs. We did a radio show back then, where Michael would very happily take the heel role to anybody who called in to mouth off by yelling at them in French. It was wonderful.

We kept in touch ever since, and he always kept me posted on his booking and announcing efforts with the Internet Wrestling Syndicate (IWS), something I know he loved with all his heart. Not long ago at all, he was incredibly excited telling me about how the WWE had signed IWS favorite "El Generico" to a contract. He sounded like a proud dad. His pure love and passion for wrestling was evident in every post he made. He was truly in love with wrestling's ability to tell a compelling story, and cared deeply for those who put everything on the line to make these stories happen.

Michael even made a dream of mine come true, by getting me to do color commentary as a "guest" on an IWS DVD. I'll never forget that. When we first started I was quite nervous, and it showed. After the first match, I remember distinctly how he told me to "put more BrewGuy" into it; in other words, don't be afraid to be a character and have fun with what you're doing; to bring my passion level up to where his was. Once I took his advice, it was pure joy, and something I will never forget.

I had a chance to visit Michael in Montreal in 2003 for both a local show, and the No Way Out PPV. At the local show, we saw a guy nobody knew named Sylvain Grenier perform in the main event. The next night, imagine our shock when in the main event of No Way Out, Grenier, as the guest referee, screwed over none other than Hulk Hogan himself to help The Rock get the victory. We had watched a performer go from a local house show with maybe 100 people to the biggest stage of wrestling in 24 hours. He was elated for Grenier, and the joy in his face was unmistakable. I'll never forget that.

The world is a lesser place today without him. Rest in peace, Michael, and thankyou for your friendship, and for sharing with us both your wrestling and film passion. I truly wish there were more people who grabbed hold of what they love with both hands the way you did. You will be remembered always, and I already miss you greatly.


---
Corajudo
Frankfurter



Since: 7.11.02
From: Dallas, TX

Since last post: 2334 days
Last activity: 1837 days

#11 Posted on
I'm shocked as well. I worked with him on a series of short educational videos on economics. Super great guy, such a tragic loss.
cfgb
Bierwurst



Since: 2.1.02
From: Ottawa, Ontario

Since last post: 1166 days
Last activity: 149 days

#12 Posted on | Instant Rating: 6.82
Michael is the only person from this board I met directly because of this community. It was just one time, in 2005, when he hooked me up with discounted tickets to see a wrestling double header from the groups he was involved with in Gatineau (interspecies wrestling, and Internet wrestling syndicate)...

I don't know him outside of that meeting and the rare PM, but from all accounts he was a hard working, and very passionate person about the work he was doing. Like me, he was a Bell Canada "lifer", working out of our Montreal office. His spare time was quite literally consumed with his desire to be involved with wrestling; and promotion he could do! Quick with wit and flashy with the pen.

RIP Michael.


---
The Shooting Star Press blog
SchippeWreck
Banger



Since: 26.3.03
From: Glendale, CA

Since last post: 890 days
Last activity: 170 days

#13 Posted on | Instant Rating: 7.84
This hurts. I didn't know him other than some brief interactions here, but he provided so much great content for this site. He also clearly had a huge impact on the Quebec wrestling scene, leading to the rise of some of my favorite wrestlers:





---

"It's magic! We don't need to explain it!"
messenoir
Summer sausage



Since: 20.2.02
From: Columbia, MO

Since last post: 2773 days
Last activity: 2640 days

#14 Posted on
Wow this is crazy. While we haven't talked in forever, back when ITVR was pretty active he and I used to stay up and just talk about French stuff, politics, etc till late at night.. He made this soundtrack for a lot of the ITVR
members and sent me the CDs. In that package he sent me this crazy Canadian super hero toy which my daughter loves playing with and which makes me laugh everytime I see it and has also made me want to track him down so we can talk again. I guess it's too late for that but he seemed like a really good guy from the time I had to get to know him.


---
dMp
Knackwurst



Since: 4.1.02
From: The Hague, Netherlands (Europe)

Since last post: 8 days
Last activity: 3 days

#15 Posted on | Instant Rating: 7.88
I just found out through twitter just now, seeing the list of retweets by Steen. It took a few seconds before the name hit me.
A tragic loss for all that knew him, and in fact for all of us that love wrestling.
His recaps and stories were always great to read and his passion for wrestling was clear to see.

My thoughts are with his family and loved ones.
RIP.


Deputy Marshall
Liverwurst



Since: 28.6.04
From: Troy, NY

Since last post: 2235 days
Last activity: 1756 days

#16 Posted on
Like so many others, just in shock. I talked to him as recently as late last week about stuff he'd been up to. Our last conversation we were having a laugh about a filmmaker who asked him for feedback on his movie and freaked out when not all of it was positive.

I loved talking to Mike. He was always so goddamn passionate and opinionated, but in all the right ways, you know? Like, he believed and you believed he believed. If that makes any sense. Whether it was pro wrestling or movies or just life stuff in general, he made me think about things in ways I hadn't before. One of those people that I guess you'd call a tastemaker. He would change the way you saw things.

Such a brilliant, talented, enthusiastic guy who touched so many lives. This is just so, so freaking sad.

I'm grateful I had the chance to know him, and wish I'd only known him that much better.


---


Kevin Marshall Online dot com


@KevinMarshall on Twitter
It's False
Scrapple



Since: 20.6.02
From: I am the Tag Team Champions!

Since last post: 983 days
Last activity: 230 days

#17 Posted on | Instant Rating: 6.36
It's one thing to log in and read about the loss of another wrestler. It's a completely different thing to open this page and learn about the loss of one of our own.

RIP. It is a truly sad day.


---
theremin
Boerewors



Since: 31.1.12

Since last post: 992 days
Last activity: 992 days

#18 Posted on | Instant Rating: 6.69
This was a shock to see.

I'm obviously new and not that active, but Llakor was the only person to ever message me on this board, so everytime I opened the page I saw his name.
Spiraling_Shape
Bierwurst



Since: 2.1.02
From: PA

Since last post: 5 days
Last activity: 16 hours

#19 Posted on | Instant Rating: 6.73
Originally posted by It's False

---

It's one thing to log in and read about the loss of another wrestler. It's a completely different thing to open this page and learn about the loss of one of our own.

RIP. It is a truly sad day.

---


Well put. I didn't know Mike but I certainly recognized his screenname from his contributions to The-W over the years. RIP.
Bullitt
Shot in the dark




Since: 11.1.02
From: Houston

Since last post: 1550 days
Last activity: 1550 days

#20 Posted on | Instant Rating: 8.56
Wow. Sad indeed.

Had some great conversations with Mike back in the day. RIP.
Pages: 1 2 3 Next