Y2J 420
Italian
Banned



Since: 2.12.03
From: Illinois

Since last post: 6285 days
Last activity: 6218 days

#1 Posted on | Instant Rating: 2.29
Man was the Rock's opening promo a waste of TV time or what? It just dragged on and on until Orton came on...

I thought Orton should've rubbed in the fact that he has held the IC title longer than the Rock...maybe to add some salt to the wound...

Rock's wife doesn't look that hot...at least from what I saw...

Eugene looks more and more like Hercules Hernandez every time I see him...

I would've loved to see Eugene emulate Triple H while wrestling him...or maybe Flair or Hart? That would've been nice...though he did do the strut...

I guess that match ended in a "No Contest?"

"Awww shit....you hurt my arm Eugene..."


---

"Win if you can, lose if you must, but in the end, always cheat..." - Jesse "the Body" Ventura
Promote this thread!
ScreamingHeadGuy
Frankfurter



Since: 1.2.02
From: Appleton, WI

Since last post: 3897 days
Last activity: 3897 days

#2 Posted on | Instant Rating: 6.38
FOOTAGE! from last week, hyping tonight's HHH vs. Eugene match.

Fighting evil by moonlight, winning love by daylight, never running from a real fight, because it is time to WAKE UP! It's also time for Raw, live from Miami, FL...and a Fashion Report, too!

The Rock, in white wifebeater and navy blue denim, struts to the ring. He introduces his family and gobs of football players. Rock asks for Eugene, but out comes Randy, in black suit, white shirt, and striped tie, the IC Title over his shoulder. Randy announces that HHH and Eugene are hanging-out elsewhere. Randy then cuts a promo on Rock. WTH - they bleep "asshole"? Rocky then cuts-down Randy before challenging him. Randy declines, but Rock punks him out anyways. Bisch, in tan suit and black/white vertically striped shirt, sends his rent-a-cop minions down to remove Rock. On the way out, Rocky is followed by the camera, and he insults damn near everyone he sees. Back inn the ring, Edge, in black "Edge"-face tshirt, spears Randy.

In Bisch's Room of Fun, Bisch marshals the rent-a-cops to keep Rock away. Benoit walks in to allow HHH a title shot if Bisch will un-book HHH vs. Eugene. Bisch tells Benoit to bug-off, "or else".

Trish, in black/red top and black pants, the Women's Title over her shoulder, with Tyson, in black, vs. Victoria, in pink bikini top and hotpants (under a black shirt and pants with silver studs which she rips off on the stage). DarkHairedRef is the referee, in stripes. Trish with the rollup and ropes -> pin. Poor match. Post-match, Someone (a guy in drag?) in a red wig throws shoes at Trish.

Insert Diva hype here.

King, in black sportscoat and yellow shirt, and JR, in black hat, black suit, shirt and tie, present FOOTAGTE! of Kane's destruction, last week, of Michaels. Shawn has, apparently, suffered a crushed larnyx.

In the Room of Fun, Bisch, in glasses, is visited by Regal, in grey sportscoat, tan vest, tan shirt and tie. Regal pleads for Bisch to un-book the HHH vs. Eugent match. Bisch declares he's out to break Eugene's spirit and make him quit. Regal then gets all emotional, saying that, while he's still an evil bastard, even HE has developed a love for Eugene. Bisch then gets all diabolical by relieving Regal of his Eugene-sitting duties and returning him to active duty, booking Regal in a match - next.

Regal (to new music?), still in the tan shirt and grey slacks, vs. Kane, in black tights with red barbedwire stripes. Jack Doan is the official. Actually, Kane destroys Regal outside the ring. No match.

Moments ago, two sentances ago. Meanwhile, in Bisch's Room of Fun, Bisch books Kane vs. Benoit for the title, next week. Kane declares "you ain't seen nothing yet" before laughing his way out.

Another Diva segment.

Batista, in gold-crotch, black "Batista" undies, and Randy, in blue "Orton" undies with hip bolts, wearing the IC TItle, vs. Edge, in white gold-splatted "Edge" trenchcoat and white "Edge"-splattights, and Jericho, in black "Jericho" shirt and blue "Jericho" silhoutte tights with black/white rays. Chad Patton is the referee for the match. Batista, with a solid forearm/clothesline, drops Jericho. Officials come out to tend to Jericho. AdBreak comes out, too.

Cont. Edge is going it alone, Jericho being unable to continue. The heels are in control, as is proper. Edge, tenatiously, fights back, even getting a pair of near-falls. Batista hits a powerbomb, and Edge bleeds from under the eye. Randy picks-up a dazed Edge so he can hit the RKO -> pin. A nice match.

Even more Diva stuff.

FOOTAGE! of WW people trying to get people to register to vote.

In the back, Stacie bumps into Mattitude and gushes about fatherhood. Matt has a small box which sends Stacie all into excitment, but he makes her promise not to tell Lita.

Smackdown!! Quick, hit the fastforward button.

Outside, a limo pulls up. Out step Eugene, playing with action figures, Flair, and HHH.

Mattitude, in black shirt and worn blue jeans, comes down to the ring, all wussified. (I foresee Kane involvment.) He calls-out Lita, who dutifully does so, in black vest over purple armwraps, and black pants. Just when Matt pops the question, Kane appears on the Titantron (with feedback), announcing that it's Kane's baby (duh - like we didin't know that). Matt gets all "Liar liar, pants on fire" (which is pretty funny when you think about it). Kane just laughs. Lita looks like 'oops'. Mattitude knows that what Kane says is true and does the 'how could you hurt me, baby?' face. The crowd...chats amongst itself. I make fun of this segment.

In the back, Mattitude stalks away whilst LIta trapses after him. She reveals that she only sexed Kane to protect Matt. It all makes sense?

Yet more Diva activity. Man, it's like they picked all the ones I wouldn't touch with a 10-foot pole.

In Evolution's lockerroom, Eugene is buttered-up by Evolution. Bisch walks in so HHH can make him the bad cop before sending Eugene on his way. When they're along, the heels guffaw.

Eugene, in white/red inside-out jacked and blue undies, vs. HHH, in black iron-cross undies with Flair, in black suit and white shirt. Mike Chioda is the match official. The action is back-and-forth, as Eugene is able to match HHH's technical efforts. AdBreak interferes.

Cont. HHH takes control when he sucker-punches Eugene. Bisch comes out and tells HHH he can't just beat Eugene, he has to beat the hell out of Eugene. So HHH goes for the steel chair, but Benoit runs-out for the save. Benoit takes the chair for himself and uses it to drive-off Evolution, but HHH dodges out of the way, and Benoit clocks Eugene. Benoit gets laid-out and Evolution poses.

Overall: Wow - there was only ONE match in the first hour, and I can't say that I really minded. That's good storytelling. And the storytelling about Kane/Lita/Mattitude isn't that bad, but it's just a bad story - put it on a soap opera, not a wrestling show.


---

"ScreamingHeadGuy, don't fear the wang. Know the wang. Embrace the wang. BE the wang....."
- heed the wisdom of DEAN
Parts Unknown
Lap cheong



Since: 2.1.02
From: Darkenwood

Since last post: 1468 days
Last activity: 1153 days

#3 Posted on | Instant Rating: 7.39
Originally posted by Y2J 420

---

Eugene looks more and more like Hercules Hernandez every time I see him...


---


I think it's amazing how the sweatier Eugene gets, the more he morphs into late-80s Randy Savage.


---
Y2J 420
Italian
Banned



Since: 2.12.03
From: Illinois

Since last post: 6285 days
Last activity: 6218 days

#4 Posted on | Instant Rating: 2.29
That's true too...add in the tongue, and you have Hacksaw Jim Duggan...


---

"Win if you can, lose if you must, but in the end, always cheat..." - Jesse "the Body" Ventura
Gugs
Bierwurst



Since: 9.7.02
From: Sleep (That's where I'm a viking)

Since last post: 3666 days
Last activity: 2794 days

#5 Posted on | Instant Rating: 5.49
Wheel of Morality, turn turn turn. Tell us the lesson that we should learn.

Is there a reason they can't say "Hogan?"

"Who's he doing now, JR?"
"Why, that's...we haven't seen that in years!"

Benoit vs. Kane (the father of Lita's baby) next week. Joy.

I hope Matt turns back heel, jumps back to SmackDown, joins back up with Shannon Moore, and then I wake up and it's June 2003 again.


---

So, Brain, what do you want to do tonight?

The same thing we do every night, Pinky: Try to take over the world!
redsoxnation
Scrapple



Since: 24.7.02

Since last post: 3627 days
Last activity: 3627 days

#6 Posted on | Instant Rating: 5.37
The main event tried to keep it from reaching this level, but for the first time in ages, RAW was Sewage.
I don't care about the RAW Diva/Hooker search. For the love of God, 3 segments of that crap is worse than the Joe Schmo infomercial from last week. It was almost as bad as the wasted 25 minutes to open the show.
Remember in the good old days of Version 1 when Matt Hardy would have kicked Lita in the gut and given her a Twist of Fate? But, the contest between Lita and Stacy for Worst Acting ability still is a dead heat.
First match back for Regal, the fans almost give a damn about him, and they give him less of a shot against Kane than Vince's kid had.
I guess the Edge heel turn is now officially aborted. And it can be safe to write in Orton/Edge and Batista/Jericho for Vengeance. At least this gets Jericho out of the Trish angle that had been dragging for 9 months.
Dinsmore should Missing Link the turnbuckles when he hulks up. Trip did a nice job selling.



---

Are we allowed to use the voices in our heads as sources?
Mayhem
Scrapple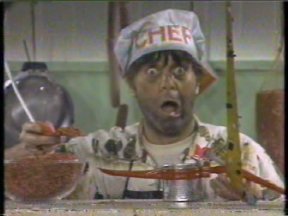 Since: 25.4.03
From: Nashville, TN

Since last post: 2143 days
Last activity: 34 days

#7 Posted on | Instant Rating: 4.89

I thought the Rock opening was great ... sure it went long, but it was a lot better than one of those 20 minute Triple H "AAAAGGGGHHHH I AAAAMMMM THE GAAAAME BLAH BLAH" promos.

I knew it was just matter of time before we got a Jericho/Batista PPV match ...

So I wonder when (and if) the 3rd Generation Superstar vs. 3rd Generation Superstar will go down?




---


Go banana.
The Great Thomas
Sujuk



Since: 17.6.02
From: Miami, Florida

Since last post: 6524 days
Last activity: 6524 days

#8 Posted on | Instant Rating: 5.48
When I saw HHH and Eugene spitting water together on the apron, one thought flashed through my mind:

Perhaps in another time, these two could have been the most dominating tag team ever...


---
FIRST EVER "W of the Day"! (4/12/04)
Please Support The Neo-Geo Pocket Color!
ekedolphin
Scrapple



Since: 12.1.02
From: Indianapolis, IN; now residing in Suffolk, VA

Since last post: 194 days
Last activity: 180 days

#9 Posted on | Instant Rating: 4.52
I noticed the Savage thing too... particularly when Triple H (playing the role of Hollywood Hogan) tried to pry Eugene's face apart on the ropes. I think that was one of the randomly-selected pictures on the main page of DDT Digest...
The whole Eugene thing was simply
brilliant.
Regal admitted to being a dirty rotten bastard, but said that he loved Eugene (in a completely platonic, big-brotherly way, that is). So Bischoff sent Kane out to beat the hell out of Regal, and threatened Benoit if he should get involved in the main event. (I'd look for consequences next week-- maybe the Benoit/Kane title match will be given a special stipulation?)
Eugene finally realizes that Triple H isn't his friend... but will he be aware that Benoit hit him with the chair by
accident?
Or is he going to assume that Chris turned on him too?
The Matt Hardy/Kane/Lita storyline, while soap-opera-ish, is finally fitting into the puzzle. Yeah, Matt ain't the father, which surprises only Matt. But it shouldn't
matter,
right? Lita slept with Kane to protect him, so Matt isn't the biological father. But any man can be a father. It takes a special man to be a
dad,
and Kane would never be a dad to that baby. So hopefully Matt realizes that it doesn't matter who the father is... that doesn't mean that he, Lita and Lita's child can't be a family. After all, Lita still loves Matt.
And with Kane getting a shot at the World Heavyweight Title next week, you have to ask yourself if Matt Hardy will get involved. Will he beat the hell out of Kane? Will he stay with Lita, or will he kick her out of his life?
In a related note... it's interesting how the heels allow Eric Bischoff to manipulate them. Bischoff used Triple H to try and beat the hell out of Eugene (which I don't think he really did a very good job of) in exchange for a World Title match. Bischoff uses Kane on a regular basis to beat the hell out of anyone who dares to cross the boss.
But Kane's equally good at manipulating Bischoff. Bischoff set a dangerous precedent by giving Kane a title shot. Basically he's saying, "You think you're gonna intimidate me by swinging a chair at me and destroying my office? Well... yeah, you're right."
I'll tell you... the writing is starting to take on a level of three-dimensionalism that's rare for any show not named
The West Wing.
Brilliant.
---
"I've never seen a purple horse before... besides the time I was stoned on antifreeze..."
--Skippy, Tails From the Mynarski Forest
Two-Time Wiener of the Day (5/27/02; 7/3/02)
Certified RFMC Member-- Ask To See My Credentials!
Mr Heel II
Lap cheong



Since: 25.2.02

Since last post: 1595 days
Last activity: 1331 days

#10 Posted on | Instant Rating: 5.81
How much better would you feel if your girl offered as encouragement "But it MIGHT be yours..."

The Rock was really good for awhile there. The backstage stuff was pretty sloppy until Coach (which made up for it). His comment to Bischoff about kicking him off the show was about spot-on in the sense that I could just feel the people changing the channel as he left the air.

So will Eugene be even more head damaged next week after the chairshot? Or will he be an EVIL GENIUS? It's all very diabolical.

That was Stevie in drag, right? Victoria needs more Stevie.

TwisterF5
Italian



Since: 18.2.04
From: The Houston 'burbs

Since last post: 3187 days
Last activity: 2711 days

#11 Posted on | Instant Rating: 3.69
(deleted by TwisterF5 on 21.6.04 2232)
Hurrikane757k
Salami



Since: 20.1.04
From: Fairfax, VA

Since last post: 6586 days
Last activity: 5684 days

#12 Posted on | Instant Rating: 4.46
About 49 segments for the RAW diva search tonight... mayube just a tad excessive. I don't see what upside this has, people watch RAW to see wrestling and crap involving wrestlers, not this stuff.

The Kane/Matt/Lita love triangle is getting up there in unintentional comedy. I thought I heard a "slut" chant when Kane revealed the news, and it would just be priceless if Lita was turned heel and Kane turned face by all of this.

The Rock... kinda dragged at the beginning, but it got better. Nice Rock gets bland, but smart-ass Rock tearing apart Orton's family and half of the locker room is great. "No wonder WCW went out of business." Orton didn't really do anything, but his reactions to the Pony accusation was pretty funny.

The main event was pretty good, Eugene is still undefeated and they told a good story of HHH getting pissed off (plus Flair's reaction to Eugene strutting was priceless)... as was the tag match. Although it seems like throwing every possible combination of Benoit, Edge, Jericho, Benjamin, and Evolution out there every week would get old, it's still pretty good.

That guy in drag, I think that was Stevie Richards. At least they're going with continuity, and maybe this'll freshen up Victoria's character some... although if it comes to the point where a guy in drag can freshen up your character, it doesn't take much.
Freeway
Scrapple



Since: 3.1.02
From: Calgary

Since last post: 3453 days
Last activity: 3141 days

#13 Posted on | Instant Rating: 6.24
Let's see...

The Rock's promo was a good choice to open the show. I enjoyed the continuity with Bischoff's evil booking plans systematically taking out every face except for Benoit. The question is whether or not Benoit will be punished for interfering or if Bisch will forget about it. The Canadians vs. Evolution tag match was good enough for government work, but Jericho getting injured every week is just dumb booking. I liked how they put over the fearless Edge, though. Cancel the Oscars, folks, we have our Best Actress...Lita. Her acting isn't quite Stephanie McMahon quality yet, but she's progressing nicely. Matt Hardy surprised me, though, as he went from surprise to sadness to rage to remorse to anger to sadness to sleepy all in one thirty second period. Impressive. Triple H as two-faced bastard works well. If only he had more folks to work off of. HHH/Eugene was about as well as it could've been given it was Evil Heel vs. Comedy Face. This seems to be all building to Benoit/HHH, so I can forgive them for a little bit of crazyiness.


---

2004 CALGARY FLAMES:
42-30-7-3 in 82 games for 94 points in the regular season
15-11 in 26 games in the playoffs
2004 Western Conference Champions

DVDs I Own
Y2J 420
Italian
Banned



Since: 2.12.03
From: Illinois

Since last post: 6285 days
Last activity: 6218 days

#14 Posted on | Instant Rating: 2.29
(deleted by Y2J 420 on 21.6.04 2034)
TwisterF5
Italian



Since: 18.2.04
From: The Houston 'burbs

Since last post: 3187 days
Last activity: 2711 days

#15 Posted on | Instant Rating: 3.69
(deleted by TwisterF5 on 21.6.04 2243)
Matt Tracker
Scrapple



Since: 8.5.03
From: North Carolina

Since last post: 37 days
Last activity: 15 hours

#16 Posted on | Instant Rating: 5.44
I think the guy in drag is Johnny Nitro desperately trying to get a regular contract on RAW again. I can see this extending into an angle where he wrestles as a woman for a while.


---

"To be the man, you gotta beat demands." -- The Lovely Mrs. Tracker
Mayhem
Scrapple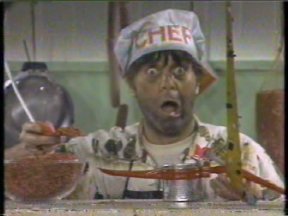 Since: 25.4.03
From: Nashville, TN

Since last post: 2143 days
Last activity: 34 days

#17 Posted on | Instant Rating: 4.78
Originally posted by Matt Tracker

---

I think the guy in drag is Johnny Nitro desperately trying to get a regular contract on RAW again. I can see this extending into an angle where he wrestles as a woman for a while.

---


That had to be Richards ... looked too much like him ... maybe this is the start of psycho Victoria coming back.


---


Go banana.
Evil Antler God
Potato korv



Since: 10.1.02

Since last post: 6087 days
Last activity: 4213 days

#18 Posted on | Instant Rating: 5.28
Seems that way. Victoria had one hell of a "YOU BITCH" expression on right after she lost
Tony Stewart
Pickled pork



Since: 6.6.04

Since last post: 5882 days
Last activity: 4491 days

#19 Posted on | Instant Rating: 7.09
Why didn't they replay Edge getting busted open the old fashioned way by Batista? That was a full on shot and is going to leave one hell of an egg under his eye.

Kane's not a bad talker. It's funny how he was chosen to play a mute for so long.

It felt like they ran out of time at the end of the show.







(edited by Tony Stewart on 22.6.04 0007)
RecklessEric
Boerewors



Since: 23.1.02
From: Maine

Since last post: 267 days
Last activity: 4 days

#20 Posted on
Originally posted by gugs

---

I hope Matt turns back heel, jumps back to SmackDown, joins back up with Shannon Moore, and then I wake up and it's June 2003 again.

---



I don't. Then I won't have that memory of that avatar you have. What good was Matt doing on Smackdown besides putting over one legged pompous asses? Here he is on Raw in a "central" storyline.

Also when Rock threw the donut at the fat samoan i nearly fell out of my chair laughing



---

OOPS! You bwoke it.

The requested URL was not found.

We're sorry, you did something wrong.

Some possible reasons for this error are listed below:

The page you have requested no longer exists.
You have your head up your stupid, ugly butt.
The page you have requested has been moved.
Your crappy computer is full of crap, crap, and more crap.
The web site you are trying to reach no longer exists.
Homestar is a stupid crap for brains webmaster.
____________________

Absolutely NOTHING important happens on the internet
Pages: 1 2 3 4 Next