Tenken347
Knackwurst



Since: 27.2.03
From: Parts Unknown

Since last post: 27 days
Last activity: 3 days

#1 Posted on | Instant Rating: 5.37
Excitement this week, as Hideo Itami takes on Roderick Strong for the #1 contendership to the NXT Championship! Oh man, I can't wait!

But I guess I'll have to wait. Because we're starting with an Aleister Black squash. There's a nice jumping knee strike in there, and the jobber actually has some decent punches, and there's the Black Mass.
Match Rating: Does Black Honestly Need Squashes To Build Him Up?

I mean, I just don't know that they're helping. Anyhoo, we quickly recap last week's women's Battle Royal, along with some backstage footage of Asuka receiving news of the fallout from GM Regal himself. Additional update: If you thought it looked bad when Moon flew out of the ring, you were correct. She's got a mild shoulder injury that's going to sideline her for just long enough to miss Takeover. The match is now a Triple Threat. Bad news for Moon, but not the end of the world.

Also, Pete Dunne challenging for the UK belt has been added to Takeover. I was kind of iffy on their match from the tournament, but we'll see how it goes.

Back to the ladies. We've got a very nice promo package for Ruby Riot, wherein we get to see her high school yearbook photo along with some classic Heidi Lovelace. It's a good piece, and Ruby's a natural promo. I recommend you check it out. That gets followed by a sit-down "interview" with Nikki Cross, and it is one of the single best things I've ever seen in pro wrestling. She starts by refusing to let the AP mic her, then she starts tapping the boom mic instead of answering questions, then she just runs everybody off, demanding to know where Ruby is, where Asuka is, where HER championship is? She walks into the camera until you can't see anything but the silhouette of her head, and lets her competitors know that she's going to finish Ruby off, and then she's going to TAKE EVERYTHING from Asuka.

Apologies to Samoa Joe, but that was the closest I've ever seen someone come to replicating a peak 1997 Taz promo. Cross came off not only unhinged, but actually dangerous. And that's the part that WWE so often misses when they try to make someone "crazy," like Ambrose or Bray Wyatt (both of whom I really like). Cross seems like she's going to for-real hurt someone.

Hey everybody, it's Drew McIntyre! He won't wait for an opportunity, he's going to make one happen. But here's...Wesley Blake? Really? Okay. I guess that's going to happen?

Velveteen Dream package. You've been warned.

Hey everybody, it's DIY! They go ahead and call out the AoP for Takeover, but instead we get Riddick Moss and Tino Sabatelli. No, no, no. Stay away from them, you Itami-crippling monsters! Tino and Moss want us to believe that the line for title shots starts behind them, but Ciampa actually has a pretty great line about how, "if there's a line, you just crossed it!" Fists get thrown, and now we have a match. Moss and Tino are a bit better than the last time we saw them, but that is surely damning with faint praise. Moss delivers a fall-away slam, then tags in Tino for a fairly decent dropkick. They work over Ciampa for a bit, until Moss picks him up for a suplex and eats a knee to the side of the head. Ciampa takes that into a suplex of his own, and makes the Hot Tag to Garganno. He's a house afire, as is the custom, hitting his rolling kick and a neckbreaker, then tagging Moss with a big battering ram. Moss and Tino head outside, so it's Danger Zone time, with a suicide dive from Garganno onto Moss, and since Tino doesn't get up off the floor, he just eats a big, nasy-looking knee drop from Ciampa. Back into the ring, and it's Meet in the Middle for the win.
Match Rating: Don't Really Care For The Name Of Their Finisher.

After the match, GM Regal is out to officially name DIY the #1 contenders, but that draws the ire of the AoP. Paul Ellering wants Regal to know that the blood of DIY is on his hands, but Regal wants Paul to know that it's going to be a ladder match. That should be a lot of fun.

Hey everybody, it's Kassius Ohno! KO wants us to know that he's fallen down lately, but he's getting back up. But here's Andrade Almas. Okay, I'm way more interested in this. KO says that Almas has squandered his opportunities, but Almas just kind of blows him off so he can leer at the mic stand.

Main event time. First, we try to get some words from Strong, who is mercifully cut off by his own music. Then, we catch up with Itami. Itami wants strong to know that he respects him, but he will make him Go 2 Sleep.

He's going to make Strong listen to his own promos?! Brutal.

Anyhoo, the bell rings, and we bear witness to the triumphant return of NXT main-event style! It's a lot of feeling out to start, and then they go into a bout of punch and counter-punch, with neither guy getting much of an advantage. Itami finally manages to slow things down with a chinlock, followed by his scuff kick, which we haven't seen in a while. Itami lays in a trio of body shots, but then Strong counters a suplex, reversing it and dumping Itami across the ropes. He's got stomps and chops, followed by a backbreaker. He works Itami's shoulder for a bit with an arm bar (aside - that scar on Itami's shoulder is one of the worst scars I've ever seen. I can't believe a medical professional did that to him.), then he pulls out a pumphandle backbreaker. It's good to see the "Messiah of the backbreaker" finally doing backbreakers. Strong goes into a single-arm camel clutch, but Itami gets back to his feet and counters with a judo throw. Strong counters back again with a big boot and gets two, followed by a dropkick for another two. He lays in a body scissors, but Itami escapes again, this time opting for a strike combo that sends Strong out of the ring. Itami tries to follow him out, but this is a Very Bad Idea. Strong catches Itami and throws him spine-first against the apron - That's the hardest part of the ring! Back inside, though, Itami's still in this. He hits a jawbreaker, and the two of them exchange offense until a double clothesline puts them both down. Itami's the first back to his feet, hitting another clothesline and some strong-style kicks, followed by a suplex and a big boot. That sets him up to hit his tornado guillotine, which is another one we haven't seen in a while. He goes up top and hits a flying clothesline, but Strong dodges a follow-up strike and nails an enzuigiri, followed by an Angle Slam for two! Strong starts throwing forearms and elbows, but Itami counters back with an elbow of his own. He runs into the corner to deliver a knee strike, but Strong catches him midair and turns it into another backbreaker for two once again. Strong's getting a lot of near-falls in this match. Strong wants something on the top rope, but Itami fights back, and eventually Itami's the one who gets the better of the exchange, planting Strong with a top-rope Falcon Arrow! That gets two for Itami. These two are starting to show the wear and tear of the fight, and are now just exchanging chops and punches. Strong hits a jumping knee strike, again getting a two count, but Itami will not quit. He comes back with a BIG running knee strike and looks for the GTS, but Strong escapes. It's not enough, though, as Itami follows up with another knee strike, and the hesitation dropkick! It's academic now, and Strong knows it. He's stumbling around, dazed, but he refuses to give in. He squares up with Itami and throws a punch, but Itami easily ducks it, and hoists him up into the fireman's carry. Is this it? Yup. GTS gets the 1, 2, 3.
Match Rating: Slow To Start, Red Hot To Finish.

Afterwards, Itami has a show of sportsmanship for Strong. Itami's going on to face Bobby Roode at Takeover, but this was a very good showing for Strong, and both guys come out of this match looking better than when they went in. That don't happen much.

Takeover's a week from Saturday, which means that next week's show is the go-home, and you know how much I like those. Card seems pretty set, but you never know when there might be a fun last-minute addition. I guess we'll see next week.
Promote this thread!
Packman V2
Bratwurst



Since: 16.3.04
From: Albuquerque, NM

Since last post: 99 days
Last activity: 2 days

#2 Posted on | Instant Rating: 6.68
I've complained about the crowd the last couple of weeks with their 1-2-Sweet! chants during near falls. It felt like it came to a head last night when a portion of the crowd started to revolt against the group doing the chant. I still don't get the appeal of it, other than feeling like it's the Full Sail crowd marking out for themselves.


---
J. Kyle
Banger



Since: 21.2.02
From: The Land of Aloha

Since last post: 401 days
Last activity: 181 days

#3 Posted on | Instant Rating: 3.36
Nous ne nous pouvons pas sortir.
Black's jobber looks like a future star. Tall, jacked, awesome rage face he made before eating that kick New Japan style. "He leaned into it LIKE A MAN~!" as DEAN would say.

DIY somehow survived a match with Sabotelli! What would happen, I wonder, if Seth Rolling buckle bombed Tino? Would it somehow blow the ref's ACL?

Look we have Joe, Styles, and most notably Shinsuke Nakamura. Give me KENTA back already.

Great main event, as an NXT main event is wont to do, it reminded why I still watch this stuff even though Raw will never ever change or improve there is NXT, a small floating island of wrestling in a sea of sports entertainment crap.


---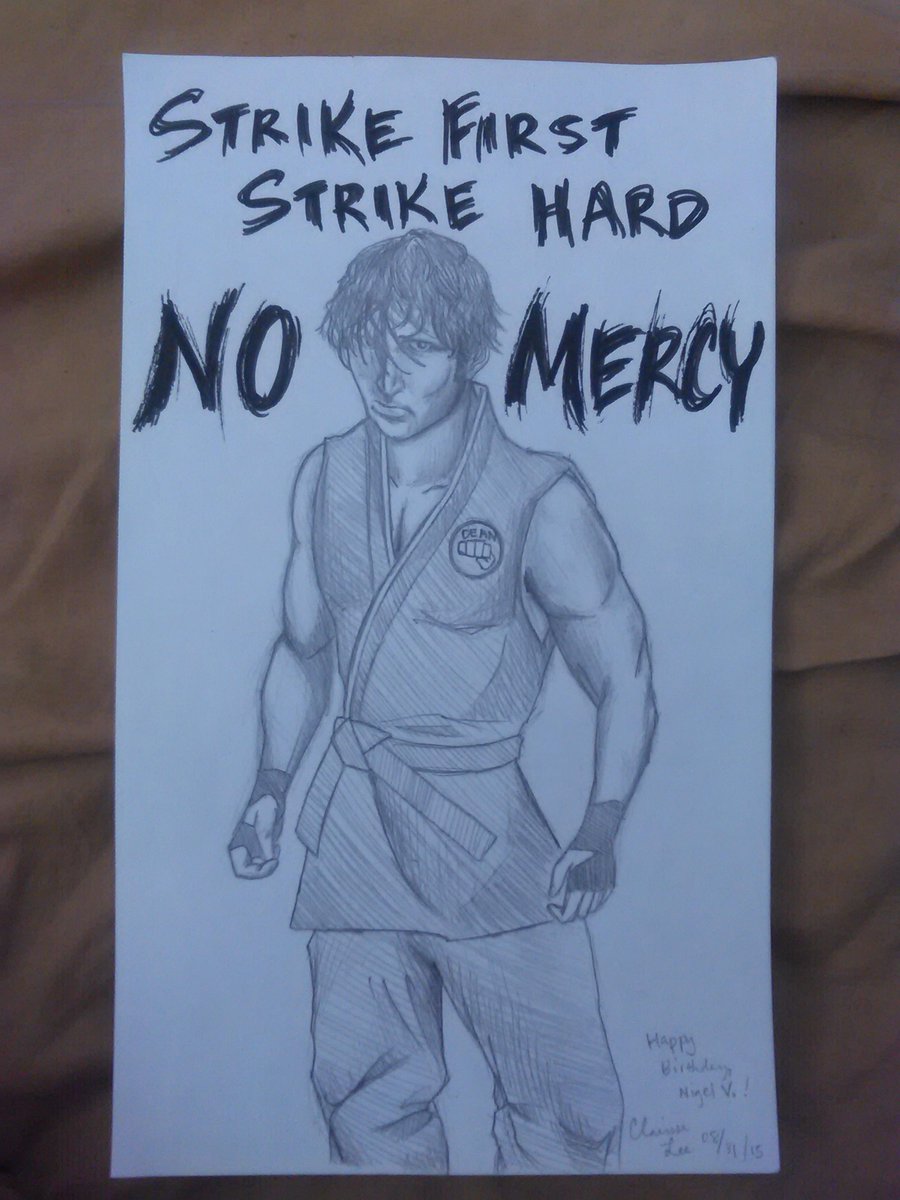 This is a picture of Dean Ambrose in a Cobra Kai Gi.