SchippeWreck
Banger



Since: 26.3.03
From: Glendale, CA

Since last post: 981 days
Last activity: 260 days

#3 Posted on | Instant Rating: 7.43
"CW?"
"It's a done deal."

GOD I FUCKING HOPE SO!!!!

That finale rocked in every conceivable way. I didn't know anybody else here liked VM. I should have started more threads.

Now I have to watch Season 1's "A Trip to the Dentist" again to see if there were any clues to the
---

Spoiler Below: Highlight text to read

---

HYOOGE "Beaver's the rapist" reveal.


Edited because I realized there was no spoiler warning in the thread title. Oops.

(edited by SchippeWreck on 10.5.06 0906)
---

My mom says sigs are bad for you.
JustinShapiro
Scrapple
Moderator




Since: 12.12.01

Since last post: 639 days
Last activity: 291 days

#4 Posted on | Instant Rating: 8.48
---

I didn't know anybody else here liked VM.

---


Come on, I'm someone from the internet -- of course I like Veronica Mars and Arrested Development. Although I don't follow VM on the 'net like I did Arrested; I prefer to avoid anyone else's speculation in case they're smarter than me and figure something out. Plus those are some scary, scary folks. Who apparently think Veronica and Logan are real people.


---

Edited because I realized there was no spoiler warning in the thread title. Oops.

---


Yeah it's cool, I edited to include the episode title. But what a titled episode. Going in, I was hoping that it would not be Beaver, but Kyle Gallner did a fantastic job with the big reveal. And of course, Everything Adds Up.
Dahak
Frankfurter



Since: 12.5.02
From: Junction City OR.

Since last post: 4345 days
Last activity: 3997 days

#5 Posted on | Instant Rating: 3.58
I loved the season finale. I am really hoping CW picks this show up for next season.


---

Marge I am just trying to get into heaven not run for Jesus.
John Orquiola
Scrapple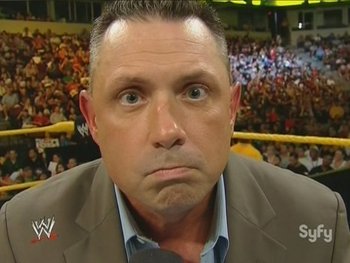 Since: 28.2.02
From: Boston

Since last post: 2435 days
Last activity: 2435 days

#6 Posted on | Instant Rating: 5.69
I also fucking love Veronica Mars. I finally got to watch the season finale last night. Awesome, just awesome. I can't wait for the 8/22 release of season 2 on DVD so I can watch the entire season mystery as one giant piece.

There are a couple of interesting interviews at www.tvguide.com with series creator Rob Thomas that answer a number of questions and give tantalizing hints about season 3 (if The CW doesn't screw us.)

http://tvguide.com/News/Ausiello/AskAusiello/

My favorite little in joke was the name dropping of Hart Hanson as a character in the finale. A little shout out to the show runner of Bones. And good news about Alia Shawkat and Michael Cera as a possibility for season 3.

The interview before the finale:

Your Veronica Mars Questions Answered!

With the much-anticipated season finale of UPN's Veronica Mars upon us (tonight at 9 pm/ET), many fans are still trying to recover from the shocking not-guilty verdict delivered at Aaron Echolls' trial in last week's episode. Meanwhile other readers are already looking ahead to a potential third season. In his latest exclusive Q&A, Mars creator Rob Thomas provides plenty of insight about recent happenings and answers TVGuide.com readers' burning questions about Veronica's future.
Question: First, I trust you. Second, please tell me the whole STD thing will make sense after seeing the finale. I'm torn between whether Duncan slept with Kendall or Aaron paid the doctor.... Do tell! — Holli
Rob Thomas: All will be answered in the finale.
Question: A lot of people are commenting on how Aaron Echolls' attorney obtained Veronica's medical records to reveal in court that she was treated for an STD. Were her medical records obtained illegally? — Jamie
Thomas: Probably. I'm not sure how they were obtained. I'm not even particularly interested in how they were obtained. At the end of the day, Aaron Echolls got off — like O.J., like Michael Jackson, like Robert Blake — because he's famous. Finding 12 jurors who would convict this famous man was simply not going to happen. It's a noir world. Unfair things happen.
Question: Wasn't Kendall the last to use Duncan's shower? Yet she pulled "evidence" pointing to Duncan and not herself from the drain.... — Dan
Thomas: She could tell the hairs apart. Duncan's are shorter.
Question: Is there any significance to the ring Veronica has recently been wearing on her right ring finger? — Sherry
Thomas: No.
Question: After Keith and Veronica's fallout in the "Donut Run" episode, I expected there would be a little more tension between our favorite daddy-daughter team. In "Happy Go Lucky," we saw that tension resurface for an instant, when it was clear Veronica is still hiding things from Keith. In your mind, where do they stand? Did Keith really forgive Veronica for her con so quickly? Or was it repressed and the aftermath is still pending? — Courtney
Thomas: In truth, I think we underplayed the Keith-Veronica riff in the aftermath of "Donut Run." I'm sure everyone is aware that by the time we cut together an episode, the next three episodes are already written and are prepping or shooting. I don't think I was quite prepared for how powerful that moment would be. It's the curse of working with really good actors. After we filmed the scene and cut it together, I realized that we'd kind of already blown the aftermath. I think we had a similar problem after Episode 20 ["Look Who's Stalking"] — the final Logan-/Veronica scene begged some fallout in Episode 21 that we really didn't have in the script. We live. We learn. We try to do better.
Question: Have you considered giving Veronica some self-defense classes at some point, so she can at least defend herself a little bit? — Jessica
Thomas: I don't want the show to be about Veronica kicking ass. Alias and Buffy were great at that sort of thing. Veronica outwits people. And occasionally Tasers them. That's how I like it.
Question: The rich kids are always referred to as "the 09ers." I watch and watch and still don't get why there are called this. Can you help? — Salie
Thomas: The rich kids live in a zip code that ends with 09.
Question: Loved, loved, loved Dick's Texas T-shirt in "Look Who's Stalking"! Hook 'em Horns! Whose idea was it for him to wear the shirt? — Susan
Thomas: Sal, our head of wardrobe, put Dick in the UT shirt. I think he knew it would make me happy.
Question: Do you or someone else on staff have a background in police or detective work to make this show some of the best television ever? I'm truly intrigued about the creative process behind the show. — Jill
Thomas: No. In fact, quite the opposite. In television drama, writers are often thought of as either "character writers" or "procedural writers." Procedural writers tend to write for police shows, law shows, medical shows. Character writers tend to write things like Freaks and Geeks, The Sopranos, Northern Exposure. I haven't hired any procedural writers for the show; everyone comes from a "character" background. We do have a private-investigator adviser whom we call on pretty regularly.
Question: Just curious — are any of those tattoos that Weevil [played by Francis Capra] sports real? Thanks. — Diane
Thomas: All of them are real.
Question: First, I wanted to thank you for giving the fans such quality week after week. Now my question: Were the kids in the back of the van [in the "Plan B" episode] Weevil's niece and nephew? — Stacie
Thomas: No. Those were just random kids waiting for their mom to come out of church.
Question: Is Mac going to be a regular for Season 3? Is she going to Hearst? Will she and Veronica be roommates there? — Lisa
Thomas: We hope that Tina Majorino will be back with us next year. We're trying to negotiate a deal to bring her on as a series regular. We absolutely want her. As for the roommate/college situation, we're still figuring that out.
Question: It seems pretty obvious that Veronica will be at Hearst College next year and the serial rapist story line will also show up again. Can you give us some other clues about what to look forward to next season? — Jessica
Thomas: The biggest news is that we will be going to a three-mystery-per-season format next year. This way, the mysteries will play uninterrupted by repeats or preemptions. We're hoping this will help us cast guest stars in smaller arcs, allow newbies to jump in easier, and lessen the too-much-going-on complaint we heard in Season 2.

After the finale:

Question: OMG, Veronica Mars was amazing. What was in the case Kendall gave to Keith? — Kim
Ausiello: That's the million-dollar question, and one of the few series creator Rob Thomas wouldn't answer. You see, I anticipated that you guys would have tons of questions about the finale, so I got Mr. Mars on the horn yesterday and grilled him for 30 minutes straight about the four-star climax. (There was also some mild gushing, but it was mostly grilling.) Warning: If you haven't seen last night's episode, do not read. Major spoilers throughout.
Ausiello: What's in the briefcase?
Rob Thomas: (Laughs) That one I'm not going to answer.
Ausiello: I knew it was a long shot. Care to shed any light on what Kendall asked Keith to do?
Rob: Um, not really. I really want to keep that a secret. The thing I'll say about it is, it's pressing enough for him to stand up his daughter at the airport. It is desperately important and Keith recognizes that.
Ausiello: So we can assume that he has, in fact, stood her up? Or is there still a chance he might just show up late?
Rob: He has, in fact, stood her up; that I can answer definitively.
Ausiello: Did you ever consider keeping Keith on that plane when it exploded?
Rob: Never. He's the backbone of the show. It's half the reason Veronica is going to Hearst and not Stanford. I couldn't think of a good reason for Keith to move to Palo Alto.
Ausiello: I loved how Duncan referred to Clarence Weidman as CW. I had to stop and think, "Was he always referred to as CW?
Rob: (Laughs) No, it's the first time anyone's called him CW. But his name has always been Clarence Weidman, so… we didn't actually change anything to make that happen. It certainly made the entire writing staff giggle.
Ausiello: Is Cassidy really dead? We didn't see a body.
Rob: Oh, he is dead. They found his crumpled body on the roof of a Ford.
Ausiello: Since Duncan's responsible for Aaron's murder, will that be one of the three mysteries next season?
Rob: No.
Ausiello: But the Hearst rapist story will be one of the three eight-episode arcs, right? (For more on next year's narrative structure, click here.)
Rob: It will be.
Ausiello: So there will be 24 episodes next season?
Rob: No, it'll probably be 8-7-7. And that can shift. I think, ideally, we'll get an 8, 7 and a 7. But when they figure out their schedule it could be a 9, 6 and 7. Nothing is set in stone as far as those exact episode counts go, but they'll be running in three uninterrupted blocks.
Ausiello: Is Weevil really going down for Thumper's murder?
Rob: You won't see a Weevil trial, but he's going to go down for at least an assault. He's going to do some time. The next time we see Weevil, he has done time. But they won't be able to pin the murder on him.
Ausiello: Is Tessa Thompson (Jackie) done with the show?
Rob: She is. I would not hesitate for a second to have her come in to do an arc, but she will not be a series regular.
Ausiello: Might Mac and Veronica be roommates at Hearst next season?
Rob: They will not. It's too valuable for me to have Veronica at home playing scenes with Keith, so she will live off campus. I think both the roommates for Wallace and Mac will end up being, if not series regulars next year, then certainly major long-arc guest stars.
Ausiello: Are you referring to Arrested Development's kissing cousins, George and Maeby (Michael Cera and Alia Shawkat)?
Rob: No, but I'm hoping that we can get both of them. We have Michael Cera in mind for a story line. I already e-mailed Michael saying, "Hey, if you're available in August or September, we'd love to get you." I love both of those actors and I expect and hope that you see both next year, but we won't have them as series regulars.
Ausiello: So these roommate characters will be brand-new?
Rob: Yes. We've broken the first three episodes of Season 3, and Mac's roommate and Wallace's roommate will be major players.
Ausiello: Will Charisma Carpenter (Kendall) be a series regular next season?
Rob: No, she won't be.
Ausiello: Any other cast changes in the works?
Rob: It's in the negotiation stage to make Sheriff Lamb (Michael Muhney) and Mac (Tina Majorino) series regulars. But that's pending a deal happening.
Ausiello: And Teddy Dunn?
Rob: He's done.
Ausiello: What's the latest you're hearing about a third season?
Rob: I've been saying for the last couple of months that I think it's 80/20 that we'll be back and nothing has really gone on to change that opinion for me.
Ausiello: When will you find out?
Rob: I don't think I'll find out until May 17, which is when they need to put actors on planes to go to the upfronts.
Ausiello: One last question: What has been the reaction to my appearance as Blushing Guy?
Rob: Oh, the fans went crazy. (Laughs) You did a fine, fine job as Blushing Guy.


---

Back of the Head: www.backofthehead.com
JustinShapiro
Scrapple
Moderator




Since: 12.12.01

Since last post: 639 days
Last activity: 291 days

#7 Posted on | Instant Rating: 8.48
Duncan being done is weird. Well, he'd already been done for months and has no purpose anymore, but just the fact that someone from the original cast won't be moving on is somewhat saddening.

Three different mystery arcs is a good idea but kind of disappointing. I like the concept of the Big Mystery. But hooray Hearst and hooray Michael Cera.
SchippeWreck
Banger



Since: 26.3.03
From: Glendale, CA

Since last post: 981 days
Last activity: 260 days

#8 Posted on | Instant Rating: 7.43
Originally posted by JustinShapiro

---

Duncan being done is weird. Well, he'd already been done for months and has no purpose anymore, but just the fact that someone from the original cast won't be moving on is somewhat saddening.

---

I heard something about Teddy Dunn going to law school. At least now, his guest appearances (which you know there will be, despite the use of the word "done") will carry greater weight.

And the prospect of more Michael Cera is indeed awesome...unless they make him the Hearst rapist. That would suck.


---

My mom says sigs are bad for you.
Quezzy
Scrapple



Since: 6.1.02
From: Pittsburgh, PA

Since last post: 783 days
Last activity: 782 days

#9 Posted on | Instant Rating: 3.03
Also a big Veronica Mars fan. I don't remember Thomas saying anything Dohring coming back next season. Any word on if he'll be back? I would think he'd play some kind of part and it sounds like Weevil will atleast have a small role which is great, I love both characters even though I think the only characters they HAVE to bring back are Veronica, Wallace and Keith.

I really thought Teddy Dunn was kind of a weak link on the cast so I won't miss him. Michael Ausiello did bring up this week (or maybe it was last week) on the TV Guide podcast, that the reason Dunn might be done is just financial. They had a really tight budget and even a lot of the regulars really only appeared in 12 or 13 episodes in a season because that's all they could afford. Now with Cera and Shawkat as semi-regulars and possibly Wallace and Mac's new roommates as regulars, there just isn't enough room for all of last years cast. Which means bye bye Teddy and thankfully bye bye Tessa Thompson. And of course no Beaver and I imagine probably no Dick Casablancas either.

I'm really looking forward to Cera too. I thought he was very underrated on Arrested Development, although it was easy to get overshadowed with all the good actors on that show. I like Alia Shawkat too, but especially Cera.




---

Lance's Response:

THAT IS AWESOME!
SchippeWreck
Banger



Since: 26.3.03
From: Glendale, CA

Since last post: 981 days
Last activity: 260 days

#10 Posted on | Instant Rating: 7.44
Ausiello posted this tidbit on TVGuide.com today:

"Veronica Mars Renewed?
Just received a fresh batch of Upfront intel and the buzz is that CW will order 13 episodes of Veronica Mars next season. Multiple sources close to the show confirm that this is true, but until CW makes it official on Thursday morning, I'm listing this as just a rumor. My take? Thirteen episodes is better than zero episodes."

Like he said, 13 is better than 0, but not having a full-season guaranteed makes my stomach all twisty. Nervous fans need assurance!


---

My mom says sigs are bad for you.