Shem the Penman
Toulouse



Since: 16.1.02
From: The Off-Center of the Universe (aka Philadelphia)

Since last post: 2690 days
Last activity: 2489 days

#41 Posted on | Instant Rating: 5.01
Looks like it wasn't just Edge being an asshole last night:

http://www.liveaudiowrestling.com/wo/news/headlines/default.asp?aID=13466


Originally posted by Dave Meltzer

---

Several people live, as well as WWE sources, have confirmed that during the brawl at the end of tonight's ECW PPV, that JBL went after Blue Meanie and threw several real punches at his face, bloodying him up. A lot of the wrestlers who were in the ring and saw this looked really mad. Reports were Al Snow, who trained Meanie, visually looked the most upset. The two have heat dating back to Meanie's days in WWF, and JBL cut a promo on Meanie on Smackdown which was edited off the show a few weeks back.

---


I noticed Meanie was bloody during the final moments of the show, but I couldn't figure where it had come from. How pathetic is it that a guy who's at the top of his career feels that he needs to get even with the Blue freakin' Meanie?


---
Ling-Ling into battle go
Fulfill destiny of the soul
Sever skull of adversary
Shove it in the poo-poo hole

All the children sing:
Kill kill kill kill die die die
Kill kill kill kill die die die....
vsp
Andouille



Since: 3.1.02
From: Philly

Since last post: 5460 days
Last activity: 1715 days

#42 Posted on | Instant Rating: 0.00
Originally posted by CANADIAN BULLDOG

---

Briefly, the Mike Awesome-Masato Tanaka match was EASILY match of the night, and I can't help but think Mike's performance will land him a spot on the WWE roster again (perhaps in the Cabinet?).

---


Doubt it, or if he does it'll be as a bit player.

Awesome isn't much on promos, isn't much on wrestling without tables and props, and his size doesn't look as impressive when he's next to some of the gorillas in the WWE. What he does (repeated attempted homicide on Masato Tanaka anywhere in the world), he does well, but it's hard to imagine him plugging into the WWE style well. Imagine him trying to wrestle a straight five-minute match with, say, Heidenreich.

That aside, tonight was a darling of a clusterfuck and I enjoyed it immensely.



---

Vanilla Ice on stardom: "I had a weekend that lasted a couple of years."

gater
Bauerwurst



Since: 29.1.02
From: Palatine, IL

Since last post: 4830 days
Last activity: 4009 days

#43 Posted on | Instant Rating: 4.56
Suprised I didn't see a mention of it in the entire thread. All four guys watching with me concurred that Eddie had broken his nose. Probably from a stiff shot (blood fromt he outside not from within). That's when he rolled out for a quick break. Later in the match it looked really swollen and, well, broken. It also looked like he was protecting it in the end (last pinfall try, crossface). Maybe that's one reason he wasn't so into it...
StaggerLee
Scrapple



Since: 3.10.02
From: Right side of the tracks

Since last post: 416 days
Last activity: 416 days

#44 Posted on | Instant Rating: 1.87
BTW, What happened to the "thin" Blue Meanie? He blimped back out big time.
krakken2000
Kishke



Since: 31.10.02
From: seattle

Since last post: 4427 days
Last activity: 4154 days

#45 Posted on | Instant Rating: 6.11
On wednesday afternoon I decided on a whim to see if I could still get a ticket to the show. Sure enough there was a floor ticket available for $150. I decide to buy it since this will probably be my one and only chance to ever see a ECW show live.

It was worth every penny I paid. The atmosphere live was incredible, from the moment I walked into the Hammerstein Ballroom to the moment I left you could feel the electricity in the air. The heat was off the charts for every wrestler's entrance, every move made and every promo cut.

I'm still too exhausted from it all to really put into words how great the evening was...


---

Hey New Yorkers!

Come see my sketch comedy group "Flaming Box of Stuff" at the first ever SketchFest NYC on Friday June 10th at 9pm
at the Upright Citizens Brigade Theater; 307 W. 26th Street (btwn. 8th & 9th Aves.)
TICKETS are just $10 for; Available at UCBTheatre.com, or by calling 212-366-9176

www.flamingboxofstuff.com
Tenken347
Knackwurst



Since: 27.2.03
From: Parts Unknown

Since last post: 14 days
Last activity: 14 hours

#46 Posted on | Instant Rating: 5.06
I'm with everybody else, just a really fun show. Personal highlight for me was when Little Guido came out with just about everyone who'd ever been in the FBI. The triple threat, Tanaka/Awesome, and the main event were all great matches. I was a little disappointed at some of the stuff that wasn't there (I was holding out hope until the very end that Raven was going to be there and they were just keeping it a secret), but overall I've got no complaints about where my $35 went.
PerthHeat
Mettwurst



Since: 16.8.04
From: Perth Australia

Since last post: 5451 days
Last activity: 5437 days

#47 Posted on | Instant Rating: 1.24
---

ECW every week would probably get tired and watered down if WWE are in charge. You'd get nonsensical stuff like Tomko joining them and stupid storylines. But I don't care. I loved One Night Stand and I want more.

---
Originally posted by y2justbark

---

Hi, I'm Justin. I've been registered almost a year and haven't posted once. I'll keep this short and sweet:

I'm a casual fan. If the WWE would take some lessons from this PPV, I'll come back. It was so refreshing to see some real emotion, incredible matches, and not have to sit watered down soap opera scripted tripe. I've never seen an ECW PPV before in my life and this one blew me the hell away.

Thanks, back to lurking for me.

(edited by y2justbark on 12.6.05 2300)

---
Not having much to do with ECW down under I was trying to analyse the love fest this PPV generated. I think the above 2 posts sum it up in a way. It was fresh in the sense that you had no idea who was going to win the match, or that the win was scripted to push along a storyline , not end it as some PPVs should do.Hey maybe the fact there were no stories was the reason.I hesitated in ordering this and I am now sorry I didnt. Hopefully the dvd isnt censored heavily.


---

if you cant stand the heat...buy icecream
Twoflower
Bauerwurst



Since: 4.1.02

Since last post: 4491 days
Last activity: 4430 days

#48 Posted on | Instant Rating: 6.84
Hard to say anything new about the PPV other than what folks have said. In a word: AWEXOME. I was watching it with two non-fans (my sister and her husband) and even they were able to get into it, recognizing what was likely a historical homage moment and what wasn't. Highlights of the night:

* Lionheart gimmick. Sister wondered if Jericho kept his old costume in mothballs just for something like this. Shame there wasn't a REAL Liontamer, but I can live with it, and Justin Tolerable showing up was a markout moment.

* Psichosis taking that sick bump off the turnbuckle and INTO the audience. Sis was cracking up when the women he landed on were really thrilled about it.

* AWESOME & TANAKA. Their match on the first ECW DVD is one of my favorite matches of all time and this one topped it. Only thing missing was the Roaring/Rolling/Daigen Elbow. I loved how Mick pointed out this sort of redeemed Awesome from being both ECW's Judas and the stupid joke WCW made him into.

* Shooting and shooting and shooting. I don't think there'll be any fallout from it, either; Vince knows that the shoots are half the reason the smart fans turn into ECW, and thus they make him money. I wouldn't doubt he ENCOURAGED Paul and Rob to do that.

* "I got two words for you: Matt Freakin' Hardy!" ...followed by the Raw guys holding up three fingers. Not the V-1 symbol at first, they meant "Hey, that's three words, not two, you idiot."

* Enter Sandman. I was wondering all night if they would buy the rights to the song, and they did. I wonder if it'll be on the DVD, though? Doesn't WWE usually swap out music like that when the video is released?

* Wondering how in the hell Blue Meanie got his face mashed up... then reading JBL socked him. What a prick. Meanie looks pretty bad though compared to his slimmed down "blue boy" days...

Overall an amazing show. I want MORE, dammit. I could even see a weekly ECW show, but only if they take the nostalgia core and move onward from it... use it as a training ground for hot new talent, use it to showcase styles not normally seen. It'd have to evolve rather than just sit around pondering the good old days, but I think if any brand can do that, it'd be ECW.
StaggerLee
Scrapple



Since: 3.10.02
From: Right side of the tracks

Since last post: 416 days
Last activity: 416 days

#49 Posted on | Instant Rating: 1.87
I believe the ENTER SANDMAN version they used was the Motorhead version, which ECW already has the rights to, if I am not mistaken.
JoshMann
Andouille



Since: 17.11.03
From: Tallahassee, FL

Since last post: 4719 days
Last activity: 4716 days

#50 Posted on | Instant Rating: 5.81
---

Not having much to do with ECW down under I was trying to analyse the love fest this PPV generated. I think the above 2 posts sum it up in a way. It was fresh in the sense that you had no idea who was going to win the match, or that the win was scripted to push along a storyline , not end it as some PPVs should do.

---


And typical Tommy Dreamer. The bookerman takes one for the team yet again and puts over the Dudleys huge (and also took a backseat to Sandman in the post-match shenanigans) rather than make the end of the evening all about him. God bless him for it.

Plus, to paraphrase Kelly Bundy, an ECW event without Tommy getting crotched is like Thanksgiving without the pizza.

(edited by Blanket Jackson on 13.6.05 1108)

---
"Did you get your Journalism degree from a box of Cocoa Puffs?"
Fro
Pinkelwurst



Since: 16.6.02
From: Bloomington, IN

Since last post: 5590 days
Last activity: 5590 days


ICQ:
#51 Posted on
Um, it was definitely the Metallica version of "Enter Sandman".

Very good PPV, could have been better but this is still an easy thumbs up and show of the year so far. The opening matches were a little disappointing (due to Rey/Psicosis being disappointing, Benoit/Eddy not wrestling ECW style, and the three-way dance not getting about 8 more minutes to get going) but the last few matches exceeded expectations which evened things out.

Awesome/Tanaka really stole the show... they topped their old ECW matches, which to me is really amazing considering the condition they're in these days.

(edited by Fro on 13.6.05 1144)
Battlezone
Potato korv



Since: 27.2.03
From: Seattle, Washington

Since last post: 4571 days
Last activity: 1175 days

#52 Posted on | Instant Rating: 3.38
I missed the show live, but I had it saved on my TiVo, so I watched it when I got home. Great, great, great show. My roommate-who has no interest in wrestling, and mocks it quite often-even got into it, after I woke him up at 1am yelling at my TV during that last Awesome/Tanaka spot.

I don't know what else to add to everything that's been said here. I did find it funny that the crowd booed Rey's 619 because it was his "WWE move", but then happily chatted "What" when Austin was out there.




---

"It's the four pillars of the male heterosexual psyche. We like naked women, stockings, lesbians, and Sean Connery best as James Bond because that is what being a [man] is." -Jack Davenport, Coupling
Jay
Bauerwurst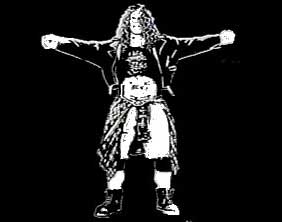 Since: 27.3.04
From: St. Louis, Missouri

Since last post: 5778 days
Last activity: 5565 days

#53 Posted on
There's not really a whole lot left to say that hasn't been said, but I concur with everyone that this is the most fun I've had watching wrestling in YEARS, aside from Benoit at WrestleMania XX and Angle at 21.

Three hours summed up the entire ECW experience. Not to sound like a shill, but ECW wasn't just about the blood, the tables, the barbed wire. It was an atmosphere unlike any other professional wrestling has ever seen. It was a promotion a fan could call his own, a promotion that made you a part of the product. You had fun watching, from the opening bout to the main event. And they had blood, tables, and barbed wire.

It was in that mindset I went into "One Night Stand." I dusted off my "ECW Hardcore Wrestling" shirt, and I popped all night. My hands were almost raw from the applause I gave, from seeing the "Lionheart" all the way to Al Snow feeding beer to Head.

I lost it over the biggest moonsault ever, and the guillotine legdrop. I lost it over the reunion of the Impact Players and an Arabian facebuster through a table. I lost it over the Beulah/Francine CATFIGHT~!, and the flaming table. And what else can you say about Awesome/Tanaka than "This match rules! This match rules!"

The shoot comments from Van Dam, Heyman, and Styles solidified the anti-establishment aura of "One Night Stand" as did the boos from the crowd -- both in the Hammerstein Ballroom and the Rec Room bar -- when WWE guys were shown or a Vengeance promo was aired.

For one night I got to travel back to my youth (says this aged twenty-two year old). I got to relive my high school days of rushing over to my friends house to watch third-generation ECW tapes, and Saturday mornings spent emulating the hardcore action in a local backyard.

ECW was what was fun about wrestling, and for one night, just one night, I got to have that fun again.

Most scientificially sound pay-per-view? No. Absolutely perfect pay-per-view? No.

Greatest pay-per-view ever? Maybe. Most fun pay-per-view ever? Yes. What was it Jericho said? "Describe ECW in one word: fun."


---

"ECdub! ECdub! ECdub!" -entire audience at the Savvis Center, 6.6.05
Divakind
Mettwurst



Since: 19.2.02
From: Charleston, WV

Since last post: 4922 days
Last activity: 4861 days

#54 Posted on | Instant Rating: 2.00
Originally posted by tsmstu

---

Can't believe heyman, hes got balls. The triple H line WAS one of the best "zings" of all time. The Hardy stuff is getting redundant, but it was ok i guess. A little obvious though...Bubba? Called him a poor mans cactus jack?

---


I know this puts me in a minority, but I wanted to kick Heyman in the balls for the Hardy stuff. I watched One Night Stand in the hopes that they'd do justice to E-C-F'N-W--which, in all fairness, I think they did--not break out the smallest violin in the world for the love triangle that's dominated professional wrestling for the last three months. I'd have much rather seen Heyman go on a five to ten minute tirade directed to Bischoff, Angle, or both, rather than generate the "pity pop" of the evening.

I'm not a heartless bitch folks, but goodGAWDwithakendostick, enough of that, already.

I think the "poor man's Cactus Jack" is kind of an in-joke between Bubba and Foley. See "The Legend of the Penis Suplex" in "Foley Is Good (And The Real World Is Faker Than Wrestling).




---

"And you won't hate me because I'm just a little, teeny, weeny, wee bit bloodthirsty, will you?" (Katisha/"The Mikado")
StaggerLee
Scrapple



Since: 3.10.02
From: Right side of the tracks

Since last post: 416 days
Last activity: 416 days

#55 Posted on | Instant Rating: 1.87
If Heyman hadnt pushed for Mattitude to get such a push when he had some juice with "creative" then I doubt he would have been so vocal in punking Edge.
Jackson
Sujuk



Since: 4.1.02

Since last post: 4416 days
Last activity: 3942 days

#56 Posted on | Instant Rating: 2.10
Since I am an admitted ECW mark and because there is not much left to add about what a great show that was I got to say something about the Bradshaw/Meanie incident.

The whole night I could not help but worry about the obvious ending ECW/WWE clash. I figured some ECW guys who knew they would never see a WWE contract would hurt the WWE guys just for the hell of it or maybe make a bigger name in the Indys. I thought the Austin stuff at the end was to prevent the all out brawl in which I feared someone would get hurt. As it turns out and as I should have known, ECW is apparently the more professional organization.

That said, if I was Bradshaw I would be careful what ECW guys I got booked against in the future.



(edited by Jackson on 13.6.05 2017)
---
Big Bad
Scrapple



Since: 4.1.02
From: Dorchester, Ontario

Since last post: 909 days
Last activity: 478 days

#57 Posted on | Instant Rating: 3.80
In the real world, JBL would be fined, suspended or stuck with a month's worth of high-profile jobs.

Instead, he'll probably get a 20-minute promo on Smackdown this week.


---

"You can look the other way once, and it's no big deal, except it makes it easier for you to compromise the next time, and pretty soon that's all your doing; compromising, because that's the way you think things are done. You know those guys I busted? You think they were the bad guys? Because they weren't, they weren't bad guys, they were just like you and me. Except they compromised... Once." -- Jack Bauer
Nag
Landjager



Since: 10.1.03
From: Enter your city here

Since last post: 4604 days
Last activity: 2659 days

#58 Posted on | Instant Rating: 3.36
Bradshaw is a horse's ass and a bully, a man in his late 30's who hasn't progressed pass that high school jock mentality. And like that high school jock, he knows he can get away with virtually anything.

So we can now add Blue Meanie to a list that includes such big bad asses as Duke Drose, Brian Christopher and a WCW referee. Who's next, Trish Stratus? Micheal Cole? Droz?

(edited by Nag on 14.6.05 0312)
HMD
Andouille



Since: 8.6.02
From: Canada

Since last post: 1524 days
Last activity: 1524 days

#59 Posted on | Instant Rating: 4.41
JBL probably didn't think it would stand out on that show of all shows. I mean, if you step back for a moment and think about it, it was a show that featured dives off balconies, powerbombs through tables, ten thousand unprotected chairshots, fire code violations among other atrocities. But a few legit punches and people are offended? It's absurd when you think about it. That's not to say that Bradshaw isn't a dick, only to point out that he was in the perfect environment to pull such a stunt, one where people don't look out for each other's safety in the least. Who in that dressing room could have the moral authority lecture him?

As a non-ECW fan, I thought I could come in and rate the show objectively. I didn't pay for it, but a friend was getting it and taped it. I watched it and a lot of it was really no good for someone who isn't an ECW mark. A lot of the retrospectives, for example, were lost on me since I had never seen that stuff before. The only two matches I really liked were the opener and the Masato/Awesome match, which was so incredibly destructive you had to love it. I realize his limitations but Awesome really looked like a star. Joey Styles sounded like a retard during that match going off on Awesome like that. No one dresses down Ric Flair for doing the same thing in '91. The rest was just okay, though honourable mention must go to the Super Crazy insanity spot of the night. The RVD "shoot" was fine, but you still have to take points off for the fact that he was given permission to do the shoot on a show that made Vince McMahon money. Heyman's stuff was less impressive, but I'm glad he made an appearance. The last match with all those guest shots and the added Austin factor was just annoying to me. I may not have been an ECW hardcore, seeing only a little of it here and there, but I know for a fact Austin just passed through there and yet they made him the star of the show.

I dunno, a good show but for anyone objective not nearly what you guys are making it out to be. I would put it behind wrestlemania for sure, and not even its best matches came within a mile of Michaels/Angle. I personally enjoyed the Cena/JBL brawl from Judgment Day more than most of the matches on this show, as well, as well as the Eddie/Rey match from that show. I thought the incredible storylines for those feuds really added to those matches, and that was one thing about this ECW show...there were no stories to uphold it, so ultimately there isn't an incentive for any emotional investment in what you're seeing, as spectacular as that might be.

I also hate ECW crowds. Something about chanting she's a crack whore at a pregnant woman just seems wrong.

Still, a good and interesting experiment overall.


---

Hot Virgins-The World's Most Steadily Shrinking Commodity
dMp
Knackwurst



Since: 4.1.02
From: The Hague, Netherlands (Europe)

Since last post: 169 days
Last activity: 7 days

#60 Posted on | Instant Rating: 4.81
It seemed like Bubba Ray Dudley pulled JBL out of the ring, when he was being beaten down by 2-3 guys.
Perhaps to make sure they didn't do anything really bad to him? At that point JBL's shirt was pretty bloody. Might be only Meanie's blood but perhaps not?

Overall a great event. Some good matches, some great brawls.
It had the true ECW vibe imo.


---

*sigh* Why bother?
Pages: Prev 1 2 3 4 5 Next