AWArulz
Scrapple



Since: 28.1.02
From: Louisville, KY

Since last post: 1 day
Last activity: 1 day

#1 Posted on | Instant Rating: 5.35
Even though I am in favor of you being able to own one, I am not a gun owner.


---

We'll be back right after order has been restored here in the Omni Center.

That the universe was formed by a fortuitous concourse of atoms, I will no more believe than that the accidental jumbling of the alphabet would fall into a most ingenious treatise of philosophy - Swift
Promote this thread!
KJames199
Scrapple
Moderator



Since: 10.12.01
From: #yqr

Since last post: 100 days
Last activity: 9 days

#2 Posted on | Instant Rating: 8.69
Nope. Don't need one, don't want one, never fired one. Considered taking a safety course anyway since that seems like a good thing to know a little about.
Big G
Landjager



Since: 21.8.03
From: the people who brought you Steel Magnolias....

Since last post: 19 days
Last activity: 37 min.

#3 Posted on | Instant Rating: 6.21
Not any more.

I grew up in an agricultural region of rural Australia. Firearms were commonplace for pest management and firearm operations was instructed by parents and relatives the same as sport and other recreational activities.

I was given an air rifle when I was about 10. I was given custodianship of the family's pest rifle, a Winchester model 77 .22 LR, semi-automatic, when I was 14/15. Meaning it lived in my bedroom when not in use. This was not unusual at the time in the region.

I joined the military at 17 and was trained on the L1A1 Self Loading Rifle, a Vietnam era "assault rifle" in .308/7.62NATO. Later on we converted to the F-88 and Minimi, both in .223/5.56NATO.

During a the mid 90's, you could probably describe me as a firearms enthusiast. There were a bunch of mates who would go on weekend hunting trips. I bought a Winchester model 1300 pump action shotgun. One guy had a mini 14 and another had an AR 15. Even then they were regarded in our group as an "anti-social" weapon. Even by the blokes who owned them, and aside from the odd target practice they didn't see much use, hunting rifles being preferred.

When semi-automatic weapons were banned in '96 I had to surrender the shotgun and .22. I used the money I received from the government buyback to purchase a Remington 700 BDL in .308. This rifle was similar to the M40 Vietnam era sniper rifle and was an incredibly accurate hunting rifle.

I used to delight in pointing out the irony of my short range firearms now being illegal, but being able to replace them with a legal firearm of much longer range. Like I was clever and knew things.

Our hunting group had a strange ethos, being that we would only hunt feral, introduced animals. Typically rabbits, foxes, goats and pigs. I eventually figured out that the aspects of hunting trips that I really enjoyed (getting away, camaraderie, bush walking, fieldcraft and marksmanship) could be easily replicated without all the death and mayhem of animals. My last hunting trip was in 2001.

In 2008, I thought it was becoming too difficult to own firearms. My firearm storage was no longer secure enough with law changes (steel cabinet w/ reinforced door, single point clasp, padlock from approved list, attached to building, ammunition locked in a separate cabinet) I was going to need to purchase an full on weapon safe, the cost of which was higher than the value of the firearms I was to store in it. This, combined with the fact that I hadn't even fired them for years led me to the decision to sell them to a dealer and surrender my firearm licence.

Haven't missed them. The anti-social aspect of them in a city was a pain in the arse logistically. Especially if you moved house.


---

I hate EZBoard Day.
geemoney
Scrapple



Since: 26.1.03
From: Naples, FL

Since last post: 1 day
Last activity: 2 hours

#4 Posted on | Instant Rating: 8.05
Originally posted by KJames199

---

Nope. Don't need one, don't want one, never fired one.

---


Ditto.


---

@gregmparks - live Tweeting of Raw and Impact, wrestling thoughts and other slices of life.
drjayphd
Scrapple
Moderator



Since: 22.4.02
From: New Hampshire

Since last post: 21 days
Last activity: 1 day


ICQ:
#5 Posted on | Instant Rating: 6.53
Nope. Last time I fired one was in Boy Scouts and I don't see that changing.


---
You wanted the best, you got... the Out of Context Quote of the Week.
"And this has been your Comfortable with his Sexuality Update." (Stefonics)
Packman V2
Bratwurst



Since: 16.3.04
From: Albuquerque, NM

Since last post: 18 days
Last activity: 6 days

#6 Posted on | Instant Rating: 6.71
Also no. I am pretty sure I had a .22 rifle when I was a pre-teen, but have no idea what happened to it.


---
Guru Zim
SQL Dejection
Administrator



Since: 9.12.01
From: Bay City, OR

Since last post: 108 days
Last activity: 8 days


ICQ:
#7 Posted on | Instant Rating: 9.52
Have 3, they give you one at the border when you move to Oregon.


---

Sign up for Folding@Home and join our team. PM me for details.

Ignorance is bliss for you, hell for me.
StaggerLee
Scrapple



Since: 3.10.02
From: Right side of the tracks

Since last post: 21 days
Last activity: 21 days

#8 Posted on | Instant Rating: 1.54
I own a few handguns.

Had to leave them with my in-laws when I moved to the Caymans because the process of getting a license here was so time consuming I didn't want to bother with it.

My daughter has her own hunting rifle that's never been in our own home, it stays at my father in law's house and only comes out when she's ready to do target practice and hunt deer on the property.

My family always had guns growing up and I honestly never touched one until I was in the military. I have never been hunting and don't plan on ever going.

But, I don't see any issue with teaching either of my daughters to be safe around firearms, or to teach them to shoot both for fun, sport, and for self defense.

I respect those who don't like guns and who don't want them, I am just not one of those people who want to entrust my home's safety to the police.


(edited by StaggerLee on 19.3.18 1229)
Tenken347
Knackwurst



Since: 27.2.03
From: Parts Unknown

Since last post: 17 days
Last activity: 8 hours

#9 Posted on | Instant Rating: 5.39
Originally posted by Packman V2

---

Also no. I am pretty sure I had a .22 rifle when I was a pre-teen, but have no idea what happened to it.

---


Same, actually. I think my folks eventually sold it a while back. I was never any kind of hunter, and eventually target practice dropped off for me too. Never felt the urge to pick up another firearm after that.
Lexus
Andouille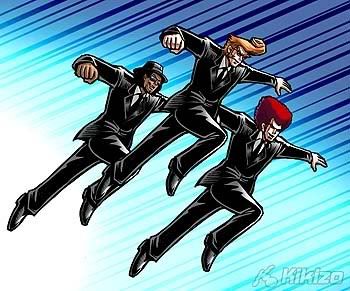 Since: 2.1.02
From: Stafford, VA

Since last post: 546 days
Last activity: 66 days

#10 Posted on | Instant Rating: 6.16
I have been considering getting a gun, but getting education regarding one is something I want to do first. I needed to learn to drive a car, learning to maintain and safely handle a gun sounds clever as well.

I do own a handheld crossbow and carry a knife in my wallet at all times.


---

"Laugh and the world laughs with you. Frown and the world laughs at you."
-Me.
Gerald
Pinkelwurst



Since: 20.3.05
From: Chicago, Illinois

Since last post: 71 days
Last activity: 3 days

#11 Posted on
No.