wmatistic
Andouille



Since: 2.2.04
From: Austin, TX

Since last post: 2075 days
Last activity: 1059 days

#1 Posted on | Instant Rating: 3.08
Nothing yet? Am I alone here?

I don't do recaps, just my thoughts on the show last night..

Michael - this man has no clue. I give up on him. Perfect week for him to pick a classic country ballad and he goes with that? He's dumb and this was bad.

Allison - She's my favorite at this point. Just a smart young girl and a good singer.

Kris - Wrong song WRONG SONG!! Wow that was not good. Way over the top with the facial expressions and that song was not meant to show off your vocal runs it was meant to be tender. You can't out emotion Garth kid, don't try.

Lil - boring but sang well

Adam - just when I thought he couldn't get any more girlie he says Randy was "such a gentleman"??? This was bordering on Sanjaya level suck.

Scott - dull. At the end I got a real 80's TV show theme song vibe. That's not good. Also he lost a lot of hat picks? Uh huh, so they told you.

Alexis - meh, not bad but I think she's playing up the "dirty" thing more than it actually fitting who she is. Comes off as kinda fake to me.

Danny - what the hell was with all the guys picking girl songs tonight? Kinda meh too but I hate him so whatever.

Anoop - awesome

Megan - wtf? I like her yet I have no clue why as she's a trainwreck.

Matt - kinda boring to me actually. I mean good voice, good song choice I suppose but I stopped paying attention halfway through.

Bottom three should be Adam, Megan and Michael. Who knows what it will be, if DI is to be believed right now then a lot of retards were voting last night.
Promote this thread!
spf
Scrapple



Since: 2.1.02
From: The Las Vegas of Canada

Since last post: 2582 days
Last activity: 975 days

#2 Posted on | Instant Rating: 5.16
Last night just kind of sapped my will, hence no thread start from me.

Michael - He does one of my least favorite Garth Brooks songs, and the reaction is about what you'd expect for a song that has really fast lyrics and not a lot of range in it. He'll live another couple of weeks just because there's some truly awful things happening elsewhere on the show. But he is pretty much destined for going out somewhere in the middle of the run.

Allison - I love this girl, but I fear for her chances. She's the best of the females left, but she seems like the type who ends up getting bounced early and everyone says "How did that happen?" I almost wonder if she's destined to be the person who ends up triggering a judge save.

Kris - Well, you'd think the pedigree of the song would help here. Dylan as done by Garth, but he just made it so sleepy. The judges inexplicably love the song. I assume they plan on marketing it as a last-ditch cure for insomniacs.

Lil - Meh. Bad week theme for her. But hey, what you gonna do? She's going to go through to the final 3 or so without a problem, though it was interesting to see the judges come down on her this week.

Adam - The alien called RandyTravis had nothing much to say about him, because RandyTravis has manners. It reminded me of a Middle Eastern sounding version of "Famous Blue Raincoat" I once heard, only the singer on that wasn't terrible like Adam was. I hate him and hope he falls into a giant ring of fire and burns burns burns.

Scott - Scott is awesome. From the creepy blind guy stare to the white guy permafro to the fact that just listening to him he actually takes you back in time to the late 70's/early 80's. I think if he were to do "Sailing" or "Mandy" or possibly "Theme from Greatest American Hero" it would be the crowning moment not just in Idol history, but possibly all of tv, as it would actually give us time travel. He is the light rock hope for the 21st century.

Alexis - Jolene is a very hard song to do. We saw that last season. We see it again this season. Once again, no one seems to get the idea of the song, and thus ends up sounding like crap. And really, every time she says "dirty" we all die a little inside.

Danny - I thought the white coat with the white light while singing about Jeebus was a bit much, even for them. I liked the performance, but I'm beginning to think that they're marketing him as the new messiah. I'm eagerly waiting to see which thing he resurrects first, his dead wife or his buddy Jamar's chances to be in the main competition.

Anoop - Major comeback this week. Definitely one of the highlights of the night, and probably wins him at least 2-3 weeks of safety.

Megan - There's a reason VFTW exists, and it is for performers like her. She's a tornado of terrible. Just incredibly bad at every aspect of the show, except for the aspect of having your boobs totally front and center to try and get votes. I don't think Ray Stevens is in the Grand Ole Opry, otherwise she could have just done "the Streak", gotten naked, and earned a place in the finals. I did like the constant cough during the judge talk segment. But if they had to put a crazy person through, why not Tatianna, who could not only kind of sing, but was at levels of crazy previously unseen on the show before?

Matt - One day Matt will be off this show, and I really won't notice the difference.

The bottom three for me were Kris, Alexis and Megan. I hope Megan doesn't go anytime soon, because she's at least entertainingly bad. Kris won't go anywhere because people are dumb. Alexis could be in trouble, and that's going to be my pick. Question is will the judges save her, and risk not having that out later in the season?


---

2007 and 2008 W-League Fantasy Football champion!
GodEatGod
Bockwurst



Since: 28.2.02

Since last post: 2527 days
Last activity: 1966 days

#3 Posted on | Instant Rating: 6.33
I actually liked last night surprisingly well. Randy Travis was a pretty easy mentor, although he looks kind of disturbing and semi-plastic. I wonder if Scott wondered why he was hugging a skeleton during the mentoring process.

Michael - Eh. He'll do fine with country fans. He had a very country delivery, and he's got the thick country-boy good looks. He might be better off staying country and essentially campaigning for a Nashville contract every week, because he's got no real chance to win. I could take it or leave it.

Allison - Quite good. I really like her voice (I definitely see where the Kelly Clarkson comparison comes from, although she's not quite at that level yet). Still seems very, very awkward in interviews, though, as if she loses all her poise the second she stops singing.

Kris - I'm not a particular fan of this type of song or performance, so this didn't work for me at all. My wife, however, was pretty entranced and loved it way more than anything else he's done, so it might go down well with the ladies and keep him in.

Lil - This, to me, didn't work at all. The song didn't fit her. She and Danny Gokey seem to have a similar problem, which is only sounding very good in the chorus.

Adam - Guess I'm going to be contrary here, because I loved it. Like way more than anything else last night. It was very different, very melodramatic, but at least seemed like a professional performance and not karaoke. While I can see how he might rub the wrong way, he's distinctive and seems to know what he wants to do.

Scott - Puts me in a coma. No more please.

Alexis - Normally like her, but she was terribly uninspiring last night. I'd say she's in danger.

Danny - Way too much Jesus for me. He's got great projection and he makes me want to like him against my will when he broke into the chorus, but there's just something about him that's off for me.

Anoop = I don't get the Anoop thing. He has a fine voice, but, to me, he's very uncharismatic, his eyebrows bother, and I just can't really take him seriously.

Megan - I really want to like Megan. I usually dig the little trills in the voice, and I enjoy that basic quality, but her song choices have, to me, been just terrible. Again, one where my wife disagreed, so we'll see.

Matt - Solid but unspectacular.

My bottom 3: Alexis, Michael, Scott.

That said, I think Megan probably be the one going tonight.

(edited by GodEatGod on 18.3.09 1409)

---

"Never piss off a hawk with a blowgun" - Conan O'Brien
jfkfc
Liverwurst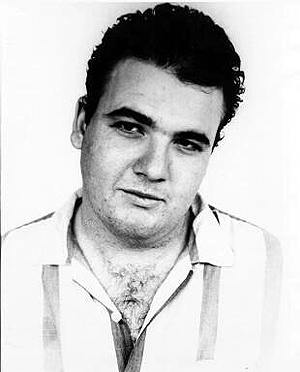 Since: 9.2.02

Since last post: 2399 days
Last activity: 2208 days

#4 Posted on | Instant Rating: 6.84
Adam Lambert is probably not the epitome of normal at any moment of time, and while I didn't HATE "Ring Of Fire", I sure didn't love it, either. It's probably because I am no fan of country music that I was indifferent to every single performance on the show, but his was the (trainwreck) song I actually watched in its entirety. I am still trying to decide what was funnier...Randy Travis's obvious "WTF is up with this person" vibe, or Adam's "No seriously, I hate country and would never step foot in, or around, Nashville" comments.

My first look at Danny did make me wonder what zany comments would come from Simon. I like Danny - it's not HIS fault that his wife died and the producers of the show want us to live every moment sympathizing for him....what better way to grieve than to make women scream for you? I still think Danny is our next American Idol, with Lil Rounds as the runner up, and Anoop behind them. Michael or Megan would be my pick to leave this week, and I do want Adam Lambert to be on as long as possible so we can watch the hilarity of him creeping out more "legends". Good times!
StingArmy
Andouille



Since: 3.5.03
From: Georgia bred, you can tell by my Hawk jersey

Since last post: 2470 days
Last activity: 62 days

#5 Posted on | Instant Rating: 5.06
Michael is a dummy for choosing that song. It fits him perfectly, I suppose, but it might as well be a rap song for the amount of actual SINGING in it. And as Randy (Jackson) helpfully pointed out last night, this is a singing competition.

Adam is... weird. He's got himself a decent voice, but boy is he weird. He's wearing all sorts of girl makeup, and I nearly spit out my beer when he called Randy Travis a gentleman. With that makeup and that hair, it's like he's trying to take the David Cook look to the next level. He needs to hurry up and get kicked off the show so he can find his place on Broadway. Actually, to me his take on "Ring of Fire" sounded like it SHOULD be on Broadway. It was interesting to see Randy Travis' reaction to Simon's comments though. You could tell Randy didn't like what Adam did, but he certainly didn't agree with Simon's bashing.

Anoop. My boy Anoop. Well done. His eyebrows have bothered me too (and for 8 years!) but I think I can overlook them thanks to his voice.

- StingArmy
SchippeWreck
Banger



Since: 26.3.03
From: Glendale, CA

Since last post: 1619 days
Last activity: 526 days

#6 Posted on | Instant Rating: 8.79
I really need to stop picking a favorite so early. All I do is doom them. :(


---

"It's magic! We don't need to explain it!"