BigDaddyLoco
Scrapple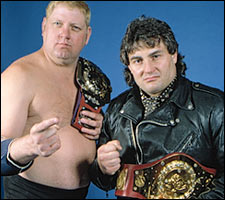 Since: 2.1.02

Since last post: 36 days
Last activity: 36 days

#1 Posted on | Instant Rating: 5.96
A new wrasslin show was on TNT yesterday. It was mostly good. It looked familiar and hearing Tony Schiavone again was really comforting. I felt the second hour dragged a lot more than it should have and there were a lot of dead spots where I thought about doing something besides watching wrestling. The ending had Jack Swagger, which seemed like the opposite of what they were preaching. I'm more into on their secondary guys so seeing how they get filtered in will tell me a lot. All in all an impressive first show.

AEW also crushed NXT in the ratings. I think people are making too big a deal out of this because in a couple of months most people will go back to not watching wrestling and we can look back and have a good laugh about the ratings spike.


Promote this thread!
Matt Tracker
Scrapple



Since: 8.5.03
From: North Carolina

Since last post: 36 days
Last activity: 8 hours

#2 Posted on | Instant Rating: 9.26
The women's match absolutely stole the show, and Brock/Kofi should borrow from it heavily.

I liked the staging and the relatively dark lighting. The proximity of the audience made it look like the first five rows were within arm's reach of the ring, and that made their reactions seem all the larger.

It felt like a good mix of recognizable WWE guys and people we'll quickly learn to like. That main event could branch out in a half-dozen feuds all by itself.

Kudos to the VINCE FEARS RATINGS sign, proving that, yes, wrestling is back on TNT.


---

"To be the man, you gotta beat demands." -- The Lovely Mrs. Tracker
Tenken347
Knackwurst



Since: 27.2.03
From: Parts Unknown

Since last post: 23 days
Last activity: 19 hours

#3 Posted on | Instant Rating: 5.39
To be honest, I didn't love it, but also to be honest, I'm not sure this was a show for me. I liked Pac/Page and the women's title match (although that belt was clearly made for Riho, so there wasn't a lot of doubt on the outcome). But overall, I thought the production skewed too close to how WWE does it, and I would have liked more differentiation. Also, the announce team is pretty dreadful. They all sound some combination of bored and confused. I wish they'd taken a chance on some unknowns instead.

I really like the NXT show that ran against it, but those inset adds were KILLING me. "Limited commercial interruption" my ass. They were running four minute blocks of those things every 10 minutes. It makes it impossible to pay attention to the match, and it trains the audience to think of matches as unimportant. It drove me nuts when I switched over to AEW and saw that they were doing them too. This shit has got to stop.

RE: ratings, in an era of on-demand programming and the Network, do ratings really mean much of anything? I'm sure a lot of people watched Dynamite because it was a new show, but how many of them immediately watched NXT as soon as it was available? I watched NXT, and caught AEW when it went on-demand the next day. I feel like ratings (for everything, not just wrestling) aren't really what they used to be.
emma
Cherries > Peaches



Since: 1.8.02
From: Phoenix-ish

Since last post: 38 days
Last activity: 12 days

#4 Posted on | Instant Rating: 9.61
(Thanks, BigDaddyLoco for starting this thread. I wood have, but my life got crazy.)

I thought it was great! I love all those guys, & am totally up on all the backstories, which are strong & not haphazard. The in-ring is sooo much stronger & more entertaining than "wwe style". The characters are engaging, & unique. They're rocking a good mix of young guys, still really good old guys, along with the "absolute primetime" talent. I find their product to be way above what WWE presents.

I thought that they've made huge progress getting the camera work dialed in. In WWE, the ringside cameramen & the "monkeys in the truck" have all been doing this for literally decades. I suspect it's the same for NJPW. For a new crew, that's a tough ask -- but they did well.

Same for all the other production elements. They've had a handful of shows to get that all together, where "other promotions" have had years. I was at Raw live in Phoenix earlier this week; when they went back to having real pyro, my second thought was "Cody loves his pyro!!" :-)

I don't have a problem with Jack Swagger. Part of what they're preaching is that "other promotions" have had some significant talent, which they squandered. (Cody, Moxley, Pac, Jericho, Omega, etc.) I've seen Hagar/Swagger a few times recently (somewhere -- MLW?), & its been good. So far I haven't seen AEW make anything that I thought were hiring/booking mistakes, so I'm good to let that play out.

I'm totally on board!!

(I still want to do match by match notes, but gotta go.)
andy1278
Bockwurst



Since: 11.1.02
From: Brunswick, GA

Since last post: 205 days
Last activity: 185 days

#5 Posted on | Instant Rating: 7.54
It was a really good presentation. The arena looked great, the fans were pumped, and everybody who appeared were presented as important. The multiple bright colors in the intro video and throughout the night were great and a far cry from the single red, yellow, or blue we have gotten used to. It looked great in HD.

It was great to have Tony back, and JR was improved just by being with him. Being stuck with the drudge that was the latter days of Nitro made us forget how good Tony is, I think.

AEW Dark, the YouTube show with all of the dark matches, was equally good. Same presentation and graphics, more Tony, and advancement of upcoming storylines through Tony straight-forward explaining things and, again, everybody in the four matches were made to seem important.