geemoney
Scrapple



Since: 26.1.03
From: Naples, FL

Since last post: 227 days
Last activity: 6 hours

#1 Posted on | Instant Rating: 5.50
-I don't think we need to check WWE.com this week to let us know what's going to happen tonight....

-WWE Open.

-Oh man, we get a parental discretion warning because tonight's show will depict Mr. McMahon's death.

-Smackdown Open.

-Michael Cole opens the show as he said the crowd is going through a lot of emotions after seeing what transpired on Raw. Looks like they're all cheering to me. Cole and J.B.L talk at the desk and we see Mr. McMahon read his prepared statement from Raw, with Cole and J.B.L talking over it for a bit, in their somber voices. They then show the end of Raw, starting when Vince came to the ring. Cole suggests Mr. McMahon was in a "medicated state." The two play amateur psychologists throughout the video review. Neither mentioned the two guys that Vince looked back at once he left the arena, so they must have nothing to do with it. The explosion is not shown. Back on Smackdown, the superstars are all out to pay their respects to Vince. Cole still says Vince is only "presumed" dead. What kind of investigators do they have on this case? The bell is tolled ten times, and the crowd seems mostly to be quiet, aside from some random booing (unless the audio sweetener acted as the audio lessener here). J.B.L admonishes the crowd, must like Tazz and Styles did on ECW.

-Coming up, Deuce & Domino faces Kendrick & London! Yes, again!

[Break]

-We see a mock press conference that took place at WWE Headquarters on Wednesday, led by WWE's Ed Kaufman.

1- PAUL LONDON & BRIAN KENDRICK VS. DEUCE 'N DOMINO
Non-title match here. Domino and Kendrick lock-up to start. Kendrick hammers away with forearms until Deuce comes in, but Kendrick takes him down and the faces double-dropkick the heels. London is tagged in then tags back out, working the left arm of Domino. Domino stops the offense with a knee to the head, but Kendrick moves out of the corner and works over Domino until Decue low-bridges the top rope on Kendrick and the former Spanky goes flying. Domino suplexes Kendrick back in as J.B.L says "main event wrestler" in reference to himself. Add him to the list of those not using the "sports-entertainer" phrase. Deuce is in and he starts to wear down Kendrick. Domino is in but doesn't have the success of his partner as Kendrick hits an enziguiri and makes the tag to London. Atomic drop on Deuce and London is a proverbial house of fire. Domino breaks up a pin attempt and all four men are in the ring. Now outside, Domino slams Kendrick on the mat, but London knocks Domino off the apron. Deuce comes out of nowhere and cracks London in the mouth for the win.

WINNERS: Deuce 'N Domino at 4:54.

-Still to come, Edge faces Ric Flair in Flair's first Smackdown in over five years. And in a re-match from last week, Batista takes on M.V.P.

-Talking head time, as William Regal has some thoughts on Mr. McMahon. He talks about Mr. McMahon giving him the commisionership, and jokes about Al Snow and midgets. Regal says it was a pleasure to kiss Mr. McMahon's backside. He was the only American Regal respected. Wow. For me, this crosses the line, though it was obviously tongue-in-cheek, what with the things Regal talked about.

[Break]

-Teddy Long talks about Vince McMahon and people in other organizations telling him he was a nobody. But not Vince. No sir, he didn't do that. Teddy thanks Vince for giving him a chance to prove himself. Long also brings up the pictures of Martin Luther King and Vince McMahon in his office.

2- MATT HARDY VS. WILLIAM REGAL
Hardy rolls over a headlock and Regal reverses that to a roll-up for a quick one-count. Back on their feet, still in the headlock. Off the ropes goes Hardy, shoulderblock on Regal. Into the headlock again by Hardy. Regal backs Hardy into the corner and gives him a cheap-shot. Mr. McMahon would be proud. Now Hardy is in the headlock, but not for long. Regal bridges out of a hammer-lock. Loud "Regal sucks" chant. That's kind of surprising. Hardy elbows Regal down, followed by a bodyslam. Elbow off the middle rope by Hardy and he goes for the Twist of Fate, but Regal avoids it and nails Hardy with a straight right hand. Hardy comes back with a back-drop. Regal goes to the outside to take a powder. Hardy goes out after Regal, but Hardy goes down. Hardy beats the ten-count, but Regal goes on the attack as soon as Matt comes in. More knees by Regal. Regal stretches Hardy, working on the lower back and the ribs. This goes on for a while, but Hardy ends up flipping Regal to get back into the match. Hardy hits the Side Effect for a two-count. Hardy clotheslines Regal in the corner but hurt his ribs and couldn't make the bulldog- instead, Regal hits a nice overhead suplex. Butterfly suplex by Regal into a pinning combo for two. Hardy though hits the Twist of Fate out of the corner on a frustrated Regal and it's over.

WINNER: Hardy at 9:18.

-Edge faces Ric Flair tonight, and Batista goes against M.V.P.

[Break]


-Jillian is next up and she doesn't know what to say. She never thought she'd be a part of Vince taking his last steps.

-Michael Cole takes us back to last Monday, showing what happened after Raw went off the air.
Basically, the firemen put out the fire. And there are some random explosions. Cole says the investigation will continue on WWE.com through the weekend.

-But tonight, Batista vs. M.V.P is next!

[Break]

-Chavo Guerrero talks about the illustrious Mr. McMahon. He says Vince being a jerk is one thing we should thank him for. He says the superstars have lots of questions about WWE in the aftermath of Mr. McMahon's presumed passing.

3- M.V.P VS. BATISTA
Before Batista comes out, Ric Flair wishes him good luck backstage. M.V.P appears to be wearing a breathe-right strip on his nose. A little mat-work to start things off, then Batista uses his strength to hit a shoulderblock. Batista takes Montell Vontavious Porter down with a drop-toe hold. After hitting the ropes, M.V.P holds on and goes to the outside for a breather. M.V.P keeps his feet moving to avoid Batista. It works to his advantage as he goes after the Animal in the corner. Short-arm clothesline by Porter. He hooks the leg on the pin attempt and gets two. Off the ropes goes Batista, M.V.P puts his head down and Batista boots him. Batista Bomb is set up, but M.V.P escapes as we go to break.

[Break]

-Back in the ring, Batista hits an elbow as M.V.P comes off the ropes, and M.V.P again heads for, well, lower ground here outside the ring. Batista goes after him, and M.V.P throws him into the stairs. Porter misses a kick and Batista has the upper hand, but not for long, as M.V.P tosses Batista into the steel post on the outside. He hits the running boot with Batista against the barricade, and Big Dave gets knocked over into the crowd. Porter rolls Batista into the ring and gets a two-count. Rear chinlock applied by M.V.P. Batista works back to his feet and snap-mares Porter over. M.V.P though gets a drop-toe hold to go back on offense. Batista catches M.V.P with a hard clothesline as M.V.P was coming off the ropes. Both men are back on their feet and they slug it out. Batista hits a back-body drop but Porter gets the boots up in the corner. He walks right into a side slam by Batista for a two-count. DDT by M.V.P for a pin attempt. Porter does the ten-count in the corner, but only gets to five before Batista looks like he's going to powerbomb him. Porter gets out of it and hits a standing dropkick. Batista spears M.V.P then hits the Batista Bomb. Ballgame.

WINNER: Batista at 14:30.

-Later tonight, Edge meets Ric Flair in a one-on-one encounter.

-Sgt. Slaughter uses military talk to honor Vince McMahon. Sarge is going to keep fighting for McMahon's spirit.

[Break]

-Cole introduces clips of the burned-up limo from Monday night. The lead investigator, Daniel Beck, has a mock press conference that aired on WWE.com.

-Tonight, it's Edge vs. Ric Flair.

-Edge speaks on Mr. McMahon. Edge talks about himself, and compares himself to Vince. He wonders who will become the foundation of the company now that Vince is gone.

[Break]

-Kristal and her breasts are the next to discuss Mr. McMahon. She talks about her last interaction with the man.

-Chavo Guerrero comes to the ring to watch the Fatal Four-Way, as the winner will face Chavo at Vengeance for the Cruiserweight Title.

4- DAIVARI VS. JAMIE NOBLE VS. SHANNON MOORE VS. JIMMY YANG
Moore has ditched the punk gimmick and look. High-atomic drop on Noble by Moore starts things off. Yang gets a quick cover on Daivari. Noble hammers away at Yang and hits a headbutt. Daivari chops at Moore, but Moore hits a spinning heel kick. Noble takes over on Moore and hits a hard chop in the corner. Noble planchas onto Daivari on the outside. Moore follows with a flip over the top rope onto the two men. Yang makes four, with a flying bodypress onto Noble and Daivari. On the top rope, Moore tries to suplex Yang, but Noble comes over and powerbombs Moore off, who suplexes Yang off simultaneously. Noble almost gets the pin. Daivari sneaks in and tries to pin Moore, then Noble, both unsuccessfully. Noble puts Daivari back down with a kick. He then puts Moore on the top, but Moore elbows him off. Moore flips him off and gets two before Daivari interferes. Almost out of nowhere, Yang moonsaults onto Daivari (who's back gets rammed into Yang's knee as he goes to the mat) for the win.

WINNER: Yang at 4:32.

-Flair/Edge is next!

[Break]

5- EDGE VS. RIC FLAIR
J.B.L calls Flair the best wrestler to ever lace up a pair of boots. Lock-up to start and Flair back Edge into the corner. Head-lock take-over by Edge but Flair powers out and puts Edge down. Edge slaps Flair after a "WOO" by Naitch. Flair takes a second and chops Edge down a couple times. Boots in the corner by Flair then a back body-drop and Edge bails. Back inside, Edge starts punching away at Flair. Naitch comes back with a few chops, then holds onto the ropes as Edge attempts a dropkick. He tries to put the figure-four on Edge, but the Canadian makes the ropes. Flair uses some methodical offense to wear down Edge. Half-Boston crab is applied by Flair. He continues to work the left knee, but Edge kicks out of a figure-four attempt. He heads to ringside as Flair goes out after him. He lands a hard chop, but Edge back-body drops the 16-time champ as its time for a break.

[Break]

Flair chops out of the corner when we return, but Edge hits him with a flurry of punches. Suplex by Edge only gets a one-count. Edge goes to the outside to choke Flair, who hangs over the apron. The Rated R Superstar drops a knee on the throat of Flair. Flair gets up and hits a chop and a boot. Edge whips Flair into the buckle and splashes him. Cover again only gets one. Flair punches away at the knee of Edge, but Edge gets an enziguiri. Edge goes to the top but as he comes down, he runs into a Flair chop. Chops by Flair followed by a back body-drop. He drops the knee and chops Edge a few more times before hitting a suplex. Now we go to school, as Flair locks in the figure-four. Before long, M.V.P interferes and takes out his Vengeance opponent for the DQ. After the match, Edge hits the spear and continues the offense until Batista shows up and takes out both heels. But he ends up down on the mat as Edge leaves, belt held high.

WINNER: Flair by DQ at 15:39.


---

My intense Stanley Cup final thoughts and more!: Experience It




Promote this thread!
John Orquiola
Scrapple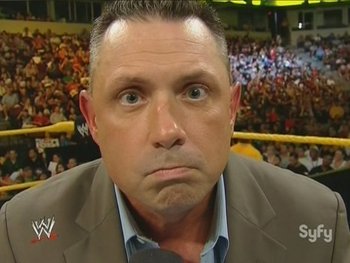 Since: 28.2.02
From: Boston

Since last post: 3379 days
Last activity: 3379 days

#2 Posted on | Instant Rating: 5.73
I really just want to talk about Ric Flair vs. Edge. I thought that was a tremendous main event. I thoroughly enjoyed myself watching it. Flair was in top form. He'll never be what he was 20+ years ago but you could see how much he was enjoying himself in there. When was the last time Ric got a main event match against the World Champion? I believe the answer is: a year and a half ago when Edge was WWE Champion for the first time. Given a main event match against a man like Edge who really brings the best out of him, Ric Flair can still shine. Meanwhile, Edge showed again why he's the best heel in wrestling. He was fantastic in selling for Flair, making Flair look strong, and especially in selling the leg and desperately trying to escape the figure four being applied. Then when it came time for him to control the match, Edge was appropriately vicious while still perfectly measuring his offense so as not to overly dominate the much older Flair. The finish may have been a DQ due to an MVP run-in, but they made Flair look strong by not being pinned and by making Edge be on the cusp of submitting and needing help. And Edge still gets his heat back with a cheap shot spear on Flair and by getting a spear on Flair's back up Batista, Edge's top contender. Everyone came out looking good. That's just excellent booking all around.

I have to also mention how hilarious William Regal was in his memorial words about Mr. McMahon. When he talked about his fond memories of kissing McMahon's ass -- "It was a wonderful backside" -- I spit my drink out. Regal totally walked the fine line with trying to maintain the "seriousness" of "mourning dead Vince" but still working in some humor and a knowing nod that it's all a joke. He was great. He totally figured out the best tone to approach this angle with.

(edited by John Orquiola on 15.6.07 2054)
---

Back of the Head: www.backofthehead.com
TheOldMan
Landjager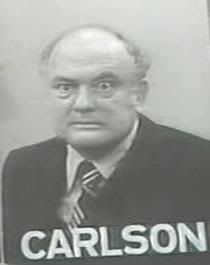 Since: 13.2.03
From: Chicago

Since last post: 3105 days
Last activity: 1316 days

#3 Posted on | Instant Rating: 5.91
As I've said elsewhere, this whole Vince angle isn't working for me at all (your mileage may vary) - so when I saw the wrestlers standing on the ramp to 'show their respect', I FFWDed through the program only to see how they played it, but I wasn't in the mood for the matches.

I presume this was the first 10-bell salute of the night for that crowd, and the ECW live show came after the SmackDown taping? That would explain fewer boos for it vs. Tuesday.

Didn't like JBL getting on the fans that hard for not mourning this like JFK's assassination - I presume at least some of the fans share my objection to WWE playing this fairly straight. Teddy, Jillian and Kristal also seemed to play it like a real tragedy. Regal, Edge and especially Sarge came off better by going for the farce in their comments.

And I didn't think there was a chance in a million that Chavo could participate in this and come off well, but I felt his "Vince is a jerk" riff worked diabolically well as a double entendre.


---



It's the Big "W", I tell ya! The Big "W"!
Super Shane Spear
Bierwurst



Since: 2.1.02
From: Sector 7 Slums

Since last post: 4855 days
Last activity: 4855 days

#4 Posted on | Instant Rating: 4.38
I really enjoyed the evening overall. It's good to see people like Matt Hardy and Jimmy Wang Yang get the reactions they have been recently. I do have a question though. JBL made it a point to bring up that Masahiro Chono was a one-kick wonder and that MVP will eventually be better than him, if he isn't already. Is that a general consensus, or hype? I only got a chance to see Chono during his limited run in WCW, but heard he was a very good overall star.
CEOIII
Bockwurst



Since: 25.7.02
From: Franklin, PA

Since last post: 2419 days
Last activity: 1755 days

#5 Posted on | Instant Rating: 1.63
Originally posted by Super Shane Spear

---

I do have a question though. JBL made it a point to bring up that Masahiro Chono was a one-kick wonder and that MVP will eventually be better than him, if he isn't already. Is that a general consensus, or hype? I only got a chance to see Chono during his limited run in WCW, but heard he was a very good overall star.

---


Caveat: I'm not an expert on Japanese wrestling in any sense.

Now then: From what I've heard, he was very good, but he's gotten older and more broken down, and now he's kinda like Muta or Flair now: Depending on familiar spots to keep the crowd into his matches.


---

I'm Charlie Owens, good night, and good luck.