DEAN RASMUSSEN
He is DEAN



Since: 11.12.01
From: Richmond, Va, U-S-A!

Since last post: 2627 days
Last activity: 2624 days

#1 Posted on | Instant Rating: 9.85
We Americans are blowing up stuff in Iraq as a result of a very complex situation involving our new post- 9/11 foreign policy, the liberation of a people from tyranny, the security of our interests in the region, the reaction of the civilized world to rogue states- all mixed with the possibly ethically questionable post-Cold War policy of pre-emption that is now being put into action. With all this going on, I figured I would write a lot of jokes about fake titties, hot male asses and people assuming the form of giant wads of shit. Yes, my brothers in arms, it`s another Smackdown Workrate Report.

WHAT WORKED-

- Rhyno vs Charlie Haas! Rhyno acts all Neidermeyerlike and bumps fucking HUGE early for Haas. God, Rhyno fucking rules it. When did this happen? I don`t remember liking him this much when he was in ECW. Haas is there with the suplex and the nasty dropkick to the knee- and then following up on the knee, which I loved. Rhyno makes the ropes and Benoit beats the shit out of Shelton when he tries to cheat. Rhyno sells the knee really well, getting the crowd to empathize and hope that Rhyno can escape- the job that the babyface should be able to do. Rhyno sells the knee post-suplex and I`m loving this. Shelton slams Benoit into the ringpost and they decide to forgo a win and beat the hell out of Rhyno. This came close to being not a match but an angle.

- Eddy and Chavo re-enact Up In Smoke Visits Caddyshack and we all laffed and laffed and laffed... THEN they tag with Rikishi and go against the FBI. Rikishi`s ass is huge. The camera focuses on his thong and you see the commander of his ass, sitting on the bridge and issuing orders. ``Commander Turwellian! Last nights kim chi and lasagna caserole IS GONNA BLOW! WE CAN`T HOLD, SIR!``
``Dammit Poo! It`s got to hold! He`s trying to wrestle a match!`` Nunzio and Eddy start and Eddy hits a neato Quebradora. Chavo beats the hell out of everybody. Chuck hits a nice lariat and a half crab and the FBI go all Southern with the cheating and triple teaming and it`s fun. Chuck is the funnest of the FBI in this, coming in with a Samoan DropVARIATION and then taking all of Eddy`s offense. Eddy goes ARENA MEXICO on the FBI with the Running Up The Ropes To Hit The Double Headlock /Headscissors Takeover and sets up Rikishi`s SWEET Superkick. ``CAPTAIN! We`ve got Chuck alone in the corner! Los Guerrerros have planchaed the other two to the floor!``
``Yes, Poo, quickly....UNLEASH THE HELLISH WIND OF HORRID FECAL SCENT! THEY WILL NOT KNOW WHAT HIT TH... Oh wait, Eddy Guerrerro is doing a Frogsplash. I, TURDWELLIAN and my MIGHTY VESSEL- RIKISHI`s GIANT ASS- have been DENIED! I WILL HAVE MY VENGENCE!``

- REY REY takes on Jamie Noble. Jamie needs to grow his hair out; he looks too much like a guy who would hang out at the Topeka Steakhouse instead of a true redneck or at least get ``My Grass Is Blue`` tattooed across is stomach. Rey Rey takes the Psicosis sliding bump to the floor and then makes Nidia`s lariat look good. They fuck up a Tornado DDT I think- and Rey Rey walks into a true DiBiase Powerslam. Rey Rey hits the toprope rana and then Pescado`s Nidia dn Noble does the GREAT Fit Finlay dropkick through the ropes. Noble sells the 619 like a freak and Rey Rey wins it with a sweet springboard Frankensteiner. That was fun.

- Eric Angle as the bitter younger brother is going to be GOLD. Take it from me, a bitter younger brother. YOU TELL THEM, KURT! FUCK BROCK LESNAR, the FUCKING PUSSY! HE LOVES HIS BROTHER AND THEY HUG! FUCK YEAH! TO HELL WITH THOSE FREAKS IN KENTUCKY! He`s RIGHT! Lesnar is a SORE LOSER! HE NEEDS TO APOLOGIZE TO ERIC! FUCKIN` A! Then , Scott Putski comes out and makes the title match at Wrestlemania a No DQ match. THEN! Lesnar comes out and takes the fucking nastiest bump of the week on a metal chair and Angle ROCKS with the choke out and you weep at the beauty, the innnate perfection of Angle performing the Professional Wrestling. Angle is fucking GREAT. He can`t retire. He has to redo all the classic Anderson Brothers angles.

- THE SECRET ADVENTURES OF AL WILSON- The ninjas start kicking Al Wilson in the face and in groin. Al collapses to the floor, gasping for air. ``Massster, should I kill him now?``

``MullKEY, you have done very vell. I vill lavish you vith revards. Yes, kill him quickly while you can.``

``Mr Wilsssssson, you heard the man. Time for you to die.`` SUDDENLY the walls to the bathroom fall away outwards and the Sisterhood of Hardees Secret Agents spring at the ninjas from every direction. Linda Whitcombe (CODENAME Lee-Lee) is the first to fly wildly into a cross-armbreaker and rips a ninja`s arm out of joint after breaking it in half, ``Fuck you and your arm, motherfucker``. Josephine Wagner (CODENAME Jo Jo) uses her brass knuckles ``Awwww you ninja motherfucker!`` Ninja teeth are bashed out as she throws hooks and jabs and uppercuts like the most vixen-like Sonny Liston that could ever exist. Samantha McNeill (CODENAME SYCHO SAM) swings her size 39 Louisville slugger, smashing the knee of a hapless ninja, ``you dickless rat-soup-eating motherfucker!``

Al gets to his feet and sees MulKEY sprinting for the door. Al springs to his feet and dives over the plastic seat and table combo and lands on MulKEY in a heap. Al drives hellish punches into the face of MulKEY, who is spitting blood and teeth out of his mouth as his eye swells shut. ``Okay, you little motherfucker. Where is the Baron?``

``Fuck you, Wilsssssssooooooo.....`` and the cyanide capsule hidden behind his molar takes effect.

``DAMN! Jesus. That`s some shit. Poor misbegotten motherfucker.`` Al lets go of MulKEY`s lifeless body and it collapses to the floor. ``You ladies allright? Thanks for saving my bacon.``

``Don`t worry about us, are you allright?``

``I`m good. I`m getting too old for this shit.``

``This hasn`t even started. We got a new file on what the Baron has been up too. It ain`t pretty.``

``I guess we need to get some information out of these ninjas before they figure out a way to kill themselves.``

``Al, we`ll get it out of them. Lay back, I`ll get you a Frisco burger. They`ve got secret healing power.``

``Jo Jo, you are one bad mamajama- just as bad as you can be. Y`all ain`t nothin but fine. And I mean that.``

``And you damn right that we`re fine. I`m a bad bad missus in my skintight britches.``

Al starts to laugh but keels over from his broken ribs.

to be Continued...

- Undertaker and Bill Demott didn`t fuck up the Rolling Kneebar. Bill Demott didn`t throw any punches. VIOLA! The Best This Match Could Possibly Be!

- Brian Kendrick is all nifty on the mat early as Shannon Moore does his Misawa impersonation- in that he does fifty 2 and 68/69ths nearfalls. Matt Hardy is AWESOMELY evil on the outside- especially when Kendrick just fucking DIES taking a facebuster to his steps. Misterio comes out and Matt takes the bouncing Hurricanrana spot off the apron that Matt actually invented with his brother in OMEGA. Kendrick gets to stay on my TV indefinately by killing Shannon with his Shewy Newy.

- Benoit comes to the ring with Rhyno and I`m assuming that he will beat the life out of Shelton Benjamin. Oh yeah! BENOIT BEATS THE FUCK OUT OF HIM! YEAH! Shelton takes the assbeating like a man. Shelton works on Benoit`s neck- off course if he REALLY wanted to work on his neck to wear him down for WM, he should keep laying on his back until Benoit does another astoundingly stupid toprope headbutt. Shelton is FUN FUN FUN smacking Benoit around and doing a yeoman`s job of reversing the Crossface. Crossface is reappled pretty early with a GORE GORE GORE GORE GORE GORE flying over top of it and I`m guessing Benoit and Rhyno aren`t winning the belts. Not long enough but perfectly fine.

WHAT DIDN`T WORK-
- Somebody put up pictures of the Torrie Wilson pictures naked- on the internet, I HAVE MY INTERNET RESOURCES!- and one would toast a load to these said pictures if she wasn`t wearing so many layers of air-brush. It made me wonder what she looked like naked.

- John Cena disses The Source magazine rating system? This will not stand....

- Hulk Hogan talks and talks and talks and he was never fucking Ric Flair and he sucks and I wish he would at least go away from the beloved Smackdown if he can`t ever actually bring himself to ever actually retire and spend some time with his kids. Vince hits him with a chair a lot. This wasn`t as long as it could have been and Hogan blades like he was in the AWA at one time. There. You will always have that. And the signing in your own blood thing was neat. McMahon could have jumped the ring on a motorcycle and it still wouldn`t change the fact that Vince McMahon and Hulk hogan are going to have a wrestling match that they expect poor shmoes to pay $39.99 to see.

THERE YOU HAVE IT.

DEAN RASMUSSEN.




---

YES, I AM DEAN.
Promote this thread!
redsoxnation
Scrapple



Since: 24.7.02

Since last post: 1815 days
Last activity: 1815 days

#2 Posted on
Dean, the Torrie pictures were not airbrushed, they were tampered with by Baron in order to play mind games with Al. At least the pics posted here have the words Baron all over them.
Hopefully, Eric Angle is 1/2 the wrestler/mic guy Kurt is while Kurt is away, or the show will really suffer.


---

If it wasn't for war, you wouldn't know what peace was.
DEAN RASMUSSEN
He is DEAN



Since: 11.12.01
From: Richmond, Va, U-S-A!

Since last post: 2627 days
Last activity: 2624 days

#3 Posted on | Instant Rating: 9.85
IT ALL MAKES SENSE NOW!

Acyually, I figured all the air-brushing was hollow and empty works of Satan.

DEAN.


---

YES, I AM DEAN.
Bullitt
Shot in the dark



Since: 11.1.02
From: Houston

Since last post: 658 days
Last activity: 658 days

#4 Posted on
Seriously though...Knoble took that West Coast Pop from Misterio like a CHAMP. That just looked so crisp and so clean...


---

Matthew Good - Playing Calgary March 24th AND 25th. Be there.

Gordie.ca
hansen9j
Andouille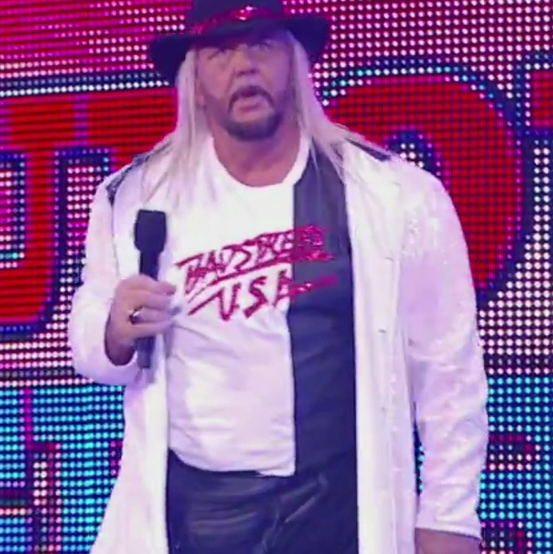 Since: 7.11.02
From: Riderville, SK

Since last post: 19 hours
Last activity: 6 hours

#5 Posted on
I'm looking forward to Turdwellian turning on both Eddy and Rikishi, with Rikishi's ass torn on which side to join.

And it's nice to see Hardy's bringing the workrate with the cross-armbreaker. Maybe next time I eat I'll drop by there. On second thought, I think I'll still stick with A & W.


---

Da moon rulz! #1!
DEAN RASMUSSEN
He is DEAN



Since: 11.12.01
From: Richmond, Va, U-S-A!

Since last post: 2627 days
Last activity: 2624 days

#6 Posted on | Instant Rating: 9.85
Originally posted by hansen9j

---

I'm looking forward to Turdwellian turning on both Eddy and Rikishi, with Rikishi's ass torn on which side to join.

And it's nice to see Hardy's bringing the workrate with the cross-armbreaker. Maybe next time I eat I'll drop by there. On second thought, I think I'll still stick with A & W.

---


Back in the 80s, my friend Kip used to assume the voice of the Amazing Criswell and make these poo-based predictions for the lives us around him by assuming the role of Turdwellian, seer of the future. I wanted the character to live on in wrestling recaps. So he lives now in Rikishi's butt.

DEAN.


---

YES, I AM DEAN.