DEAN RASMUSSEN
He is DEAN



Since: 11.12.01
From: Richmond, Va, U-S-A!

Since last post: 2603 days
Last activity: 2601 days

#1 Posted on | Instant Rating: 10.00
First one of these for since FOREVER. Bear with all annoying obvious conclusion.

WHAT WORKED-

- Hey! A Spinnerooni! I could go for a Toprope Guillotine again. Those were fucking awesome back inna day. FROOT BOOTY~! countdown begins....NOW! Wait. Wrong Harlem Heat member. Oh wait. Crap.

- Vickie Guerrerro being screechy is heatastic. Dolph Ziggler as the 16 year old who marries the teacher with whom he fathered a child right before she was caught and sent to prison is pretty awesome. They should dwell on that. The Kelly Kelly part of being the cheerleader jilted by Ziggler so he could hook up with the aging English teacher is all pretty great subtext. Actually, Vickie would assume the roll of oversexed Vice Principal. YES! PERFECT! Edge is the LONER and OUTSIDER! FROM THE WRONG SIDE OF THE TRACKS! KELLY KELLY is the popular girl! CAN THEIR LOVE SURVIVE! He saves her from the MEAN GIRLS! Okay, I love Smackdown already.

- The Corre tagteam come out with douchey hair cuts. I assume they are called TEAM AXE BODY SPRAY. Kozloff is really fun, throwing folks around and I dig his STRONG STYLE stylings of avoiding running the ropes ever. Santino brings the RINGS matwork and we all rejoice. Justin Gabrielle hits his finisher which he has dubbed "Fuck, I think I cracked all my ribs" Splash '11.

- REY REY! I haven't seen him forever! I hear he was aflame while I was wandering the wrestling fandom wilderness. Jack Swagger! A commercial break! AH! JUSTIFIED! FUCK YEAH! Ooop, we're back. Maaan, Rey Rey can just fucking GO. Maaaan, the knee through the ropes stuff looked fucking NAAASTY. Rey sells his knee like a KING and Swagger is game about ripping his tendons apart. Rey sells the ass-beating LIKE A MAN. What a fucking babyface. Rey Rey's hope spot is cut off quickly and Rey Rey is in TOTAL Ricky Morton mode. Nice DDT hope spot with Swagger leaning in like a MAN. Finish was fun and elaborate. YEAAA! I get to watch Rey Rey again.

- Proper good girl Kelly Kelly uses her booooobs and sauciness to confuse working class brat-packer Edge. I will mail the WWE ONE AMERICAN DOLLAR if they have a weeping Edge standing in the rain outside Kelly Kelly's window playing "In Your Eyes" by Peter Gabriel from a boombox.

- Ah crap. I have a Hornswoggle beard. I used to be as suave and Bryan Ferry-esque as Alberto Del Rio. Really! In the 80s... really. Well anyway. I saw Del Rio live at the Richmond Coliseum a few weeks ago and he got 1999 Sting from the rafters level insane heat. Here he is awesome making Robert DeNiro Kicked In The Balls faces before beating the shit out of a little fella. KOFI?!?! Goddammit. Oooo sneak attack! Such GREAT GREAT evil in the smile before the Wokkiguhtommy. What a great fucking rudo.

- AH how I missed the MAJESTY of the Big Show entrance music. I am misting over. You can't tell that Wade Barrett isn't good looking, despite the creepy hairlessness. Big Show is on offense and he makes it look like it hurts. Barrett's punching is... questionable. Nice elbow to the face by Big Show. WHOA! Actual LARIAT. Ezekiel Jackson with THE BODYSLAM! AWWESOME!

- Kelly Kelly and Edge test their love against the Vice Principal, her teen lover and their lesbianic majorette lackeys. Vickie screeching stips early and often is one more thing to kill this match- a match already suffering from the astoundingly shitty offence (he's Canadian!) of Edge- not to mention Russo/TNA-level retarded booking of Divas fighting for the world title without the champion being able to ever legally enter the match against them. Would Kelly Kelly win the title if she pins Lay or Cool? I can't retard myself enough to figure it out to the point of making it make sense. I could check look for inhalents, but QUALITY wrestling never needed inhalents to make the wrestling experience make some sort of sense. Luckily the Divas beat the living fucking dogshit out of each other and by the time Kelly Kelly flies into the barrier, I've glossed over the stupidity surrounding it and I'm immersed in the fabulous estrogen soaked violence. This was quality stiffness. Edge has found his place in wrewstling by being on the apron. He was pretty good getting the crowd into the usual Southern tag staples. KELLY KELLY IS YOUR NEW CHAMPION! Oh wait. Vickie is less than gracious in defeat. Her screechy evilness making more retarded stips as she fires Kelly Kelly moves the love story along. We are closer and closer. "IIII reaaach out from the IIIInside! In your eyes...."

WHAT DIDN'T WORK-

- Smeckdown flaunts the fact that it has the highest ratings on SY-FY! I actually dvr-ed the "Giant Snake vs Gateroid" Debbie Gibson cgi monster vehicle yesterday! It's more than just wrestling! WHat did you all forget fuckin' motherfucking SHARKAPUS already?! I weep for the youth of America. After watching the back to back to back to back to back Progressive commercials with the annoying Progressive woman, I REALLY would tape the HELL out of a cgi Sy-Fy EXCLUSIVE: "GEICO Geckodroid Versus the 50 Foot Progressive Insurance Woman: A Love Story?" Hot love in a cold world. So beautiful...

- Kofi Kingston jumps very high. Drew McIntyre looks like Lars Ulrich little brother, Gunter. His finisher is the Hairless And Creepy Driver 2011, I'm assuming. Kingston's offense is just fucking RIDICULOUS. Even Dramatic Dream Team Slow-motion wrestlers are at home saying, "God, that looks....JUST AWFUL" when he does that fly-through-the-ropes-and-kick-you-inexplicably spot. We take a commercial break so I can have extra time to hate myself for watching Kofi Kingston wrestle. The fact that they think folks who would enjoy this match would also enjoy Domino's pizza and Nicolaus Cage movies says quite a bit, actually. McIntyre does his own kickout, for some reason. McIntyre does a short Lariat and Fit Finlay throws a flagon of Guinness through his TV set in disgust somewhere. Nice DDT sell by McIntyre. Jumping punch! Jumping leg thing! Hey, It's Alberto Del Rio. That was the run-in? God, I want to punch this match so hard.

- THREE insurance companies advertise on Smackdown. I don't understand the demographic allure but I work on the undergound utility locating industry so what would I know. I'll get to motherfucking WEAR OUT a SyFY cgi monster movie joke with the E-surance Saver guy morphing with the 50 foot Progressive Insurance Woman soon enough though. Bank on it.

- Chavito! And it's Kane. And its a squash. And they follow it up with the comedic stylings of HHH. A horrifying couple of minutes of television there, daddy-o.

- Denny's has a VALUE MENU now? I'll take the $2 sausage wad, the $1 congealed pickled egg sandie and the $4 stomach pump, to go, please.

THERE YOU HAVE IT.

DEAN RASMUSSEN
TEAM GIRTH



---

YES, I AM DEAN.
Promote this thread!
Parts Unknown
Lap cheong



Since: 2.1.02
From: Darkenwood

Since last post: 242 days
Last activity: 242 days

#2 Posted on | Instant Rating: 10.00
I gotta tell you, the return of DEAN~! is what works here. I'm wiping away tears.

Also, Booker T is awesome and Matt Striker can GTFO now.


---
Spiraling_Shape
Bierwurst



Since: 2.1.02
From: PA

Since last post: 12 days
Last activity: 2 hours

#3 Posted on
I bet they add Striker to RAW and make it a 3-man team / Matt fills in when Jerry's in the ring in the coming months. I like the Bookerman but he didn't have much to add tonight.

Del Rio kicking Hornswoggle in the head is priceless. Less priceless, costing Kofi a match via TITANTRON WINK~!

Vicki's over-the-top witchy cackling at the end was great too. And she looked good too, and Striker wasn't there to lie and say the opposite.

And yes, Rey's selling at the end of that match was top notch.

I await DEAN's renditions of the SD! roster.

P.S. - Kelly Kelly is trending on Twitter...

(edited by Spiraling_Shape on 4.2.11 2000)

---

"You've got the crazy eyes." - RAW GM Laptop, 9/27/10
shawnpatrick
Kishke



Since: 31.7.07
From: Leesville SC

Since last post: 2201 days
Last activity: 2083 days

#4 Posted on
that was one impressive bodyslam on the Big Show by Ezekiel Jackson. The only thing that waters it down is that Show has had to sell so many times before.

The bodyslam is on youtube (not sure if we are allowed to post youtube links here) but just search for it.
It's False
Scrapple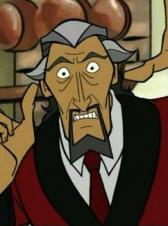 Since: 20.6.02
From: I am the Tag Team Champions!

Since last post: 67 days
Last activity: 5 days

#5 Posted on | Instant Rating: 7.37
Thank God someone covered this, because it means I didn't have to watch the epic gazillionth battle between Kelly Kelly and LayCool (only this time, in the MAIN EVENT!). I don't dare complain about these three fighting each other a kajillion times anymore, lest they decide to have them main event Wrestlemania just to spite me.

(edited by It's False on 4.2.11 2111)

---

"Going up the stairs and going down the stairs and going up the stairs and going down the stairs! And going up the sideways stairs!"
Matt Tracker
Scrapple



Since: 8.5.03
From: North Carolina

Since last post: 4 days
Last activity: 2 days

#6 Posted on | Instant Rating: 8.47
Dolph Ziggler barked at Kelly so hard in the opening segment that her hair moved. He's the Big Bad Wolf.


---

"To be the man, you gotta beat demands." -- The Lovely Mrs. Tracker
BigDaddyLoco
Scrapple



Since: 2.1.02

Since last post: 5 days
Last activity: 4 days

#7 Posted on | Instant Rating: 5.00
I don't remember you ever letting the virgins have their way with the Divas before.
John Orquiola
Scrapple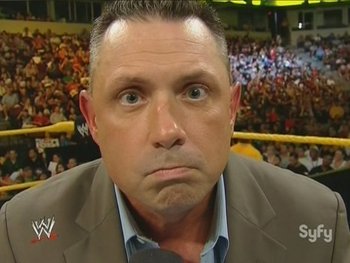 Since: 28.2.02
From: Boston

Since last post: 1428 days
Last activity: 1428 days

#8 Posted on | Instant Rating: 7.24
I loved this. No, really, I did. Kelly Kelly defending the World Heavyweight Championship on Smackdown against LayCool and winning with Edge's spear against impossible odds? Then getting fired for it? It's so thoroughly ridiculous a scenario I ate it up. Do I want something like that to happen every week? No, of course not. But as a one-off bizarro spectacle I thought it was great.

Kelly Kelly delivered. She really stepped it up. Did we understand what the hell she was talking about, re: Vickie going through her stuff and messing with "her character"? No. Did she even shove Vickie down correctly? No. What did Kelly mean that Edge and Drew McIntyre are all the same? Who knows?

This is Kelly Kelly Farrah Fawcett Hair Holla Oooh I'm Feeling Sexy Points to Sky and Points To The Crowd we're talking about. This is the same girl who in her very first appearance on ECW as the Exhibitionist five years ago couldn't figure out how to unbuckle her bra. What could we reasonably expect from Kelly Kelly?

Well, what Smackdown gave us last night was the best Kelly Kelly performance there ever was. I cheered when she overcame LayCool and popped not just for her Spear Spear Spear but the exhausted, "I've got nothing left, please God let this be the end" cover on Layla. Last night on Smackdown was Kelly Kelly's finest hour. And final hour, because she got fired. But what a way to go out, as the first and only Diva in WWE history to successfully defend the World Heavyweight Championship.

The only thing better on the show was Hornswoggle caning Alberto Del Rio in the groin and then getting kicked in the face. But if Kelly did it instead of Hornswoggle, this would have ranked as perhaps the Greatest Smackdown Ever.


---

@BackoftheHead






www.backofthehead.com
graves9
Sujuk



Since: 19.2.10
From: Brooklyn NY

Since last post: 112 days
Last activity: 83 days

#9 Posted on
The Main Event was so Russoific. Intergender handicap Match for the World Titlre really? Actually Even Russo hasn;'t booked a match like that.......... yet. Black Snow is a downgrade from Stevie Ray as an announcer imo. He is an upgrade over Matt Striker though.


---
http://defendingthecore.blogspot.com/
http://morehardball.blogspot.com/
DEAN RASMUSSEN
He is DEAN



Since: 11.12.01
From: Richmond, Va, U-S-A!

Since last post: 2603 days
Last activity: 2601 days

#10 Posted on | Instant Rating: 10.00
Originally posted by BigDaddyLoco

---

I don't remember you ever letting the virgins have their way with the Divas before.

---


I don't want them to EXPLODE.


---

YES, I AM DEAN.
dMp
Knackwurst



Since: 4.1.02
From: The Hague, Netherlands (Europe)

Since last post: 4 days
Last activity: 1 day

#11 Posted on | Instant Rating: 9.00
The one thing that 'sucked' (because it really didnt suck but made me feel bad) was that Kelly was so awesome in her match and wrestling at her best....and then she gets fired and immediately she cries. No smacking of Vickie, no getting revenge. She falls apart and gets all teary-eyed...awww..

Booker T was good on commentary.
He wasn't as over the top-awesome as he was when he did commentary during his active career but he did bring something to the table. I like(d) Striker when he brings his wrestling knowledge. But when a legend and veteran like Booker T does the same it carries more weight with it.



---