Freeway
Scrapple



Since: 3.1.02
From: Calgary

Since last post: 1644 days
Last activity: 1332 days

#1 Posted on
PREDICTIONS:
European Title: Christian def. DDP (c)
Tag Team Title: Hardy Boyz def. Dudleyz, APA & Blondes (c)
Women's Title: Trish def. Lita & Jazz (c)
Undertaker def. Flair
Edge def. Booker T
Hardcore Title: Maven def. Snow, Show, Test, Spike, everyone
IC Title: RVD def. Regal
Angle def. Kane
Hall def. Austin
Rock def. Hogan
WWF Title: HHH def. Jericho

So that means by Monday morning, we'll have...

Tajiri (Cruiserweight Champ)
Hardy Boyz (Tag Team Champs)
Trish Stratus (Women's Champ)
Maven (Hardcore Champ)
Christian (European Champ)
Rob Van Dam (Intercontinental Champ)
Triple H (Undiputed Champ)
And the usual array of WrestleMania surprises!



---

Holden: Judging by the buzz, that movie's gonna make some serious bank.
Jay: What buzz?
Holden: The internet buzz.
Jay: What the f*ck is the internet?
[Holden (Ben Affleck) & Jay (Jason Mewes) in Jay & Silent Bob Strike Back]
Promote this thread!
RecklessEric
Head cheese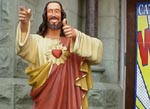 Since: 23.1.02
From: Maine

Since last post: 182 days
Last activity: 182 days

#2 Posted on
I'm going to assume the split is on after Wrestlemania and forego my usual forward booking possibilities and just go with the possible finish and general comments. Also I never understood the thinking behing "home country" wins for Canadians. Do Booker T, Jazz, or the Zoo Crew Team automatically become favorites in USA if the pay-per-view was suddenly shifted a few miles south??

Test, Storm, Perfect v. Rikishi, Albert, and Scotty
-Who expects this match to suck...who expects this match to be entertaining. Two different lines of thought here. Storm does not deserve this nonsense. And what happened to Rikishi's upper mid-card status??
Test, Storm, Perfect winning: Test boot to Scotty after Worm attempt. Someone (probably Test) gets stinkfaced. Dancing.
Zoo Crew win: Scotty Worm for pin. Canadians riot for stupid finisher. Stinkface on all three members. Dancing.
Prediction: I drink heavily during match hoping Storm bows out to make IC match Elimination Match. Oh and Test's team wins.

DDP(champ) v. Christian-Euro Strap
-What the fuck is the purpose of the Euro Strap??
Prediction: I'm not excited about this match. And I LIKE both of these guys. Christian wins and hopefully burys the damn belt.

Four Corners Tag Title: Billy and Chuck(champs) v. APA v. Hardyz v. Dudleyz.
-Yawn. Hey listen to the fans and make this a TLC match or something. What happened to Spike and Tazz??
Hey I'm excited as the next guy about tag team wrestling right now but still these are mostly average performers.
Prediction: I set my tape to record the next three hours and fall asleep....and Dudleyz win.

Undertaker v. Ric Flair
-These two master storytellers should come up with a awesome match for the ages. That said this could end up being the slowest paced match since Gonzales/Undertaker (hey) and could kill a crowd that was lulled to sleep by any of the three previous matches. Match placement is key if these two put on a good match. Oh yeah, there's something of a streak or something here too...but that's not been mentioned so...
Prediction: Carefully listen to the announcers...they will tell the tale of the match. If they mention the streak....Flair wins.
If not...Undertaker pulls one out.

Jazz (Champ) v. Trish v. Lita-Womens Title Match

-Three weeks ago i would have told you that this match would suck suck suck on ice. But recently I've been impressed with Trish, Jazz, and an IMPROVING Lita. They should have added Molly to make this match truly shine.
Prediction: Jazz wins. Sets up Lita-Jazz. Where Lita will go over.

Angle v. Kane-
Kane always has good matches with Angle. This should be no different. I still think it should be Austin/Angle but this will do.
Prediction- Kane gets a win because he's lost the last two tv matches to Angle if my memory is right. And a loss would really do Angle no harm.

Austin v. Hall
-Correct me if I'm wrong but when has Hall ever been a main eventer?? I dunno I just never saw him as such. Still a motivated Hall and Austin could be good to watch.
Prediction: Nash interferes and Scott Hall stuns Austin for win. We will NOT see Austin get a Razor's Edge will we??

Regal (Champ) v. RVD-Intercontinental Championship
Where is this clash of styles everyone is talking about?? Kidding aside, at least *I* will love the interaction between the two. Pssst, WWF...STOP depushing RVD. (chuckle) what if WWF was trying to create a good heel in Regal?? Wouldn't it make sense to give him the win....
-Prediction: ...but the fans don't get him and he needs to go back to kicking the shit out of cruiserweights or something. RVD wins giving him a solid step in the right direction

Booker t V. Edge
-I almost forgot about this match if that says anything and again, I LOVE to watch these two work (Book moreso). The premise is stupid but still a solid match should still exist.
Prediction: Book wins to make him not seem like such a jobber. JK. Edge isn't a star yet.

Jericho(champ) v. HHH-Undisputed Championship
Here's hoping HHH pedigrees Steph right off the bat and let these two go at it like they need to for the CHAMPIONSHIP. It won't happen but still these two seem to click and a great match should still happen. It will be hard for Jericho to still be a heel in Toronto.
Prediction: It would seem like destiny that HHH wins. But they haven't really played up the comeback angle as well. Also it's very telling that this match is moved to the next to last match. I think Jericho wins in a shocker.

Hogan v. Rock-
I'm with Vince on this one. If you would have told me a year ago that this would main Wrestlemania i would have laughed in your face. Also if you would tell me I would enjoy it I probably would have punched you. Inasmuch as I hate Hogan i have to admit that this match has magic. I got goosebumps during that promo and then nearly put my foot through the TV during the ambulance attack. Buuuuuut....this match is going to SUCK as a wrestling match. Hogan is going to slow Rock down and Rock is not going to be able to pull the types of moves that he could with anyone else. So expect a punch/spit/punch fest the likes you haven't seen in a long while.
Prediction: Send the folks home happy for the first time in 3 years!! Rock wins with the People's Elbow and Hogan jobs at a Wrestlemania for the first time since 4(??) ever. But then again this IS Hogan...

Well..that's it...if i forgot anything or if anything is added on Smackdown then it SUCKS!!!!









---

When I became the sun,
I shone life into the man's hearts
TheBucsFan
TheChiefsFan



Since: 2.1.02

Since last post: 1412 days
Last activity: 1412 days

#3 Posted on | Instant Rating: 6.09
Originally posted by RecklessEric

---

I never understood the thinking behing "home country" wins for Canadians. Do Booker T, Jazz, or the Zoo Crew Team automatically become favorites in USA if the pay-per-view was suddenly shifted a few miles south?

---


Consider Canada a giant town, and the wrestlers are getting home town wins, not home country.


---

Caring is the first step towards disappointment.
billnopus
Haggis



Since: 3.1.02
From: From the Dark Side

Since last post: 2526 days
Last activity: 1840 days

#4 Posted on
While my $$$ is still on HHH, I would not be surprised if Jericho wins.

Why?? The build up hasn't been about the belts, it's been about HHH getting Steph. So the 100% prediction is that Steph gets Pedigreed, but he may not get the belt.




---

2002 rspw Quote of the Year: JR--"Lita's no Cheater"
TheBucsFan
TheChiefsFan



Since: 2.1.02

Since last post: 1412 days
Last activity: 1412 days

#5 Posted on | Instant Rating: 6.09
A look at a poll at WWF.com:


Which match are you most looking forward to at WrestleMania X8?

Edge vs. Booker T 3.56 %
Kurt Angle vs. Kane 9.33 %
Women's Championship 12.80 %
Tag Team Championship 3.41 %
Flair vs. Undertaker 8.36 %
Regal vs. RVD 9.20 %
Hogan vs. The Rock 22.81 %
Hall vs. Stone Cold 8.87 %
Jericho vs. Triple H 21.62 %

Total Votes: 195987

I can't believe the Women's Title match is somehow third on this list.


---

Caring is the first step towards disappointment.
Parts Unknown
Lap cheong



Since: 2.1.02
From: Darkenwood

Since last post: 270 days
Last activity: 270 days

#6 Posted on
I really think (unfortunately) that Triple H will win the belts because they're going to do the whole "steph gets half" thing to split the belts.
I hate it, though.


---

YOU WANT A PIECE OF ME!?! - The immortal, chilling words of...The Shockmaster!
Catapult
Pinkelwurst



Since: 19.1.02

Since last post: 4687 days
Last activity: 4281 days

#7 Posted on
Undisputed Title match
Chris Jericho vs. Triple H

People have been predicting that this is HHH's Wrestlemania. The event where he goes in the big face and wins the big match for the big title. I've been saying that myself ever since he returned. His opponent is a man that back in November, I didn't give a chance on making it to Wrestlemania. I felt someone had to beat Jericho before WM, because the WWF wouldn't main event that show with Y2J. Was I wrong? Somewhat... Jericho obviously didn't lose the title, but I was right when I said that the WWF wouldn't main event WM with him. This match is not the main event. Technically, the title match should be the main event, which is why it's first in my list of predictions. But it really isn't. And that's important. It's important because I don't think the WWF would put Jericho over in the main event of WM(at least this year), but if this really isn't the main event, well...

The buildup to this match has been craptacular and/or asstastic. Take your pick. And that's important too. Last month at No Way Out I predicted Jericho to retain the title because his match with Austin had gotten virtually no hype or buildup. WWF TV instead revolved around Steph's pregnancy with a smattering of nWo hype. I figured there was no way (out) that the title would change hands in such a (perceived to be) unimportant match. I find myself thinking the same thing about the WM title match...

What do you do with Jericho if he loses? Steph will obviously leave Jericho because he couldn't get the job done. That would make Jericho look way weak, unless he got a final shot in on Steph, but that would make him a face, and that's not happening so soon after his heel turn. So Jericho losing would really cause his stock to drop, making the effort put forth to push him worthless.

What do you do with HHH if he loses? Rematch at Backlash. There have been three Backlashes in WWF history, and all of them have featured rematches from Wrestlemania. In other words, you're a sucker if you think that angles actually get settled at WM now. No no, Backlash is the big show now. I've come to think of Backlash like the true ending of the movie "Clue". Remember Clue? It showed you an ending, then said if you didn't like that ending, how about this one? Then said forget about those previous two endings, here's what *really* happened? Backlash is the WWF's tool to create an alternate ending to Wrestlemania. When Wrestlemania's over, the WWF looks to see what people thought, and then they say "You didn't like that ending? Well, how about this one?" Witness Backlash 2000, where Rock beat HHH to win the title, as opposed to WM, where everyone *wanted* it to happen. Backlash is the WWF's safety net if they change their minds on the WM ending.

If it weren't for Rock vs. Hogan, I would've said that HHH is winning it. But as it is... and I can't believe that I'm predicting this... I'm going with Chris Jericho to retain the title.

Besides, the real feud here is between HHH and Steph, Jericho doesn't have much to do with it. So look for HHH's "big victory" to take the form of a Pedigree on Steph.

Winner: Chris Jericho


The Rock vs. Hulk Hogan

This is the real main event, the match to send the people home happy. Yeah, Rock's winning. I've thought about how Hogan winning would give the nWo credibility and momentum and blah blah blah, but really now, this isn't a normal match. This isn't a match to determine where an angle's going. Like Hogan vs. Warrior, this match is above the angle that made it, and like Hogan vs. Warrior, we'll be remembering the match itself long after we've forgotten the crappy angles we've been seeing today. This is a match taking place just for the sake of having this match. It will stand on its own in the future as one of those memorable moments, simply because of who's in the ring.

Whenever the WWF has had these types of dream matches before, the young guy always wins. Hogan vs. Andre. Hogan vs. Warrior. Hart vs. Michaels. And always the face, as well. Rock has to win, simply because of what this match is. This match is not a vehicle to get somewhere in an angle, this match is the result of the oldest-school motivation possible: to put the big face and the big heel in the ring, and watch the face prevail.

Of course, I suppose the WWF could be on a different wavelength than me. They certainly have been over the past few months.

Winner: The Rock


Steve Austin vs. Scott Hall

I'm conflicted here. I think Rock's going to win the main event, so it would follow that Hall would win here to keep the nWo's momentum going. But I just can't see Hall going over Austin on PPV, let alone WM! Never mind that Hall can't even apply his own finisher to Austin... but I suppose he could always use the Stunner, as he has been doing.

Gah, angle-wise, my mind is saying Hall. But I just can't see it.

Winner: Steve Austin


Intercontinental title match
William Regal vs. Rob Van Dam

Typical of the WWF these days, the IC match has no angle. I suppose RVD will take it, I mean Regal has had a pretty dull run with the belt, might as well see what Van Dam can do with it.

Winner: Rob Van Dam


Ric Flair vs. The Undertaker

Hm. UT's undefeated at WM, of course. But what does UT beating Flair accomplish? Flair is on the ropes in terms of this ownership angle is going... maybe getting the win here could give him a boost against Vince somehow?

Then again, I predicted HHH going over UT at last year's WM, because UT winning wouldn't do anything for anyone. And UT still went over. Not that it hurt HHH, as on Raw the next night he formed the Two Man Power Trip with Austin.

Dammit, I don't know! But when in doubt, might as well pick the long shot, just to be interesting.

Winner: Ric Flair


Tag Team Championship
Billy & Chuck vs. APA vs. Hardy Boyz vs. Dudley Boyz

This is the way I see it. The match will begin, when the Big Show will make an unexpected appearance. The commentators are wondering what he's doing there, after all, he's not in the match, or even has a tag partner! This is when Show will reveal that he has formed an alliance with King Zarkon of planet Doom, and at this point one of Zarkon's ships will zap Show with cosmic rays that cause him to grow 200 feet tall! The REALLY BIG Show lays waste to the teams in the ring! How horrible! Who can stop this monster?! But wait, backstage, Hurricane and Molly assemble Funaki, Kane, and Maven, and they run to the secret chamber where they climb into their robot lions to do battle with the monstrous Show! But Show is still too much! The lions have no choice but to form Voltron! GO VOLTRON FORCE! Voltron forms the Blazing Sword, and slicing Show in twain! Show explodes in a massive KABOOM! Voltron hoists the tag belts up! Play Voltron's music! But what will happen tomorrow on Raw?!

Well... that would be more interesting than what's really going to happen. I'll say the Hardyz are going to win, why not.

Winners: Hardyz


Women's championship
Lita vs. Jazz vs. Trish Stratus

Seems that they're starting a feud between Lita and Trish. I'll pick Trish, so these two can go at it one-on-one at Backlash, and I see Trish as being the more likely one to play the heel in that match.

Winner: Trish Stratus


Kane vs. Kurt Angle

Kane's one of those guys who jobs a lot, but could pull out a big win at any time. Still, if the split happens, then you have to believe that Angle's going to become a major player(by that I mean a consistent main eventer) in whichever side he joins.

Winner: Kurt Angle


Edge vs. Booker T

Why is this match not a Japanese shampoo commercial deal on a pole match? Feh. Both guys are at about the same level... Booker gets a LOT more time to talk than Edge, though. Edge has become pretty much heatless as of late as well, joining Christian in that category. Way to go, WWF. But Booker jobs a lot in goofy fashion. I guess I'll say Edge wins, because the WWF likes seeing Booker lose.

Winner: Edge

European title match
DDP vs. Christian

The words "European title" and "push" don't belong in the same sentence, so I can't predict this match judging by who's getting the push here. Probably most people will say Christian, so I guess I'll say DDP, why not.

Winner: DDP.
Phantom
Frankfurter



Since: 17.3.02

Since last post: 3715 days
Last activity: 3691 days

#8 Posted on
Not all Backlash PPVs have been rematches from Wrestlemania, though. Last year was the main event of Austin/Undertaker, as the Rock was still out on "suspension" while filming Scorpion King.

It is sad about the total lack of a push for the title match, though. The money for this feud was there, and they could have easily set the story:

Triple H, coming back from a debilitating 8-month injury where he lived like a hermit in an attempt to rehab himself back to 100%. A win at Wrestlemania for the title against the man who put him out 10 months ago would show that, truly, he is back and at the top of his game.

Jericho, STILL struggling to prove to everyone that he is not a fluke champion to be overlooked, despite the fact has beaten the Rock, and he has beaten Austion. Once he pins Triple H, he will have proven once and for all that he is not a champion to be dismissed.

Two men on a quest to prove themselves clash at Wrestlemania.

But nope, we get episodes of "I Love Lucy" instead.