DEAN RASMUSSEN
He is DEAN



Since: 11.12.01
From: Richmond, Va, U-S-A!

Since last post: 1199 days
Last activity: 1196 days

#1 Posted on | Instant Rating: 9.32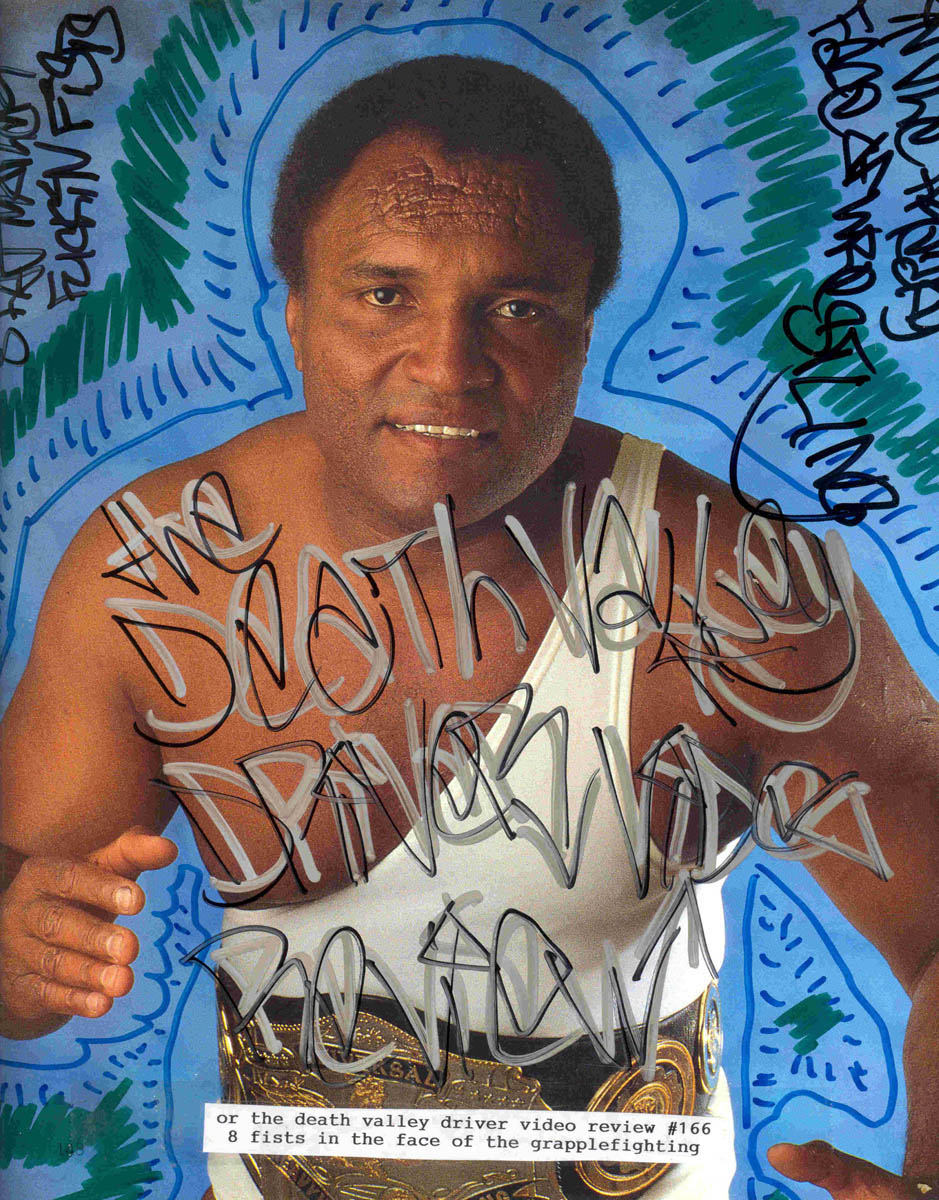 http://deathvalleydriver.com/dvdvr/dvdvr166.html

My Big Japan Review:
ASSORTED BIG JAPAN PRO WRESTLING
[DEAN RASMUSSEN]
--------------------------
I've been downloading everything off the internet and burning it onto dvds and watching it in my bedroom when the kids decide to settle in for some good old-fashioned all-American annoying children's cartoons. If I ever find the motherfucker who does the voices for Jimmy Neutron, I'm gonna break my fucking leg up his ass. Anyway, I've been watching waaaay too much Dragon Gate and DDT and I'm enjoying it more than I figured I would but I also can't quite bring myself to review it just yet. So I'll just download the Big Japan from Lenny and Ryan and not think about the smooth-skinned thin boys of Dragon Gate and concentrate on the hideous bloodsucking freaks of Big Japan. Plus Mammoth Sasaki can disappoint me again and we- the reader and the reviewer- can in embrace in a comforting cyberhug of longing and despair.

(Please note that I watched the Sasaki-Miyamoto MATCH OF THE YEAR CANDIDATE~! and thought- yeah, sure it was fun, but Sasaki kicks out of a fucking moonsault from a scaffold? Suck my ass.)

3/14/2007
Hakaru Imai/Tomomitsu Matsunaga vs Muneki Sawa/Isami: I love this, possibly the worst collection of hairstyles ever assembled in a wrestling ring. I can't figure out if Sawa's meticulous bedhead is more stupid looking than Hakaru Imai's back half of head mohawk. When they lock up at the bell, I can't really pay attention to the matwork. Imai's hair is definately the worst hairstyle since Yoshie rocked the starfish on his skull. And really- you have to be a big fat guy like Yoshie to get away with ruining your dome like that. I dig Imai's forearms though. Isami leans into them like a man also. Sawa and Matsunaga beat on each other and it's fun leading up to rookie backdrops and suplexes. Sawa does perfectly fine 4th rate Hoshikawa impression and this was a good little rookie match. Stiff is better then flourescent bulbs. Yes, it is.

Daikokubo Benkei/Yuichi Taniguchi vs Miracle Man/Kuishinbo Kamen: Miracle Man? Are we sure he isn't Battle Ranger? Close enough for me to have to go for him. Actually, I think I read that Miracle Man is Battle Ranger. Benkei and Tanaguchi make me wonder whatever happened to all those guys who wrestled in all those Onita Pro main events. Benkei has lost weight. Oh, and that's not the Taniguchi I was thinking of. WAIT! That's VIKING TANIGUCHI! I am torn. Pseudo-Battle Ranger or Viking Taniguchi? Taniguchi is a lot less fat than last time I saw him so I will go with hoping Nise Battle Ranger wins. Kamen and Viking do some retarded comedy spots and I await the blazing white hot hate of Benkei versus Miracle Man! Battle Ranger pokes the elderly Benkei in the butt and- at Benkei's age, he's already having enough nightmares about men sticking their fingers up his ass- so I would label that move as "cruel". Kamen smacks Benkei in the back of the head and you would assume that this is all leading up to Benkei beating the living dogshit out of the two tiny comedy wrestlers. Instead he drives his ass into their faces in the corner. And I think I've pretty used up all my will to live after having to think about Benkei's ass this much. Viking Taniguchi lost weight but didn't get new ring gear so he having to adjust his singlet because his nipple keeps poking out. This match isn't nearly as disturbing as I'm making it out to be. And maybe THAT'S THE INSIDIOUS TRUTH ABOUT THIS MATCH! They poke Viking in his ass and all comic relief of the ensuing comedy spots are a barren field, salted and limed and the comedy will find no purchase as I will never recover from the psychological beating of this match. Benkei lands on Miracle Man and our great national nightmare is finally over. GOD DAMN YOU TO HELL, BIG JAPAN COMEDY MATCH.

3/4/2007
Mammoth Sasaki/Hiroyuki Kondo vs Tetsuhiro Kuroda/Tomomitsu Matsunaga: Oh Mammoth Mammoth Mammoth, your slump is breaking my heart. Hey, Matsunaga from the bad hair match! I should know this Kondo from somewhere, I'm sure. Kuroda does a weak running clothesline. TWICE! Mammoth comes in and chops Matsunaga and bodyslams him and so far so good. Mamoth hits two motherfucking FIERCE lariats into the corner. Mammoth procures and makes a chinlock look hurty. And he tags out. Kondo has a lowgrade Kamikaze's 1998 offence and that's more than I can ask for. Mammoth tags in and forearms and then fucking KILLS Matsunaga with a TRULY DICKISH powerbomb- i mean just fuckin DESTROYS him. Okay, Mammoth is back. Matsunaga dropkicks to tag Kuroda- who is 100% 2006 Lex Luger now in his lumpy uselessness. Mammoth bumps big for his shitty offense before killing Kuroda with a powerslam. Mammoth sells for Matsunaga's forearms before bringing the big boot. And he tags out. Kondo sells all weird- like he is a robot or something. Maybe he was a Bio-Franken at one time. But yeah, offense of 1998 Kamikaze and selling like Bio-Franken is about all I can ask of my sleazy indie wrestler. Here's to you, young Kondo. Kuroda Shining Wizards Mammoth and Mammoth opts not to sell it- or possibly had to get into position for Kuroda's crappy lariat. Mammoth eats a German like a fuckin CHAMP and then eats a Matsunaga German like a CHAMP. Mammoth tries to start killing Matsunaga with lariats but Matsunaga hits a bunch of roll-ups. Eventually, Mammoth hits two truly hellish lariats and just fuckin motherfucking fucking KILLS Matsunaga with a Brainbuster for the pin. Ah Mammoth. I'm glad the slump is over....

Mixed Barbed Wire Board Tag Match: MENīs Teioh/Kyoko Kimura vs ONRYO/KAORU: Oh hell yeah, KAORU is fuckin hot. Take it from me. I'm old and know hot. Kimura and Men's are sporting afros. KAORU is sporting leather pants and they are splurtacular. And there is ONRYO- all dusty and sans Shinnigami. KAORU and Kimura collar and elbow to tease going into the barbed-wire boards and KAORU is still pretty limber for entering Sherrie Martel older dream girl territory. And she will go backless and back first into the barbed-wire. KAORU will also bump like fucking KAORU when you throw her into the chairs. They kinda go into a straight tag match which isn't so good since Men's Teioh and ONRYO haven't had anything in the tank since the turn of the millenium. So yeah, I watched this and definately STILL remember MEN'S TEIOH vs Tiger Mask 4 from Michinoku Pro and I STILL remember KAORU vs Akira Hokuto from GAEA. Barbed-Wire Board sandwich with KAORU Twisting Senton was a fun finisher but they kinda keep going after that. KAORU with a roll-up and I was hoping to see an Excaliber after all these years. Oh well. This really felt like a Tom Brandy versus Vladimir Koloff wash-up indie mail-in but with KAORU making a few parts cool.


3/25/2007
Daisuke Sekimoto/Katsumasa Inoue vs Mammoth Sasaki/Tetsuhiro Kuroda: Ah Mammoth, can we make it two in a row? I'm sure I should know Katsumasa Inoue from somewhere. He is bulky. Sekimoto is froglike. Kuroda really sucks it at this point. He definitely protects those tender bicepts when lariating. He does actually sell a Dragon Screw and Figure Four pretty well so here's to that. Inoue works the leg and Kuroda finds his calling- not throwing shitty lariats. Inoue's offense is pretty comical and Sekimoto is clueless and doesn't work the leg but the crowd is behind Kuroda's comeback anyway. Mammoth is Mammoth in the gnarley hatefullness of his house a-fire offense. They crush Inoue's testicles with chairs. Mammoth drops a few legdrops on Inoue's testicles. I assume this is to show Diasuke that you can- you know- work a body part. Though they be tiny and now inflamed. Kuroda hits a Buzzkiller since Inoue has no breath left- whay with his nuts being smashed and whatnot. Inoue dropkicks to comeback and Mammoth bumps big for the fired up Sekimoto. Kuroda takes an assbeating well and I dig him as the victim of his tagteam- and Mammoth is my favorite Robert Gibson. Mammoth powerslams to transition and Kuroda shines the wizard and gingerly lariats for two. Sekimoto powerbombs for two and they do delayed diving headbutts until Mammoth makes the save. Mammoth and Sekimoto hulk up and they trade finishers for a minute until Sekimoto tags to allow Inoue to get killed by Kuroda and Mammoth. Inoue gets in some Tiger Suplexes before Mammoth mauls him a lariat and then Kuroda busts a chair over head and Dragon Suplexes him. Mammoth totally fuckin slaughterizes him with a lariat but Sekimoto makes the save and then Mammoth fuckin TOTALLY motherfucking fucking annihilates him with a Brainbuster for the win. This had to be the best Kuroda has looked since FMW 1997. MAMMOTH FUCKING RULES.

Double Ring Four Way Tag Death Match: Takashi Sasaki/Yuko Miyamoto vs Jun Kasai/Jaki Numazawa vs Ryuji Ito/ Isami vs Shadow WX/W*inger: Shadow WX is sooo obviously working in an office during the day. The hair, the weight loss, the look on his face that the giant scar tissue from this match could fuck up that big presentation Thursday. Good on him. This match kinda kept going. Abby Junior bled more than the match called for, which is a weakness of his. He should save the five alarm bladejobs for five alarm matches, not jaunty little throwaway romps like this. Jun Kasai hits a nice falling headbutt from the top on W*inger. Folks get slammed against walls. W*inger threatens to Senton off the balcony but Ryuji Ito knocks him out of the way and proceeds to crush Takeshi Sasaki through a table. So yeah, it's a fun little match. I just noticed that there are two rings? It's very confusing because it seems like they edited two matches together, which they are kinda doing. And yeah this kinda goes on for a while as they do farfetched spots with a latter in one ring and have a pretty much straight tag match in the other. Straight tag match was actually pretty fun and they all migrate over and do a bunch of other goofy spots. Abby mauls Isami and we call it a perfectly fine match. Well, an overly long match with some pretty crappy sections but I was raring to hate this so I count my blessings one by one.

4/8/2007
Takashi Sasaki/Ryuji Ito/Yuko Miyamoto vs Jun Kasai/Jaki Numazawa/Isami: I figured sullen and melancholy Lenny had typed it all wrong, but it does appear that Big Japan ran the same deathmatch two days in a row in two different buildings with cameras rolling at both. Maybe I should compare and contrast. We'll see. This one looks like it is being held at a dorm multi-purpose room. Imagine what how surprised the Theta Death Rho step team were when they showed up at the wrong conference room. So yeah, this is pretty great in its Jesus This is Fucking Sleazy- Even For Fuckin Big Japan-ness. It's actually a long room and they can use these carts to hit each other. And there is a balcony on one end. What a weird fucking room. Isami dives off the balcony and nobody actually sells it- which would annoy me if I wasn't still trying to figure out the Eischer logic of the dimensions of the room. Plus he is about 94 pounds so it isn't like an Aja Kong tope, I guess. And really, none of these guys are going make you forget Honma-Yamakawa 99 or anything. They do work it like a straight tag match after a while- a tag match enhanced with lots of broken flourescent bulbs shards. God, Ryuji Ito should audition for the next Sundance Channel Meth Amphetamine docudrama. Well, actually, I guess you could get a group rate if all 6 of these guys have the same agent. I assume Miyamoto is in this promotion initially because his back turns to raw liver 45 seconds into any deathmatch he is in- and then they came to the realization that he a perfectly fine little wrestler. Numazawa is getting fat and thus getting him closer to being my favorite repulsive deathmatch fighter- now that the bloom is off the Mammoth Sasaki rose (OOPS! Reveiwed out of order! SUCK MY MAMMOTH LOVING ASS, NUMAZAWA~!). Isami has the spot of the match with the doubleknees through the flourescent bulbs to the chest off the toprope. But it makes me wonder how much cooler it would looked if it were barbed-wire. Call me old school. Sasaki suplexes Isami a bunch and gets the pin. It was quite servicable but needed a.] barbed wire and b.] fire and c.] a sense of deathmatch urgency and WILL. I feel the urge to use the word PERFUNCTORY. There. It was really perfunctory. A perfunctory deathmatch seems like a oxymoron but here you go. Building was neat.

4/9/2007
Takashi Sasaki/Ryuji Ito/Yuko Miyamoto vs Jun Kasai/Jaki Numazawa/isami: So they really don't capitalize isami. So his gimmick is that he is a disciple of ee cummins or is his gimmick that he's a teenage girl? Well, you can't tell me that he isn't cute- though I'm sure the scar tissue of the next two years will put a real dent in his poon quota. Anyway, normaller building- same lame flourescent bulbs. God, I miss a spidernet. How about something that explodes? Was FMW the true PINNACLE of garbage matches? I guess so. Miyamoto and Kasai battle into the bulbs and Ito and Numazawa trade what had to be the most pungent shoulder blocks in Japanese wrestling history. isami does a tope. He doesn't weigh anymore than he weighed the night before, so I would actually be pissed off at this match if anybody sold his tope. And the match- of course- doesn't piss me off in that regard. Miyamoto's double knee thrust through the bulbs into the corner looked really cool. Sasaki kicks the hell out of isami and we get to RALLY behind his fighting spirit. Ryuji Ito does a moonsault for two and they are beating the crap out of isami, THUS this is a far more coherent match than the match from the day before. Kasai makes the hot tag and brainbusts Miyamoto though flourescent bulbs and they fight in the corner and Kasai no-sells a toprope hurricanrana, rendering this match useless to me. But hell, if you get a two count on a powerbomb off scaffolding, I guess you would assume that a toprope hurricanrana would have no affect on you. I did have an affect on me. It made me fuckin hate this match. YEA! It keeps going but I no longer give a shit. What a mess.



(edited by CRZ on 25.4.07 1057)

---

YES, I AM DEAN.
Promote this thread!
Matt Tracker
Scrapple




Since: 8.5.03
From: North Carolina

Since last post: 8 hours
Last activity: 2 hours

#2 Posted on | Instant Rating: 6.06
The installment mentioned PAC The Man Gravity Forgot, and I found some material on Youtube. He's quite the flier. And he has a good look. Someone's got to pick him up for weekly TV.


---

"To be the man, you gotta beat demands." -- The Lovely Mrs. Tracker

My blog will amuse. (heygregory.blogspot.com)
Llakor
Landjager



Since: 2.1.02
From: Montreal, Quebec, CANADA

Since last post: 468 days
Last activity: 460 days


AIM:
#3 Posted on | Instant Rating: 7.14
Pac really needs a good base man to play off of.


---

"Don't Blame CANADA, Blame Yourselves!"