deadbeater
Morcilla



Since: 12.2.02
From: Parts unknown

Since last post: 5680 days
Last activity: 5680 days

#1 Posted on
The WWE prides themselves in being the top on sports entertainment. But they don't even have the best fights on UPN. That honor belongs to Buffy. The Buffy/Willow fight at the end of season six puts almost all women's matches to shame, even if it was heavily edited. It is not the fault of the women, but of the style of match imposed on them: three minute limit: first one involving wrestling second involve brawling and hitting spots, third minute doing the finish or countering the finish, and, in Molly's case, CHEAT TO WIN. Ho-hum boring. And the men's matches aren't much better: Brawl, suplex, brawl, bodyslam, a top rope spot, brawl, suplex, hit submission, guy goes to rope, brawl, rollup pin.

If the WWE style is to work, the wrestlers have to expand their moveset!!! If the WWE style incoporates Bill Watts-type restrictions, then it totally sucks. The WWE has the best roster this side of the Pacific Ocean. But guess who performs more wrestling moves per match than anyone? The Rock. That's right, The Rock. It was arranged done so that he doesn't get totally exposed by Chris Benoit. So we Kurt Angle punching a lot. The Chrisses, "slapping meat". Brock Lesnar, only wrestling hold he uses is a bearhug. A bearhug??? This is ridiculous

The WWE gets exposed when it comes to the women. The WWE has gymnasts, fitness trainers, cheerleaders, and powerlifters, with work ethics that almost impossibly exceed their fitness levels. The women want to do more moves, let them innovate. In Japan you got girls who aren't nearly as fit wrestling like it's the 24th and 1/2 century. Imagine Molly without her Molly--Go--Round? Or Trish without her Strautusphere and her Stratusfaction? We would probably regard them as eye candy like Jerry Lawler evidently does.

WWE here's a message to you: This is the Xena/Crouching Tiger generation. Your style pales in comparison to other action shows. Hell, even the Buffy actresses stage better fights than the men and women doing the WWE style. That's embarassing for a fighting show.


---

"Business has just picked up" says JR. Then right on cue, Molly enters the arena! Never was JR any better in introducing someone. --Raw 7/15
Promote this thread!
Markme123
Polska kielbasa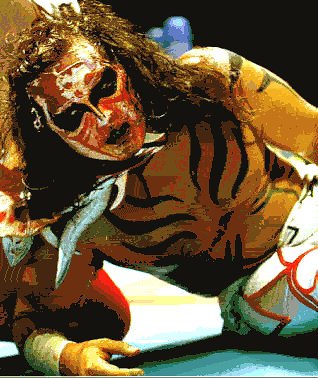 Since: 7.1.02
From: San Jose, Cali

Since last post: 5035 days
Last activity: 4744 days


ICQ:
#2 Posted on
Oh yeah. Vince should get Sarah Michelle Gellar on the phone right now! :p


---
"We can't bust heads like we used to, but we have our ways. One trick is to tell them stories that don't go anywhere. Like that time I took the ferry over to Shelbyville; I needed a new heel for my shoe. So, I decided to go to Morganville, which is what they called Shelbyville in those days. So I tied an onion to my belt, which was the style at the time. Now, to take the ferry cost a nickle, and in those days, nickles had pictures of bumblebees on them. "Give me five bees for a quarter," you'd say. Now where were we? Oh yeah, the important thing was that I had an onion on my belt, which was the style at the time. They didn't have any white onions, because of the war; the only thing you can get was those big yellow ones..." -Abe Simpson
WhoBettahThanDeion
Bockwurst



Since: 4.1.02

Since last post: 5692 days
Last activity: 5529 days

#3 Posted on
Cry about it. Angle isn't exactly lacking in the move department. I'm not really that displeased with anyone "not having enough moves." Plus, Mysterio is an example of someone who really learned to work that style and does it well. I'm sick of hearing people cry about WWE product when it's good. And it is good. Anyone who thinks it isn't reminisce about the last four or five months. The Wiener of the Day HAS SPOKEN!


---

Respect the opinions of others. Unless they're unoriginal, uninventive morons with no class who use racial slurs and homosexual hate-language for insults. Then break the bastard down. It's 2002 ya'll. There's other races and gays a plenty out there in the real world. Get used to it.

(points to self) Is tired of bitching about Triple H all the time. Is no longer contributing to the hatred. Ir's a waste of our times. We're just going to have to accept he's a main guy and he can't wrestle as well. Period.

8/6/02 The day that will go down as the day that WhoBettahThanDeion was wiener of the day and ran roughshod over ALL of Wienerville!


Phantom
Frankfurter



Since: 17.3.02

Since last post: 3684 days
Last activity: 3660 days

#4 Posted on
*finishes counting the brain cells killed by the first post*

Damn... I lost twelve that time.

Can you please come back when you realize the difference between real fighting, the fake fighting done by WWE, and the fake fake fighting done on all those Crouching Tiger shows? Unless you're seriously proposing that WWE wrestlers start attaching wires to themselves before heading out to the ring.

Also, there's a reason that those fights are heavily edited -- they take a long time to shoot to allow for resting, and it's easier to choreograph them because everyone focuses on the one or two moves being done at that time. A Crouching Tiger style wrestling match would have to be almost impossible to choreograph for anyone due to the insane mental and physical condition, combined with the level of precision needed to keep from blowing your spots and killing someone because of the breakneck pace you're working at.
Mild Mannered Madman
Toulouse



Since: 1.3.02
From: Westminster, CA

Since last post: 1778 days
Last activity: 1496 days

#5 Posted on
FWIW, at one time, the WWE DID have one of Sarah Michelle Gellar's stuntdoubles under contract.

Caryn "Muffy" Mower.




---
We're all mad here... I'm mad... You're mad...
deadbeater
Morcilla



Since: 12.2.02
From: Parts unknown

Since last post: 5680 days
Last activity: 5680 days

#6 Posted on
I am not saying do wire-fu at a Jet Li/Jackie Chan pace. What I'm saying is that the audience is now getting more and more demanding about fight scenes, and the stories leading up to them. The WWE is not delivering either as well as they used to.

It is supposed to be a more storytelling style. However, the stories being told inring, and especially the storylines that lead up to them, are not getting the fans over. It hurts guys like Brock Lesnar the most. We all know he is more than likely able to do more than he shows, but the WWE won't let him. As a result, despite the major push, he is getting little heat. Many of the wrestlers are capable of executing more moves, and being able to fall from those moves. The pace does not have to be quickened, just do more moves other than kick-punch.

I thought you guys are the same people what clamor over King's Road.


---

"Business has just picked up" says JR. Then right on cue, Molly enters the arena! Never was JR any better in introducing someone. --Raw 7/15
UnsUwe
Chourico



Since: 6.7.02
From: Germany

Since last post: 1873 days
Last activity: 1516 days


ICQ:
#7 Posted on
Just another "the WWE product sucks right now!" thread. Been here, read that. Blah!


---

"Wanting people to listen, you can't just tap them on the shoulders anymore, you gotta hit them with a sledgehammer!"