Chumpstain
Bockwurst



Since: 21.1.02
From: Canada

Since last post: 98 days
Last activity: 2 hours

#1 Posted on | Instant Rating: 8.46
Lets pretend there was no hockey game tonight. (Lightning 8, Jets 3)

We open up with a recap of the Vince/Heyman confrontation from Monday, which featured an appearance by Brock Lesnar. I have a sneaking suspicion that, unlike the Rock, Lesnar won't be making a trip to Smackdown this week! Also, Alberto Del Rio is still the World Champion, but Big Show had to spoil the party on Monday. What will happen tonight? Smackdown is now!

We open with a shot of the parking lot in San Diego, California, where ALBERTO DEL RIO is pacing with a lead pipe in hand, in street clothes. Alberto Del Rio owns jeans! He's waiting for the Big Show, whose ironclad contract apparently permits him to be late. But he'll have to wait longer, because we're off to the ring.

In said ring is BOOKER T w/TEDDY LONG, along with SHEAMUS, WWE TAG TEAM CHAMPIONS DANIEL BRYAN, WWE TAG TEAM CHAMPIONS KANE, RANDY ORTON and THE GREAT KHALI. Booker will explain! "Ladies and gentlemen, welcome to Friday Night Smackdown! I must take you back to this past Sunday's Royal Rumble match, a match that was won by John Cena. But John Cena has been tweeting, he's been shouting out, he's been telling the whole world that he will challenge for the WWE Championship at Wrestlemania. Now the question is, who's going to challenge on that grand stage for the World Heavyweight Championship. And that's why we're here. You see, all you men have your own unique qualities. Furthermore, all of you guys have been the World Heavyweight Champion. Well, I'm gonna give you a chance to become World Heavyweight Champion one more time. The only thing you have to do is win at the most spectacular event perhaps in WWE's history, the Elimination Chamber match. Now the way I see it is this, guys. In the Elimination Chamber, there's only six spots available." And before Booker can explain why he has only five wrestlers in the ring, he is interrupted by the music of... JACK SWAGGER? Wait, what?

Swagger marches down to the ring, mic in hand. "Looks like you forgot about someone. It looks like you left someone out of this gathering of World Champions." "Swag. Where you been, dawg?" "Long story short, I've been living the life of a real American. And Book, my eyes are open. Since I've been gone, I've been watching EVERYTHING. And I'm very disappointed in the direction that WWE is heading." Swagger has a beared and slicked back hair, for those who are curious about those things. "So whatchoo want me to do?" "What I want you to do about it, I want you to put me in this Elimination Chamber. And I'll do the rest." "Aight, first of all, Swag, you want to be in the Elimination Chamber, you got to prove yourself, you gonna earn it just like everybody else around here, aight? Like I was saying, there are six available spots in the Elimination Chamber, I look around and I see one, two, three four five six-" "Enough, enough, enough Book." That comes from DOLPH ZIGGLER w/AJ and BIG E LANGSTON, who's apparently been standing outside by the announce table this whole time. "Listen, here's the deal, I.. I'm already Mr. Money in the Bank, I have a guaranteed World Title match. And you're sitting here proposing that, we compete in one of the most brutal and barbaric matches in all of the WWE, or I could just sit back, do nothing and still have my guaranteed World Title match. Here's what's going to happen. I'm going to win the World Title, especially if the champ is Alberto Del Rio. And I can cash this baby in wherever and whenever I want, including Wrestlemania. Babe, E, we're outta here. No thanks." "Didn't I tell you, Teddy, didn't I tell you? Didn't I tell you this sucka was gonna try to chicken out on the Elimination Chamber match, didn't I tell you? Ziggler, hold on! You can chicken out of the Elimination Chamber match but you will not chicken out of your match tonight with Alberto Del Rio." "So what? I've got Big E, I've got AJ." "Guess what, the champ, he's in a real bad mood. Now back to you guys. Now every one of you will be in a match tonight. And I tell you what, all you have to do is impress me and Teddy Long and then we'll decide. But right now, we about ready to kick this show off with a bang! I'm talking about tag team action! I'm talking about Team Hell No teaming up to face the team of Sin Cara and another former World Heavyweight Champion who wants to get in on this Elimination Chamber match, San Diego's own, ladies and gentlemen, Rey Mysterio is in the house!" And REY MYSTERIO makes his entrance, as we're seguing into a match after this break!

WWE TAG TEAM CHAMPIONS KANE and WWE TAG TEAM CHAMPIONS DANIEL BRYAN vs. CAR STERIO: Mysterio and Sin Cara have new matching green gear (with a red shirt for Mysterio). Mysterio and Kane start. Kane backs Mysterio into the corner and lands a kick. Whip to the opposite corner, but Rey gets the leg up. Out of the corner, Kane tries a tilt-a-whirl slam but it's turned into a reverse DDT by Mysterio. Kane kicks out quickly at one, and charges Mysterio, who pulls down the top rope to dump Kane outside. Dropkick through the ropes onto Kane! Rey hits a seated senton off the apron, as Josh Mathews tries to get in a dig about Mysterio retiring JBL, only to have it brushed off with JBL talking over him to call the match. Back in the ring, Rey ducks a Kane clothesline, then hits a dropkick to the knee. Tag to Sin Cara, and they land a sandwich kick double-team. Kane kicks out, then lands a knee to the gut and tosses Cara to the corner, tagging in Bryan. Bryan lands a kick, then whips Sin Cara off the ropes. He hits the Tajiri springboard elbow, then a hurricanrana. Kick to the knee, and he grabs Bryan's hand, springing to the top rope for his flippy floppy armdrag! Tag to Mysterio, and Cara tosses him up into a seated senton on Bryan! Bryan kicks out at two, and Rey lands a kick. Whip, reversed, and Bryan blocks the headscissors, holding Rey in place before hitting a.. I don't know what that was. The bad camera cut made it look like it was Mysterio hitting a move on Bryan, but Bryan actually fell to his back while lifting his knees, dropping Mysterio's torso on them. Tag to Kane, who goes off the ropes and drops an elbow on Mysterio. Whip to the corner, and Kane hits a clothesline. Cover for one. For those who are curious, Hell No is in the heel corner. Uppercut by Kane, and he tags Bryan in. Kane whips Bryan in for the running low dropkick, as Mysterio was on his rear in the corner. Mysterio kicks out at two. Mysterio lands a kick, then a flying headscissors to set up the 619, but Bryan rolls out of the ring to dodge it and starts chanting "No! No! No!" So lets take a break!

When we return, Bryan is working over Sin Cara's arm. Whip to the corner, Cara reverses and Bryan gets his boot up. Bryan goes to the second rope, but Sin Cara jumps up to land a kick to the head. Sin cara wants a top rope hurricanrana, but Bryan pushes him off mid-flip, and he lands and does a backwards roll to his feet. He charges back in but runs right into Bryan's dropkick! "No!" Bryan does an arm-wringer and takes him down, then starts setting up the Mexican surfboard! He powers up for it with some "No" chants, and then locks it in! Tag to Kane as he drops Sin Cara back to his knees, and he holds him for the running Kane low dropkick, which gets two. Kane yanks him away from Mysterio and hits a big side slam, for two. Kane sets him up and puts him on the top turnbuckle, something that usually doesn't end well. Sure enough, Sin Cara fights back, landing punches and a kick to force Kane away. He jumps off with a crossbody, but Kane catches him. Kane wants a powerslam, but Sin Cara spins around and hits a DDT! Both men are down, who can tag? The crowd is behind their hometown hero. Kane makes the tag, hot tag to Mysterio! Headscissors on Bryan! Rey is backdropped over the top but lands on the apron, giving Bryan a shoulderblock through the ropes and climbing up top. Seated senton hits! Dropkick to Kane's ankles to dispose of him. Mysterio flips up onto Bryan's shoulders and delivers a hurricanrana, but Bryan rolls through into a sunset flip, but Mysterio is immune to sunset flips and lands a kick to Bryan's head. That gets two! Bryan cuts him off with a kick to the gut, but Rey dropkicks a charging Bryan's knees to set up the 619. Kane is in illegally to intercept, catching Rey by the throat as he runs in. Sin Cara tries to intervene but eats a big boot. Kane goes for the one-handed chokeslam, but Rey counters in mid-air to a hurricanrana that sends Kane through the ropes to the floor! Bryan's up, though, and he grabs Rey and takes him down with the NO!lock! It's locked in, but Sin Cara eventually arrives with a dropkick to Bryan to save the day. Sin Cara flies off the top rope to take Kane out, and Rey lands a drop toe hold to put Bryan back in the ropes. 619 connects! Up to the top, the top rope splash hits, and Mysterio wins! Kane and Bryan start arguing after the match, with Bryan being upset that Kane wasn't there to help him at the end.

A recap airs of Del Rio's win at the Royal Rumble via chicanery, followed by the run-in on Monday. We saw this on Raw! ...and at the start of the show, too! Back to the parking lot, ALBERTO DEL RIO is still stalking, as a car arrives. But here's MATT STRIKER to poke his nose where it doesn't belong. "Alberto, Alberto, you have a match tonight with Dolph Ziggler. Can I speculate you're out here waiting on the Big Show?" "I'm just getting fresh air Matt. Leave me alone, okay?" Del Rio lets the car by, as Striker leaves. Later tonight, Del Rio vs. Ziggler!

THE GREAT KHALI w/BETH PHO... ER, NATALYA and HORNSWOGGLE vs. JINDER MAHAL w/DREW MCINTYRE and HEATH SLATER: A recap from Monday's karaoke airs. This is how Khali earned his Elimination Chamber opportunity? Why didn't Zack Ryder get a shot? Oh, yeah. He's Zack Ryder, I forgot. Mahal ducks behind Khali to start and tries to land punches, but one shot by Khali takes him down. To the corner, Khali hits the big chop. Drew hops on the apron to distract Khali, and Jinder hits a dropkick to the knee to take Khali down. He stomps away, then grabs a front facelock. Khali shoves him off, and lands a big chop when Jinder runs in. Kick to the chest by Khali, then a clothesline, and a brain chop takes him down. Khali wants the Punjabi Plunge, so Drew's up on the apron again. This time Natalya is over to stop him, leading Drew to do some air guitar pelvic thrusts in her direction. Khali drops him from the apron while he's distracted. Now Slater is up on the apron, but Hornswoggle distracts him before fleeing under the ring, with Slater going in pursuit. Meanwhile, Khali hits the Punjabi Plunge on his brother-in-law (remember that?), getting the win. Slater crawls out from under the ring, confused that the match is over. Everybody dances!

Lets join BOOKER T and TEDDY LONG backstage watching the match's aftermath, with Booker offering his opinion. "Man, the Great Khali was totally impressive tonight." "Yes he was. Y'know, Book, this is shaping up to be a fun and unpredictable show tonight, playa." "Speaking of unpredictable, I totally was blindsided by the return of Jack Swagger tonight." "Well, Booker, that was my idea to bring Jack Swagger back, I mean after all, he is a former World Champion, right?" "AHEM!" That interruption comes from DAMIEN SANDOW, backed by CODY RHODES w/MUSTACHE. "In light of recent events, Damien and I have made the very difficult decision to dissolve Team Rhodes Scholars and pursue singles competition from here on out." "But rest assured, we will remain best friends. Just as the French authour Albert Camus once said-" Booker: "Who?" "Camus." Teddy: "I've never heard of him." Damien: "Don't walk behind me, I may not lead. Don't walk in front of me, I may not follow. Just walk beside me, and be my friend." "I'll be your friend, we're best friends." Damien and Cody hug, speaking platitudes in each other's eat, as Booker stares at Teddy in confusion before finally interrupting. "Excuse me, guys! I hate to break up this little lovefest, but I'm glad you guys are going to pursue your singles careers, that's actually gonna free Damien up tonight to go one on one with the man that put you through a table on Monday Night Raw, Sheamus." Cody pats Sandow on the shoulder. "I'll be with you.. in spirit." Cody skedaddles, as Booker can't resist getting one last shot in. "It looks like you went from Rhodes Scholars to roadkill." He and Teddy laugh, before Booker adds. "Oh yeah, you're welcome." Now Sandow is really upset, and stalks off as Booker and Teddy share a laugh. Up next, more Raw recaps!

On Monday, Vince McMahon gave Paul Heyman a performance review. Brock Lesnar dropped by! We saw this on Raw! We do get the WWE.com exclusive of Vince being stretchered out of the arena, Hey, there's Stephanie! Josh and JBL discuss what happened. Josh says that Vince suffered a broken hip. Good thing for Payl Heyman that Vince can't fire people when suffering from a broken hip. On Monday, MizTV will have Paul Heyman as a guest! But up next, Sandow vs. Sheamus!

Alberto Del Rio is still waiting for Big Show to arrive outside. None of the cars arriving have him! In the meantime, here's John Cena winning the Royal Rumble and cutting a promo on Monday to pick who he'd challenge. We saw this on Raw! And then he got beat down by the Shield.

SHEAMUS vs. DAMIEN SANDOW: Sandow opens with a kick and punches, backing him into the corner, before Sheamus catches a ick and throws him down. Sheamus turns the table, and Sandow bails. Sheamus follows him outside and decks him from behind, and Sandow flees back into the ring. He catches Sheamus coming in and starts stomping away. Head to the buckle, followed by shoulder blocks. Sheamus comes back with a kick to the gut. Whip to the ropes, but Sandow reverses and hits a russian legsweep. He grabs Sheamus' arm and stomps at the ribs, before landing an elbow drop. And there's the Cubito Aequet, for two. The two trade blows, with Sheamus fighting from his knees. Sheamus gets back to his feet and starts stomping away, before the ref backs him off. Sandow lands a shoulder tackle, then starts beating Sheamus down in the corner, as JBL praises Sandow's brawling and aggressiveness. Whip to the opposite corner, Sheamus reverses and hits his own shoulder tackle, followed by a kneelift and Irish hammers! Sheamus lifts him up, wanting White Noise, but Sandow bails onto the apron. That, of course, just sets up the 10 punch clubbering, but by five we're interrupted by The Shield, who are up in the crowd. Sheamus lets Sandow go and turns to face them as they come down to the ring. He doesn't run away, because he's an idiot. The three of them surround the ring, and Rollins rushes first, eating a Brogue Kick for his efforts! But Ambrose and Reigns are on Sheamus and start beating him down. Sheamus tries to fight, but it's still two on one. Reigns gets tossed over the top rope, but Ambrose grabs Sheamus' ankle and Reigns delivers some clubbering of his own. Now they have Sheamus down and are beating away on him, as the crowd chants 'Feed Me More', but if The Ryback is here, he's not hungry. Rollins is back up now, and he and Ambrose feed Sheamus to Reigns. Triple powerbomb connects! Rollins is still suffering the effects of the Brogue Kick, but the Shield is triumphant once more, leaving Sheamus down in the ring. And Sandow.. just kind of vanished! See, that's why he's the smart one.

RANDY ORTON vs. #31 WADE BARRETT: Barrett beat Orton a couple of weeks ago, didn't he? Why didn't he earn an Elimination Chamber spot? During the entrance, they recap the debut of Bo Dallas, and his embarassment of Barrett on Sunday and Monday both. Barrett charges Orton, who ducks a clothesline and lands punches. Whip to the corner, Barrett reverses, but Orton clotheslines him out of the corner anyway. Dropkick by Orton, which doesn't look quite as good as it used to back in the day. Barrett bails out of the ring to recover, re-entering at the count of five. Knee to the gut by Barrett, and clubbing forearms follow. Orton blocks a punch and fires back with his own. Whip off the ropes, Barrett lands a kick, then a running big boot. That gets two. Barrett lands some mounted punches, taking a moment to yell at Lil' Naitch. Neckbreaker by Barrett for two. Wade chockes Orton on the second rope, then ties him up in the ropes and lands knees, setting Orton up for his trademark running boot in the ropes. Orton is dragged back into the ring and covered for two. And here's the chinlock! Orton actually grins as it's applied, possibly having flashbacks to when it was half his offense. Orton gets back to his feet, escapes with a snapmare, then lands clotheslines! Randy ducks Barrett and hits a snap powerslam. Barrett rolls to the apron, and Orton goes for the second rope DDT, but Barrett drops to the floor to avoid it. Orton pursues, but is shoved back-first into the ringpost, and now Barrett wants the Bull Hammer! He swings, but Orton ducks and Barrett hits the ringpost with the elbow! Orton drags Barrett back up to the apron, where he hits the second rope DDT. He plays to the crowd, before coiling up! RKO! 1, 2, 3, and that'll do it.

After the break, we join Barrett backstage with MATT STRIKER. "Wade, tough pill to swallow against Randy Orton, there are-" "Listen, Striker, the last thing I want-" Barrett stops abruptly, having spotted something, and he charges and attacks BO DALLAS, sending ALICIA FOX and LAYLA scattering. Bo fights back, until Barrett lands a knee to the gut, then sends Dallas flying into the CLANGY POLES. It's always nice to see them make a triumphant return! Barrett stomps away, the poles helpfully continuing to make noise as he does so, before he leaves Dallas laying.

KOFI KINGSTON vs. JACK SWAGGER: No pushups or posing for Swagger, he just slaps his face as he stalks down to the ring. Swagger gets a double-leg, into a waistlock. He takes Kofi down again before slipping into a front facelock. He powers Kofi up and drops him again, before shoving him into the corner and driving a forearm into his face. Kofi blocks a punch and fights back with kicks, but Swagger takes him down with a shoulderblock. Off the ropes, Kofi leafdrops, leapfrogs again, and hits a back elbow! Swagger blocks a corner charge with a boot, then hits a big beal towards the corner. Swagger stands on Kofi's chest in the corner, then comes off the second rope with the Swagger Bomb for two. Kidney punches by Swagger, and Kofi tries to fight back, before being dropped by another punch. He beals Kofi again. It looks like he's determined to make better use of his size! He chokes Kofi under the bottom rope, then yells. Kofi lands shots to the gut, trying to get some kind of momentum. Swagger whips him to the corner, and Kofi jumps to the second rope, hitting a crossbody for two. Swagger runs him over with a clothesline to cut that off. Swagger grabs an armbar, grinding Kofi's face into the mat. Kofi gets up slowly, landing a forearm shot, but Swagger just takes him back down and keeps the armbar on. Kofi tries to kip up, but Swagger keeps him down, putting his knee on the side of Kofi's head, then tightening up the hold. Kofi starts back to his feet, landing punches to Swagger's head. Swagger will have none of it, taking Kofi to the corner and landing knees. A third beal is blocked, with Kofi holding on and landing a monkey flip! Is this the opening Kofi needs? Kofi lands a back elbow, ducks Swagger's clothesline, and hits double chops! Dropkick by Kofi, followed by the high clothesline. Boomdrop connects! Kofi wants Trouble in Paradise, as Swagger gets back to his feet. Swagger catches Kofi mid-spin from behind and throws him to the corner, but Kofi spins out to the apron and hits the pendulum kick! Kofi tries to springboard into the ring, but Swagger ducks underneath whatever it was. Kofi lands on his feet and goes off the ropes, hitting a dropkick that sends Swagger spilling to the floor. Swagger regroups, dodging Kofi's baseball slide and whipping him towards the ringsteps. Kofi leaps right over them, then turns and hits a clothesline off of them back the other way. Both men are looking good here. Kofi tries Trouble in Paradise on the outside, but Swagger dodges it and Kofi kicks the announce table instead, hurting his leg. Swagger hurls him back into the ring, and looks zeroed in on Kofi's injured leg. He kicks Kofi in the faec, then applies the ankle lock! Kofi taps out quickly, and Swagger gets a win in his return.

In the parking lot, ALBERTO DEL RIO is being confronted by RANDOM SECURITY GUYS, three in number. He talks Spanish to them, which I can't understand. A bus pulls up, and Del Rio seems to think that's the Big Show. He moves to hide behind a minivan. And indeed, THE BIG SHOW is on the bus, looking around before exiting. He starts towards the arena when Del Rio rushes him with the lead pipe, with Big Show pleading for him to stop before dodging the first swing, which caves in the rear window of the car of whoever this poor guy waiting here is. Show lands a kick to Del Rio's gut, sending him to the concrete long enough for Show to open the car's door and toss out the schmuck. He starts to get into the car, but wisely changes his mind and hops up onto the hood instead as Del Rio is up and swinging, the lead pipe smashing the window out of the open door! Big Show rolls to the other side of the car, continuing to plead his case. "Hey man, c'mon, what's wrong? Are you crazy? Come on, man!" Show seems totally surprised that Del Rio would be mad at him, which is pretty funny. Show keeps the car between them, before opening the door on the other side to try to get in. With Del Rio quickly around the back, Show gets up on the roof of the car instead, kicking Del Rio away. Show stands up on the roof, so Del Rio smacks him in the ankle with the lead pipe, sending Show falling on the roof of the car! Del Rio climbs up after him and starts firing away with mounted punches. He tries to hook the cross armbreaker but is shoved off the back of the car, and Big Show quickly flips down and tries to get into the car, but unfortunately the door has locked. As he reaches in through the smashed window to try to unlock it, Del Rio is back up and stalking him. Del Rio talks in Spanish, which I can't understand, as Show again tries to keep the car between them. Now Show takes off for another ar across the lot, with Del Rio in pursuit. Del Rio grabs his arm through the window, but Show drives away, leaving him behind. And we go to break!

Lets go back to Monday, with CM Punk challenging The Rock at Elimination Chamber. We saw this on Raw! Up next, our main event!

Del Rio has quickly changed into his ring gear, but as he walks backstage to come out for his match, RICARDO RODRIGUEZ w/Mexican Bucket of Fun and Neckbrace approaches. "Ricardo, *spanish*, what are you doing here? Ricardo, you need to stay back tonight, you need to stay back tonight." "What do you mean, we're a team, we're supposed to be together!" "Yes, yes, we are a team, but you're hurt." "I know, but-" "Ricardo, trust me, you need to stay here. Trust me, please." Ricardo looks sad, but acquieses.

DOLPH ZIGGLER w/AJ, BIG E LANGSTON and a really smashed up briefcase vs. ALBERTO DEL RIO w/White Scarf of Purity: It's still surprising just how much the crowd loves Del Rio. But they do! Of course, this is San Diego. Lockup, and Ziggler grabs an arm-wringer. Del Rio flips out of it and gets his own, clamping on an armbar. Dolph fights out of the hold, backing Del Rio up to the corner, but Alberto turns it around and lays a beating on Ziggler. Scoop slam by Del Rio, and he climbs the ropes, going for a moonsault. Ziggler rolls out of the way, but Del Rio rolls backwards to his feet like Sin Cara did earlier. Ziggler's charge is caught and Del Rio presses him way up into the lights before he drops! Running kick to the shoulder of Ziggler, and he kicks out at two. Del Rio charges Ziggler, who sidesteps and throws him into the ringpost. Jumping DDT by Ziggler, and it gets two. Ziggler stomps away, then hits a neckbreaker for two. Now there's "Lets go Ziggler" "Ziggler sucks" duelling chants. Oddly, the tone of these chants sounds like the reverse of the Cena chants.. Ziggler lands his sweat-flicking elbowdrop for two. Chinlock by Ziggler. It takes Del Rio some time, but he gets back to his feet. He shoots Ziggler off into the ropes, then takes a kick that staggers him. He still recovers in time to duck Ziggler's clothesline, following up with his awesome bridging german! No pin this time, both men are down. Del Rio is up first, kicking Dolph's back. He wants the moonsault again, but AJ is on the apron, distracting the referee and letting Big E dump Del Rio roughly off the top. Ziggler gets the cover for two. Dolph whips him to the dopes, Del Rio ducks his clothesline and hits a dropkick through the ropes onto Langston! Big E doesn't go down, looking more annoyed than anything as he stands by the barricade. Ziggler wants another jumping DDT, but Del Rio drops him in a flapjack instead. Big E looks like he wants into the ring, but the ref stops him and throws him out! AJ and Dolph both protest, as we go to break.

As we return, Dolph and Del Rio are trading blows. Dolph's knee to the gut wins out in the end, and is followed by a dropkick for two. Ziggler goes up top, but Del Rio crotches him there. Del Rio lands a kick to the shoulder, then climbs up after him. Second rope superplex hits! Both men are down, as Del Rio is unable to cover. Ziggler is up first, landing a punch, but Del Rio punches back. They trade 'boo/yay' punches, before Ziggler takes Alberto back to the corner with punches. The Stinger Splash misses, though, and Del Rio fires up. Clotheslines by Del Rio! He ducks a Ziggler clothesline and hits the tilt-a-whirl backbreaker! Ziggler's up on his knees, and Del Rio hits the superkick! 1, 2, no! Del Rio can't believe it, but he signals for the cross armbreaker, encouraging 'Si' chants. He yells "Destiny", but Ziggler slips out and hits the Fameasser, for two! Ziggler is whipped to the corner, and tries to get his boots up to block Del Rio's charge, but Del Rio catches them and spins Ziggler around to sit on the second rope with his back turned. He fires in kidney punches, then hits the backstabber off the ropes! 1, 2, no! Do Primo and Epico get royalties whenever he uses that? Big stomp by Del Rio to Dolph's head, and he climbs to the top rope, clapping to get the crowd behind him. He leaps off the top, but is met with a Ziggler dropkick in midair! That only gets two. Ziggler wants Del Rio to get up. Zig-Zag attempt is blocked, and Del Rio gets the cross armbreaker! Ziggler taps out, and Del Rio wins! But wait, up on the Titantron is THE BIG SHOW. "Alberto! Alberto Del Rio! Alberto! My friend, I'm back in the ring, huh? I'm back in the building! I'm not alone. I have a friend with me." The camera pans out to show RICARDO RODRIGUEZ in his grip, squirming and looking about to cry. "You see, AH, get back in the ring right now, get back in the ring, step through the ropes, back on the inside of the ring, if you don't do it I'm gonna snap him like a piece of straw. Back in the ring! Step back in! If you ever, EVER, attack me like that again, I will make you sorry you ever woke up that day. I will hurt him, I will hurt you, I will hurt anyone who gets in my way. Who do you think you are doing that to me!? Are you begging, little dog? You see your little dog beg, Alberto? Please stop? Please don't hurt me, is that what you're saying? Please don't hurt me? Should I let him go, Alberto? I should let him go, shouldn't I. I'm gonna let you go." And there's the sucker punch. Del Rio takes off like a shot, running backstage. The doctor and a referee get to the unconscious Ricardo before Del Rio arrives. Big Show is long gone. Del Rio calls for more help, but for now, we're out!
Promote this thread!
John Orquiola
Scrapple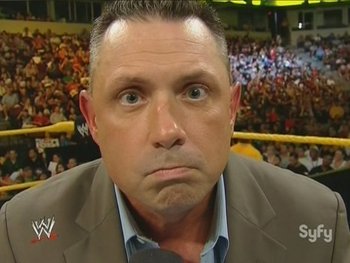 Since: 28.2.02
From: Boston

Since last post: 1454 days
Last activity: 1454 days

#2 Posted on | Instant Rating: 6.25
I could have cried a river when Cody and Damien dissolved Team Rhodes Scholars and hugged farewell. Friends forever.

I meant to mention this in the RAW thread but I think the people who were possibly done the least service from the Paul Heyman final segment was the Shield. The reveal that Heyman paid them off to save Punk destroys their mission statement as enforcers of their own brand of justice and just makes them hired goons. Now whenever they attack someone, the question can be raised who paid them to do so as opposed to them serving their own agenda.

I like how no one made any effort to identify Bo Dallas as the guy Wade attacked backstage and tossed into the clangy poles. No concern expressed for the young rookie by the announcers. Who cares.


---

"Cody, I mustache you a question." - The Miz
dwaters
Bierwurst



Since: 16.10.02
From: Connecticut

Since last post: 2 days
Last activity: 1 day

#3 Posted on | Instant Rating: 5.24
(deleted by dwaters on 2.2.13 0842)
dwaters
Bierwurst



Since: 16.10.02
From: Connecticut

Since last post: 2 days
Last activity: 1 day

#4 Posted on | Instant Rating: 5.24
Del Rio as a face is really working out.

I can't remember a better turn from stale to fresh.

You could say Hollywood Hogan, but that was years overdue.

You might even say it was his....(wait for it)...destiny.

(edited by dwaters on 2.2.13 0710)
Matt Tracker
Scrapple



Since: 8.5.03
From: North Carolina

Since last post: 1 day
Last activity: 11 hours

#5 Posted on | Instant Rating: 8.79
The angels sing Ave Maria upon the dissolution of Rhodes Scholars. And like ghost in Hamlet, it's too-soon end behooves us to revenge unto those that brought it low. The Shield are Marcellus, Horatio, and Bernardo, acting upon Hamlet's wishes. SWEAR! The ring's the thing wherein I'll catch the conscience of Hell No.

But Jack Swagger is back! And his big comeback speech is a wet rag of suggested intensity! Give him a manager for crying out loud. Don't let him talk.

Del Rio is bringing it. Big Show is bringing it. I don't care. They burned me out on this with two Del Rio wins so close together. Let's move on, folks. Bring me The Reign of Ziggles.


---

"To be the man, you gotta beat demands." -- The Lovely Mrs. Tracker
BigDaddyLoco
Scrapple



Since: 2.1.02

Since last post: 4 days
Last activity: 1 day

#6 Posted on | Instant Rating: 5.76
Originally posted by John Orquiola

---

I could have cried a river when Cody and Damien dissolved Team Rhodes Scholars and hugged farewell. Friends forever.



---


If it leads to a Cody and his homoerotic mustache vs Goldust feud I'll be cool with it.

I worry about Sandow. I can really see him turning into guy who eats RKOs, Brogue Kicks and Attitude Adjustments on a regular basis. Cody has that Rhodes gene that seems to allow him to do any kind of angle while still being able to bounce back without a loss of credibility.

I don't know what this does to the tag division. I would have broken up Team Hell No myself, and let Rhodes Scholars take over the division, but what do I know.

(edited by BigDaddyLoco on 2.2.13 1154)
Dr Unlikely
Liverwurst



Since: 2.1.02

Since last post: 65 days
Last activity: 3 hours

#7 Posted on | Instant Rating: 9.30
Originally posted by Matt Tracker

---

But Jack Swagger is back! And his big comeback speech is a wet rag of suggested intensity! Give him a manager for crying out loud. Don't let him talk.

---
Yeah, that was a strangely unmotivated comeback. For a second, with the beard and the line about "living the life of a real American", I thought he was about to get the Real Man's Man gimmick. (The All-American American Real Man's Man?)

Christian or Mark Henry would have been better for the Seventh Former Heavyweight Champion spot. Swagger would be much better off paired with Heyman or The Shield or even as an enforcer for Brad Maddox or something, where someone else can help him carry the load on the mic.

I know they're face heavy, but I'd almost rather see Swagger as a face just because I'd like to see him go against Barrett or Cesaro.
JustinShapiro
Scrapple
Moderator




Since: 12.12.01
From: Pittsburgh, PA

Since last post: 54 days
Last activity: 9 days

#8 Posted on | Instant Rating: 8.76
"Swag, where you been, dawg?"

'Giving away' the alleged Mania world title match on the same show where they set up a match that will name neither Ziggler nor Del Rio the #1 contender sort of gums up some of what we were expecting.

They could combine two matches and be setting up ADR/Ziggler/Sheamus/Orton in a fourway, or they could've just redone things completely. I wonder if they have to keep Sheamus and Del Rio in holding patterns to possibly wrestle Punk until they find out for sure that Undertaker can work WM.

I'm not sure why Sheamus is teased if not officially named for this Chamber instead of the Shield six-man, and why the Shield is attacking him if he isn't doing that.

I'd like to think Great Khali will be taken out by Mark Henry because I don't know why you'd put him in this match on purpose, even with the former world champs stip and even with Cesaro/Miz and Barrett/Bo booked for the undercard. Sure he was in the match last year, but that was a very different depth situation.

The opener and closer were both very good matches. This was the awesome Hell No/Sin19 tag I've been waiting four months for.


Originally posted by Dr U

---

Swagger would be much better off paired with Heyman or The Shield or even as an enforcer for Brad Maddox or something, where someone else can help him carry the load on the mic.

---


Swagger and Sandow, the Academic All-American Americans.
dMp
Knackwurst



Since: 4.1.02
From: The Hague, Netherlands (Europe)

Since last post: 4 days
Last activity: 21 hours

#9 Posted on | Instant Rating: 7.88
Originally posted by Chumpstain

---


Whip, reversed, and Bryan blocks the headscissors, holding Rey in place before hitting a.. I don't know what that was. The bad camera cut made it look like it was Mysterio hitting a move on Bryan, but Bryan actually fell to his back while lifting his knees, dropping Mysterio's torso on them.


---

And this is why Daniel Bryan is indeed the Dazzler and still the best in the world.
I went back 5 times just to gasp at that move.

Other than that, the highlight of the show was the break up of Team Rhodes Scholars. Well executed.
I hope both guys will get a good singles push.
Maybe we'll see both holding MitB briefcases soon..


Matt Tracker
Scrapple



Since: 8.5.03
From: North Carolina

Since last post: 1 day
Last activity: 11 hours

#10 Posted on | Instant Rating: 8.79
Looked like a Tombstone hold into a Codebreaker.


---

"To be the man, you gotta beat demands." -- The Lovely Mrs. Tracker