Chumpstain
Bockwurst



Since: 21.1.02
From: Canada

Since last post: 522 days
Last activity: 16 days

#1 Posted on | Instant Rating: 8.46
Last week, Smackdown had The Rock, a World Title change, and diva cannibalism! This week, without fanfare, we have the seven hundredth episode of Smackdown. Can it live up to last week's pedigree? Lets find out! Smackdown is now!

The opening recap hypes the Rock. Is he going to be on the show again? They're talking about a Rock Concert, but is it Monday's? Also, Alberto Del Rio won the World Heavyweight Championship! He has a championship fiesta tonight! In fact, that's going to open the show!

We start out with RICARDO RODRIGUEZ leading a mariachi band in the ring. There's a dancing girl! There's sombreros! What more could we need? Is Ricardo going to talk in English today? I'll transcribe as long as he does! "Welcome to Fiesto Del Rio! *spanish* your NEW World Heavyweight Champion, Albertoooooooooo Dellll Riiiioooo!" Yeah, I probably don't need to transcribe him anymore. But the new champ, ALBERTO DEL RIO w/White Scarf of Purity makes his way to the ring, sans car. The backdrop for his entrance is a Mexican flag now, rather than the logo and manors. I was kind of hoping he'd have a red scarf like on Monday, so I could figure out what to call it. Del Rio has the mic! "Welcome to Fiesta Del Rio!" Didn't someone just say that? "So now, lets party San Antonio! Hey, I know we haven't always seen eye to eye over the years, but you all gonna agree with me on this, we have to celebrate the fact that the fat jackass the Big Show, *spanish*, is no longer the World Heavyweight Champion!" But wait, here's an interruption already. Not from Big Show, but instead from DOLPH ZIGGLER w/briefcase, AJ and BIG E LANGSTON. And a microphone! JBL and JOSH MATHEWS are hyping that Ziggler is here to cash in, which I somehow doubt, since Del Rio isn't dressed to wrestle. He also isn't laid out.

Anyway, to Dolph! "Did somebody say fiesta?" And AJ leans over to speak into his mic. "You know, Ziggy and I love a good party. And we're just going to assume our invitations were lost in the mail." Del Rio cuts them off. "Hey hey hey, what are you doing here? This is my party. Ricardo's party, and all my friends' party!" Ziggler enters the ring as he responds. "It's funny you should say that, Alberto. It's funny that you think all these people here are your friends, and what's even funnier is you think you hold the World Heavyweight Championship but you don't. What you do have is a giant target on your head, and, well, I'm Mr. Money in the Bank, and you know more than anyone what this contract means." Man, the briefcase is even more mangled now, after waffling Big E on Monday. "It means whenever I see fit to cash this in, you'll be saying adios to the World Heavyweight Championship." "Adios? Adios? Adios *spanish*, you really think you can cash that on me?" "Oh I will! Oh si, sinor, si! By the way, I'm sorry, I'm sorry, where are my manners? Big E Langston, my associate here. Meet Alberto, and, and say hello to his little friend Ricardo." "Que paso, little man." Big E looks to be enjoying himself so much whenever he gets to talk. Del Rio steps up in defense. "Hey hey hey hey, hey, the three of you, get out of here right now." "Hey, hey, alright, hey, hey, we'll leave but, but maybe first, Big E here drops you where you stand, I cash in my Money in the Bank contract, and I leave with the World Championship, now how about that?" "*spanish*, why don't you try it? Lets see what happens?" Del Rio hands his mic off to Ricardo, and Ziggler starts taking off his jacket, but a familiar refrain heralds the arrival of THE BIG SHOW to rain on this parade. Big Show doesn't have a mic in hand, stalking down to the ring in his giant hoodie. He enters the ring, standing next to Ziggler and AJ and staring at Del Rio. Del Rio doesn't seem scared, but he's also not in a hurry to fight anymore. Ziggler speaks up since Show isn't going to. "Del Rio I don't, I don't know how good you are with math, but uh, you're pretty outnumbered here buddy." And right on cue, SHEAMUS makes his way down to the ring. Hopefully Sheamus hasn't forgotten that he really hates Del Rio! He's got a mic!

"Hey, hey Ziggles, how are ya? I just thought, ah, I'd come out and help with this numbers situation you're talking about. You're leaving me out don't be so mad. Everybody knows Sheamus can't resist a Fiesta Del Rio! Especially when I've got so many of my great friends right here." Big Show kept staring right at Del Rio throughout all of this, until Sheamus nudged past him to get to Del Rio's side. "Berty, listen fella I haven't come out here to crash your party, but ah, I know we've had our differences in the past, fella, we beat each other black and blue, we've scarred each other, fighting each other all over the arena, knocked lumps that, left each other black and blue is what I'm trying to say, I mean.. last time I was here, I even tried to steal your car." That was in San Antonio, wasn't it? "But look, I'm gonna be serious about this, I'm gonna be serious. I came out here because I want to congratulate you on an epic victory over the giant last week. Alberto, I have no doubt in my mind that you deserve to be the World Heavyweight Champion." Del Rio smiles at that. "And fella, it would be an honour for me right now, to be the first to shake your hand." Del Rio looks around for advice from the fans on whether or not to do it, as Sheamus makes the offer. He does it! JBL expresses surprise. "And to go along with that, I would also like to offer my service tonight as a bouncer for this fiesta to make sure that none of these muppets here get involved in your party." "Sheamus Sheamus Sheamus, thank you. Thank you for realizing this is a party, this is a fiesta, and I don't want anyone fighting." "What? Really?" Del Rio grins. "Maybe just a little bit." He hands the mic off to Del Rio, and looks ready to go, but this is interrupted by BOOKER T talking even before he appears on the ramp. "Whoa! Whoa whoa! Wait, wait a minute!" He's rushing down the ramp. "It ain't going down like this. Now wait a minute, hold up. Now tonight, this is a party. This is a fiesta. But let me be serious for one moment. Big Show. If you ever put your hands on me again, I will ruin your day, sucka. You feeling me? Now that being said, there will be a fight tonight. That fight will consist of the Big Show teaming up with Dolph Ziggler to take on the team of Sheamus and the new World Heavyweight Champion, Alberto Del Rio! Now that match will be the main event, it will be a tag team main event extravaganza. Now saying that, I'm gonna ask you Big Show, you Dolph Ziggler, you Big E as well as you, AJ, to leave, you're not invited to this party." Del Rio and Sheamus make signs to shoo them away, and they reluctantly leave. "Now, are you ready to party? Well lets kick this Fiesta Del Rio off right now!" "That's what I'm talking about muchachos, play the music!" The dancing girl starts up again, with Booker joining in. Del Rio calls for a Spinaroonie! Booker takes off his glasses and suit jacket, obliging the fans. He and Del Rio hug, and Del Rio grabs a sombrero from one of the band members, calling Sheamus back into the ring. "You get to be a little bit Mexican today." The sombrero is down in the middle of the ring, as we're apparently about to get an Irish Hat Dance. "C'mon, lets hear it for Sheamus!" "Wait wait wait, nobody wants to see me dance, right?" The fans say otherwise. "Nobody, c'mon, you don't want to see me dance, do you? Alberto, I've got a reputation, y'know, to keep here, you know what I mean? "We all want to see Sheamus dancing, yes or no?" "Ah, the hell with it, it's a fiesta, right?" And there goes the Irish Hat Dance, along with the dancing girl! JBL: "He'll never get back in Ireland. Ever." Later tonight, Randy Orton teams with Hell No to take on Wade Barrett and the Rhodes Scholars! And there will be a Rock Concert! A new original one? Apparently!

KOFI KINGSTON vs. ANTONIO CESARO: No entrance for Cesaro, really? Maybe the opening segment ran a little long? They do have time to recap the Cesaro/Miz/Flair segment from Raw. Cesaro waves a US flag in the ring, and has his new US flag tights on too. Lockup to start, Cesaro pushes Kofi into the corner, and unloads on him. He tries to beal Kofi out of the corner, but Kofi does a Rotation of Illumination instead, cartwheeling to safety and turning on Cesaro with kicks and punches. Cesaro shoves him off, and kicks him in the gut, before grabbing a side headlock. Off the ropes, Cesaro takes Kofi down with a shoulderblock. Off the ropes again, Kofi goes under, Kofi leapfrogs, leapfrogs again, but Cesaro grabs the ropes to stop from running into Kofi's jumping back elbow, then grabs him by the tights and throws him throat-first onto the second rope. And THE MIZ is watching backstage. Cesaro deadlifts Kofi off the mat, and hits the delayed gutwrench for two. Jumping double stomp to the gut, which also gets two. He grabs a chinlock, quickly seguing into the Cobra Clutch, because he's claimed that as his resthold now. Kofi fights yhis way up, but gets thrown into the corner. An elbow blocks Cesaro's charge, and Kofi takes him down with double chops! Another double chop, then a dropkick! Kofi goes off the ropes, but Cesaro grabs him out of midair to block the high clothesline, so Kofi goes over into a sunset flip for two! Kofi floats over Cesaro to counter a backdrop, as JBL actually mentions that this is Smackdown #700, confirming that our numbering system is working as planned. No #2023s here! Kofi grabs a waistlock and runs Cesaro into the corner, then tries a rollup, but Cesaro rolls through to a pin of his own and grabs the tights, but only for two. Cesaro tries a clothesline, but Kofi ducks and grabs the arm to hit the SOS! That only gets two! Kick to the gut by Kofi. He whips Cesaro to the corner, but Cesaro reverses. Kofi jumps up to the top rope and leaps off at Cesaro, who catches him in the powerbomb position. Kofi tries to land a hurricanrana, but Cesaro blocks it and stays on his feet, then hooks his arms around Kofi's leg to hit the Neutralizer! 1, 2, 3, and that's that. Cesaro gets his flag back to wave as his arm is raised.

Miz, who was watching backstage, starts to leave the monitor, but as he does so he runs into PRIMO, EPICO and ROSA MENDES. They've got things to say! "Hey, it's Ric Flair's new sidekick." "Really? "Really?" "Really." That was all of them talking amongst themselves, for the record. "I see what you did there, that was so clever. You used my reallies against me! The first time you three talk in over two years and that's what you say." Rosa responds to that as Miz gives a golf clap. "Listen, listen, we talk all the time, we were just talking about how much you have in common with Ric. It was a short conversation." Primo: "I mean, Ric Flair, he was a great wrestler." Epico: *spanish* Primo: "And you, you have catchphrases." They all laugh, as Miz looks annoyed. "Listen, Epico.." "It's Primo." "Who is he?" "I'm Epico." "Nobody cares. I want a match." "With me?" "It really doesn't matter. How about we leave it up to your... whatever it is you do." Rosa angrily responds in Spanish, as Miz stalks off.

THE GREAT KHALI w/BETH PHO... ER, NATALYA vs. TENSAI: Hornswoggle is missing in action today, due to injuries suffered at the hands of Big E Langston. The two behemoths lock up, with Khali pushing Tensai back into the ropes. Josh says this is like Optimus Prime vs. Megatron, and there's probably a lot of jokes that could be made about that. JBL asks if that's a videogame. Big chop by Khali, as Josh tries Bigfoot vs. the Yeti instead. JBL offers Jason Voorhees vs. Freddy Kreuger. That might be an indictment of the match quality, which makes me feel bad for poor Tensai. Oh, Josh suggests Alien vs. Predator now. And hey, there's a second big chop after all that announcer dialogue. Tensai lands an uppercut, then an avalanche in the corner, followed by a series of punches. The ref is trying to get him out of the corner, but not having luck. He finally is pushed out, and he's lucky he wasn't disqualified there, honestly. Tensai charges in again, but Khali gets a boot up. And there's the brain chop! 1, 2, 3, and that's it. Natalya enters the ring to celebrate with Khali, as JBL asks if the Anvil knows that his daughter has become a Punjabi Princess.

We cut backstage, to join WWE TAG TEAM CHAMPIONS KANE and WWE TAG TEAM CHAMPIONS DANIEL BRYAN, with Bryan speaking. "I just don't get it. Last Monday night on Raw, I don't get why Dr. Shelby thought it was a good idea to bring Team Rhodes Scholars into our therapy session." "And speaking of things that aren't a good idea, what's with that thing on Cody's face?" "Yeah, some people just don't understand when their facial hair starts to look ridiculous." Bryan shakes his head in a deadpan, as Kane tries to restrain himself. "Yeah. Tell me about it." Bryan does a double-take. "What are you trying to say?" "Uh, nothing." "Say it!" "No." "Yes!" "No." "YES!" "No!" "YES YES YES!" "NO NO NO!" "YES YES YES!" "NO NO NO!" "YES!" "NO!" "YES!" "NO!" "YES!" "NO!" "YES!" Kane stops there, due to the arrival of RANDY ORTON. "I'm just curious. Am I going out there with a couple of second-graders tonight, or are you actually interested in delivering some pain to Team Rhodes Scholars and Wade Barrett?" Kane: "Both." And he departs, leaving Bryan and Orton together. Bryan elaborates. "We're not acting like we're in second grade, we're working through our anger issues. And that's something you know a little bit about, don't you, Randy? You see, Kane and I, we used to be a lot like you. But thanks to Dr. Shelby, we're in a better place now. And not only that, we are champions. You do want to be a champion again, don't you Randy?" "Yes. Yes I do, and after I win the Royal Rumble match-" "Wait wait wait wait wait wait wait, tonight is not about the Rumble. You have to take one step at a time. First we win our tag match. And then .... GROUP HUG!" Bryan spreads his arms, as Orton looks on in disbelief. "I'm sorry, I'm not much of a hugger." "Not yet you're not." And Bryan runs off, leaving a confused Orton alone. That match is next!

#31 WADE BARRETT and the RHODES SCHOLARS vs. RANDY ORTON, WWE TAG TEAM CHAMPIONS KANE, and WWE TAG TEAM CHAMPIONS DANIEL BRYAN: No entrance for the heels. During Orton's entrance, a recap from Main Event of the Shield's attack on Randy Orton and the Miz. A very successful attack, apparently! And it seems like Kane has given up on the welder's mask for his entrance. Meanwhile, Bryan's knee is no loner taped. Orton and Cody start, after Barrett fakes wanting to start to try to get Cody a sneak attack, which fails. Orton lands a back elbow off the ropes, and tags Kane. Kane snapmares Cody, then hits a low dropkick. Cody kicks out at two. Arm wringer by Kane, and he tags Bryan. Bryan comes off the top rope with an axehandle to the arm. He does his own arm wringer, bending it over his shoulder, then he starts with a series of NO!kicks. The last kick to the head misses, and Cody tags out to Damien Sandow, who charges in and is immediately take down into a NO!lock attempt. He rolls out to escape it, taking a break to regroup. Which means it's time for a commercial!

When we return, Sandow lands a kneedrop to Kane and tags Cody in. Kane is apparently the monster in peril. They tag back and forth, working Kane over in the corner. The heels got control during the break with a blind tag by Wade Barrett, allowing him to land a big boot while Kane was preparing to chokeslam the no longer legal Cody Rhodes. And there's the Cubito Aequet. Kane kicks out at two. Tag to Barrett, who kicks Kane in the ribs, following up with punches. Kane fires back with an uppercut, trying to fight off all three, but Barrett catches Kane with the Winds of Change for two. Tag to Cody, who goes for the Disaster Kick, but runs into an uppercut from Kane. Cody staggers to the tag on Sandow, who charges past Kane to shove Bryan off the apron. As Sandow turns back to Kane, Kane backdrops him and makes the tag to Orton! Clothesline by Orton, and another! He ducks Sandow's clothesline and hits the quick powerslam. Rhodes is in and receives the same! Orton wants the second rope DDT on Sandow, who jumps off the apron to safety. Barrett tries a clothesline on Orton, who ducks and delivers a forearm shot to knock him off the apron too. In the background, Daniel Bryan hits a running knee off the apron on Barrett! In the ring, Orton tries an RKO on Cody, but Cody blocks it and turns it into Crossrhodes, then rolls out of the ring. The referee was busy with Bryan and Barrett and didn't see it! Sandow slides into the cover, but Kane breaks it up at two! That reminds me of one of the 'Ask the Ref' segments from Raw, where Jimmy Korderas said that there's now strict rules on breaking up pinfalls in tag matches, and each team can only do so once in a match with later attempts being automatic disqualifications. I'm going to be keeping track of that to see if it holds true going forward! Kane tosses Cody over the top rope as he tries to interfere, then Sandow dumps Kane. Sandow turns around into an RKO, and that's enough to give Orton the pinfall win. After he poses on the second rope, Hell No is back in the ring, and Bryan wants that hug. He calls for support from the fans, as Orton looks on. Kane is just standing behind Orton. Orton tries to explain that he doesn't want to hug, but when he turns to leave he sees Kane. We can see Orton mouthing 'no' as Kane stares at him. Kane raises his arms as if to set off his pyro, but stops halfway. He wants a hug too! As Orton tries to talk his way out of it, Kane goes ahead and gives him the hug! Bryan, looking elated, jumps on from behind with his own, trapping Orton in a hug sandwich. He does not like this at all. They release the hug and celebrate, as the crowd, meanwhile, chants 'Yes!', and Bryan pumps his arms in time with it. With the hug done, Orton doesn't look quite so upset anymore. He climbs to the second rope and shrugs helplessly, then does the Orton Pose. Up next, we revisit the 20th Anniversary of Raw for the Rock Concert. Okay, so we aren't getting the Rock tonight? I'm so confused!

We get a recap of the Rock Concert next. We saw this on Raw! After Josh puts him on the spot, JBL says that he thinks Punk will defeat Rock at the Royal Rumble. The Miz is in action after this commercial!

THE MIZ vs. PRIMO w/EPICO and ROSA MENDES: Lockup to start, but Primo grabs a side headlock. Miz shoots him off the ropes, and Primo takes him down with a shoulderblock, then does a Flair strut. The Puerto Rican goes off the ropes, Miz ducks under, then leapfrogs, then lands a back elbow to drop him. Miz does his own Flair impression, leading Primo to charge, and get backdropped. Kick to the gut by Miz, into a running kneelift. Primo comes back with a knee to the gut that sends Miz down onto the second rope, then follows it up with the Chocolate Mousse! Get well soon, Mark Henry! Primo stares down the commentary team before re-entering the ring, dropping an elbow, and getting one. Primo pounds away at Miz's head, then steps on his face and kicks him in the back. Punches and elbows to the head continue, and he hits a running low dropkick to the face for one. He grabs a chinlock with bodyscissors. Miz struggles up to a seated position, elbowing out of the hold and landing punches to Primo's head. Primo cuts him off with a throat jab, then a clothesline. It's two lefties fighting each other here! Miz kicks out of the pinfall attempt, so Primo stays on the attack, landing kicks, stomps and then a legdrop. Cover gets two this time. Miz lands an elbow and starts fighting up. Primo cuts him off with a kick to the gut and suplex, getting two. He grabs a chinlock, taking him back to the mat, as Josh and JBL argue about Heath Slater's mother. Really. Miz elbows out, and the two trade blows in the middle of the ring. Primo wins out, backing Miz into the corner, but there the tables are turned and Miz is nearly disqualified for refusing to break. His corner charge meets a Primo elbow, but when Primo tries to retaliate he's caught in a flapjack! Josh: "How much different is it to compete in a singles match than a tag team match?" JBL: "It's a world of difference, some guys never make the transition. Look at the Killer Bees, look at the Legion of Doom, look at the Dudleys, all those guys never made it as singles wrestlers." I imagine there's a guy in TNA who's going to take umbrage with that line. Not that I watch it. Primo tries a sunset flip, but Miz rolls through and hits a kick to Primo's head. Running corner clothesline by Miz, which sets up the top rope double axehandle! Miz wants the Skull Crushing Finale, waiting for Primo to get up, but Epico is up on the apron to distract him. Primo hits a chop block on Miz to drop him, and Epico calls for the figure four! Primo woos as he starts to lock it on, but Miz kicks him off into Epico on the apron, sending Epico to the floor. Miz takes Primo down with a schoolboy on the rebound, but doesn't go for the pin, instead grabbing a leg. He wants his own figure four, and the crowd woos in approval! Figure four is applied! Primo bits his fingers to try to hold on, but he has to tap out! Miz crawls out of the ring just before Epico can attack, and he sits on the barricade with the fans smugly.

Backstage, there's divas! KAITLYN is talking to ALICIA FOX and BLONDE LAYLA. Alicia: "That title looks so good on you!" Layla: "I'm so proud, I'm so proud. Hometown, right?" Kaitlyn: "Yeah, it's a dream come true." Layla takes the title from Kaitlyn to hold, staggering momentarily under its weight. "I forgot how heavy it is!" They talk about shoes a little bit. Kaitlyn: "I'm not a big shoe person, so.. I keep it casual. But um, I've gotta get to my match, so, uh, Lay. Layla." Layla has been holding the title and staring at it for several seconds. "What?" "My title?" "Oh, sorry, my bad!" Kaitlyn reclaims her title just as BOOKER T walks in, accompanied by TEDDY LONG. Booker: "Hey, what's going on? Kaitlyn, I just wanted to say congratulations, you rocked the city, baby. H-Town! Gimme some." They hug, as Teddy continues. "Kaitlyn, I wanna say congratulations to you too, and I'm real happy that you made Eve quit after what she did to me." Booker starts to giggle, to Teddy's annoyance. "Hey, hey hey, come on Book man, why you laughing dog, that's not funny man." Everyone breaks off and goes their own ways, with Kaitlyn coming out to the ring for her match next. And I really hope that was Alicia Fox and not Naomi or I'm never going to hear the end of it from you guys.

KAITLYN vs. AKSANA: The Mistress of the Headlock makes her triumphant return to Smackdown. This is a grudge match, with Eve having enlisted Aksana to take out Kaitlyn some months back. A recap of Kaitlyn's win on Monday is shown. Josh: "Do you think it was a knee-jerk reaction by Eve to quit WWE?" JBL: "If you walked out of the ring and had to talk to Matt Striker, I'd quit too." Aksana wants a handshake to start. Kaitlyn moves to take it like an idiot, so Aksana shoves her instead. C'mon, Kaitlyn, I just said this was a grudge match, you're making me look bad! They lock up, and Kaitlyn is backed up into the ropes, but there's a clean break. Another lockup, go-behind by Kaitlyn and a waistlock takedown. She shifts into a front facelock, then hits a snap suplex. Floatover into a cover gets two. Aksana kicks Kaitlyn in the head to get some space, but Aksana quickly pursues, shoving her to the floor. Kaitlyn is rolled back in and covered for one. Elbows to the chest by Aksana, and she applies a neck vise. Aksana, you're forgetting what brought you to the dance! Kaitlyn fights up, but Aksana takes her down by pulling the hair. Cover gets one. Aksana tries an armbar on the kneeling Kaitlyn. The fans start chanting for Kaitlyn, as she tries to fight out. Aksana takes her down by the arm, but Kaitlyn starts brawling on the ground. They both get up, but a clothesline by Aksana gets her the advantage again. Aksana attacks in the corner, and in what's becoming a theme tonight gets dangerously close to a 5 count but isn't disqualified. She charges Kaitlyn to try to continue the attack, before being pulled off by the referee again. This time as she goes back in, Kaitlyn explodes out of the corner with a spear! 1, 2, 3, and Kaitlyn wins!

A recap of Mick Foley's career airs, as he's the first inductee to the Hall of Fame this year. Up next, we hear from The Shield!

They recap The Shield attempting to attack Mick Foley, before his rescue by The Ryback, Randy Orton and Sheamus. That sets up another indy-looking Shield promo from an undisclosed location. Here's DEAN AMBROSE, SETH ROLLINS and ROMAN REIGNS! Ambrose: "Attention, WWE Universe." Rollins: "Attention, Sheamus!" Ambrose: "Attention, Randy Orton." Reigns: "Attention, Ryback." Rollins: "We are the Shield." Ambrose: "On January 14th, the Shield crashed Mick Foley's Hall of Fame announcement, not for nothing, but on behalf of all the broken bodies and broken dreams he left in the wake of his 'Hall of Fame' career." Rollins: "We spoiled the celebration in the name of justice." Ambrose: "Mick you may live in denial for the rest of your life, you may deny responsibility for the example you've set for all the would-be superstars, all those kids who sacrificed their bodies in the name of being 'hardcore'." Reigns: "Either way, we hold you accountable." Rollins: "Everyone's accountable, Ryback was held accountable. And now Ryback, you want back what we took from you?" Reigns: "What's done is done. You'll never get it back." Rollins: "Randy Orton. Heh heh heh heh." Ambrose: "Randy, there are 206 bones in the human body, there are 206 bones in your body. We broke one." Reigns: "We're just getting started." Rollins: "And Sheamus? You like to fight for fun, eh fella?" Reigns: "We fight for justice." "Ambrose." "Rollins." "Reigns." "All of you, you will believe." "Believe in the Shield." "BELIEVE IN THE SHIELD!" And the camera is set down while they walk away.

RANDY ORTON was watching that backstage, not seeming happy. SHEAMUS approaches from behind. "Isn't it funny how the Shield acts so tough when they're hidden somewhere in the building where no one can find them?" "Y'know, Sheamus, I really don't find the Shield that funny. I don't think it's funny how they injured my shoulder. And we sure as hell weren't laughing Wednesday." "Listen man, I'm sorry I wasn't there to help you Wednesday like I was on Monday." "Wait wait wait a minute, Sheamus, let me make one thing perfectly clear to you. I don't need your help." "Ha, you don't need my help? That's right, because you were doing such a great job fighting off the Shield last Monday on Raw from your back, weren't you? Fantastic. You don't need me?" "Sheamus, that's why I like you, man. You've always got an answer for everything. You know what's going to be interesting though? Two weeks from now, the Royal Rumble match. You see, I need this win. I need it and I'm gonna get it. And while you might have an answer for everything, I assure you my friend, you'll have no answer for me." Orton departs, leaving Sheamus to think things over. It looks like it's time for the main event after this break!

THE BIG SHOW and DOLPH ZIGGLER w/briefcase, AJ and BIG E LANGSTON vs. SHEAMUS and ALBERTO DEL RIO w/RICARDO RODRIGUEZ, the Red Scarf of Bullfighting and no car: There's that red scarf. Ricardo's bowtie is done up in Mexican flag colours, too. Oh, and he's bringing another bucket down to ringside like he did on Monday, with towels covering its contents. Josh explains that the red scarf represents Del Rio's Spanish blood, much like the old bullfighters. Del Rio and Ziggler start. Lockup, and Ziggler grabs an arm-wringer, but Del Rio flips out and gets his own armbar. Ziggler kicks to break it up, and takes ALberto to the corner. His corner charge misses, and Del Rio hits a scoop slam. He goes up to the second rope and tries a moonsault, but Ziggler rolls out of the way. That's okay though, as Del Rio lands on his feet and does a backwards roll with his momentum, popping up to press Ziggler into the air and drop him! Cover gets one. Del Rio drags him to the friendly corner and tags Sheamus, who lands a kick and drags him to the corner, where he lands more kicks. Whip off the ropes, Sheamus puts his head down and Ziggler kicks him. As Ziggler goes off the ropes again, Sheamus gives him a shoulderblock to take him down. Sheamus picks him up and hits a half-hour suplex, for two. Whip to the corner, but Dolph gets his boot up. Sheamus looks like he wants White Noise anyway, but Ziggler wiggles free and tags Big Show. Show comes right in with kicks and clubbing forearms, he's not wasting any time. Headbutts drop Sheamus in the corner. He picks him back up and headbutts him back down, then chokes him on the second rope. Show is going really fast here. Another headbutt drops Sheamus to the outside, where Big E attacks. Sheamus blocks the attempted throw into the ringpost, and the two face off before the referee intervenes. Today the E is for Ejected! AJ throws a fit and smashes the poor briefcase into the apron, before rushing into the ring to get in the referee's face. The ref throws her out too! Big Show looks on in confusion, as we go to our last break.

We return with Ziggler applying a chinlock to Del Rio, who is struggling to his feet. Alberto whips him off the ropes, but Ziggler lands a kick to block the backdrop. He tries a followup clothesline but Del Rio ducks it and hits his nice bridging German suplex! He doesn't hold the cover, though, instead making the tag to Sheamus. Irish hammers aplenty! Running clothesline in the corner, and a short-arm clothesline out of it! Sheamus goes up to the top rope, but Big Show shoves him off to the floor. The referee missed that, apparently. Ricardo, wearing the red scarf, tries to encourage Sheamus to get back into the ring, as the count is on. Sheamus crawls back in at seven, and Ziggler stomps away, then chokes him under the bottom rope. Tag to Big Show, who comes in and drops an elbow. Show drags him to the centre of the ring and drops an elbow on the Irishman's leg. Big scoop slam by Show. He standson Sheamus' back by the ropes, as Ziggler taunts from the floor. Another elbowdrop to the leg, followed by a kneebar. Sheamus tries some clubbering from his back to get out, but Show drops an elbow to stop him from crawling to the tag. He picks Sheamus up, and takes him down with another headbutt. Show lands knees to cut off Sheamus' attempted punches. Big chop against the ropes! Sheamus punches him in the face in retaliation, and has Show staggered momentarily, before a side slam turns things around. Sheamus kicks out at two. Show starts climbing in the corner, deciding it's time for the Vader Bomb. And it hits! 1, 2, no! Big Show decides he'll just do it again, but this time Sheamus rolls out of the way. Both men crawl for the tag, and tags are made on both sides! Is this Del Rio's first WWE hot tag? Clothesline by Del Rio, and another! He ducks Ziggler's clothesline and hits a tilt-a-whirl backbreaker! He calls to the crowd, then hits a superkick on the kneeling Ziggler! 1, 2, no! Del Rio signals for the cross armbreaker, but he's not paying enough attention, as Ziggler tags Big Show when he gets up. He still staggers into Del Rio anyway, who flips him over and applies the finishing move, but SHow comes in with a legdrop to break the hold. Sheamus doesn't approve of that, so he enters illegally and hits White Noise on Big Show! Show rolls out to the apron, so Del Rio hits the stepladder enziguiri on him! Show falls to the floor but stays on his feet. As he staggers back to the ring, Del Rio grabs the bucket from Ricardo. This time it does contain water, not confetti, and it's tossed all over Big Show! Apparently water isn't enough to draw a disqualification, perhaps with precedent from R-Truth, and neither is throwing the empty bucket off Big Show's chest. Del Rio wants Show to get back into the ring, but he's thinking it over. At the count of seven, he simply turns and walks away, stalking to the back. Big Show does not like being humiliated, after all. Sheamus and Del Rio win by countout. And here comes the balloons! Paul Heyman might not be able to find them, but Alberto Del Rio certainly can. Del Rio, Rodriguez and Sheamus celebrate together, along with the fans. The fiesta continues, but will it end at the Royal Rumble? And where did Dolph Ziggler go at the end there? We're out!
Promote this thread!
John Orquiola
Scrapple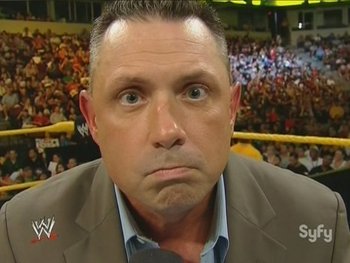 Since: 28.2.02
From: Boston

Since last post: 2309 days
Last activity: 2309 days

#2 Posted on | Instant Rating: 6.26
I enjoyed the Mexico-Ireland Megapowers formation, right down to their Megapower handshake.

Layla looked like Gollum the way she stared at the pink butterfly.

Can't help but gasp every time Kaitlyn hits the Spear. The audience pops too. She looks like a Mack truck running over the other Divas.

It's necessary for Ric Flair to yell "NOW, WE GO TO SCHOOL!" and then teach Miz how to do the Figure Four.

However, I think The Miz as the heir to Flair is overall pretty fair to Flair.


---

"Cody, I mustache you a question." - The Miz
CruelAngel777
Sujuk



Since: 7.4.02

Since last post: 1539 days
Last activity: 1522 days

#3 Posted on | Instant Rating: 5.02
Miz may have inherited the F4 from Miz, but has Kaitlyn been spending time with Goldberg? She really has been fine tuning that move to the point that it's starting to make Edge's Spear look weak.

Is it possible for Randy to become the third member of Team Friendship? He could surely us an evolution in his character, and I kinda liked the more lighthearted Orton that did the jumping split that freaked out Christian on Smackdown many moons ago.
John Orquiola
Scrapple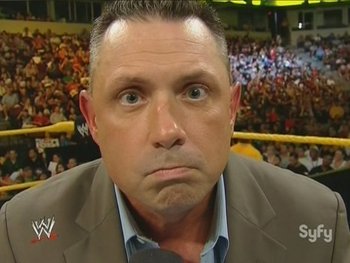 Since: 28.2.02
From: Boston

Since last post: 2309 days
Last activity: 2309 days

#4 Posted on | Instant Rating: 6.26
Cody Rhodes shat on Miz and the figure four on Twitter after RAW this week, but this dig is even better.





---

"Cody, I mustache you a question." - The Miz