Chumpstain
Bockwurst



Since: 21.1.02
From: Canada

Since last post: 67 days
Last activity: 1 day

#1 Posted on | Instant Rating: 8.46
We're a day late because I was busy with work, but better late than never, right? Right? Hello?

The show opens with the now-traditional recap. starting with The Shield's attack on John Cena and subsequent brawl between much of the roster. And can Big Show and Sheamus keep to the no-contact clause? All that and more tonight on Smackdown!

The show opens with Josh Mathews and JBL welcoming us to Smackdown from the commentary table, and they have guests! Both Antonio Cesaro w/satchel and Sheamus are here for guest commentary. And we open with a match!

Big Show vs. R-Truth w/o Little Jimmy: So whatever happened to Little Jimmy, anyway? Is he tagging along with Kofi now and being ignored? We still have tables, ladders and chairs set up on the stage and entrance ramp, as on Raw. Show smiles at Truth to start, as Truth looks worried. Kick to the gut by Show, clubbing forearm takes him down. Into the corner, big chop by Show sends Truth running. Headbutt drops him. Another headbutt. Big chop again in the corner, and Truth is in pain. Show steps on his abdomen to make matters worse. Truth gets a couple of gut shots, but Show takes him down with a clubbing forearm, then grabs him by the back of his pants and lifts him right back off the ground. He picks Truth up and places him draped over the top rope, then delivers a punch to the gut that sends him flying. Another big chop against the ropes, then Show stands on him against the ropes. Show heads out of the ring and gives Truth a chop as he lies on the apron. Cesaro is mocking Truth's fashion sense now, as Show goes over to taunt Sheamus. This buys Truth enough time to kick Show in the head from the apron, staggering him. Truth tries to leap off the apron, but is chopped out of midair. Show then tosses Truth into the ring ropes from the floor, leaving him sprawling. Show rolls back into the ring, and Cesaro gets up from the commentary table to trash talk the fallen Truth. That leads Sheamus to get up as well and go over to shove him back down into his chair. Cesaro is none too pleased by that, but they both wind up sitting down once more. Show reaches down to palm Truth's head from the ring and lift him back up to the apron, then beal him into the ring. Show again takes the time to badmouth and taunt Sheamus, who doesn't fall for it. Show's corner charge meets Truth's boots, and Truth hops on for a sleeper. Show tosses him down to the ground, and Big Show goes for a running elbowdrop, but Truth dodges! Cesaro has taken off his headset looking annoyed with the proceedings and Sheamus' jibes. As Show gets up, Truth comes off the ropes and hits the scissor kick! Or is it an axe kick? Whichever one used to be Booker T's finisher! His cover only gets two. Truth grabs a front facelock, but Show lifts him and throws him off, then hits the KO Punch for the win. Sheamus doesn't seem to be as interested in joking anymore. Show comes down to taunt Sheamus again, and he gets up and in Show's face. But Cesaro is over to give Sheamus a shot from behind, sending him falling into Show! Sheamus turns to get Cesaro, who has already run away, but Big Show looks ecstatic. He accuses Sheamus of hitting him, and says the match is off. Sheamus looks distraught, as Big Show skips off merrily, laughing all the way.

After the commercial, Sheamus 'contacting' Big Show is replayed. JBL protests the notion that the match might be cancelled. Backstage, Big Show is walking when he spots Booker T. "Booker! Booker, did you see what happened? Did you see what Sheamus just did?" "Yeah, I saw what happened-" "So you understand, you understand I knew that Irishman's temper was going to get him in trouble, I knew it. Sheamus has clearly, clearly violated the no-contact clause, which means the Chairs Match at TLC for the World Heavyweight Championship now has to be called off. All because of his temper, I love it!" "You don't come to me with that weak stuff, aight? Look, the way I saw it, Cesaro bumped into Sheamus, he bumped into you, that's the way I see it, aight?" "Wh-What about my shoulder?" "Lemme tell you something, man. Where I'm from, we've gotta say it. If you're scared, just say you're scared of Sheamus. One time, just say it." "I'm not scared of Sheamus. Booker, he clearly violated the no-contact-" "Look, man! Ain't nobody buying all that! As far as I'm concerned, the match at the TLC pay-per-view is still on. It's on, dog!" And Booker leaves, with Show looking upset.

In the ring, we are joined by Your Intellectual Saviour, Damien Sandow. Oh, and hey, there's Lilian Garcia back from her injuries! Good to see her again. Now watch, I bet she was back last week and I just didn't notice. "Hello, and good evening. My name is Damien Sandow, and for approximately one fortnight I have been scouring the WWE Universe in hopes to find one, just one individual who is worthy of becoming my apprentice. Sadly, my quest has been like trying to find a needle in a haystack. A disgusting, sweaty, vile, knuckle-dragging mouth-breathing monosyllabic haystack. Therefore, it is with esteemed pleasure that I reintroduce to you my tag team partner, and best friend, please stand up, remain silent and sh-" Boos from the crowd cut him off. "And please show the proper reverence for the magnificent, the marvelous, the mustachioed Cody Rhodes!" During his entrance, highlights from the elimination tag team match air. Cody has a mic! He also is already getting "Cody's Mustache" chants. "What is that feeling, you know, it's, uh.. honour. As I was saying, it is an honour to be standing back in this ring with you again." "Thank you." "And we can end this quest for an apprentice, because you once again have your equal, you have your partner. And for those who dare to try and drive a wedge between Team Rhodes Scholars, like that gasbag buffoon the Miz, I say this-" Cody doesn't get a chance to say anything, as he's interrupted by the music of The Usos, coming down for an apparently scheduled match. No war dance entrance, but we do get their pyro! The match will start after this break!

The Rhodes Scholars vs. The Usos: The match is joined in progress, with Jimmy Uso clotheslining Cody Rhodes down. The fans are STILL chanting "Cody's Mustache". Who would have thought that facial hair could turn Cody's career around? Tag to Jey, and they take him down with a double headbutt. Cody tries to punch back, but a big slap takes him down, and Jey tags Jimmy back in. Jey holds Cody for a shot from Jimmy. Whip to the corner, Cody backdrops Jimmy over the top rope but he lands on the apron. Sandow runs enough distraction there for Cody to hang Jimmy's arm over the top rope. He then draws the ref away to allow Sandow to land a kick to the shoulder on the floor. Back in, cover by Cody for one. Tag to Damien, and he lands a kick and a kneedrop. Another cover gets one. Side russian leg sweep sets up the Cubito Aequet, and that only gets one. Tag to Cody, who lands a shot to the gut, and the chants start right back up. Front suplex by Cody, who then gets angry over the chant and pops Jey on the apron. He stomps away on Jimmy, then does an arm wringer into a snapmare. The full nelson is then applied! Jimmy gets back to his feet and elbows out, as JBL says Cody looks like Freddy Mercury with his mustache. A kick by Jimmy to Cody's gut gives him an opening. Cody tries to get in the way with a slam, but Jimmy slides down the back and makes the tag to Jey! He takes down Cody with a clothesline, then another, and Cody decides he's had enough, and rather than take the rest of the hot tag offense he tags out to Sandow and bails. Jey is nonplussed and restarts it. He takes down Sandow with a clothesline, then another. Kick to the gut, then an uppercut. Sandow tries a clothesline off the ropes, but Jey ducks and hits the Samoan Drop! Running Umaga buttsplash connects! Jey makes the tag to Jimmy, and Jimmy goes to the top rope for the splash, but Sandow has started crawling back to his corner. Seeing that, Jimmy jumps down and runs over to grab him by the leg before he can make the tag. Sandow is pulled back out of the way, but Jimmy then grabs Cody and tosses him into the ring for some reason. Cody gives him a shove, so Jey is in to clothesline him over the top rope. That distraction is enough for Sandow to roll Jimmy up from behind and grab the tights, to illegally nab the 1 2 3! The Rhodes Scholars triumph!

We cut backstage to David Otunga w/thermos, who is reading through the no contact contract. "It's all here in black and white. It says that if there's any physical contact, the Chairs Match for the World Heavyweight Title at TLC will be called off. You're right." The camera pans back to Big Show standing beside him, who takes the contract back. "See, I knew I was right, Booker doesn't know what he's talking about. Use that big Harvard degree of yours, use that for me." "Alright, I'll tell you what. There's more than one way to do this. I say we do this publicly." "Publicly?" "C'mon." "Okay.."

When we return from commercial, Big Show and David Otunga w/thermos are standing in the ring. Show has something to say! "Now all of you clearly saw Sheamus put his hands on me, thus vi- don't boo, it's not my fault that he couldn't control his Irish temper. This is his fault. Now I tried to explain to Booker T that by Sheamus putting his hands on me he violated the no-contact clause which nullifies his opportunities to face me for the World Heavyweight Championship at TLC. There is no Chairs Match with Sheamus, there is no World Heavyweight Championship match with Sheamus because Sheamus put his hands on me, if Booker T will not listen to me, perhaps he will listen to my legal counsel. Mr. Otunga." "Ladies and gentlemen, what we have here is an open and shut case. Now last week Booker T forced my client and Sheamus to enter into a legally binding contract. And now in a not-so-surprising move, Booker T is refusing to follow his own rules. This decision isn't something that should be left into the hands of a clearly biased General Manager. Therefore, I'm sorry, but we have no choice but to bring this before the WWE Board of Directors. And, I might point out, WWE Headquarters is only twenty miles away from this arena tonight. Not only are we going to demand that the Chairs Match for the World Heavyweight Championship at TLC be called off, we're also going to demand that Booker T be removed from his position as General Manager of Smackdown." To no one's surprise, this brings out Booker T to rebut.

"Lemme tell you something, Mr. Otunga, it's obvious to me as well as everybody in here that your Harvard degree isn't worth the paper it was printed on. Now you should know contracts are honoured not by the letter of the law but by the spirit of the intent." Since then? Otunga agrees with me! "I object!" "Lemme tell you something, Mr. Otunga, if you want to go to the Board of Directors and waste their time, you go right ahead, but as far as my stance, lemme tell you something, it hasn't changed, that match at TLC with Big Show and Sheamus is still on, dawg." Big Show stomps and yells off-mic, "The contract was violated! It was violated!" Otunga continues. "Now Booker, just because you've been to prison, that doesn't make you a legal expert, okay? Yeah. Sheamus clearly violated that contract. And Booker, once I see to it that the Board of Directors fire you, I'm going to see to it that they fire Sheamus as well. Why don't you give Big Show one good reason not to proceed?" "I'll give you a reason, man! You know what the reason is?" We won't get to find out that reason now, because Sheamus is out to interrupt. He's got a chair in hand and he marches right past Booker T, heading down towards the ring. Booker protests as he goes. "Sheamus! Sheamus! Don't do it!" JBL is protesting too, but Sheamus has a mic as well, and starts talking as he enters the ring. "Hey Book, I'll give you a reason. If you get what you want, and you have this match called off, then fella there is nothing stopping me from kicking your arse right now!" And he grabs the chair, prepared to attack. Big Show looks worried, Otunga looks confused. Show thinks it over and clears his throat before responding. "The, uh.. the contract is, um, still valid in my opinion too." He hands Otunga the mic and bails out of the ring, walking towards the back. Sheamus watches him go, and Otunga is still in the ring like an idiot. So of course, he eats a Brogue Kick. Hit his music! They didn't manage to book Sheamus vs. Cesaro out of this? Boo! A recap of Orton vs. Maddox followed, and the post-match Shield beatdown. Matt Striker is shown backstage, preparing to interview Randy Orton. We'll get his thoughts next!

Well, this isn't a backstage interview. We return to see The Shield beating down Randy Orton backstage. He's already been put through a table, and they're all stomping away on him. Ambrose signals their exit and they depart. Fortunately, we already have a match prepped to distract us from writing Orton out for a while!

Aksana vs. Kaitlyn: Lockup, Aksana is backed up against the ropes, but she doesn't make a clean break, landing a kick on Kaitlyn once she lets go. Side headlock by Aksana, into a headlock takedown. Kaitlyn rolls her into a pin for one, and Aksana keeps the headlock on. Kaitlyn works her way slowly back to her feet, as Aksana really wrenches the headlock in. Kaitlyn reaches back to grab her and tries to break it with a snapmare, but Aksana keeps the headlock on and rolls through, maintaining the hold! Now she changes it into a rear chinlock, and then hammers away on Kaitlyn's chest. Cover gets one, and she grabs the rear chinlock again. Kaitlyn gets back to her feet once more, so Aksana shifts back into the side headlock. Kaitlyn tries to shoot her off into the ropes, but Aksana keeps her hold on the headlock again, dragging Kaitlyn back down to the mat. She keeps wrenching it in, as Kaitlyn starts back to her feet again. Aksana just throws her back down hard to the mat, and covers for one. Back to the headlock! She's bending Kaitlyn's neck in ways it's not really meant to bend. Kaitlyn's back to her feet, landing an elbow to the gut, which doesn't break the hold. Kaitlyn scoops Aksana up and hits a side slam, but again, Aksana has kept the headlock applied! Into a rear chinlock again as Kaitlyn struggles. Kaitlyn tries to bridge up to her feet, but fails. She's rolling and twisting to try to get out. Back to her feet in the side headlock again, and Aksana is still grinding away. Kaitlyn lifts her up once more, this time going for an over-the-shoulder powerslam, which finally breaks the hold. But Aksana drops down behind her, hitting an elbow to the back of the neck, and trying to grab the headlock again! This time, Kaitlyn quickly shoves her off into the ropes, and clotheslines her down. Kaitlyn off the ropes, jumping shoulderblock drops her again. Kaitlyn lands a flapjack that doesn't get much height. Aksana retreats to the corner and Kaitlyn charges in with a clothesline, then tosses her out by her hair. Into the fireman's carry, then the gutbuster! 1, 2, 3, and she triumphs over Aksana. That never-ending headlock was interesting...

Backstage, we rejoin Matt Striker for an update on Randy Orton. "Thank you, Josh. The WWE medical staff hasveconfirmed for me that Randy Orton has seperated his shoulder. From what I understand, Randy Orton's shoulder was literally hanging out of its socket, and needed to be popped back in. There is also concern that Randy Orton may have suffered a concussion. Randy is being prepped by our medical staff right now, being moved to a medical facility for further evaluation. Back to you, Josh and JBL."

Coming up next, MizTV featuring Team Hell No!

TLC will start early with a Santa's Little Helper Battle Royal on Youtube, Facebook and WWE.com! The winning diva will become the #1 Contender for the Divas Championship. It's the in-ring debut of the Funkadactyls! You won't want to miss this! Well, maybe you will, I don't know. Is there a new diva or two in this promo shot? Lets see, I see Rosa, Naomi, Layla, Kaitlyn, Aksana, Cameron, Tamina and Natalya. Who's the one in green on the left? Apparently it's Alicia Fox. This only solidifies that I really am bad at identifying Divas when they're not dressed like I expect. Anyway, there's a distinct lack of AJ in this match. Gotta keep her away from Eve to build for Wrestlemania, I suppose.

We join The Miz in the ring for MizTV. "Welcome to the most must-see WWE talk show in history, welcome to MizTV! Now everyone in the WWE Universe knows that I'm not one to shy away from controversy, and the most controversial individuals in the WWE right now are a rogue unit known as The Shield. Dean Ambrose, Seth Rollins, and Roman Reigns. These three NXT upstarts have been wreaking havoc all over the WWE, all in the name of righting what they perceive as 'injustices'. Well, this Sunday at TLC, three men look to stop The Shield in a 6 man Tables, Ladders and Chairs match. Two of those three men are my guests right now. Please welcome the WWE Tag Team Champions, Team Hell No!"

And to Kane's theme and pyro, here come WWE Tag Team Champions Kane and WWE Tag Team Champions Daniel Bryan. "Daniel, I'll, uh, start with you, since I've known you since you started in the WWE. How does it feel-" "Waitwaitwaitwaitwait, hold up. How did it feel? Who are you, Oprah? Kane and I have been in anger management for months, talking about our feelings, and the time for talk is over. Now it's time for action. And on Sunday, all that anger that they say I have will be unleashed with tables, with ladders, with chairs, all over The Shield until they are lying in this ring begging for the pain to stop. And when they're begging, do you know what I'm going to say to them Miz? Do you know what I'm going to say?" "No, I.." "I'm going to say No. No! No! No!" "The Shield made the biggest mistakes of their lives by attacking us because the end result is that Daniel and I are finally on the same page. And that's bad news for everyone else. You see now that Daniel has.. discovered his inner monster, we are unstoppable. And we will use tables." "YES!" "We will use ladders." "YES!" "We will use chairs." "YES!" For the record, it is Bryan saying yes here, not the crowd. "And we will love every single second of it!" "YES! YES! YES! YES! YES! YES! YES!" And as Bryan continues to Yes, the video cuts out, then away to a shot of someone's boot. The camera is pulled up to reveal The Shield somewhere backstage on a handheld camera. "I'm Dean Ambrose." "Seth Rollins here." "Roman Reigns." "We're The Shield, and we've been listening to you make your empty threats. If you want to find out what happens when you threaten The Shield, ask Randy Orton." Cue to Rollins grabbing the camera. "Justice, justice is what happens. We are the harbingers of justice in WWE. And you two, and Ryback, are three of the main perpetrators of injustice, and we have dealt with you swiftly and efficiently." To Roman! "Your actions, they forced our hand." Back to Rollins. "Danny-boy! You think you're protected hiding behind that big monster Kane?" Roman: "And what about you, Kane? You went from a monster to a helpless victim. The Shield did that." Ambrose: "In just 48 hours at TLC, The Shield brings the sword and justice will be served." They start to put down the camera, but Kane won't have that. "Why wait 'til Sunday?" Roman takes back the camera and chuckles. "Finally, something we can agree on." Ambrose takes the camera back and puts it on the floor, and we see their shoes as they walk out of their room.

Bryan and Kane are prepared for them to come down into the arena, and Miz has apparently bailed out at some point. The crowd is on its feet as they've spotted The Shield, up near the luxury boxes all together. Ambrose signals for them to move, and they split up, starting down the stairs towards the ring. But as they come, The Ryback makes his entrance, entering the ring to join Kane and Bryan. The Shield has stopped on the stairs, not looking as eager to approach with the odds even. The Ryback starts the 'Feed me more' chant. The Shield starts to retreat, as JBL calls them out on having their punk card drawn. But they won't be able to retreat this Sunday! Well, maybe they can, there's no countouts, right?

Just Kidding, The Great Khali, Hornswoggle w/Beth Pho.. er, Natalya vs. The Prime Time Players, Primo and Epico w/Rosa Mendes: We have an eight man tag! A seven and a half man tag? Only Khali and Hornswoggle get an entrance aired. The biggest men on each team start, with Titus and Khali. Titus lands an overhead chop, so Khali just beats him down. Titus is taken to the corner and begs for mercy before receiving a chop in return. Darren barges into the ring pointing at Khali, yelling "What is wrong with you?", so he gets a clubbing blow as well. He rolls out to escape. Khali tags in Hornswoggle, which might not be a smart move. Titus is back up to his knees, so Hornswoggle gives him an overhead chop like Khali had, to the crowd's approval. Hornswoggle goes off the ropes, but Titus clotheslines him down from his knees. He drags Hornswoggle to the corner and tags in Young. Young pulls him up and whips him to the ropes, but Hornswoggle grabs the second rope to stop his momentum. As Young charges after him, he takes a headbutt to the gut, and he tags out to Tyson Kidd. Kidd in with a springboard seated dropkick, then two kicks to the thigh, followed by a spin kick. Kidd mocks Titus' bark before running off the ropes, but as Epico tries to hit him from the apron he ducks out of the way. Epico ducks away from the counterattack, but then Kidd turns around into a belly to belly overhead suplex from D-Young! How long has it been since anyone's done that move in WWE? Primo tags in and is on Kidd, stomping away. He mounts him with punches before being pulled off by the ref. Tag to Epico. Primo delivers a snap suplex, and Epico enters with a slingshot elbowdrop for two. He grabs a chinlock, but Kidd isn't Kaitlyn, so he quickly gets up to his feet and starts punching his way out, only to be taken down by a clubbing forearm. Epico rakes his face with his boot laces, then chokes him on the second rope. As the ref is distracted, Rosa adds a slap. Epico goes back on offense, but Natalya has headed around the ring to take down Rosa. She stalks off, as Primo is tagged in. Dropkick by Primo puts Tyson down, but he kicks out at two. JBL says that a catfight would be what Josh would be in if he ever had one, leading Josh to blatantly lie and say he's never been in a fight before. C'mon, Josh, you teamed up with your General Manager Booker T a number of years back to face your commentary partner JBL in a tag match! Booker needed to wave you out of the way of his pyro so you didn't get killed in the entrance! Anyway, back to the match, Kidd tries a sunset flip but Primo tries to sit on him, only for Kid to roll through back through it the other way and add a cradle and.. that gets the win! Before Lilian can even fully announce the winners, Epico is in to lay out Kidd, so Justin Gabriel finally gets to participate as he tosses Epico and Primo out of the ring. Young charges him but Gabriel ducks, and Khali brain chops him from the apron to take him out. Meanwhile, Hornswoggle tries a crossbody off the apron onto Titus O'Neil, who catches him. He does the dog bark to Natalya to taunt her while holding Hornswoggle, but then turns around to a double dropkick through the ropes by Kidd and Gabriel that sends him down with Hornswoggle on top of him! Now we get stereo suicide dives by Kidd and Gabriel onto the Puerto Ricans! Hit Khali's music! Just Kidding does celebratory moonsaults off the top rope. And hey, my wish comes true, as our main event tonight will be Sheamus vs. Antonio Cesaro! Lets hope it's as good as their Raw match was!

Kofi Kingston vs. Alberto Del Rio w/Ricardo Rodriguez, the White Scarf of Purity, and a Rolls Royce Ghost worth $312,000: Kofi's looking for momentum heading into his match with Wade Barrett on Sunday. Del Rio kicks him in the gut to start, then takes him down with a snapmare, but Kofi moves quickly to avoid the chinlock, not wanting to suffer Kaitlyn's fate. He immediately reverses it into a hammerlock. Del Rio grabs the rope to force the break, which is clean. Del Rio tries a kick, slapping his thigh and everything, but Kofi catches it. Del Rio grabs a front face lock before Kofi can do anything with his leg, and takes him to the corner. There's another clean break, surprisingly. Back in the middle of the ring, Kofi goes behind into a waistlock, and Alberto reverses, seguing into the dreaded side headlock. Kofi shoots him off the ropes, and Del Rio takes him down with a shoulderblock. Off the ropes, Kofi goes under, Kofi leapfrogs over, Kofi leapfrogs over again, and he goes for his back elbow but Del Rio hooks the top rope to kill his momentum. Alberto charges with a clothesline, which Kofi ducks, letting him hit a big standing dropkick for one. Kofi grabs an armbar, and Del Rio starts up to his feet. Arm wringer by Kofi, forcing Del Rio to roll to escape, after which he takes Kofi down with a double-leg. Stomp to Kofi's shoulder, then a running kick to the ribs. He chokes Kofi on the bottom rope. "Lets go Kofi, lets go" chant from the crowd. Del Rio's corner charge misses as Kofi ducks, then Kofi starts landing punches in the corner. The ref forces him back, so Kofi runs in again and leaps up over the top rope for his ten punch countalong. European uppercut takes Del Rio down, for a two count. Kofi grabs a front face lock, and Del Rio tries to grab a bearhug to break it. Del Rio forces Kofi back into the corner, and this time there's finally not a clean break, as Del Rio lands a knee to the gut. Headbutts follow, five of them. Alberto picks him back up and whips him to the corner, but Kofi hops up to the top rope and comes off with the high clothesline to take Del Rio down! A running clothesline takes Del Rio over the top rope to the floor, and Kofi's in control. A plancha puts him down! He picks Del Rio up onto the apron, but Del Rio shoves Kofi back-first into the ringpost, sending him spilling back to the floor and us spilling to a commercial break.

We come back to a snap suplex by Del Rio for two. He grabs a rear chinlock, with a knee in Kofi's back. Kofi gets back up to his feet, kicking and punching to get out. He goes off the ropes and gets a sunset flip for two. When Kofi gets back to his feet, he and Del Rio just stare at each other for a few moments, before Del Rio grabs him and lands a tilt-a-whirl backbreaker out of nowhere for two. Kick to the back makes Kofi cry in pain. Del Rio starts mocking the 'boom boom boom' taunt. Kofi's getting up in the corner, so Del Rio charges him, but Kofi ducks out of the way again and Del Rio crashes and burns. Forearm by Kofi, then a punch in the corner. Whip to the opposite corner, reversed by Del Rio, and Kofi goes down hard from the impact. Stomp to the back of Kofi's head keeps him down. Del Rio slaps his chest and sets up in the corner for a ... spear? Nope, he charges across the ring and hits the stepladder enziguiri! Kofi kicks out at two! Del Rio picks him back up, and hits a Michinoku Driver! Kofi kicks out at two again! Del Rio goes back to the rear chinlock. Kofi tries to kick his way out, and lands a forearm shot that staggers him. Kofi goes off the ropes but is caught by Del Rio looking for another tilt-a-whirl backbreaker, but Kofi lands on his feet this time. He blocks Del Rio's punch and shoved him off the ropes, taking him down with double chops! Another double chop hits, then a standing dropkick takes Del Rio down. Kofi goes off the ropes but Del Rio ducks the high clothesline, hitting a back suplex, but Kofi kicks out. Del Rio fires in a series of punches, looking frustrated. He goes for a vertical suplex, but Kofi slides down his back and rolls him up, getting the 1 2 3! Del Rio looks shocked, while Kofi grabs his title and quickly departs. As Kofi starts up the ramp, #31 Wade Barrett is out to try to sneak attack him, but Kofi ducks his clothesline. Trouble in Paradise connects! Can Kofi keep the momentum going into Sunday? Up next, a recap of Cena/Ziggler!

We return to the Raw Rebound. It covers the entire AJ Scandal! We saw this on Raw! They also take a look back at Sheamus making contact with Big Show and the shenanigans that ensued from that earlier tonight. We head backstage to join Sheamus and William Regal, with Regal talking to Sheamus. "You know you Irish have a really bad temper, it's all them potatoes. Look, you've almost cost yourself your title opportunity tonight, don't let him get to you. It's only two more days until Sunday." "I understand." "But don't take Antonio Cesaro lightly tonight either. Keep your head in the game, you know what a physical competitor he is." "Listen William, you've got nothing to worry about! The only person who needs to worry is the Big Show. You said it yourself, I'm just two days away from taking back my World Heavyweight Championship! Now Big Show can do whatever he wants to try to push my buttons, but William I promise you, I'm not gonna push back until I'm in the ring with him this Sunday. And believe me when I say this, this Sunday at TLC, I'm going to wear him out with chairshot after chairshot after chairshot! Until I become the new World Heavyweight Champion." The two shake hands, and Sheamus leaves. The main event is next!

Sheamus vs. Antonio Cesaro: Lockup to start, and Sheamus muscles Cesaro to the corner, then right to the next corner. Clean break. Another lockup, but Cesaro grabs the side headlock. Sheamus quickly pushes him off into the ropes, but Cesaro takes him down with a shoulderblock. That prompts a gun-arm taunt! Sheamus looks to be enjoying himself, as he grabs his own headlock. Cesaro shoots him off and it's Sheamus' turn to run him over with a shoulderblock. Sheamus lets him get back up, still looking happy. Cesaro lands a kick to the gut, as Josh gives us an update that Orton hasn't suffered a concussion and 'may be able to compete'. Cesaro takes him to the corner and lands punches to the gut and head. Whip to the other corner, Sheamus reverses and lands a shoulderblock in the corner. Sheamus comes off the ropes with a kneelift, then again with a flying forearm! That gets a one count. Sheamus picks Cesaro back up and applies an arm wringer, then an armbar. Cesaro pushes Sheamus into the corner and doesn't break, landing a punch to the gut. Whip, Sheamus reverses, Cesaro tries to go up and over but Sheamus catches him in a fireman's carry and delivers the Finlay Roll! Cover for two. Clubbing forearm by Sheamus, then he takes Cesaro to the corner. Whip off the ropes, reversed by Cesaro, but Sheamus takes him down with a kick. As Sheamus comes in Antonio grabs his tights and throws him through the ropes to the floor, but Sheamus lands on his feet there and turns, trying to get back into the ring quickly. As he's between the ropes Cesaro delivers a knee to cut him off and send him sprawling on the apron. Cesaro pulls his arm through the ropes and lands a kick, then stands on his throat against the ropes, before giving a big double stomp. Cesaro applies a Cobra Clutch! Sheamus gets up to his feet, but Cesaro muscles him back down, maintaining the hold. Sheamus got back up again and landed a knee, followed by some punches. Whip into the corner, but Cesaro gets his knee up to block the followup charge and hit the European Uppercut to the back of the neck! That gets two. Cesaro deadlifts Sheamus off the ground and hits the gutwrench, for two! Cesaro mocks Sheamus' taunt, then lands a kick to the back. He chokes Sheamus on the second rope, but Sheamus tries to fight back from his knees with a punch. Trading punches and kicks, until Cesaro lands a European Uppercut. Sheamus falls back to the corner, but comes out with a shot of his own. Cesaro with another European Uppercut, and Sheamus hits the Irish Hammer, and another! Big corner clothesline by Sheamus! Cesaro ducks a Sheamus clothesline, then backdrops him over the top rope, but Sheamus lands on his feet on the apron. A forearm staggers Cesaro, and Sheamus goes up top. The battering ram hits! Cesaro rolls out to the apron, and Sheamus plays to the crowd. Ten punch clubbering! Sheamus suplexes Cesaro back into the ring. But wait! Big Show has appeared on the stage, throwing William Regal to the ground. The no-contact clause doesn't really cover him, does it? Sheamus looks on in disbelief, then exist the ring to go to Regal's rescue. Regal begs off from Sheamus, trying to push him away. "Don't let him do it to you, don't let him do it to you." But Big Show has a chair in hand now, and he smashes Regal in the back, causing him to collapse in Sheamus' arms. Meanwhile, Sheamus has been counted out, giving Cesaro the win in the match, but he has a look of fury on his face as he looks at Big Show. Show has his arms out wide, inviting Sheamus to attack, a smile on his face. When Sheamus doesn't, Big Show calmly walks away, leaving Sheamus to stew. He'll have his chance to fight on Sunday, but for now, we're out!
Promote this thread!
John Orquiola
Scrapple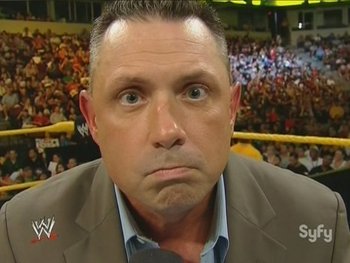 Since: 28.2.02
From: Boston

Since last post: 1423 days
Last activity: 1423 days

#2 Posted on | Instant Rating: 6.26
The Shield's handheld camera technology is perplexing and unnerving. They cut their promo against Team Hell No in real time but the video was having time jumps, as if the Shield exists in the past and future simultaneously.

Aksana's headlock was incredible. She clamped that thing on Kaitlyn and wouldn't let go. That's the closest we'll ever come to experiencing what it must have been like to witness a two hour Frank Gotch vs. George Hackenschmidt match from a hundred years ago.



---

@CMPunk
"@ZackRyder: @CMPunk She played me bro" I got your back.