Chumpstain
Bockwurst



Since: 21.1.02
From: Canada

Since last post: 94 days
Last activity: 4 days

#1 Posted on | Instant Rating: 8.46
So on the tail-end of WWE Vintage Collection that my DVR caught, I see that Gene Okerlund was joined by Renee Young to host the show. Except he called her Renee Paquette. Make up your mind, are we using her real name or not? And this is a lot of pies for her to be dipping her finger into already, isn't it? PPV pre-shows, WWE Updates, Vintage Collection. Matt Striker had better watch his back.

The new tradition of the Smackdown Opening Recap continues! Last Monday, The Shield beat down several targets, until The Ryback intervened. He wound up getting his hands on Punk as well, with serious consequences! And that's the whole recap. It segues into a statement from the Chairman of the Board shown on the screen and narrated by Josh Mathews. "During CM Punk's brief, albeit brutal encounter with Ryback this past Monday on Raw, CM Punk suffered a knee injury. The surgery to repair Punk's partially torn meniscus was successful. Thus, CM Punk will be in no condition to defend the WWE Title against Ryback at the TLC Pay-Per-View on Sunday, Dec. 16th. However, Ryback does deserve a WWE Title match against CM Punk and will have the opportunity in the very near future. Recent events on Raw have led me to make the following match at the TLC Pay-Per-View. Dean Ambrose, Seth Rollins and Roman Reigns, 'The Shield', will take on Team Hell No and Ryback. This match will be a Tables, Ladders and Chairs match and for the first time ever, it will be decided only via pinfall or submission."

ANd now for the proper show opening, Booker T is in the ring, a table set up. Contract signing time, perhaps? "Thank you. Thank you ladies and gentlemen. I have some business tonight and I'm gonna kick it off just like this. Guys, you've watched my career for many many years, you know Booker T and you know if Booker T has some business to take care of he'll take care of it right here in the middle of this ring, or he'll take it to the back, or he'll take it to the street, or he'll take it to a supermarket if you know what I'm saying. Y'know, I say this because I know what it means to be in a highly contested feud as a superstar, but now guys, I'm the General Manager of Smackdown, it's my responsibility to give you guys a great show each and every week. Which brings me to my next point, Big Show and Sheamus. Right now it's personal. And when things get personal, sometimes it gets physical. That's why tonight I have to make a drastic drastic decision, aight? But before that drastic action, I want you guys to see why I have to make this tough decision." Cue the replays of Sheamus vs. Big Show, starting with their parking lot brawl before Survivor Series, then to the post-match chair beatdown at Survivor Series itself. "You see what I'm saying? You see what I'm saying? In nine days, Big Show and Sheamus is gonna go one on one, in a chairs match, for the World Heavyweight Championship at the TLC Pay-Per-View! But I'm afraid that's not gonna happen. I'm afraid one of these men is gonna do something. That's why tonight I've made a stipulation. A no-contact clause until TLC effective immediately." A smattering of boos for that. "Now normally I would go in the back and speak with both individuals, but tonight I wanna bring Big Show and I wanna bring Sheamus out here tonight and sign this contract, make it official. So right now, ladies and gentlemen without any further ado please join me in welcoming the World Heavyweight Champion, the Big Show." And here he comes, in his ring gear with his title over his shoulder. JBL gives props to Booker's decision on commentary. "And ladies and gentlemen, his opponent, the former World Heavyweight Champion, Sheamus." And down comes Sheamus in his new t-shirt.

All three men are now in the ring, though the competitors look ready to fight. "Now Sheamus, if you refuse, if you just wanna go ahead and disobey, if you wanna disobey my no-contact clause, go right ahead. If you do that, you will lose your title shot at TLC, it's up to you man. And Big Show, I don't know what you're smiling about man. I know you've got your ironclad contract but I know one other thing, you love that World Heavyweight Championship. And I tell you what. If you wanna do the same thing, just disobey my no-contact clause, Big Show, you will be stripped of the World Heavyweight Championship. Oh yeah. So guys, lets just do this, lets get down to business. Sheamus, will you please put your name on the dotted line for me." Both men sit down at the table, and Sheamus looks over the contract, but grabs a mic instead of a pen. "Y'know, Show, since it's the holiday season, lemme put it to you this way. Having to wait nine more days to kick your arse is like having to wait nine more days for Christmas. Y'know, I used to hate having to wait to open up my presents, but what I found out was that in the end it was actually worth it. Heh. In nine days time, my Christmas comes early, and I get the gift of beating you from head to toe with a steel chair. And in the end, I guarantee you fella, I'm gonna get the ultimate present. The World Heavyweight Championship." Sheamus takes a pne form Booker and signs the contract. "Thank you, Sheamus. Big Show." Booker passes the contract over to him, and he looks at the second page, expressing disbelief at something, prompting Booker to clarify "It's legal." Big Show thus picks up his own mic. "Ah, well Sheamus, y'know, Christmas for you is, is really come early. Y'know the purpose of this contract is to make sure you make it to TLC in one piece. That's a Christmas present for you, but you should be careful what you wish for, fella. Now you hit me with that steel chair at Survivor Series, what, 25 or 30 times. And I still got up, didn't I? What's gonna happen when a seven foot five hundred pound giant swings a steel chair and destroys that Irish skin of yours, fella? I only have to hit you ONCE. The worst thing in the world you can do is to ask for a Chairs Match with me at TLC, you should ask Booker to get out of this match. You should, but you're too STUPID to realize what you're doing to yourself. If I hit you with a steel chair, Sheamus, I'm gonna change you forever. You're never gonna be the same, I might end your career at TLC. Happily, I might add, but I could end your career. Difference between you and me. I think things through. I've got experience. You, you're just all vinegar and fire, that Irish temper gets to ya and you wanna fight fella, you wanna fight, that's what you wanna do fella, ah, lets go fight, my Irish temper, fight fight fight." "Y'know, Show, do you realize how ridiculous you look right now? You talk about a fight, you talk about a fight, fella, I came into the WWE for, was to fight. And the last two pay-per-views that we've faced each other, you have to admit, have been the greatest fights of your career. I made you relevant again, fella, but I don't believe that you have one more left in you, and I believe deep down in that big belly of yours that you're shaking. You know this Chairs Match could be the end of you. You talk about the end of my career? Fella, I will gladly, gladly end your career at TLC." "Big Show." Booker gives Big Show the pen, and he flips through the contract in his lap before suddenly overturning the table on Sheamus! As Sheamus tries to extricate himself from it, Big Show hurriedly signs and hands it over to Booker, who quickly gets in between the two. "Sheamus! Calm down! Now Sheamus, Sheamus don't, Sheamus don't, Sheamus don't do it. Big Show, chill man!" Big Show is holding the contract in the air, laughing at Sheamus and trying to goad him into attacking. "Look Sheamus, look Sheamus, don't do it, don't do it Sheamus, lookit, Sheamus, listen to me, look at me Sheamus. You wanna take your frustrations out on somebody I got somebody for you to do that with. Tonight, you're in a match with Alberto Del Rio, aight? You wanna take your frustrations out on somebody, do it on him. And I don't know what the hell you're laughing at, because you're gonna be in a match too. With the man who beat you in the middle of the ring in 45 seconds, Daniel Bryan! And that match is next!" Cue the music, and here comes WWE Tag Team Champions Daniel Bryan. He's doing the 'no no no' on the way down to the ring again, after that being noticably absent last week and on Monday. Sheamus, apparently forgetting that he hates Bryan, tells him off-mic to kick Big Show's arse as he leaves the ring. At least he's confident! The match is next!

WWE Tag Team Champions Daniel Bryan vs. The Big Show: The bell rings as we return from break, and we're underway. The two men circle, and Bryan lands a kick to the calf, then another, another, another. Big Show cuts him off with a headbutt, then a clubbing blow to the back. Big chop against the ropes. Bryan retaliates with more kicks, but another forearm takes him down. Head to the buckle by Show, but Bryan dodges the Shh Chop, landing a series of NO!kicks. Show lands a gut punch, then a big scoop slam. Show glares down at Bryan, before picking him up by the beard. Another headbutt drops Bryan. "It's not 45 seconds now, is it?" Another headbutt. "C'mon, Daniel! Yes, yes!" Show hits the Shh Chop this time. Bryan comes back with his own chop, then a second, but Big Show does not seem impressed. Bryan thus turns to kicking the thigh, which does hurt Show. He goes back to the chops, and Show has none of that, throwing Bryan into the corner. Running rear avalanche connects, and Show goes off the ropes to follow up with his running shoulderblock, but Bryan takes him out at the knees with a low dropkick! Show rolls out of the ring to regroup. Bryan follows with a plancha, and Big Show tries to catch him but is a little bit off line, so he winds up slowly going down to his knees as Bryan lands on his feet. Bryan lands a couple of kicks before Show gets another gut punch and scoops Bryan up over his shoulder. Bryan slides down his back and shoves Show into the ringpost. He goes up to the apron, wanting his running knee, but Big Show catches him mid-flight with a chop to put him down! Lets go to break!

Back from break, Big Show comes off the ropes and lands a big jumping elbowdrop. Lax cover, which is just a facepalm, so Bryan kicks out. JBL references Giant Haystack beating people with that elbowdrop. Show circles his prey, as Bryan starts getting up. Show elbows Bryan's arm. He's picked a bodypart! He brings his weight down on the arm again. One more elbow to the left arm. Bryan tries to punch Show in the gut from the mat, but Show ignores it and puts Bryan down again. He stands on the arm in the ropes to the count of four. Now he wraps the arm over the top rope and elbows it there. The fans chant 'Daniel Bryan', and he comes back with kicks, but a clubbing forearm drops him. Headbutt to the arm, then an arm-wringer which takes Bryan down. Show nudges Bryan with his boot and shakes his head, while Bryan fumes. Show shoves him back into the corner and charges, but eats boots! Flying knee from the second rope staggers Show. Running dropkick in the corner connects! A second one also connects! A kick to the thigh drops Show to his knees, setting up a series of NO!kicks to the chest. The kick to the head is blocked, and Show grabs a choke! The chokeslam is countered into a DDT, but Show kicks out at one. Bryan immediately kicks him in the head to drop him again. Bryan, favouring his arm, goes up and up to the top rope.. but wait! Bryan is distracted by Dean Ambrose making his way down the stairs in the crowd. Big Show is up and has Bryan by the throat. Chokeslam off the top rope! 1, 2, 3, and that does it. Seth Rollins and Roman Reigns have also appeared, all three of them jumping over the barrier to look on at ringside. JBL encourages Show to get out of the ring before the Shield gets him, and Show obliges, backing down as they enter the ring. The Shield members circle the fallen Bryan, then start stomping away. A blast of fire heralds the arrival of Kane, coming down to save his partner. Rollins keeps beating on Bryan, but when Kane enters the ring they all swarm him. Kane can't win three on one, and the brawl spills to the outside. Ambrose lays in a series of elbows, and Reigns starts clearing off the table. They pick Kane up and feed him to Reigns, hitting the triple powerbomb through the announce table! The Shield departs, as we go to break.

We are joined as we return by Your Intellectual Saviour, Damien Sandow, standing in the ring armed with his deadliest weapon, his wit, and carrying that which conveys said weapon, the microphone. "Silence the music, I am about to speak. As your intellectual saviour I have attempted to raise the cerebral bar here in the WWE for far too long. This attempt has proven itself to be a fruitless endeavour. However, I am going to give one of you the opportunity to become my apprentice this evening. Who amongst you is worthy of such an esteemed position? Please settle down, you're acting like a bunch of ignoramuses, settle down. This gets worse every week. No. No. YOU." He's picked out a man in glasses wearing a Santino shirt. "Security, please escort this man to the ring. As always, I urge that you all pay very close attention and test yourselves, because next time it may be you. Sir, please hurry up. Yes, use the steps, very good. Now sir. You have the enviable opportunity of becoming my apprentice. All you have to do.. please, don't stand so close to me. All you have to do is answer three questions correctly. Question number one. Five plus five equals?" "Ten! Ten! That's one, one question done." "One question, yes, congratulations, you passed math. Question number two. Who is the current President of the United States?" "Barack Obama!" The fan raises his hand for a high five. Is WWE dubbing in boos for Obama's name? Where's the show taking place this week? They haven't told us yet! "Sir, your palms are very sweaty, that is very bad form, please put your hands by your side. Question number three. What seventeenth-century genre of art, emanating from the Netherlands, focused on still-life paintings depicting morality and transience?" "I have no idea." "And I'm not surprised. Does anyone know the answer? Vanitas. That is the answer. You have disgraced yourself, you have disgraced everyone in this building, that beard on your face is a disgrace to faces everywhere. You sir, LOSE. Hold on, wait, wait, wait! You're welcome." A big smile from Sandow, but then we get an entrance from an unexpected source. The Miz? Miz comes to the ring, dressed in a suit, so this isn't going to be a match. "May I help you?" "Yes, Damien, how about you answer me a question? What twenty-first century WWE superstar wears his daddy's bathrobe and buys his pink trunks from Victoria's Secret?" Sandow glares at him wordlessly. "The answer, Damien Sandow. You're welcome." And Miz turns to leave. Sandow sneers at him as he departs, apparently stricken speechless.

A recap of the tag match from Raw, with Cena/Sheamus vs. Show/Ziggler that ended in the combined AA/White Noise, followed by the Vince/Vickie segment that set up their TLC match. They then plug Cena appearing Saturday on Saturday Morning Slam. And up next is The Funkasaurus w/Funkadactyls and Disco Ball and the Usos. Yes, the Usos tag along with Clay and dance along with him in his entrance. They will take on the rock stars 3MB next! Hey, Drew McIntyre will get to wrestle!

The Funkasaurus and the Usos vs. 3MB: JBL: "You should like these guys, Josh. They imitate a band, you imitate a play-by-play guy." Mathews says that McIntyre has been recovering from a broken wrist. That explains a lot if it's true! Slater starts with Jey Uso. Go-behind by Slater, then a headlock. Jey shoves him off into the ropes but falls to a jumping shoulderblock with a flourish. Slater off the ropes, Jey goes under him then clotheslines him on the rebound. Punch against the ropes and a tag to Jimmy. Headbutt by Jey, second rope headbutt by Jimmy, and Slater kicks out. Heath runs him into the unfriendly corner and Drew tags in, beating down Jimmy in the corner. Head to the buckle, but Jimmy's Samoan so that doesn't work. He comes back with a punch and a kick. A Jimmy corner charge is cut off by Drew's boots. Drew taunts Clay as Jimmy is down. Why is 3MB in the face corner? They've been in the face corner in every match they've had that I remember, too. Drew goes for a slam but Jimmy floats over and dives for a tag to Clay. Brodus drops McIntyre, then takes both Mahal and Slater off the apron with a double clothesline. Big splash in the corner to Drew, followed by the Sheeplex. Tag to Jey, who goes up top, but Mahal and Slater have come around and they grab Clay off the apron, throwing him into the barricade. Jimmy won't stand for that, so he climbs to the top rope alongside Jey and jumps to the outside, wiping out Jinder. Slater is still standing, and Jey is eyeing him. Slater pops up on the apron to try to run interference but gets kicked down by Jey. All these extracurriculars have given McIntyre time to recover, and he jostles the top rope, causing Jey to fall and crotch himself. McIntyre grabs the double underhook. Future Shock connects! 1, 2, 3, 3MB wins again! They all take a bow together, then commence the air guitar. Still to come, Randy Orton vs. Wade Barrett, up next. And Sheamus vs. Alberto Del Rio later in our main event!

Before the break, we join Matt Striker w/o ridiculous mustache, which means it must indeed have been Movember, so I therefore retroactively strike all mentions of his mustache being ridiculous from the record because it was for a good cause. Well, all mentions except the one in that last sentence because I can't be bothered to go and remove it. He's interviewing #31 Wade Barrett in the locker room. "Wade Barrett, tonight you go one on one with Randy Orton. Now when we last saw Randy this past Monday on Raw, he was in the ring and The Shield came down-" "The Shield? Randy Orton doesn't need to be concerned about The Shield this evening. He needs to be concerned with me. Lets not forget that one year ago I threw Randy Orton down a set of stairs, I put him out of action for weeks. Well tonight, I'm going to put the predator out of his misery. The only thing Randy Orton needs to be concerned about this evening is this Bull Hammer." "Wade Barrett goes one on one with Randy Orton next."

Kofi Kingston joins the commentary team as we're back from break, ready for the next match!

Randy Orton vs. #31 Wade Barrett: A recap of the destruction of Brad Maddox airs during Orton's entrance, followed by the Shield beatdown. After the bell, the two circle each other warily. Lockup, Orton grabs the side headlock. Barrett shoots him off the rope, and Orton knocks him down with a shoulderblock. They circle again. Lockup, go-behind by Barrett. Orton breaks the grasp and goes into his own go-behind, so Barrett backs him into the corner. No clean break, as Wade lands an elbow, then stomps him in the corner. Whip to the opposite corner, but Orton comes out with a clothesline. Headbutt in the corner. Whip to the opposite corner on Barrett, but he gets a boot up in Orton's face. A kick to the ribs follows. Running kneedrop misses, and Orton picks Wade up. He throws him out to the floor. Orton tries to slam Barrett's head into the ring steps, but Barrett blocks. Orton blocks the same from Barrett, and Orton finally does get Wade's head into the steps. He throws Barrett into the barricade then back into the ring, but Barrett rolls all the way through to the other side. Orton goes after him, but Barrett is ready, stopping him with a kick and throwing him shoulder-first into the ringsteps. Back into the ring, Orton stops Barrett on the apron and sets up for the second rope DDT. Barrett will have none of it, backdropping Orton over the top rope. Orton lands on the apron, but Barrett lands his back kick to the gut to send Orton back to the outside. Barrett taunts Kofi from the ring as we go to break!

Barrett has a chinlock applied as we return. Orton elbows and headbutts his way out. Randy goes off the ropes, but Barrett takes him down with a big boot. Orton kicks out at two. Wade chokes Orton on the second rope, then ties him up in the ropes to set up his running boot. Orton attempts to fight out, but to no avail, as he eats the boot and falls to the outside. Barrett makes a Bull Hammer taunt at Kofi, then goes out after Orton. Orton is rammed into the ring apron, then thrown back inside. A cover gets two. Kneedrop off the ropes hits. After a stomp, Barrett goes up to the second rope. The second rope elbow misses, as Orton slithers out of the way, according to Josh. JBL immediately mocks the terminology again, complaining about it to Kofi. Clothesline by Orton, and a second one! Barrett clothesline ducked, and Orton hits the snap powerslam! Next comes the second rope DDT, which hits. The viper is coiled! Barrett grabs the top rope to block the RKO, then starts taking off the turnbuckle as the referee checks on Orton. Kofi hops up from commentary to try to put a stop to that, calling to the referee and distrracting Barrett. And that's all the opening that was needed for the RKO to connect! 1, 2, 3, Randy Orton wins. Kofi looks pleased with himself. Cutting backstage, The Great Khali is walking backstage with Beth Phoe.. er, Natalya. The two come upon Hornswoggle sitting on some equipment, so he hops down to join them. Tag team action is next!

The Great Khali and Hornswoggle w/Natalya vs. Primo and Epico w/Rosa Mendes: Primo has a mohawk haircut now. Primo and Khali start, with Primo rolling under Khali's grab. His punches go nowhere, and neither does his dropkick. Khali takes Primo down, then into the corner. Big chop hits. Rosa hops up on the apron to protest, and referee 'Lil Naitch shoos her down. She still seems pleased with herself, turning and dancing for the commentary team. But whoops, Hornswoggle moved behind her and tripped her as she tried to step back. Rosa takes off in pursuit, but Natalya is ready, leapfrogging over Hornswoggle and clotheslining Rosa down. Nattie mounts Rosa and rams her head against the floor, and the two roll around. JBL: "I could've leapfrogged Hornswoggle." Back in the ring, Khali chops Primo again, and he oversells it again. Whip to the corner, Khali's charge misses, his big boot going over the top rope and he spills over to the outside. Primo grabs Hornswoggle and drags him into the ring, tossing him across it. Tag to Epico, as the ref complains about them taking advantage of the illegal man. Facewashes for Hornswoggle. Khali's back into the ring behind them. Hornswoggle seems to be firing up. He grabs the second rope and starts stomping like the Ultimate Warrior, or Batista, depending on how dated a reference you want. He charges the Puerto Ricans and ducks under them, and they turn around into a Khali double clothesline. Punches for each in turn, and a brain chop for Epico. Tag to Hornswoggle! He goes up to the top rope. Tadpole Splash on Epico! 1, 2, 3, Hornswoggle wins! Isn't this the sort of thing that turned people off the tag division before? Everyone celebrates after the match, with Nattie dancing a jig with Hornswoggle.

It's the Raw Rebound! CM Punk is on MizTV! We saw this on Raw! The statement from Vince at the start of the show is shown again. And now, some video footage from The Shield, looking decidedly low production value. "I'm Seth Rollins." "Roman Reigns." "I'm Dean Ambrose. What do we know about injustice?" "We don't just know injustice." "We've lived it." "Last Monday CM Punk, champion for over a year, was disrespected with a lie detector test by The Miz. Welcome to consequences, Miz." "Randy Orton took advantage of a young defenseless Brad Maddox, well welcome to payback Randy." "We shield the WWE from injustice." "Team Hell No?" "Nobody says no to The Shield." "Ryback. You've been handed success on a silver platter. You've been handed fame and fortune, you've been put on a pedestal, well we knocked you off that pedestal, we stopped you cold, welcome back to reality, Ryback." "We don't work for anybody, not Paul Heyman, not the WWE Champion, we work for each other." "I'm Dean Ambrose." "Seth Rollins." "I'm Roman Reigns. Welcome to the Shield of Justice." "At the TLC Pay-Per-View brings tables, bring ladders, bring chairs, the Shield brings the sword." The handheld camera is put down and they all walk away. Unsurprisingly, they let Ambrose do most of the talking.

Antonio Cesaro is in the ring when we return. He defends his title against R-Truth at TLC! But now, he talks! "As your United States Champion I learned so much about America. You want to know what I learned about this so-called greatest country in the world? America is (foreign language), (foreign language), and in English, weak. America used to be a superpower and there used to be a thing called the American Dream, the belief that anybody can achieve everything. Now that's a lie, because I guarantee most of you, actually all of you, will never amount to anything. You used to pursue the American Dream, now, now you look like the American Dream." Cut to the shot of Dusty Rhodes on the Titantron. "You don't even know the meaning of hard work and sacrifice anymore. When I look at America today, I lose all hope, and you know what, the sad thing is your children and your grandchildren will be even more pathetic than you are. Yeah. And that, is the tru-" He's cut off by the music of R-Truth. "Hey, how dare you interrupt me! I was not done talking!" "What's up! You know what you need? You know what you need? Don't what me! Okay, what me! You don't need a new purse. And you don't need a Ricola! Antonio Cesaro needs a dose of the truth. You see, I realize you aren't from around here, because around here the truth shall set you free. You see when I look across America, when I look across America, I see a bunch of good hard-working people rising up in the face of hard times. I see hard-working people busting their butts to the bone trying to make ends meet. I see hard-working people trying to get in where they fit in. I see hard-working people staring trouble right between the eyes. And when the time is right, those same good people will kick trouble right in its Little Jimmy. You know what it sounds like to me? It sounds like you picking a fight with America. When you pick a fight with America, America fights back." "Can you-" USA chants. "Shut up, shut up, the United States Champion is talking! Can you even hear yourself talk? You, you are everything that's wrong with America, you talk trash, and you, you can't back it up. You know what, Truth, you are delusional. And that has nothing to do with you having an imaginary friend. It has everything to do with you trying to take my United States Championship. And like all Americans, failing miserably. And that's the truth." Truth starts up the ring steps. "You say that's the truth, huh? Well, maybe you'll understand what I'm saying. What I'm saying is.." Truth enters the ring. "When you kick my dog, I'm gonna kick your cat." Truth pounces on Cesaro, and the brawl begins. Cesaro is whipped off the ropes and Truth is prepared for a leg lariat, but Cesaro grabs the top rope to stop his momentum and bails out of the ring. He made it out with his satchel, but abandoned the title in the ring, to R-Truth's pleasure. Up next, Sheamus vs. Alberto Del Rio!

Sheamus vs. Alberto Del Rio w/Ricardo Rodriguez, the Black Scarf of Mourning and a $100,000 6-series BMW: Sheamus actually breaks his cross necklace on the way down to the ring. Del Rio and Rodriguez are fooling around as Sheamus enters the ring, mocking Sheamus for what happened earlier in the show. The bell rings, and the lockup follows. Sheamus powers Del Rio into the corner, but Del Rio turns it around. No break, Sheamus pulls him out of the corner with a headlock takedown, punches and kicks. Del Rio rolls out of the ring, and looks about ready to leave. He changes his mind and charges back into the ring, but Sheamus takes him to the corner. Punches there, but Del Rio comes back with a kneelift and a big kick to the gut. Running kick to the neck drops Sheamus in the corner, and Del Rio chokes him there. Del Rio goes across the ring. Does he want the stepladder enziguiri already? Maybe he does, but Sheamus gets his boots up to block, then hits a swinging neckbreaker. That gets one. Sheamus stomps away, then chokes Del Rio with his knee. Del Rio with a kick as he gets up, and he ties Sheamus' arm up in the ropes. Sheamus fires back with punches. Whipped off the ropes, Del Rio lands a kick, but Sheamus shrugs it off and lands a shoulderblock. Del Rio bails again, and Sheamus pursues to the announce table, slamming his head into it. Sheamus runs Rodriguez off, then throws Alberto back into the ring. Del Rio tries to attack as he gets back into the ring, but Sheamus lands a shoulderblock through the ropes, then a clubbing forearm to the back. Sheamus wants a suplex to the floor! Del Rio fights it off and hangs Sheamus up the top rope, then dropkicks his knees to send him to the floor. And here comes the Big Show to observe things. Del Rio nods to him, and we go to our last break.

We come back with Del Rio applying an armbar, and Sheamus fighting to his feet. Sheamus goes off the ropes, but is stopped and doubled over by a Del Rio kick. Del Rio follows that up with Seth Rollins' jumping stomp finisher, the Blackout! That's an injustice if ever I saw one! Del Rio picks the limp Sheamus up, and slams him down again. Del Rio to the second rope, and a moonsault (!) connects for two! Snap suplex by Del Rio for one. Another armbar applied, until Sheamus headbutts out. Sheamus puts Del Rio up on the top rope, but that's a mistake, as Del Rio grabs the cross armbreaker over the top rope! He holds it until four before breaking. Del Rio goes back up top as Sheamus staggers around the ring. He goes for the double axehandle, but runs into an Irish hammer and both men are down! Both men are up at five. Punch by Del Rio, retaliation by Sheamus! They trade punches, with Sheamus coming out on top, until Del Rio kicks him in the thigh. But Sheamus hits clotheslines anyway! Shoulderblock in the corner, and a running kneelift. Sheamus wants a powerslam, but Del Rio drops behind him and shoves him to the ropes. Del Rio charges and goes for a jumping something, so Sheamus ducks aside and Del Rio flies through the ropes, catching himself on the top rope before he can splatter on the floor. Sheamus is fine with that, as he pulls Del Rio up for the 10 count clubbering in the ropes! Sheamus suplexes Alberto back into the ring, then goes to the top rope himself. The battering ram connects! 1, 2, Del Rio kicks out! Sheamus wants the Irish Curse, but Del Rio elbows out and hits the Backstabber for two! Del Rio looks frustrated, but signals for the cross armbreaker. He picks Sheamus up, but Sheamus grabs him for White Noise. Del Rio slips out, so Sheamus charges for a Brogue Kick, but Del Rio ducks that too and Sheamus' leg gets caught up in the ropes. As he tries to extricate himself, Del Rio lands the stepladder enziguiri! Sheamus somehow kicks out at two! Sheamus looks dead, and Del Rio pounces to continue the attack. Del Rio climbs to the second rope again, but Sheamus rolls away from the second moonsault of the match, but Del Rio lands on his feet and rolls backwards to pop back up and charge Sheamus, but he runs right into the Irish Curse! Sheamus grabs his legs and turns him into the Texas Cloverleaf! Del Rio grabs at his kneepad in vain, but he's in the middle of the ring, and has no choice but to tap out. Sheamus triumphs! Big Show walks down to the ring clapping, entering the ring with title in hand. "Good job, Sheamus! Good job!" He sets the beld up in the corner, giving Sheamus a thumbs up. "Come hit me right here! I double dog dare you! Come on, you want to, don't you? Hit me right there!" Sheamus looks like he wants to. "You want me to hit you? You want me to hit you? I'll hit you, fella! I'll hit you!" Sheamus starts to call for the Brogue Kick! Big Show has his eyes closed, a smile on his face, but Sheamus reaches back to grab Ricardo Rodriguez and hurl him at Big Show, the flying ring announcer catching Show with a headbutt to the Little Shows. Sheamus poses for the crowd as Big Show clutches at himself. We're quickly working our way through all the no-contact loopholes, and there's still a whole week to go. But for tonight, we're out!
Promote this thread!
John Orquiola
Scrapple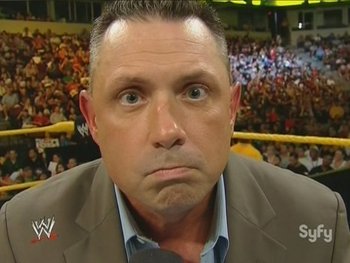 Since: 28.2.02
From: Boston

Since last post: 1450 days
Last activity: 1450 days

#2 Posted on | Instant Rating: 6.21
I liked The Shield's shaky cam promo, but you know, it could have used this. (youtube.com)

"The Shield brings the sword." CM Punk isn't the leader of the Shield. Nor is Paul Heyman. The guy behind the Shield is Norman Osborn.

Natalya is saddled with Khali and Hornswoggle now? She's one of the new Oddities? She was better off farting.


---

@CMPunk
"@ZackRyder: @CMPunk She played me bro" I got your back.
Matt Tracker
Scrapple



Since: 8.5.03
From: North Carolina

Since last post: 26 days
Last activity: 4 days

#3 Posted on | Instant Rating: 9.42
Kinda sad that Matthews/WWE feels the need to identify the members of 3MB in their post-match line-up. They've each been in sustained angles for a few years now. Drew was IC champ!


---

"To be the man, you gotta beat demands." -- The Lovely Mrs. Tracker