used2bcool
Potato korv



Since: 5.11.08
From: Framingham, MA

Since last post: 1 day
Last activity: 36 min.

#1 Posted on | Instant Rating: 9.38
The recap for WWE Raw 7/1/2013, live from Sioux City, IA.

- We start with an announcement that tonight we will have a champion v champion match, pitting Del Rio against Cena. Also, the rich history of both titles will be showcased.

Daniel Bryan opens the show proper, joining us to talk about how he proved naysayers wrong and proved to everyone that he's not the weak link. Bryan has a new "Fear the Beard" shirt, which I approve of. DB notes that he hasn't been champion for far too long, but now Sheamus interrupts to remind him how his last title reign ended. Sheamus promises to take no prisoners at MitB, but Bryan wants him to call 1-800-Fella and Brogue Kick himself in the face. Sheamus calls him a troll as Randy Orton joins festivities. He notes that he hasn't been champion even longer than these two, and that he's desperate. Bryan reminds him that he made Orton tap out last week, and Orton promises to drop him if he says one more word. Kane is out to promise that no one is safe and he and Bryan get into an argument, only to be interrupted by Christian. Christian points out that he has more ladder match experience than anyone in the ring and wants ONE MORE MATCH! Christian claims to be the best man in the match ("not the biggest, strongest, scariest, or hairiest"), and CM Punk (who promised himself he wouldn't do the predictable thing) is out to object to that. Punk puts over Van Dam and starts running through his opponents one by one, but Bryan wants none of that and promises to tap him out, just like he did Orton. Orton: "Don't say I didn't warn you." Bryan is about to eat an RKO, but Kane intervenes, and now Bryan has a problem with THAT, and Kane eats the RKO. Everyone else backpedals to safety as we end the segment with Orton's music. 1 for 1. Seems like you have to have one of these for each MitB, but the characters made this interesting.

Match 1: The Shield v The Usos and Christian
This is a rematch from SD where the faces beat the Shield. They go back and forth a little bit until Christian runs into a knee from Ambrose. He comes back and wants to hit his apron uppercut but Ambrose avoids it and the Shield take a breather, only to get hit by stereo dives. Back from a commercial, Rollins and Ambrose control one of the Usos. Reigns slams him off a counter to keep control but the other Uso breaks up the pin at 2. Ambrose mocks the faces but gets kicked for his troubles. Rollins comes in to stop the tag, but only does so temporarily, and they both go down off clotheslines. Christian gets the hot tag and cleans house, dumping Rollins in the process. Ambrose gets caught with the inverted DDT for 2, but Reigns wipes out both Usos, leaving Christian to get hung up over the ropes and rolled up in 10 minutes. 2 for 2. Started very dull, but picked up pace and ended up being fine.

Backstage, Kane is furious, but Bryan has a gift for him - a match against Orton tonight, but Bryan as a guest referee.

Match 2: Dolph Ziggler v Jinder Mahal (with the rest of 3MB)
Mahal tries to dominate with size and power but Ziggler runs circles around him and takes him down. Mahal gets two off a nice high knee, but Ziggler avoids the following charge and nails a dropkick. Mahal slams him down, but Ziggler escapes the Camel Clutch and finishes with the Zig Zag in 2 minutes. 2 for 3. Ziggler's pinballing makes him a joy to watch, but this was a total squash. Postmatch, Ziggler proves too quick for both Slater and McIntyre, and wipes McIntyre out with the Zig Zag at ringside.

Triple H has advice for Vickie: listen to the McMahons, let them talk it off, listen to everything they say, and then do what HE tells her to do.

Match 3: Kane v Randy Orton (Special Guest Referee: Daniel Bryan)
Orton is faster than Kane and so manages to avoid his early strikes and control the flow of the match. Bryan inserts himself between them to break it up in the corner, but Orton gets distracted off that and Kane is able to control. Kane hits his seated dropkick and grabs a chinlock, but Orton fights out and hits a Thesz press. Orton stomps away but a slugfest is won by Kane and he suplexes (!) Orton over and dumps him. Back inside, Orton traps him in the corner and starts punching. Bryan pulls him off once, but the second time Orton pushes him off and gets disqualified! Kane doesn't want that, so he has Bryan restart the match, only for Kane to get dropkicked out of the ring. Back from a break, Kane controls with another chinlock. Orton's comeback ends in a sidewalk slam, but Kane jumps right into a dropkick on the follow. Orton with the usual, but Kane escapes the Vintage DDT. Orton stops the Chokeslam with the inverted backbreaker and gets the DDT this time, but Bryan stops the RKO by getting between Orton and Kane! Orton shoves him aside, but Kane boots him in the face and a super-fast three count wins it for Kane in 7 minutes. 2 for 4. The match played second fiddle to the storyline. Kane argues with him post match and is tempted to chokeslam him, but lets him go only for Orton to nail DB with the RKO.

CM Punk expresses his distrust for Curtis Axel, but Paul Heyman invokes the whole "that's what they said about you in developmental" argument and Punk decides to go along with it. Punk promises to beat both Primetime Players by himself.

Match 4: Fandango (w/ Summer Rae) v Sheamus
Sheamus keeps charging him, but Fandango has nimble feet and is able to avoid him. And dance. But Fandango's charge meets the same fate and now Sheamus has a turn to shimmy. Fandango runs into a suplex and Sheamus chucks him into the corner to beat on him some more. Fandango gets some chops in, but Sheamus nails him with the battering ram and the high knee, and Fandango bails. Sheamus follows by tossing him into the barricade, but Fandango temporarily escapes with a kick to the head. Fandango unleashes some knees to the head after he traps Sheamus with a headlock, but Sheamus hurls him into the corner to hit some more rights. Fandango escapes only as far as the apron, and Sheamus nails him with the clubbing blows, and now Fandango has had enough and takes the countout loss in 6 minutes. 2 for 5. The match was okay, if not particularly great, and that finish sucked.

Match 5: The Miz v Ryback
Chris Jericho is on commentary for this. Miz tries to outmaneuver him in the early goings, but once Ryback gets his hands on him, he's in a world of pain. Ryback beats him into a pulp for a bit, including standing on his head, until Miz fires back with some rights. That lasts for about three seocnds, though, and Ryback decks him down in one hit. Miz makes the proper comeback by taking the legs out from underneath the big guy, but Ryback avoids a dive. Miz trips him into the Figure-Four, but Ryback has enough strength left to kick him off. Miz goes medieval on the leg in the corner and dropkicks the leg, and Ryback now wants the match stopped, and he gets his wish at the 5-minute mark. What?! That was ridiculous. Surely Miz did not need to win that. Postmatch, Jericho hits the limping Ryback with the Codebreaker. 2 for 6. Nothing match, and a really bizarre finish to boot.

Mark Henry is out to talk about respect. Henry talks about earning the title of the World's Strongest Man and retaining it for 17 years. He goes off on a tangent about politics and backstabbing, claiming he's never had a legitimate opportunity to be WWE champ. Henry talks about all his years in the business, doing the right thing, and paying his dues, and how that didn't get him anywhere. "Dammit, I deserve to be WWE Champion!" Mark claims that the crowd are a bunch of puppets, but that will not stop him from taking what is his at the MitB pay-per-view. Once he beats Cena, no one in the world will deny him. "God, that Mark Henry, he EARNED that WWE Championship!" He wants Cena to know, he's going to beat his ass. 3 for 7. Not as smooth as Mark's previous promos, and I think he was bugged by the "what" treatment right out of the gate, but then recovered in time to get the message across. Mark's got a new shirt too, looks like it's new-shirt-debut night.

Vince McMahon drops in on Vickie Guerrero, seemingly to praise her about the big match tonight, but then turns on her and chides her for giving such a marquee matchup on free TV. Oh, those wacky McMahons.

Match 6: CM Punk and Curtis Axel (w/ Paul Heyman) v PrimeTime Players
Punk wants Axel to stay out, but he tags himself in to start. Axel beats on Young, but Punk just wants into the match. And Sioux Falls agrees. Titus comes in and Axel wins out initially against him, but the tide turns as the PTP double team him down. Quick tags and Titus grabs an abdominal stretch as an irate Punk looks on. PTP keep taunting Punk as they dominate Axel, but Titus misses with a charge and eats boot. Punk gets hot tagged and he cleans house. High Knee and clothesline set up the Savage Elbow on Young. GTS hits on Young, but now Axel tags himself back in and steals the win in 8 minutes. Punk's expression as he Axel tagged himself in and he realized he'd been cheated out of this win was priceless, but it's not good enough to save this match from being a miss. 3 for 8. Heyman, seemingly oblivious to Punk's trials, wants him to join the victory celebrations, but Punk wants no piece of that.

Match 7: Kaitlyn v Alicia Fox
Fox controls early on and snaps off a nice looking tackle and a Northern Lights suplex for 2. Alicia misses with a senton, though, and Kaitlyn hits the spear for the 3 count in 2 minutes. Squashariffic. Post match, AJ is out to object to the "assassination of chatracter" by Kaitlyn last week. AJ reiterates that Kaitlyn is trash and shows a photoshopped picture of Kaitlyn's face on a large woman's body. AJ says this was necessary to remind Kaitlyn where she came from, and where she will be going once AJ is done with her at MitB. 3 for 9.

Poor Vickie Guerrero just can't catch a break - she vents to Stephanie this time, but that only sets up a job review next week for Raw. Oh joy. I remember how much fun that was the last time we got one of those.

The Rhodes Scholars make their way to the ring, and Sandow promises unity between them despite both being in the WHC ladder match. Rhodes claims that he and Sandow are the last men of character and promises never to lower himself to our level. Zeb Coulter is out to tell America to wake up because we don't even know when Congress passes more bills to allow illegal immigrants into the country. He introduces Cesaro and Swagger, and wants us to choose sides in the upcoming revolution.

Match 8: Antonio Cesaro v Cody Rhodes
Rhodes runs into a gutwrench suplex to start, but escapes a backdrop suplex and boots Antonio in the face. Cesaro tries a cheap pin, but Cody rolls out to take a breather. Cesaro follows him, but Cody drops him with a jawbreaker. Back inside, Cesaro escapes a suplex and finishes with the Neutralizer in 2 minutes. 3 for 10. Somehow, Sandow is completely oblivious to what just transpired.

Brie and Nikki Bella confront Eva Marie and JoJo, and it turns into an elongated promo segment for their upcoming TV show. Natalya, Alicia Fox, and another diva I cannot identify join the frey...but nothing much happens.

The Wyatt Family are debuting next week. About time.

Match 9: Alberto del Rio (World Heayweight Champion - without Ricardo Rodriguez) v John Cena (WWE Champion)
They lock up and Cena has the advantage with a hiptoss and a snapmare, but ADR fires back with a hiptoss of his own. Cena suddenly has him up for the AA, so del Rio slips out and heads outside to think about it. Back in, Del Rio controls with kicks, but Cena turns a suplex attempt into his own suplex and follows with a bulldog. ADR evades a corner charge, though, and Cena hits the post. ADR capitalizes and beats on the arm/shoulder, but Cena avoids a dropkick and ADR falls outside as we go to break. Back in, del Rio controls with a chinlock, but Cena powers out, only to run into a knee and a forearm. He intercepts a jumping ADR with a dropkick, and starts the usual, but ADR avoids the shoulderblock. Multiple baseball slides land Cena to the outside, but ADR is too slow to follow up and gets hotshotted (hotshot?). Cena starts the Five Moves of Doom, but ADR escapes the Blue Thunder bomb with a lung blower. Cena stops the cross armbreaker and gets the Five Knuckle Shuffle, but runs into a bridged German for 2. Cena comes back with a suplex of his own and heads up, but ADR brings him down with a gorgeous Enzuigiri. Del Rio wants more, but this time he lands in the STF, but slips out and catches Cena with a tilt-a-whirl backbreaker. Cena gets trapped in the tree of woe, but avoids a charging Del Rio, who goes into the post. Cena sets himself up but ADR jumps onto him with a crossbody for 2! Del Rio wants the cross armbreaker, but Cena counters into the STF! Now Mark Henry walks out and Cena gets distracted, allowing Alberto to hit his sliding superkick. That only gets 2, and Ziggler runs down and perches himself on the turnbuckle. Del Rio wants the armbreaker again, but now he finally sees Ziggler and the distraction is enough for Cena to catch him with the AA for the win in 16 minutes. Solid, solid action, especially the wonderfully-crafted finishing sequence. I don't get the clean loss for Del Rio, though - this is the one match on the card where it would've been justifiable to have a non-finish. 4 for 11.

Cole reminds us once again that the Wyatt Family are coming next week, and we're done for the day.

Wrestling Counter: 58 minutes.

That show dragged mightily. We got a nice opening and a decent couple of matches at the top of the first hour, and that fantastic main event, but everything in-between just went on for an eternity.

(edited by used2bcool on 2.7.13 1040)
Promote this thread!
It's False
Scrapple



Since: 20.6.02
From: I am the Tag Team Champions!

Since last post: 398 days
Last activity: 187 days

#2 Posted on | Instant Rating: 6.38
Good thing I didn't slap that "Submit reply" button, because I had something ready to go at this exact second. Let's copy and paste...

----------------

No Raw thread makes me sad, especially since the show's been on a hot streak lately.

The show immediately pushed my buttons by booking Cena/Del Rio in a Champion vs. Champion that they could easily be saving for a PPV, because...you know...I assume they care about MONEY. But later in the show, Vince McMahon actually pops up in Brickie's dressing room and points this exact fact out, making me think they're being completely self-aware or they're finally moving towards putting an end to Brickie, once and for all. To convince me of the latter, Stephanie McMahon popped up and booked a formal job evaluation for next week. The GM has served almost ZERO purpose all year and I have to imagine that whole concept gets mercifully killed next week. Come on, guys, the evil authority figure (hell, the authority figure, in general) has had a great run, but it's finally time to end it.

The aforementioned Cena/Del Rio match turns out to be really good, as the awesome main event streak continues. Mark Henry comes out to watch the match, distracting Cena during the shitty STF. Dolph Ziggler counters by running out and standing on the turnbuckle in a great big "LOOK AT ME!" gesture, distracting Del Rio long enough to fall to the AA. Didn't love the ending, but I understood it.

Elsewhere, we got the standard promo with all the Raw ladder match participants, sans RVD, who did get a shoutout from CM Punk. Bryan picked a fight with everyone, drawing in Orton. Kane got between them and Bryan took umbrage to Kane babysitting him. The distraction was enough for Orton to destroy Kane with the RKO. This led to Kane/Orton with Bryan as the special ref, which ended with Kane winning on a Bryan fast count. Hell No briefly exploded before Kane simply left, which then ended with Bryan taking the RKO, as this angle continues to get more interesting.

Fandango returned from his concussion. Unfortunately, it was against Sheamus. Sheamus basically squashed him until Fandango took a walk.

Ryback faced The Miz in what was sure to be a walk in the park for Ryback. This one went five minutes with...The Miz beating the shit out of Ryback until he quit? Um...what? Post-match, Jericho beats up Ryback for fun. What the hell was that? I know thecubsfan was saying that the shine's off Ryback, but I had no idea the situation was THAT bad.

The Prime Time Losers served their role well enough in losing to Punk and Axel. Punk looked to polish off Young with the GTS, but Axel blind tagged and stole the pin. Punk was annoyed, as you might imagine, and Heyman continues to do a great acting job here, simply wanting Punk to celebrate, like old times. This angle continues to amaze.

Cody Rhodes (w/Damien Sandow) faced Antonio Cesaro, who came out with Zeb Colter and the returning Jack Swagger. All of these guys are heels and that means DEATH for the live crowd. Did The E book the WHC MITB match specifically for that Philly crowd? I can respect that, but they're going to have a hell of a time building to it. I still think Ambrose winds up being the de facto face in that one.

RVD's return is apparently coming this Friday on SmackDown. They are DESPERATELY trying to give people reason to watch SmackDown these days, but they just aren't getting it. It still feels like a chore to sit through after a long, three-hour Raw. The enthusiasm just isn't there anymore.

And finally, they're going all-in on the Wyatt Family, heavily hyping their debut for next week. In fact, the show ended on a Wyatt Family vignette. They appear to be VERY serious about them and if they really are getting behind them this early in the game, this is going to be GLORIOUS!

This show couldn't match the amazing efforts of the last two weeks, but it wasn't a bad show by any stretch. A lot of this show can be blamed on that godawful crowd. Not sure where Raw was being held tonight, since Cole never really said at any point, but I can't imagine them ever having another show there again.

(edited by It's False on 2.7.13 0016)
---
lotjx
Scrapple



Since: 5.9.08

Since last post: 4 hours
Last activity: 40 min.

#3 Posted on | Instant Rating: 1.12
I think they are getting rid of Vickie to justify more McMahons on TV. I have zero desire to see HHH/Vince at SummerSlam or Mania or Raw or at a Denny's near me. Not sure why Ryback looked liked a bitch or why Cena pinned ADR clean? I love the Punk/Axel stuff.


---

The Wee Baby Sheamus.Twitter: @realjoecarfley its a bit more toned down there. A bit.
Spiraling_Shape
Lap cheong



Since: 2.1.02
From: PA

Since last post: 3 days
Last activity: 4 hours

#4 Posted on | Instant Rating: 6.73
According to those last promos, Bray Wyatt = Jacob? Their first feud will be against John Locke? Still, that last second cut to a split second of the sheep mask was legit scary.

I also loved Ambrose's reaction after pinning Christian, he just pops up and essentially goes "Well that's that!"

Punk with the line of the night to his MITB opponents - "We're all jerks."

The title history bits were nice.

Photoshop on the TitanTron is never funny, AJ. Animaniacs references on RAW *are* appreciated, though.
PowerPB13
Landjager



Since: 25.4.02
From: Belleville, IL USA

Since last post: 27 days
Last activity: 4 hours


AIM:
#5 Posted on | Instant Rating: 2.00
JBL had a great line about how Cesaro already knew five languages and was now "learning Dutch".


---

-PB
Then: http://www.nwwwo.com/
Now: http://www.facebook.com/patrickab7
El Nastio
Boudin blanc



Since: 14.1.02
From: Ottawa Ontario, by way of Walkerton

Since last post: 5 days
Last activity: 2 hours


ICQ:
#6 Posted on | Instant Rating: 3.41
Originally posted by lotjx

---

I think they are getting rid of Vickie to justify more McMahons on TV. I have zero desire to see HHH/Vince at SummerSlam or Mania or Raw or at a Denny's near me.

---


I think what is more likely is Triple H and Vince both picking a champion to fight on their behalf, which could be how we get Bryan vs Cena for Summerslam, possibly set up with MITB being used in advance.

It's not an accident you have Vince saying those things about Bryan twice in one week.


---
"You can't put a price on integrity"
Matt Tracker
Scrapple



Since: 8.5.03
From: North Carolina

Since last post: 4 hours
Last activity: 46 min.

#7 Posted on | Instant Rating: 8.83
Daniel Bryan clanged off the rim in that opening segment. it never picked up the momentum it should have, and it left everyone not Kane, Bryan, and Orton left to hang.

Seth Rollins is stealing every Shield match. That dive on Smackdown. The Samoa Joe "spinziguri" on RAW. I also love the Usos. Their title match could steal the PPV.


---

"To be the man, you gotta beat demands." -- The Lovely Mrs. Tracker
Amos Cochran
Lap cheong



Since: 28.8.09

Since last post: 1001 days
Last activity: 1001 days

#8 Posted on | Instant Rating: 4.74
It could steal the PPV preshow, you mean.
Matt Tracker
Scrapple



Since: 8.5.03
From: North Carolina

Since last post: 4 hours
Last activity: 46 min.

#9 Posted on | Instant Rating: 8.83
Originally posted by Amos Cochran

---

It could steal the PPV preshow, you mean.

---


It's not even on the PPV?! Well, fuck that.


---

"To be the man, you gotta beat demands." -- The Lovely Mrs. Tracker
used2bcool
Potato korv



Since: 5.11.08
From: Framingham, MA

Since last post: 1 day
Last activity: 36 min.

#10 Posted on | Instant Rating: 9.38
Originally posted by Matt Tracker

---

Daniel Bryan clanged off the rim in that opening segment. it never picked up the momentum it should have, and it left everyone not Kane, Bryan, and Orton left to hang.

---


Spot on. The crowd don't always react to his promos the same way they react to his matches. I think part of that has to do with the gap in his in-ring persona (tough headkicking badass) and character (paranoid, borderline douchy goofball).

In any case, the crowd this week just didn't seem to be into promos much. The played along with Bryan for about 2 minutes at the start and then seemed to lose interest until CM Punk brought up RVD, and chanted "WHAT" at Mark Henry as soon as he came out.
SKLOKAZOID
Lap cheong



Since: 20.3.02
From: California

Since last post: 1 day
Last activity: 3 hours


AIM:
#11 Posted on | Instant Rating: 7.44
Great main event. And I agree that they really could have done a non-finish and it would've been okay. I think every time they've had the WWE Champion and the World Champion face each other and there's been a winner, the WWE Champ has gone over (Punk beat Sheamus twice) with the exception of the non-finishes for Punk-Bryan. It's obvious which title is superior, but they should at least make it competitive so it's a big deal the next time they have one. Del Rio could have won via screwjob this time, or they could have done a DQ of some kind.

It's really surprising how much time they're giving Daniel Bryan even when Cena and Punk are around. I'm not complaining too much, as it's good to give another star weight that the others have, and have had, for a while. Still, I hope they're not expecting Bryan to be popping ratings yet. He needs to do something big first, at least like winning MITB again, because right now he's a guy who says he's important. Not a guy who actually is important.

Being a previous MITB winner and World Champion 2 years ago isn't enough. He needs to do something in 2013. Bryan needs to do something relevant besides just talk. Even Austin had to win KOTR before people were actually listening to him. Punk at least had his world title match with Cena already booked, which led to his shoot promo. Once Bryan wins MITB and is an actual threat (hopefully for SummerSlam), then the pressure is really on him.

I like Punk-Axel as a temp feud till Punk-Lesnar. One thing that WWE has been doing that's smart lately is having TV mini-feuds (HHH-Axel, Bryan-Orton) and PPV feuds. It's a good way to keep the weekly shows entertaining and add some importance to matches while also keeping the PPV opponents away from each other.

Rest of the show? Meh, but RAW still isn't as bad as it was for a while.

(edited by SKLOKAZOID on 2.7.13 1252)
John Orquiola
Scrapple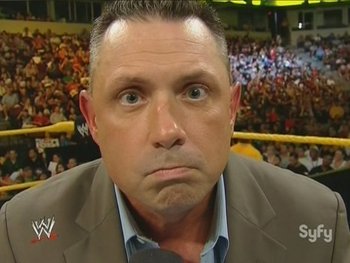 Since: 28.2.02
From: Boston

Since last post: 1185 days
Last activity: 1185 days

#12 Posted on | Instant Rating: 6.34
Big E.'s shirts continue to be a highlight of RAW. He should consider opening up a Rent A Swag a la Tom Haverford on Parks and Recreation.

Oh. As I was looking for a different Big E. tweet to embed, I saw he already made a similar joke.



This is the one I wanted to embed:





---

"Cody, I mustache you a question." - The Miz
LostInUbe
Cotechino



Since: 19.11.02
From: Ube, Japan

Since last post: 630 days
Last activity: 262 days

#13 Posted on | Instant Rating: 2.53
Well, this explains no Ricardo:

Ricardo Rodriguez suspended for 30 days
http://www.wwe.com/inside/ricardo-rodriguez-suspended-26128277


---

http://lostinube.blogspot.com/
http://twitter.com/lostinube
Cerebus
Scrapple



Since: 17.11.02

Since last post: 85 days
Last activity: 81 days

#14 Posted on | Instant Rating: 1.41
What the fuck is up with Ryback? I was kinda finally getting into him and now they're shitting all over him. Did he do something stupid to Vince back stage or something, cause he's fallen very far in a very short span of time.

I'm hoping Vickie will tell all the McMahons to go to hell next. Her character needs to 'Man Up' and stop listening to any of them. Of course, this will not happen.

Actually thought this was another good show. Three in a row.


---

Forget it Josh... it's Cerebustown.
Lexus
Bierwurst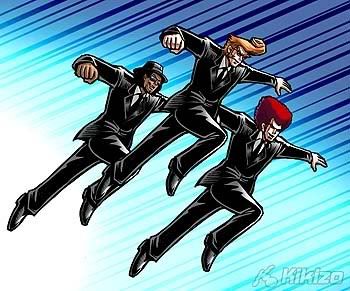 Since: 2.1.02
From: Stafford, VA

Since last post: 5 days
Last activity: 4 days


AIM:
#15 Posted on | Instant Rating: 5.75
Originally posted by lotjx

---

Not sure why Ryback looked liked a bitch or why Cena pinned ADR clean?

---


It was after Ziggler's very facelike distractiferance from the top rope. Not really 'clean' to me, but to each their own.

Show was good. Can't complain.


---

"Laugh and the world laughs with you. Frown and the world laughs at you."
-Me.
dMp
Knackwurst



Since: 4.1.02
From: The Hague, Netherlands (Europe)

Since last post: 12 days
Last activity: 8 hours

#16 Posted on | Instant Rating: 7.88
It was an okay show that seemed to go on forever.
Maybe it was the fact that there was no Bryan match that everything seemed a bit slow.

I can't help but notice they suddenly keep Ziggler and AJ/Big E apart.

Ryback becoming a whiner. Ugh. I actually liked the direction they gave him when he challenged Cena. Delusional but still an asskicker. Now? I dunno.

The skits with Vickie and the McMahons did amuse me somewhat. Especially HHH when he told her to listen to everything but not do anything they say.

Part of me fears that the Wyatt Family is going to come in and lay the McMahons and/or Brickie to waste.
I think I'd prefer it more if these guys were allowed to come in and crush the lower card left and right, giving time for Bray to cut his promos and the crowd to get into it slowly but surely.

used2bcool
Potato korv



Since: 5.11.08
From: Framingham, MA

Since last post: 1 day
Last activity: 36 min.

#17 Posted on | Instant Rating: 9.38
Well, after all the hype, I wouldn't be very surprised if creative feels that feeding them the lower card wouldn't quite live up to it. That might lead to a Shield-like entry, where they start laying waste to the top of the card instead of the bottom.

In my opinion, that would be a horrible decision because the Wyatt Family and Shield operate on totally different MOs. The Wyatts seem more promo-oriented, and the Shield were always going to be wrestling-oriented given that they had Ambrose and Rollins as two of the three members. What little I have seen of the Wyatts by way of NXT matches on youtube is not very impressive wrestling-wise.
Amos Cochran
Lap cheong



Since: 28.8.09

Since last post: 1001 days
Last activity: 1001 days

#18 Posted on | Instant Rating: 4.74
Ah, Big E. A man after my own heart - I would fight him for Big Kaitlyn. Surely they need to rehire Kong as his girlfriend? They could win the tag titles!