used2bcool
Merguez



Since: 5.11.08
From: Ashland, MA

Since last post: 610 days
Last activity: 284 days

#1 Posted on | Instant Rating: 9.12
From Uniondale, NY.

The theme of this show was qualifying matches for the MitB matches, which are apparently gender-specific and dual-branded. A bunch (and I mean a bunch) of people staked their claim for a place in the matches, so we're either getting 10-people clusters, or another MitB match is being added. Rumors indicated advertisements that featured three briefcases, and it might be an interesting idea to have tag teams go at it - which would also explain the brief backstage promos we got from the Ascension and Breezango (who are no longer attached to each other, it seems. I'm sad.)

Back to the qualifying matches, the show closed with a triple threat between Grinny Finn (who earlier cut a promo in which he grinned a lot), Roman Reigns (who claimed to be the "uncrowned" Universal champion, right as Coach praised him for not being stuck in the past and moving forward), and Sami Zayn (who had his own issues with KO). The match was fine for what it was, and Finn won after Jinder Mahal interfered to cost Reigns. Considering that Braun won his qualifier earlier (a decent match against JTTS Kevin Owens), this should free up Roman to get his 1,238,928th shot at Brock at MitB. The crowd, which was uneven all night, seemed more interested in booing Reigns than anything else, and the biggest pop of the night was when Zayn and Finn briefly teamed up to lay the boots to him. Jinder got huge cheers for his role in the finish, and their upcoming feud, as one-sided as it will be, should be fascinating to watch for two reasons: the reactions, and speculation about whether Reigns can get a decent match out of Mahal.

The best of the qualifiers was easily the women's triple threat between Ember Moon, Sasha Banks, and Ruby Riott. All three girls brought the intensity and really sold the stakes. Ember looked especially good, and the snap and athleticism of her moves was impressive. The finish came when the Riott Squad inserted itself into the match, only for Bayley to come down help out Banks and give her this exasperated nod that perfectly encapsulates how I feel about this feud - which has been a great example of how poor writing can torpedo a performer's reactions. Banks no longer gets that guaranteed entrance pop and crowd investment in her seems to be on the decline. And that's not just from last night (when the crowd did a disservice to the best match of the night by being distracted throughout), it has been an ongoing trend. Anyway, Ember won with a double Eclipse and booked herself a place on the PPV.

Seth Rollins opened up the IC Title Open Challenge with a win over Mojo Rawley. Mojo was alright in the spotlight, but a step down considering Rollins' level of competition over the last month or so. It seems Chad Gable would be an ideal opponent for Rollins to have a long match and tear the house down, and I wouldn't be opposed to a Johnny Wrestling appearance, a la Sami Zayn as one of Cena's open challenge opponents. Meanwhile, Bobby Lashley got a backstage interview about how his sisters toughened him up, but it felt contrived and went too long. I think they're going for the wholesome face, which works with Lashley's chiseled features and soft voice, but they're going to need to do a lot more work to bring the crowd back with him. Also, why is it that WWE's faces delight in committing bully-ish crimes? Braun mentioned in his promo that he knocked down a tree with a treehouse that contained a bunch of kids, which sounds like several counts of attempted murder, and Lashley talked about stuffing papers down a dude's throat. Like can't these MASSIVE dudes do something a little more... legal?

There were a few filler matches that happened: Baron Corbin and the Revival won a 6-man tag against Titus Worldwide and No Way Jose, Jinder Mahal got his win back against Chad Gable, Dolph and Drew demolished Slater and Rhyno, Bobby Roode beat Elias, and the Deleter of Worlds beat the Miztourage. The crowd didn't particularly care about any of these, and neither did the commentary.


---

In a coat of gold or a coat of red, a lion still has claws
And mine are long and sharp, my lord, as long and sharp as yours!
Promote this thread!
Lexus
Andouille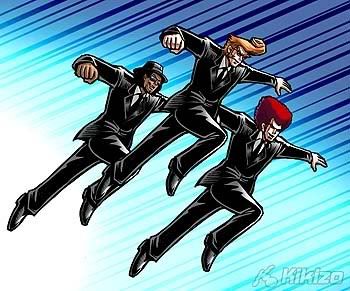 Since: 2.1.02
From: Stafford, VA

Since last post: 205 days
Last activity: 73 days

#2 Posted on | Instant Rating: 6.23
Originally posted by used2bcool

---

Braun mentioned in his promo that he knocked down a tree with a treehouse that contained a bunch of kids

---


He's a Captain Planet villain.


Originally posted by used2bcool

---

Lashley talked about stuffing papers down a dude's throat.

---


At least he's recycling/reusing paper.

Either way, the power is yours.


---

"Laugh and the world laughs with you. Frown and the world laughs at you."
-Me.