Karlos the Jackal
Lap cheong



Since: 2.1.02
From: The City of Subdued Excitement

Since last post: 212 days
Last activity: 35 min.

#1 Posted on | Instant Rating: 8.00
The challenge this week is "Rock 'Em Sock 'Em Rookies," a tournament wherein the rookies stand on a big inflatable mat with two wobbly pedestals and try and knock each other off with big boffer-style jousting sticks.

I missed the first ten minutes or so, but the internet tells me:

Heath Slater beats David Otunga
Skip Sheffield beats Wade Barrett
Daniel Bryan beats Michael Tarver -- Tarver drops his stick, forfeiting, because he doesn't want to play
Darren Young beats Justin Gabriel

Video package with the pros opining on Wade Barrett -- they all like him, from what I saw.

David Otunga vs. Justin Gabriel: R-Truth tries to tell Otunga something as Otunga gets in the ring, but Otunga angrily says something back to him (probably "aren't you supposed to be exploded?") and then ignores him. Otunga uses his power but Gabriel is slippery. Gabriel hits a big somersault dive over the ropes and onto Otunga on the the floor -- and R-Truth nods approvingly! Hmm.

Josh Matthews tells us that R-Truth and Otunga haven't been getting along. In the ring, Gabriel goes for a sunset flip which has Otunga reaching out his arms to R-Truth, pleading for assistance; R-Truth raises his hands as if to say "you're on your own." Gabriel completes the flip and gets the pin. R-Truth walks up the ramp, leaving Otunga in the ring.

Sheffield and Slater in the semi-finals of Rock 'Em. Sheffield wins easily. Slater is all "BUH WUH WHAT" *hair flip*.

And Young and Bryan are up next in the tournament, with Bryan falling first. NOT SO EASY WHEN THE OTHER GUY DOESN'T JUST GIVE UP, HUH, BRYAN? Michael Cole laughs and laughs. (Matthews mocks him in turn by letting us know that Cole calls his fans "Cole Miners.")

Tarver comes out, with an approving Carlito, to cut a promo, challenging any NXT member -- rookie or pro -- to a match. Skip Sheffield answers.

And then, so does Darren Young, accompanied by the Straight Edge Society. CM Punk has a mic and lets us know that basically, we've been seeing his version of "tough love" -- that this is his way of keeping Young -- and Luke Gallows, for that matter -- on their toes. Gallows spends the whole promo staring daggers at Young.

Michael Tarver vs. Skip Sheffield vs. Darren Young: Tarver and Sheffield team up on Young, but this pairing predictably breaks down once they start going for covers. Young eventually throws Sheffield out of the ring -- a canny move in a triple threat, the announcers note -- and goes up top while Tarver is supine. Gallows shoves Young off the top! But EVEN THEN Tarver can't capitalize -- Young hits his finisher, which I think of as a "Dragon Flapjack," for the win!

Another video package featuring comments from the pros, this time on Heath Slater. They find him "over-the-top," and Regal admits to being baffled by him. The Miz -- who should know -- calls him annoying and obnoxious, but says that he's so idiotic that you kind of want to see what he'll do next.

Rock 'Em Sock 'Em finals with Young and Sheffield. Skip is strong enough that he can hold the boffer by one end, swinging it like a broadsword and increasing his reach. He uses this tactic to knock Young off the pedestal, but loses his own balance in the process. He's declared the winner!

NO WAIT ROCK 'EM SOCK 'EM DUSTY FINISH. Too close to call, they've decided, and they go again. This time Sheffield wind handily.

Heath Slater vs. Chris Jericho: It's ALL Jericho until he misses a lionsault and allows Slater to get a little offense in. Jericho takes over again and goes for the Walls, but when he ducks his head to turn Slater over, Slater grabs it and rolls him up -- 1, 2, 3! Slater has pinned Jericho clean as a sheet!

Jericho is FURIOUS, calling for a do-over and screaming at the ref: "YOU'RE STUPID! YOU'RE STUPID!" Shocking upsets are one thing, but it seems like the rookies are racking up a pretty impressive win average over the pros -- at this point it'd be almost more surprising if a pro won!

--K


---
Last 5 movies seen: Crazy Heart ***1/2 - 44 Inch Chest **1/2 - The Lovely Bones **1/2 - The Young Victoria *** - XXY ***
Promote this thread!
It's False
Scrapple



Since: 20.6.02
From: I am the Tag Team Champions!

Since last post: 171 days
Last activity: 2 days

#2 Posted on | Instant Rating: 4.33
So Daniel Bryan can't even win a faux-American Gladiators event. So all this losing he's doing...how's this supposed to get him over again?


---

OoOoOoh~!
Kevintripod
Banger



Since: 11.5.03
From: Mount Pleasant, Pa.

Since last post: 5 days
Last activity: 15 hours


AIM:
#3 Posted on | Instant Rating: 4.79
Seems funny that the stool on the right was alot more wobbly than the one on the left. And it was a little shorter too.

(edited by Kevintripod on 21.4.10 0635)

---
JimBob Skeeter
Lap cheong



Since: 2.1.02
From: MN

Since last post: 1 day
Last activity: 7 hours

#4 Posted on | Instant Rating: 4.61
I was disheartened to see that this thread wasn't subtitled "YOU'RE STUPID~!" Holy crap, that made me laugh.
John Orquiola
Scrapple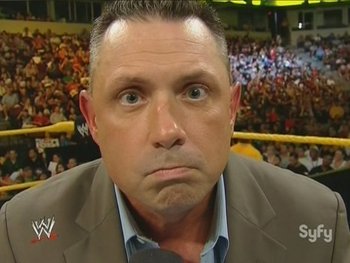 Since: 28.2.02
From: Boston

Since last post: 761 days
Last activity: 761 days

#5 Posted on | Instant Rating: 5.52
I appreciate how WWE is giving me more reasons to mock David Otunga. The last time someone was pinned by a normal sunset flip, Ronald Reagan was still in the White House.

Jericho was pretty funny and accurate in Slater's video package: "The moment I see him, I can't stand him." That's how the English fans felt about him as well last week.

The little girls screaming for Justin Gabriel makes me glad NXT isn't won by a fan vote. Not that I mind Gabriel, but as an adult male, I frown on a John Cena 2.0 situation.

For those who don't follow on Twitter, the lack of Daniel Bryan jobbing in the ring this week can be attributed to him being very ill for the last several days.

Skip Sheffield is back to being a face, sort of. Sheffield took over wwe.com immediately after NXT went off the air, so you might want to avoid their site for the rest of the day unless the Cornfed Meathead is your thing. Wut it do yep yep yep.


---

@BackoftheHead
www.backofthehead.com
dMp
Banger



Since: 4.1.02
From: The Hague, Netherlands (Europe)

Since last post: 1 day
Last activity: 11 hours

#6 Posted on | Instant Rating: 5.71
Originally posted by John Orquiola

---


The little girls screaming for Justin Gabriel makes me glad NXT isn't won by a fan vote. Not that I mind Gabriel, but as an adult male, I frown on a John Cena 2.0 situation.


---


I'd say it's more of a Hardy thing.
Obviously it's why they teamed him with Matt.
I think this was already mentioned after week 1. His style and look just screams hardy Boyz 2.0


---
Spiraling_Shape
Lap cheong



Since: 2.1.02
From: PA

Since last post: 3 days
Last activity: 3 hours

#7 Posted on | Instant Rating: 0.92
Re: R-Truth "blowing up," there was a sign in the crowd that comically said "R.I.P. R-Truth," which amused me. Also I think Truth was letting Otunga sink or swim on his own and just refused to help him Cheat To Win by grabbing his arms for leverage.

Matt Striker was so close to saying "Gladiators ready!" at one point...


---

"Unless you did something unspeakable with a cactus, 'Shaqtus' is not a real word." - Santino Marella
StaggerLee
Scrapple



Since: 3.10.02
From: Right side of the tracks

Since last post: 7 days
Last activity: 4 days

#8 Posted on | Instant Rating: 1.63
Originally posted by It's False

---

So Daniel Bryan can't even win a faux-American Gladiators event. So all this losing he's doing...how's this supposed to get him over again?

---


Ever hear of Tommy Dreamer?
The Game
Boudin rouge



Since: 5.5.09

Since last post: 1026 days
Last activity: 1026 days

#9 Posted on | Instant Rating: 1.99
I will say I haven't seen anyone in quite some time win with just a Sunset Flip until Gabriel pinned Otunga.

I like the pro video packages how they viewed Barrett and Slater; everyone seems to like Barrett but the words were a little harsher towards Slater. The only person I can't stand more than Slater is Tarver now because he is absolutely doing nothing and has done nothing and this is supposed to add to his "pitbull off the leash" persona?

It seems now that Darren Young and the SES are in an interesting storyline whereas Luke Gallows is now jealous of not being CM Punk's favorite pet. I am actually liking the angle the WWE is doing on this because it is now putting some relevance on Young and I wouldn't be surprised to see a swirve in the future (such as Young replacing Gallows and being a part of the SES or something of the other....).

As for the competition, they just have no relevance and keep from adding any real reason why this should be on NXT (though the mic skills last week I dare say was the most relevant competition). It seems like these "challenges" are something out of a Smackdown game to improve a created wrestler's stats and nothing more.

As for the upset from Slater over Jericho, it does seem more common now to see a rookie upstage a pro. As Karlos the Jackal pointed out, it is become the norm and the average for a rookie to get a win over a pro and at this point, is pretty much expected every week now.
emma
Cherries > Peaches



Since: 1.8.02
From: Phoenix-ish

Since last post: 126 days
Last activity: 4 days

#10 Posted on | Instant Rating: 8.43
Y'all really hate the *hair flip*, dontcha? :-) Now, y'see, I'm really liking Heath Slater!

At the very beginning, the haircut was bad, but we got that tuned. (Reminds me of when Christian first cut his long hair, but had a Bad Haircut. Once that got under control, it was fine.) And also, at the beginning he was way too over the top -- but that's also getting dialed back. It takes work to bring up the natural personality, rather than faking a hyper-personality. I notice that he's much more natural when he's interacting with Christian -- I get a vibe of Christian reminding him to relax & enjoy himself.

Given that exactly one guy did well in the ad hoc promo challenge last week, & 4-5 of them bombed horribly, Heath's "eh" performance still gets him a B.
I can also envision him working either as a heel or a face.

(Speaking of which, I was very impressed with Barrett's performance in the promo challenge. If he truly wasn't pre-briefed, he was excellent. Cogent, directed, interesting, & damn if he didn't hit the time marks dead on.)

What I'm most happy with is Slater's ring work. I thought the match with Kane week before last was very solid. The "cheat" on Barrett last week was well executed. And last night's match with Jericho was very good, & looked convincing.

I'm also liking the direction of Christian/Slater vs. Jericho/Barrett that's evolving.

Meanwhile, what *is* the deal with some of the other guys?? Tarver is just awful in all ways. What is the point of keeping him around? Since we're making up rules as we're going along, can't we add a rule whereby they can drop him? "The pros all got together & unanimously decided that Tarver's just wasting everybody's time & space."

I know Bryan has been sick, but jeez -- this is going badly! (If "passion" isn't the biggest lob possible as a talking point, I don't know what is. How could he screw that up soooo badly???) I could see a strategy of booking him harshly & giving him an antagonistic pro because he should be better than the others. If he's that good, he should be able to work his way past the losing booking & leverage the differences with Miz. But he's got to come up with something pretty quick -- right now all we're seeing is a big fuck you.

I want to like Gabriel. As dMp said, it absolutely has the potential to be a Hardy thing. But so far, there's not enough behind the visual, the smile & the cute little accent. I don't think it's a "no hope" thing so much as a "needs more time" thing. But I don't ever see him being a top-level guy.

Punk et al are certainly giving "young Darren Young" stuff to work with. He just doesn't have a clue how to capitalise on it. (And I still hate the hair, & still think he looks to much like a cheap Cena wannabe, sans the passion.)

It may be a SyFy filler show, bit I am watching it!