Guru Zim
SQL Dejection
Administrator



Since: 9.12.01
From: Bay City, OR

Since last post: 14 days
Last activity: 6 hours


ICQ:
#1 Posted on
Post your thoughts here.

Personally, I thought the show rocked. I hope Brock is ok. I think this was the best PPV I've seen in a year.


---

Willful ignorance of science is not commendable. Refusing to learn the difference between a credible source and a shill is criminally stupid.
Promote this thread!
Doc_whiskey
Frankfurter



Since: 6.8.02
From: St. Louis

Since last post: 10 days
Last activity: 14 hours

#2 Posted on
Good PPV, damped by, in my opinion, a little questionable (maybe downright idiotic) booking


---

So I pranked him...to death.....with a tire iron!
fuelinjected
Banger



Since: 12.10.02
From: Canada

Since last post: 4694 days
Last activity: 4694 days

#3 Posted on
Overall: Really good show from an in-ring standpoint and worth every penny.

Rey/Matt - So short, way too short. I mean, Knoble and Kidman got more time then this back a few months ago.

Big Slugs Tag - Nathan Jones looks so clueless.

Victoria/Trish/Jazz - Good action. I think Trish will just be transitioning the belt to Jazz though.

Team Angle/Guerreros/Benoit & Rhyno - Again, way too short for what these guys need. Good match but didn't get enough time to develop.

Jericho/Michaels - Favorite match of the night. Shawn's never gonna job for a guy like Jericho, get real but I wasn't expecting him to so it was still a great match.

HHH/Booker - Actual match was good. Pedigree, one hand, cover. I'll just sit back and watch the HHH apologists try to spin this one. They gotta keep HHH strong for Goldberg...

Vince/Hogan - Blah. It was what it was and I never want to see either wrestle again. Piper is fucking FAT! I mean FAT and pasty! Don't wanna see him again either but if this was it, then it was a good blowoff but why do I suspect it's not the last of this feud?

Rock/Austin - Awesome match and Austin does business and gets Rock ready for Goldberg. Austin/Goldberg at SummerSlam?

Angle/Lesnar - Great match but really shouldn't have taken place. Angle was really visibly hurting after the 10 minute mark that it was scary. And THAT IS WHY BROCK SHOULD NEVER DO THE SHOOTING STAR PRESS! Brock could barely stand up ... This could be bad, really bad.

Overall, really good show. Post-Mania, though, looks scary especially if Brock is really hurt and he looked hurt bad.
uberlou
Merguez



Since: 26.3.03
From: Glendale, Cali

Since last post: 3050 days
Last activity: 2821 days

#4 Posted on
I was well pleased by most of the PPV. Though the Brock/Angle match was great, I loved HBK/Y2J bar none. I was hoping Jericho would win though but I was still extremely pleased with that match. The main event was great. Holy-frickin-crap, i've seen a clip of Brock doing the SSP before but that was just unbelieveable. He jumped forward THEN flipped. Obviously he missed it just by a hair. That was probably supposed to be the ending. But you know what, that one messed up spot still couldn't ruin the whole match. I applaud Brock and Angle for their work, especially Kurt.

Majority of their people "knew" that HHH wasn't going to drop the belt to Booker, but what was up with that ending? At first I was thinking maybe Book was legitimately injured but I never saw the ref do the 'ol "X" symbol. I was just puzzled by that one. BTW, I love the purple tights Trip.


Only real "bad" match on the card was the hoss match.

Big ups to Rey Jr. too and his kickass Daredevil outfit.

And last but not least, yep, it definitely is true now, Goldberg is coming...and passover will never be the same.


---
Madlock
Pinkelwurst



Since: 12.3.03
From: The land of Bret Hart screwjobs

Since last post: 5405 days
Last activity: 5405 days

#5 Posted on
Being in a dome and all, I was hoping they would bring back the little ring karts from wrestlemanias 3 and 6. Those were cool. Then again, they didn't use them at 8, 17 or 18…but still…

Didn't the WWF call a certain WCW PPV Age in the Cage?

Backlash: The Rematch. Be there!

Oh yeah and Stephanie McMahon is pregnant. The Helmsley legacy will live forever.

Jakegnosis
Morcilla



Since: 26.7.02
From: Maine

Since last post: 4293 days
Last activity: 4277 days

#6 Posted on | Instant Rating: 3.91
Great PPV, with Michaels/Jericho in my opinion the best match I've seen in a long while, even if it fucking sucked that Michaels went over. Easily match of the night.

HHH/Booker was pretty sweet, too (except that the racist went over and Book will be wrestling Rodney Mack in two weeks- someone call the NAACP) with Booker selling the leg like a fucking HERO.

The SD tag match was great, too, but it should have been longer. Ditto Rey/Hardy.

What was up with the Austin/Rock match? It seemed like Stone Cold barely got any offense in- Rocky beat the shit out of him. I'm not sure how I feel about that one- I'll watch it again tomorrow.

Not that I was excited about seeing his worthless ass, but why didn't Jones wrestle? Decent match considering the wrestlers.

Hogan/MacMahon was something I had no interest in, but Vince was entertaining, with the ladder and the MAD FUCKING BLOOD. You have to admit that he's the only CEO in the world who would do some shit like that. Plus, Piper! Yay! I hate Hogan. A lot.

Women's match was pretty good, but nothing to write home about. I can't really remember that much so it must not have been anything special.

I'm really worried about Brock's neck. I also feel bad for the guy, even if he isn't injured. He must feel like shit about blowing the biggest spot of the night.

In conclusion, Jericho and Booker fucking rule. WWE bookers should all be euthanised.



---

Moo hoo ha ha.

Rangers lead the way
TheCow
Landjager



Since: 3.1.02
From: Knoxville, TN

Since last post: 3882 days
Last activity: 3881 days

#7 Posted on
Am I the only person here who thought Booker might've been injured legit? I swore I saw some kind of injury signal from the ref after the match... if I'm right about that, then I can understand the outcome. Now, if I'm wrong, yeah, then throw me in with the incredibly pissed-off group.

WOW... Lesnar should be glad he still has feeling and might only walk away with a concussion after that... I knew he could hit it, but he should've tried from closer than where he was.

I was pleasantly impressed with the women's match; thought they turned in a better performance than the one before them (sorry, but I just don't go for big men).

Maybe it's just me, but I SWORE Rey looked like the bastard child of Daredevil and Batman tonight in that getup. I know I haven't seen Smackdown in a while, but sheesh; they've got to have better than that in the wardrobe. Match was good, although I would've wanted Rey to win.

Jericho and Michaels put on a great show; I was very impressed by it all. I *heart* Jericho.

That being said, the match I enjoyed the most was Rock / Austin. Man, that was just fun; Rock really looks like he's enjoying himself out there. The only thing that could've made it better was Hurricane.


McMahon / Hogan was great for what it was. Besides, they destroyed the Spanish announce table - what else could you ask for from the owner?

As for the three-way, I don't really have much memory of it, probably due to length.

Wonderful show, first Wrestlemania I've actually seen, to be honest, and I thought it was great. It might be more noted for its injuries later on, though.


---


Which Neglected Mario Character Are You?
Santa Sangre
Bockwurst



Since: 21.6.02
From: Germany

Since last post: 761 days
Last activity: 761 days

#8 Posted on
This was the most entertained I've been by WWE in a long time.

I was bummed for a while when Booker lost. They really dropped the ball with him and I do not think now that Book will ever hold the big belt again. The silver lining was that it was a *good* match.

The women's match was kickass. THey took the biggest bumps of the night imop.

I really thought Jericho was going face at the end of his match, but I guess that's what they wanted us to think. So if he's not going face, he better turn up the craziness to wcw fighting with Goldberg level. Also, what exactly is the point of having HBK win. The guy already got his run with the title which sucked. I just don't get it.

Speaking of Goldberg, did you hear the crowd pop for his video. Hot Damn! I'm interested to see where he'll fit in the grand scheme of things.

The 3way tag match was way to short. Eddy and Benoit really click whenever they get in the ring together. Benjamin looked pretty good in there too. I really do miss Heyman's call of the gore. I think this is also the point when Cole's voice went out. And you thought he couldn't get any more annoying.

Rock vs Austin was my favorite match of the night. These two are the absolute best at sportzentertainment. Loved the return of the people's elbow. I thought King was gonna have a coronary when Rock wouldn't take off Steve's vest. Wishfull thinking I guess.

RODDY FRICKIN PIPER. I was shocked to see the guy back. I had a feeling he was going to hit Hogan with that pipe. Who would have thought out of all the workers tonight that Vince would get the holy shit chant. Piper vs Hogan at WM 20 anybody? Better make that a loser goes to NWA-Tna if you want the stip to really stick.

So that's the shooting star press everbody's talking bout. It would've been really sweet if he'd hit it. Cole and Tazz did a good job of covering up for the guy but I just really wish he had hit it instead of landing on the back of his head. YOUCH. These guys really need to go in a submission style match like Angle and Benoit did a while ago.

Bottom Line- I was really entertained and do not feel bad at all about dropping 40 bucks.


---

The Lighning made the playoffs!!!!!!!!!!!
A Fan
Liverwurst



Since: 3.1.02

Since last post: 4990 days
Last activity: 4990 days

#9 Posted on | Instant Rating: 2.59
The HHH/Booker match killed it for me. I loved most of the matches on the card even HBK/Jericho, but that was the one match I wanted to have the right outcome. This match told me more about the direction of this company and where it will be in the next few months then any match in recent history.

I will say Piper's return, Rock's apperantly last match if we are just throwing around wild expectations like Steph's pregeant, Brock's SSP and Rey as Daredevil were great Wrestlemania moments. On the other hand the outcomes of the matchs and who was placed where on the card was not kosher. Wrestlemania is supposed to be the end and beginning of new storylines this one felt like they were still in holding pattern mode. I am hoping someone decides to press the start over button soon and no Goldberg is not that button.

A Fan- I'll get it on DVD just to skip over the HHH/Booker T match.
Big Bad
Scrapple



Since: 4.1.02
From: Dorchester, Ontario

Since last post: 78 days
Last activity: 13 days

#10 Posted on | Instant Rating: 5.54
---

Am I the only person here who thought Booker might've been injured legit? I swore I saw some kind of injury signal from the ref after the match... if I'm right about that, then I can understand the outcome.

---


Even if Booker was injured legitimately, that wouldn't give them license to change the finish of such a major match.

Big Show now ties Crush for the worst WrestleMania record of all time at 0-4. Matt Hardy escapes it by beating Rey.

(edited by Big Bad on 31.3.03 0032)

---

"I have no intention of uttering my last words on the stage. Room service and a couple of depraved young women will do me quite nicely for an exit."-- Peter O'Toole

"I'm gonna rip the eyes out of your head, and piss down your dead skull!"
-- Jack Nicholson, in A Few Good Men


PowerPB13
Sujuk



Since: 25.4.02
From: Belleville, IL USA

Since last post: 97 days
Last activity: 4 hours

#11 Posted on
Well, the Axis Of Evil(Shawn/Hunter/Brock) all won and yet I still enjoyed the show, go fig. I'll leave it at that.

-Patrick
Gugs
Bierwurst



Since: 9.7.02
From: Sleep (That's where I'm a viking)

Since last post: 1950 days
Last activity: 1079 days

#12 Posted on
The following post expresses the opinions of a raving Jerichoholic. He is biased, opinionated and bitter. You have been warned.

I've already said how I feel about this show. Go, spend more money. Prolong the agony. I'm going to make my pick right here.

Triple H defeats The Brooklyn Brawler (the only guy left) at WrestleMania XX. Oh, by the way, it RULES that that's gonna be at MSG.


---
The preceding post expressed the opinions of a raving Jerichoholic. He was biased, opinionated and bitter. You were warned.
OlFuzzyBastard
Knackwurst



Since: 28.4.02
From: Pittsburgh, PA

Since last post: 497 days
Last activity: 22 days

#13 Posted on
There's not a whole lot to complain about, so I'll get that outta the way first.

The Miller Lite catfight girls ate up WAY too much PPV time, and all I kept thinking was "There's no Hurricane match". And no one ever needed to see Jonathan Coachman's package.

HHH winning took a lot of steam out of my sails, but it was a great match leading up to it and despite how angry smarks will try to spin it in the next few days, Hunter made the Book look like a million damn dollars. Not that it's going to mean a damn thing, because the real reason that Booker's not World Champion right now is because of the official signing of...

Goldberg. Fuck Goldberg. Fuck him right in his overrated, no-selling ass. He is not the ratings savior. If he was, WCW would still be in business.

Oh, and Limp Bizkit sucked - even for Limp Bizkit. Was that the thirty minute version of "Rollin" or what? And that new song?! Was it an actual crack addict writing the lyrics? Holy fuck, it makes "Break Something" sound like "Like A Rolling Stone".
Now that that's out of the way...

Jeebus, Brock, I hope we didn't lose *both* those guys... That was a brutal landing on the SSP - I hope he just got the wind knocked out of him, because I don't think the Smackdown roster could handle losing him and Kurt.

Holy fuck, it's the Hot Rod! Let me say this - if they headline Backlash with Hogan/Shane taking on McMahon/Piper, I'll overlook the inevitable Goldberg/HHH match and plop down my $30. Nostalgia is a powerful beast.

Austin/Rock was good if you like that sort of thing. I still can't find myself giving a damn about Steve Austin anymore.

I don't know if anyone actually watched Heat, but that was an amazingly dirty rap John Cena somehow got on the air. Parts of that would make Paul Heyman blush.

You know, when the worst match of the night (Taker vs Talentless Big Men) really wasn't that bad, you've got a great show on your hands. I don't know if it had that iconic moment like Austin in the sharpshooter, or Hogan slamming Andre that'll catapult this one into iconic status, but a damn fine PPV - probably the best since Wrestlemania X-Seven, and there's been some good ones in there.

Most definitely worth the replay.


---
"Like an Iraqi soldier dressed in civilian clothes, Fox News has crept in under the false cover of objectivity to unleash a blitzkrieg of bias so right wing that channel-surfers often mistake it for a eugenics infomercial. The only nod at an actual exchange of ideas is Hannity bitch-slapping the hapless Colmes while slobbering permaguest Bill Bennett slowly undoes his belt buckle in anticipation of giving that liberal fucker his final comeuppance. It's enough to scare the teeth right out of Ann Coulter's vagina"
---Mr. Cranky Reviews The War Coverage
The King of Keith
Lap cheong



Since: 4.11.02
From: Winchester, VA

Since last post: 1382 days
Last activity: 1382 days

#14 Posted on
I don't know what they were doing with the whole HHH/Booker thing, but I don't care. I like HHH, so let him keep the belt.

A great show, with the highlight being Jericho kicking Shawn in the balls after the match. Michaels may have won the match, but in reality, Jericho went over.

The women's match was everything I had expected and more with all three ladies busting out the things I love the most. I especially dug the camel toe clutch by Jazz.

The WWE made me one happy man tonight.


---

Get well soon Kurt, Batista, Randy, Edge, Kevin, Scotty, Bubba, Regal....

Man, that's depressing...and I know there's people I've forgotten!
kokolums2
Bauerwurst



Since: 10.6.02

Since last post: 4941 days
Last activity: 4941 days

#15 Posted on
Bar Report for WM19:

Once again I headed to the local bar that carries WWE PPVs. I haven't been to one in several months. Turns out they charge a $5 cover for this PPV, but you also get a coupon for $5 off food (good only that nite). The place has SRO, but barely. In comparison, a ago wrestlemanias ago, the place was so packed you could barely move and they had to queue new customers up at the door to keep the headcount within regulations.

Rey/Matt - Crowd seemed into it somewhat. Rey drew some interest.

Taker/A-train & Big Show - crowd popped for the big legdrop from BS outta nowhere. Other than that, no-one cared.

Victoria/Trish/Jazz - No-one cared for this one, either. I think the poor promos in the back with the women reminded everyone that women's wrestling doesn't appeal to them.

Team Angle/Guerreros/Benoit & Rhyno - Asked several people who Team Angle was - they had no clue. Crowd popped a little for Rhyno's gores. Other than that, dead.

Jericho/Michaels - Crowd was dead at first, then they started getting into it. David Lee Roth, oops, I mean HBK did an excellent job of engaging the crowd as he worked the match - that made all the difference. Jericho, by comparison, just doesn't work the crowd well at all. Its been his biggest weakness in his career imo. I smell ladder match in HBK's near future.

HHH/Booker - HHH's stock must've fallen far with the crowd. They just didn't care about this match at all. In hindsight, this should've been booked before HBK dazzled everyone.

Vince/Hogan - Personally, I can't stand Hulkamania Hogan with his stupid Hulking Up at the end of every match. Its boring. Hated Hogan ever since he turned into the Glory Hog that pissed off Andre back 16 years ago. So this match made me miserable. The crowd at the bar, unfortunately, ate it up and Hogan drew big pops. The TURN of the night: Piper goes from face to heel. I already know what's coming: Glory Hog Hogan wants his win back from Piper in WCW for the "Icon" title, and he's gonna get it.

Rock/Austin - Ok, this match was total garbage. WHAT WERE THE BOOKERS THINKING HERE? ANYONE HOME? NO I DIDN'T THINK SO. Let me get this straight. Austin is THE draw. Austin is THE man. He sells the shirts. The only WWE shirts in this bar were of Austin. He draws the biggest pops. It was the rubbish fed to him at last WM that helped piss him off. The ratings perked back up a little when he came back. You bought yourself perhaps an extra year to turn things around with that move. Give Austin the keys to the fed you morons. You need him more than he needs you. The bar wanted to cheer Austin but couldn't because you kicked his ass. The bar cleared out in disgust when he made it back up the ramp after Rock pinned him. I'm starting to seriously think they want WWE to die. No, you gotta prop up Rock and his failing stupid heel turn. Another move that shows you aren't listening to the fans.

Its like we've got the reverse problem with Austin than we had with Hogan. With Hogan, the fans were booing him and they kept forcing him down the fans' throats as a face and at the top of the card. With Austin, his stardom still has legs and they act like its dead. Neither case is one of the bookers listening to the fans, but doing what they think is best.

Angle/Lesnar - Well, the bar was half-empty here. Austin should be at the top of EVERY card. Been saying that for some time. But does WWE ever listen to his fans? Hell no. These two guys wrestled to crickets. HOW are these two supposed to improve their heat when the fans have already LEFT and no-one's watching? That's unfair to their careers to do this to them. Both need to be moved to midcard.

Until WWE stops thinking it knows what the fans want and starts giving the fans what they want, its still downhill, I'm afraid. I actually give this one a passing grade thanks to HBK and the Hogan match (I hated the Hogan match, but it was what the fans wanted).

(edited by kokolums2 on 30.3.03 2205)

(edited by kokolums2 on 30.3.03 2207)
Excalibur05
Knackwurst



Since: 19.1.02
From: Minnesota

Since last post: 904 days
Last activity: 772 days

#16 Posted on
Fantastic show bottom to top tonight, some REALLY terrific stuff. Though I have to say, everybody in the room was SCREAMING for Brock to go to the other side. That just looked sick.

Oh, and Vince doing a high spot? Fan-fucking-tastic, as was Rock wearing the vest...awesome. And, while I'm at it, I marked out big time for both the Goldberg announcement and Piper. I'll check my smark card at the door.

The rest of the matches were all really great too, no complaints. Everybody worked hard, and even the cheesy stuff (the concerts and the Catfight) were ok for what they were.


---

Satire 03/24/03 (wienerboard.com) <- No kidding, right?
Buffy 7.17 gets a 7.87 So...Spike and Wood have Oedipus complexes...riiiiight...
Jakegnosis
Morcilla



Since: 26.7.02
From: Maine

Since last post: 4293 days
Last activity: 4277 days

#17 Posted on | Instant Rating: 3.91
Originally posted by OlFuzzyBastard

---

I don't know if it had that iconic moment like Austin in the sharpshooter, or Hogan slamming Andre that'll catapult this one into iconic status, but a damn fine PPV

---


I think the Brock SSP was supposed to be the "memory moment" tonight, but... Jeez, I hope he's OK.

Either Booker or Jericho winning would have been a huge moment for me, but... Fuck you, Triple H, and fuck you, Shawn Michaels, and fuck you, WWE bookers.

I am now officially a Jerichoholic.


---

Moo hoo ha ha.

Rangers lead the way
John Orquiola
Scrapple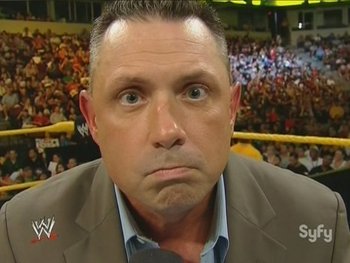 Since: 28.2.02
From: Boston

Since last post: 1549 days
Last activity: 1549 days

#18 Posted on
Walking away from WrestleMania XIX, my personal highlights are:

1) The Undertaker singlehandedly carrying 800lbs of Show and A-Train en route to maintaining his perfect WrestleMania record. Is it any wonder why I love that Dead Man?

2) Trish Stratus magnificently rising to the occasion in ending her long rivalry with Victoria, pinning the Women's Champion and doing away with Steven Richards on her own en route to regaining her Women's Title. That is what I meant that Trish is the first fully-capable babyface woman in the company's history. She doesn't need help and she doesn't need to be saved. She can win the big one all on her own.

3) Chris Jericho and Shawn Michaels having in my opinion the match of the night. The two of them going at it in a match that harkened to the days of Shawn Michaels' youth. Jericho kicking Michaels in the balls at the end was icing on the cake. For me, that was the zenith of the show.

4) The Rock doing something he's never done before: actually come off like a bad ass, dominating and pinning Stone Cold Steve Austin decisively. The Rock opened my eyes there. Also, I loved the thing with Rock wearing Austin's vest.

The rest of the show was very good, and altogether I thought WrestleMania was damn near close to outstanding. I personally felt disappointed by the outcome of the Booker T vs. Triple H match, but they told a strong story with Booker's leg being injured and Booker looked like he had the heart of a lion in selling the leg but damn near winning the title. Unfortunately, I think I will remember Brock's suicidal attempt at the shooting star press more than I will remember the actual match he had with Kurt Angle. Brock might well have accomplished a historic feat if he left WrestleMania in worse shape than Kurt. Still, tremedous effort by everyone.

Many of the things I discussed yesterday at length are still up in the air. I don't know what changes will come tomorrow and in the weeks to come. I did not get any clear sense of what the future will bring for WWE, besides the arrival of Goldberg. But that's all for tomorrow. For tonight, I'm proud of every single person in WWE and I thank them for their efforts, their passion, and for the amazing piece of history that was this year's WrestleMania.

Here's hoping Roddy Piper spends the next year losing the gut before he and Hulk Hogan have the Brawl to Finally, After 20 Years, Really Settle It All at WrestleMania XX in Madison Square Garden...



(edited by John Orquiola on 30.3.03 2202)
HMD
Andouille



Since: 8.6.02
From: Canada

Since last post: 530 days
Last activity: 530 days

#19 Posted on
Shawn winning was bullshit. Good show. But that was absolute bullshit. Everyone watching it where I was shit on that. It was bullshit. Shouldn't have happened. I liked the show, Hogan/Vince was pretty cool, not nearly as bad as it could have been and deserved the time it got. Brock almost killed himself, man that looked dirty. But Jericho was fucked over. Semi-retired people should not beat active wrestlers. No, I don't care if Jericho wins a rematch. This is Wrestlemania. This was the one that counted and they fucked him again. God that pissed me off. Even Triple H winning makes sense, because if one babyface was going to take a big belt, no need for two to do so. But no way in hell Jericho should have lost.

I loved the rest of the show. Best 'Mania ever, perhaps, tied with X-7.


---

"Whatever I just posted above is what your mother said in bed last night."
Michrome
Head cheese



Since: 2.1.03

Since last post: 5265 days
Last activity: 4331 days

#20 Posted on
the crowd at the bar I was out emptied out after rock-austin as well...
Pages: 1 2 3 4 5 Next