emma
Cherries > Peaches



Since: 1.8.02
From: Phoenix-ish

Since last post: 2 days
Last activity: 2 days

#1 Posted on | Instant Rating: 8.43
OK, it's here in town, & I've never been to one of these, so i figure I should go check it out. Anybody know how this works? Is the $35 for one session, or is it "all you can eat"? What do you get for the extra $20 of the VIP price? Is it worthwhile? Are there any sessions that tend to be better than others? (Other than the mornings, which are right out for me.)
---

Ticket prices:

General Admission - $35 (not including applicable fees or 7.6% sales tax)
VIP - $55 (not including applicable fees or 7.6% sales tax)
Children 3 years and under - FREE

Session Schedule & Times:

Thursday, March 25: 6 p.m. - 10 p.m. MST

Friday, March 26: 6 p.m. - 10 p.m. MST

Saturday, March 27:
Session 1: 8 a.m. - 12 p.m. MST
Session 2: 1 p.m. - 5 pm.. MST
Session 3: 7:30 p.m - 11:30 p.m. MST

Sunday, March 28: 8 a.m. - 12 p.m. MST

---
Promote this thread!
John Orquiola
Scrapple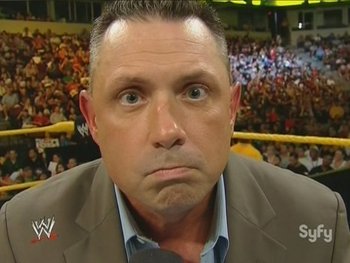 Since: 28.2.02
From: Boston

Since last post: 1454 days
Last activity: 1454 days

#2 Posted on | Instant Rating: 5.21
I can only share my experience at Axxess last year, which was very successful and a lot of fun. We went in the morning session on the day of WrestleMania 25. We got there at least 90 minutes before doors opened and there were hundreds of people already in line, although we got in pretty quickly once doors did open.

You only get one session, which I believe is a 4 hour block, for your ticket. When they release the Axxess schedule (always subject to change, by the way) of which talent is at which session, that's when you should choose which to go to, based on who you most want to see (again, subject to change with no advance notice) unless your schedule dictates otherwise.

We didn't do VIP tickets so I don't know what the benefits are exactly. I think guaranteed autographs, or front of the line access and/or a bag of swag. Worth the extra to you?

The bread and butter of the Axxess experience really is the autograph booths. The lines are long; worst case scenario (which happened to someone I know) was a 2 hour wait to meet one person (Jeff Hardy in her case). She lost over half her time at Axxess waiting to meet her hero.

My friends and I had a pretty simple agenda, being fellas of the male persuasion: Divas. When you get in, the natural impulse people seem to have is to flock to the very closest autograph booth to the door. In Houston there were 5 autograph stations and 2 were Diva specific, so we headed right to the first Divas booth and within ten minutes had pictures with Maria. Then we hightailed it to the second Divas booth and met Candice. All within 25 minutes of entering the doors.

So my advice is to do a very fast scope of the floor, determine who's at which booth you want to meet and head right for them. Better to go to the farthest booths from the door if that's an option because again, herd mentality is to flock to the closest booth, so farthest gets you meeting the Superstar/Diva of your choice faster. You DON'T want to get bogged down and lose your Axxess to just standing in line waiting.

After two hours, there is a talent turnover and all new people arrive in the booths to give autographs, so be prepared for that as well.

In the middle of the floor is a wrestling ring where a few matches are held (think ECW level matches - whoever isn't booked on the televised WrestleMania itself) and whoever is hosting (Jimmy Hart in our case) does Q&A and interviews talent (Flair and Jeff Hardy in our case). This lasts pretty much the entire 4 hour session. It's standing room only so if you want to watch the matches, hustle through the crowd to get to the barrier if you can.

Once you've gotten your autographs and you've watched some matches, I recommend spending the rest of your time at Axxess looking around all the exhibits. They had Make Your Own Entrance Video and Call a Match (with Joey Styles for us) which were very popular, and fun exhibits like stepping inside a Hell in a Cell, walk through Undertaker's graveyard, have your picture taken with a championship belt, etc. Save that stuff for last, I'd say. Walking around Axxess is a fine time killer after you've done the major stuff you came to do, like meet the wrestlers.

I did notice that no one really seemed to keep track of how long you could stay at Axxess. No one checked our tickets or anything once we were in there. Presumably we could have stayed even longer, but 4 hours there was more than enough and we were happy to leave.

Oh, we didn't eat anything because frankly, we didn't come to Axxess to eat overpriced arena-style food. So we tried to use the 4 hours to maximum benefit and we did just about everything there was to do at Axxess.

I imagine Axxess in Phoenix will be different this year, with probably a new exhibit or two and a different layout, but that's what we did last year and we had an excellent time (honestly, a better time than we had watching WrestleMania 25, which we thought was a one match show). So good luck, and take LOTS of pictures.

Hope that helps.

(edited by John Orquiola on 25.1.10 1554)
---

@BackoftheHead
www.backofthehead.com
CajunMan
Boudin blanc
No longer registered



Since: 2.1.02
From: Give me a Title shot!

Since last post: 2437 days
Last activity: 1574 days

#3 Posted on | Instant Rating: 1.17
Why can't they just let you stay as long as you want like the NFL does during Superbowl week and the NBA does during All-Star week? One ticket good for all day.
HMD
Andouille



Since: 8.6.02
From: Canada

Since last post: 435 days
Last activity: 435 days

#4 Posted on | Instant Rating: 3.42
I went in 2002 when 'Mania was in Toronto. In our case as well, the lines to meet wrestlers were absurdly long. It was apparently going to be 2 hours to meet Hogan, and on the Rock's day, the line was even longer for him. It was funny, because there were signs of what was to come. Hogan chants were everywhere, and you sort of had a sense of the reaction that would happen during their match.

They has a ring set up as well, and they were pimping Tough Enough at the time. Al Snow and Chavo Guerrero were out talking, and mostly segued into promoting the Mania card. Will Sasso, of MadTV "fame" then came out and did a bunch of impressions of wrestlers which broke the audience up. He then started ripping on Tazz to the point where you knew they were running a little angle, and naturally, Tazz's music hit and he came out and did a little trash-talk before locking Sasso in the Tazzmission. That was fun. There were exhibits, as John has indicated, but at the time they were different (and I must say much less cool). A mould of Stacy Kiebler's legs, and one of the vehicles Austin ruined with cement, that sort of thing. In the HOF section, there was an Andre the Giant exhibit showing how tall he was, which they probably embellished. We then did the commentary, but they didn't let us call it with an actual WWE announcer. And when I got home, I found out they had my volume turned down until the last minute. Wasn't pleased. Sounds like they've really expanded it wonderfully over the past few years. I'd have loved to step inside Hell in the Cell.

---

Quiet, Or Papa Spank!
dMp
Knackwurst



Since: 4.1.02
From: The Hague, Netherlands (Europe)

Since last post: 5 days
Last activity: 4 hours

#5 Posted on | Instant Rating: 6.27
the toronto one was great for the ring fun with sasso.

last year in houston was totally different but great for other reasons.
the ring didnt do much for me. most of it was someone like Jimmy Hart iirc inviting people in to imitate a wrestler.
Then there were matches like Kozlov vs Regal for 3 minutes.

the Undertaker graveyard was fun. tombstones for all his victims and then you get to take a picture next to that years tombstone and open grave for HBK with a ? next to it.

Another picture op was to get inside a wwe action figure box and pose like one. For both things you didnt take the picture yourself but a wwe photographer took the snap, gave us a code to pick up the picture online the next day.

also, make your own entrance was there, though th choices were limited iirc. Same deal, you get a cd/dvd from a WWE guy.
Oh and of course "call your own match"

It's fun for a few hours. But not totally a 'must do' unless you care about the autographs and then John's story is a good description on how crazy it is. I skipped on standing in line for two hours, would rather look at things and be outta there again within 2.


---
emma
Cherries > Peaches



Since: 1.8.02
From: Phoenix-ish

Since last post: 2 days
Last activity: 2 days

#6 Posted on | Instant Rating: 8.43
Thanks guys! I went ahead & grabbed a ticket during the pre-sale. I did have to pick a session at that point, in spite of not having the "who's at what session" info. (I rolled the dice & picked Friday evening. We'll see.) I'm not likely to be rolling around in the ring, but we'll just have to see how that goes. ;-)

Thanks again for the info!