John Orquiola
Scrapple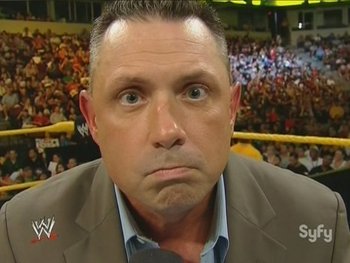 Since: 28.2.02
From: Boston

Since last post: 1787 days
Last activity: 1787 days

#1 Posted on | Instant Rating: 5.88
April 2, 2006

WrestleMania 22



There Is Something Very Wrong With This Company

In his daily update on the Wrestling Observer website, Dave Meltzer wrote the following:

"--As far as what is going to happen at Mania, just yesterday alone, they changed major match results and finishes five times. It was crazy as Vince just kept changing his mind and the indecisiveness has made any post-Mania planning almost impossible. People involved are "losing their minds" as stressful as it has become."

If this is accurate, and I get the impression there's a lot of truth there, this isn't surprising in the least. WrestleMania is traditionally the annual focal point for WWE's storylines. It's Christmas Eve and New Year's Eve rolled into one. A year's worth of major storylines are supposed to culminate this year and the new year begins tomorrow night on RAW. New storylines, new directions, with the annual draft lottery in June cementing what the next year of WWE action will be about.

If Vince McMahon is having a difficult time making up his mind as to who wins what and who comes out of WrestleMania 22 as the flag bearers of the company (temporary or otherwise), he really has no one to blame but himself. Of course, he can blame Stephanie and Creative. I know I do. They deserve a lot of blame. A lot. If one thing should become clear to Vince this weekend, it's that he's lead his company into a serious creative hole this past year and his daughter and her writers drove the tractors and brought the shovels.

The World Championship situations on both brands are a sorry mess. On Smackdown, it was the company's bad luck Batista fell to injury a few months ago. Batista was all-in-all a success story. Well-liked by the majority of the audience, Batista grew into his role as World Champion with the audience's blessing, something John Cena never got. Kurt Angle was a fine replacement for Batista as World Champion. Should he lose the title tonight? If either of his two challengers in tonight's Triple Threat were booked well leading to tonight, the answer should be yes. Unfortunately, the sentimental favorite, Rey Mysterio was shown tapping out to Angle's finisher just two nights ago. The outside possibility, Randy Orton, still has not fully recovered from the severe damage done to him by failing to turn him babyface in 2004.

In Rey's case, the stomach-turning invoking of the late, great Eddie Guerrero did him fewer favors than it helped. However, he's still the only man in either World Title match who has never held the big belt. There is a novelty to making him a giant-killer World Champion, able to overcome the odds to win. The audience is ready to accept Rey as World Champion, as a spiritual successor to Eddie Guerrero, though they don't enjoy being beaten over the head with it. But if Vince is worried whether Rey can do the job, some of trepidation must spring from the fact that his Creative team has made Rey to look as ineffectual as possible. Coming off his miraculous performance at the Royal Rumble, which should have ended the show and torn down the house despite the fireworks display planned for Undertaker, Rey has been booked to be a superstitious dope who believes in ghosts and spirits, was dumb enough to put his guaranteed WrestleMania main event on the line, and then lost that very match to a cheap roll up with Orton's hand on the ropes in front of his late mentor's family. Then he receives charity, as Orton (accurately) described it, by being reinserted into WrestleMania. Rather than building momentum week by week, creating a wave of energy leading him to the biggest match of his life, Rey has been booked to look stupid and weak, costing his team their match at Saturday Night's Main Event, and then submitting to Kurt Angle on the last show before WrestleMania. Does Rey Mysterio at the moment seem like he should be carrying Smackdown as World Champion? Not according to how he's been written. And whose fault is that? It isn't Rey's, it's Creative's. Randy Orton is creatively in better shape, positioned as the clever, crafty one pitting the two babyfaces against each other so he can slide in and RKO his way to the title with little effort. He has "destiny" on his side. But with Triple H looking like a lock to beat John Cena, is the company prepared to walk out of the biggest show of the year with two heel World Champions?

The choice is between giving the fans an unhappy ending with Orton, going with a tried and true Kurt Angle, or putting the belt on Rey, which would be both the best choice because it's the one that creates something new and exciting and the most difficult choice for Creative because it means they have to get off their asses, get behind Rey, and book him to be as miraculous as he was at the Royal Rumble every night.

The RAW side of things is an even bigger mess. John Cena as WWE Champion has been a disaster. Children love him, women love him, the men, not so much. Even more perplexing for the company is that house shows crowds of all sexes and ages seem to receive Cena well, but the moment a TV camera is turned on, those cheers turn to venomous boos. For the male fans, Triple H will be the biggest babyface since Hulk Hogan took on Andre back in '87. The crowd will pop huge if Cena eats a Pedigree and stays down for a three count. And that pop will last exactly as long as the duration of the WrestleMania broadcast. The next night and thereafter, once the thrill of seeing Cena lose is gone, the majority of the fans will realize that Triple H is WWE Champion again and they were sick of that two years ago. An even worse decision would be John Cena getting killed for the whole match, catching Triple H with the FU, and pinning him to retain. The company is screwed either way with the RAW World Title match. Yet, they stubbornly marched down this road with blinders on. It's easy to understand Vince McMahon's trepidation at the outcome: does the company want to promote more of the same or… more of an older same? That's some good booking there, Creative. There must be a golden road to money and ratings beyond either door that I can't see but they do.

The rest of the show is generally as troubling as the main events. The match no one really wanted to see: Vince McMahon vs. Shawn Michaels, ought to be entertaining and has a clear-cut ending that is obvious. What is less obvious is what the point will be when it's over. Vince eats a superkick tonight and loses. The Devil loses, God prevails, or something like that. So what? Shawn still works for Vince. He gains nothing except a small measure of revenge for the last several months of Hell he's been put through. What could make the crowd pop would be an appearance by Bret Hart, which he has publicly stated repeatedly he is against. (Doesn't mean it won't happen. It just means Bret is a liar if it does, which is no skin off of Vince's nose.)

The Undertaker has a casket match he's virtually guaranteed to win unless Creative has absolutely lost their minds. Unfortunately, we'll have to endure several minutes of Undertaker trying to create something entertaining out of Mark Henry before Kong gets stuffed in his casket.

Poor Edge. For three glorious weeks, he was a minor phenomenon as WWE Champion, then got cut off at the knees and shoehorned into a feud with a retired author over nothing much at all, just an imaginary circumstance that Mick Foley cost Edge his rematch for the title, which he didn't even do. If Edge can beat Mick Foley, it means he did what he's logically expected to do. If he loses, then he's that much further from the WWE Title than he is now and he lost to a man who wrestles once a year at most. The answer to the RAW World Title problem was as simple as Edge retaining the belt to face Cena at WrestleMania, but Creative threw that all out in favor of Triple H. And unless Cena does the improbable and beats Triple H, Edge's might as well settle in his spot on the midcard because he won't see a title match again for a long, long time. Well done, Creative. Well done.

Trish Stratus and Mickie James have the benefit of perhaps the best storyline going into WrestleMania. It dragged on too long but it's still interesting and a good match is expected out of both of them. Unfortunately, from a creative standpoint, we have a situation where the babyface looking for revenge is also the Champion who is well past the point where she should lose her title. The outcome that makes the most sense would be Mickie beating Trish for the title, but that actually should have happened a few months ago, with Trish regaining it and exacting revenge here at WrestleMania. At the end of the day, Trish could stand to be without the Women's Title for a while, but with the dearth of other competent women who could challenge for the belt, all this means is we can look forward to several more months of Trish vs. Mickie.

The only Tag Team Title match on the card is a joke. Big Show and Kane have lorded over a non-existent tag team division on RAW for almost six months and their number one contenders at the biggest show of the year are a mismatched couple of midcarders who have been booked to be argumentative incompetent clowns. Regardless of what outcome they choose, it hardly matters because there is no one for either team to face beyond this. Meanwhile, MNM and Melina are not on the show at all! Good going, Creative!

What else is on this show? Candice vs. Torrie? Seen 'em both naked already, thanks. Chris Benoit vs. JBL? Who cares. Benoit retains, JBL wins, it hardly matters. What's sad is both of these guys were dominant World Champions two years ago and now they're likely to open the show.

Perhaps the biggest tell-tale sign of the lack of direction Creative has is in Money in the Bank. We've now established from Edge's example that the winner of this match could be and ought to be the heir to the crown for either show's World Title. (We've also established that Creative can fuck that guy over without much thought.) So one of these six men is going to get a World Title shot and has a great chance of breaking through that main event glass ceiling. And the contenders are: Shelton Benjamin, coming of a reasonably successful angle where his fat, heart-attack prone momma turned him into a winner who still gets little heat. Rob Van Dam, fresh of a year on the DL and right back on the midcard dead zone. Matt Hardy, Creative's favorite whipping boy who Will Not Die! Bobby Lashley, the cross between Brock Lesnar and Goldberg who is months away from a watchable ten minute match, much less anything close to a World Championship. Finlay, an entertaining anomaly who would be the old man in this match if it weren't for… Ric Flair, the sentimental favorite who really, really needs another World Championship to prove that 60 year old men should still be on top of the wrestling world. It'd give all the kids in the locker room something to hope for in 30 years.

Which one of those men should be on top of RAW or Smackdown?

Someone who deserves that shot is Booker T, who has been tear-down-the-house entertaining over the past several months. Booker might be hotter as a comedy act now than he'd ever been as a serious angry wrestler, but he and his almost-as-entertaining wife are booked in a comedy match against the least talented circus act WWE has seen in years. Booker will survive rolling around in worms, but he'll get nothing out of beating the Boogeyman if he wins.

And that's what the biggest show of the year is looking like. If Vince McMahon has a splitting migrane, he has good reason. What he has no reason to be is surprised at where the company finds itself. This is where the last several months of Creative's "creativity" has gotten WWE and us, their fans.

I expect to enjoy WrestleMania 22. I'm not looking forward to anything but I ought to have a good enough time. The fact is, this card and this company are comprised of dozens of immensely talented and passionate performers who will do everything they can to entertain the fans on the biggest show of the year. The endings and outcomes will not be their fault. To quote the returning Jim Ross, "The effort will be there, I can assure you."

But an event more relevant paraphrase can come from a certain masked terrorist in a popular movie in theatres now:

"There is something very wrong with this company."

There is more than a year's worth of evidence (at least) that something is very, very wrong with the company and drastic measures need to be taken. I don't believe the answer would be a fan rebellion that leads to blowing up Titan Tower in Stamford, but it's clear something needs to be done about the Creative people who write for this company. They're fuck ups, they don't understand wrestling and perhaps the most tragic realization of all is that their leader, Vince McMahon, is likely the heart of the problem. The good news is, Vince has shown the capacity to change with the times. He has in the past and he could again. The bad news is, there still seems to be no one with any new ideas, no one who has a new vision for what WWE, sports entertainment, and professional wrestling could be. I know it's not me. It's a good bet, no offense, it's not any of you readers either. Then who?

More of the same it is, then. So be it.

Everyone, have a great WrestleMania.

(edited by John Orquiola on 2.4.06 0937)
---

Back of the Head: www.backofthehead.com
Promote this thread!
StaggerLee
Scrapple



Since: 3.10.02
From: Right side of the tracks

Since last post: 7 days
Last activity: 2 days

#2 Posted on | Instant Rating: 2.46
Maybe a few years away from the INTERNET WRESTLING GOD MELTZER would do you a ton of good.


How many times can a post bash CREATIVE?

Here's the problem, in the past twenty years or so, just about every concievable angle has already been played out. And, if the WWE goes back and recycles one, no matter how great the matches are, people will shit on them for recycling an angle.

HHH going over Cena could be HUGE, if they made him a tweener. A smart ass heel, who can pester faces, and a confident champion who can take down heels.

Besides, putting the belt on HHH makes sense, because really there are few other decent heels who are main event caliber on RAW. SO, you put the belt on him and have him fued with any of the three Money in the Bank participants over the next few months. Benjamin and him had a great couple of matches a while back, so the smart move would be to have him NOT win the MIB match and still pursue HHH, with HHH punking him for losing the MIB, but being 'nice enough' to allow a title defense or two, and a PPV match. Flair vs HHH still isnt as old as it should be, and that's because, like them or not, both men can still tell a story in the ring. For RVD, he will never be a world champion because basically he has always been a spot fest competitor, who, besides Sabu is the only one who can really make a match out of nothing but spots. However, he is brutal on the mic, barely passable in the ring, and limited as to what he can do as a champ. (Unless that is, Fonzie isnt doing anything and Vince decides he could use a nice heelish manager around)

AS for the smackdown side of the MIB, I liked Hyattes idea of Hardy just running up a ladder at the start and snagging the briefcase in a shoot move, and seeing what the WWE would do with it. But, that's just the smark in me talking. We all know that of the three, Finlay is the only one they would REALLY consider a title shot for in the next year, and that just isnt happening since they cant program him against any of the three main eventers into an entertaining program, although him VS Angle might be almost as entertaining as Angle vs Benoit (which is still my favorite all time WM match).

On the Smackdown side of things, any ending OTHER than Rey winning the belt is a wasted match. Rey and Angle will rock the house, as usual, but Orton will drag things down and make the match less stellar than it should be. But, in the end, Rey winning and being chased by Orton for a few months or at least until Summer Slam is the only thing that makes sense. Kurt, who is one of my favorites, just doesnt have enough left in the tank to carry the company for the time being. He should be allowed a month or so off to heel up and then come back as a pissed off wrestler, like he did when chasing HBK. Speaking of HBK....
we all know he goes over VKM, but it should be a brutal, bloody match. Vince winning makes no sense, and if HBK doesnt get 'Montrealed" he should win this match and use it as a springboard to a main even run for a month or two, against either HHH or Cena. He is one of the few who could promo his way through a program with either guy.

Mickey should get the win over Trish. NO real reason why, I just love Mickey and want her to have the belt. Because lets face it, put any other woman on the roster in her role the past few months, and this angle is getting pissed on daily here in the IWC. Mickey has pulled it off, and Trish has looked better because of it (not that Trish cant pull off any angle, but with Mickey this one has been even better than normal)

The Tag Team champs should drop the belts to Carlito and Masters, with help from Lance and Murdoch. Make them a minuature four horsemen group and let them run over the mid carders until they are all capable of handling a few main even type programs.

UT Wins. UT ALWAYS Wins at WM. my only question is did they bring back the extra special big huge KAMALA KASKET to handle Mark Henry's carcass.

Edge wins, barely, as Mick Foley's losing streak continues at WM. Because really, there is no real reason to have Mick go over, and Edge can use his win as 'legend killer' promo material for a while. Besides the Rock, Foley has probably lost the most mathces without being brought down, he is happy in his role as main event enhancement talent.

I want BOOGEYMAN to win against Booker T, but only because I love the gimmick, lame as it is. However Booker should be able to move to RAW with Sharmell and ply his trade there.
And, since nobody has mentioned it yet, isnt it about time we had the annual 'move four guys to other shows and not use them properly' draft/lottery? Seems like a perfect time for Booker to move over, and perhaps even reteam with GOLDDUST. Having Goldie and Sharmell cat fight constantly would be comedy gold (at least to me).

The rest of the card really doesnt do anything for me. Although I do wonder if TEST will make a comeback someplace, perhaps costing somebody thier match. With his new found muscle, perhaps he will finally be the MONSTER they wished he was when he was a thinner person.


Whattaburger
Boerewors



Since: 18.5.04
From: Badstreet USA

Since last post: 1627 days
Last activity: 1627 days

#3 Posted on | Instant Rating: 4.05
You can't have a company full of tweeners. What's the point? In fact, a company full of tweeners is what you have already considering that the fans half cheer and half boo everyone already.

In Cena's case as it pertains to his fan bass, I find it hilarious that the reason Cena isn't popular with the majority of males is because he makes them jealous that they're balding, fat, and worthless to children and ladies alike. Good stuff.

The IWC and Meltzer blame creative for the most part and practically place none on the FANS, even though Meltzer admits (and/or implies) that the fans are dumb enough to cheer HHH into a win over Cena and then remember that they don't like HHH anymore as a champion than they had in the past.

That's like a dumb kid knowing fire will burn his hand but does it anyway thinking that maybe if he puts his hand over the flame this time, it'll will be different.

How do you book a show or have storylines when fans keep flip-flopping on who they like and who they don't, and who'll they cheer for half the time and boo the other.

>Cough< John Cena, Randy Orton, Christian, Batista, Carlito >Cough<




---

It's just a message board, people. Chill out. Now, go show your internet diapproval of me! YEA!
Matt Tracker
Scrapple



Since: 8.5.03
From: North Carolina

Since last post: 21 days
Last activity: 12 hours

#4 Posted on | Instant Rating: 6.43
If the HOF and press conference audiences are any indication, Chicago's WM might feature a "Bizarro world" crowd to rival Toronto, Montreal and MSG. I can see why the writers might freak at the prospect of trying to make that kind of crowd "happy" (read: play well for the cameras and react as they hope for the storylines).

Fortunately, they have an out to save the main event: the Money in the Bank match. You give that to a favorite like RVD or Flair and sic them on either new heel champ if the crowd balks. As a bonus, you can move either RAW face to SD as the new champ to start the draft booking. Why not? They already moved Angle and Helms over to win the single belts within the last few months.

I don't see this as a potential worst Mania ever nor do I think this signals the beginning of the end. The company has been in a booking nightmare with the loss of Batista and Eddy and the seeming failure of entire crop of OVW elevations. No wodner they consider bringing back fired midcarders like Palumbo, Noble, Test, and O'Haire. All I expect now is a good spectacle, which I admit may signal the depth of lowered storyline expectations.

Orton as champ is not the worst that can happen. HHH as champ is not the worst that can happen. A total heel sweep is not the worst that can happen. A spectacular injury from the MITB (especially with Lashley, Finlay, and Flair in there) or Edge/Catcus is, and I worry about that more than I do another RAW with a ten-minute champ HHH promo and a Cena rematch or Orton mocking Rey's failure.

What can we hope for right now? A hot crowd (in either polarity), exemplary effort from the performers, and a highlight or two.

Look at this as a theatre company working with a bad script. It might not be Olivier offering Hamlet, but we can still get our money's worth from the repertory.

I have hopes. Not high hopes, mind you. But hopes nonetheless.


---

"To be the man, you gotta beat demands." -- The Lovely Mrs. Tracker

My blog will amuse. (heygregory.blogspot.com)
Cerebus
Scrapple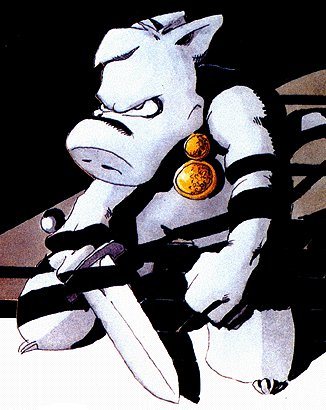 Since: 17.11.02

Since last post: 687 days
Last activity: 409 days

#5 Posted on | Instant Rating: 0.97
Why the hell should you blame the fans in attendance for how shitty the product is? To quote a favorite comic of mine, Lewis Black... "That's fucked up.".

I'm being spoonfed something I think is rotten, you bet your ass I'm gonna turn against it. Cena as 'The Champ' is rotten... I will jeer the fuck out of him any time I want to. I by merchandise, I go to shows when I can, I earned the right to piss on it.

If some jackass wants to pay the incredibly high price for front row center seats for WRESTLEMANIA where people on television can see him or her and boo someone out of the building, what's it to you? They paid good money to be there and they can do whatever they want to whoever they want. (Within reason, obviously... you know what I mean.)

Also, I keep reading that Cena gets bood on TV but cheered like a home town hero at house shows. This does NOT help any, but not for the reasons you might think. House shows are where the bread and butter is. The live shows are where you get all the hardcore fans, the ones that enjoy going to see matches. TV is where the majority of the public sees the product. TV is where the 'casual fan' is and house shows are where the 'smart fan' is. This tells me that it's not the IWC and the smart fans turning against Cena, it's the broader audience that that's tired of seeing him and want something different, which isn't good for advertisers who watch a product and see the audience turning against it. That's not good at all.

Lastly, What do people do when a television show sucks? They quit watching it, mostly. They change the channel and watch something else. There's that small group of us out here that'll still watch a show, like THE SIMPSONS for example, because even though it may be going through a bad period and not be as good 'creatively', we believe it'll pull through and get good again. Other examples of this is E.R., SEINFELD, CHEERS, NYPD BLUE all shows that went through dry spells where the storylines really were not very good, but people still watched them hoping for the time when they oick back up 'creatively'. I'm positive that there were people sitting at home pissed off at the TV because one of their favorite shows just had a really shitty episode and they sit there and jeer the screen. The only difference is that these shows don't allow for a live audience to be there and voice thier opinion to the cast. Actually, I remember reading a few years ago that there was an episode of ROSEANNE where the live audience booed during filming. They ended up having to refilm the episode with a different audience. Wrestling doesn't have that option.
Matt Tracker
Scrapple



Since: 8.5.03
From: North Carolina

Since last post: 21 days
Last activity: 12 hours

#6 Posted on | Instant Rating: 6.43
Originally posted by Cerebus

---

Why the hell should you blame the fans in attendance for how shitty the product is? To quote a favorite comic of mine, Lewis Black... "That's fucked up.".

---


And if I were doing that, yes, it would be fucked up.

I wrote about about the writers' temptation to play to the crowd they fear may show up, not the one they've booked to all this time.

If Vince really is changing the booking the day before more than once, then one has to assume he doesn't know who to write for.

(edited by Matt Tracker on 2.4.06 1430)

---

"To be the man, you gotta beat demands." -- The Lovely Mrs. Tracker

My blog will amuse. (heygregory.blogspot.com)
oldschoolhero
Knackwurst



Since: 2.1.02
From: nWo Country

Since last post: 3657 days
Last activity: 3591 days

#7 Posted on | Instant Rating: 6.74
Why the fuck would you pay the exorbitant ticket prices for something like WrestleMania if you think the product sucks? Why pay all that money just to be a dick and cheer and boo against the grain?


---
To those who say people wouldn't look; they wouldn't be interested; they're too complacent, indifferent and insulated, I can only reply: There is, in one reporter's opinion, considerable evidence against that contention. But even if they are right, what have they got to lose? Because if they are right, and this instrument is good for nothing but to entertain, amuse and insulate, then the tube is flickering now and we will soon see that the whole struggle is lost. This instrument can teach, it can illuminate; yes, and it can even inspire. But it can do so only to the extent that humans are determined to use it to those ends. Otherwise it is merely wires, and lights, in a box.-Edward R. Murrow
JohnHayduke
Polska kielbasa



Since: 17.10.02
From: Moab, Utah

Since last post: 4439 days
Last activity: 2316 days

#8 Posted on | Instant Rating: 6.54
Originally posted by oldschoolhero

---

Why the fuck would you pay the exorbitant ticket prices for something like WrestleMania if you think the product sucks? Why pay all that money just to be a dick and cheer and boo against the grain?

---


1. You like wrestling
2. It's Wrestlemania
3. Since you paid, you can cheer and boo who YOU choose.
4. It's fun to boo and cheer the people you hate and like respectively.
5. You like to have fun especially if you pay "exorbitant ticket prices."
ekedolphin
Scrapple



Since: 12.1.02
From: Indianapolis, IN; now residing in Suffolk, VA

Since last post: 4 days
Last activity: 2 hours

#9 Posted on | Instant Rating: 2.29
Well...
While a lot of what was said in the opening post had a good point, and while I didn't go into WrestleMania 22 expecting as good a card as we'd had last year, I was absolutely blown away and even revitalized as a wrestling fan by how good WrestleMania was this year.
If you couldn't find anything entertaining about WrestleMania 22, then I ain't got time for ya.
---
"Don't do anything I wouldn't do."
--Stone Cold Steve Austin
Five-Time W of the Day (5/27/02; 7/3/02; 7/30/04; 8/28/04; 12/16/05)
The Only Five-Time (and Last) N.E.W. World Heavyweight Champion
Certified RFMC Member-- Ask To See My Credentials!
John Orquiola
Scrapple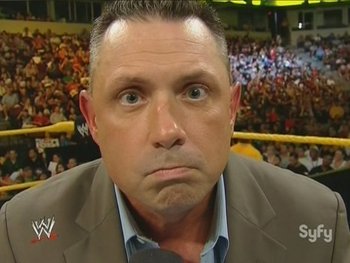 Since: 28.2.02
From: Boston

Since last post: 1787 days
Last activity: 1787 days

#10 Posted on | Instant Rating: 5.88
I guess since I started this post, I'll book end it.

I got all my complaining out of the way with my big ass essay so I had no malice left when WrestleMania 22 started. All I wanted a good show.

It was a GREAT show. A great fucking show. Honestly, if the show had ended with the Hardcore Match, I would have felt like it was time and money well-spent, but from top to bottom Mania 22 was probably the most well-produced show WWE has ever put together. There was stuff I didn't like, but who cares? Who cares! The stuff that had to be good was GREAT. RVD winning Money in the Bank , which I honestly never saw coming (I figured Shelton). RVD was my dream winner - he's gonna get a World Title shot, his first in almost 4 years. God, the Hardcore match. The thumbtacks, the blood. The barbed wire mandible claw on Lita! The fire! The spear through the flaming table! Undertaker's dive! Tombstoning 400 lbs of Mark Henry with ease! Mickie ending Trish's reign! The crowd reaction for Mickie! (I don't care about the blown spot - I don't even see it as "blown." Trish's leg was hammered the entire match - logically, how COULD she pick Mickie up and hold her for Stratusfaction? Trish's leg buckling made perfect sense in terms of psychology.) Vince's prayer: "You don't like me and I don't like you!" Vince vs. Shawn was phenomenal. The World Title match - complain all you want about it only being nine minutes, but it was a phenomenal nine minutes. Three men going all out, hitting finishers non-stop until REY MYSTERIO became World Heavyweight Champion! Triple H and John Cena's entrances - absolutely ridiculous and hugely entertaining! Lillian doing a Michael Buffer and announcing each man already in the ring. The crowd reactions. All of it giving the main event a big fight feel. Cena winning - regardless of what will happen now, what it means, who hates it, who loved it, at the moment it happened I don't think there was a single mouth not wide open from shock when Triple H tapped out.

That was an unbelievable WrestleMania. One of the best ever. WWE showed that they can deliver the biggest show of the year and deliver in spades.

"Revitalized" is a good word, ekedolphin. What I "wanted" from the booking isn't as important as what WWE gave us, which was a phenomenal show. In the end, that's what's really important, that we're throroughly entertained. At the end of the show, I felt great about WWE. And I agree, if you can't find anything to like about WrestleMania, WWE just isn't for you, because that's about as good as it gets.


---

Back of the Head: www.backofthehead.com