GRL
Frankfurter



Since: 13.7.02
From: Austin

Since last post: 76 days
Last activity: 13 days

#21 Posted on | Instant Rating: 2.90
The one time I caught Blues Traveller at HORDE they were quite terrible.


---

"Maybe I'm getting off topic, but this thread already sucks, so I don't feel bad about it. " -LotusMegami


"The only way TV Gangrel could change is if Real Gangrel changed." -Filipino Elvis
Roy.
Pepperoni



Since: 25.2.04
From: Keystone State

Since last post: 3695 days
Last activity: 61 days

#22 Posted on | Instant Rating: 4.84
I saw The Mars Volta open for System of a Down in August. They were just beyond horrible. A friend of mine who is a big fan of them just sat in his seat in shock, and he called it "45 minutes of self-indulgent crap". Apparently they played 3-4 songs, but all I really heard was whining and guitar feedback.
dMp
Knackwurst



Since: 4.1.02
From: The Hague, Netherlands (Europe)

Since last post: 4 days
Last activity: 13 hours

#23 Posted on | Instant Rating: 5.70
Two or three years ago the Deftones and A Perfect Circle played here.
The reason for me to go was APF but I was willing to try out the Deftones, I knew some of their songs which I liked so I would give it a shot. I left after ten minutes into their set.
The singer was all over the place, which they manage to sorta hide on the record (though not by much, I guess it's the charm of his singing??) It was horrible. Later I spoke to a co-worker who was a big fan of them and he said that even he left way early.

Other than that, I don't recall any horrendous bands. Probably some opening acts but I usually block those out if I don't like them from the get go.



---

*sigh* Why bother?
Deacon Jim
Chipolata



Since: 11.12.03
From: Dallas, TX

Since last post: 2051 days
Last activity: 1 hour

#24 Posted on | Instant Rating: 4.75
Around 1975 or so there was a big snowstorm in Dallas. The same day I had tickets to see Santana. Because of the snow there were only about 50 people at the convention center.

The opening act was some band called Weather Report. They played some sort of free form jazz stuff. The only reason that I remember any of this is because the show was so incredibly horrid. Even Santana sucked. Oh that and the fact that I slept with my friend's girlfriend that night.

Her last name was Adkisson and was (you guessed it) cousin to the Von Erich clan.


JayJayDean
Scrapple



Since: 2.1.02
From: Seattle, WA

Since last post: 878 days
Last activity: 456 days

#25 Posted on | Instant Rating: 6.56
I once saw Kix opening up for Cinderella, and Kix was HORRIBLE, but they're a distant second to the worst band I've ever seen, Bulletboys, opening for Ozzy, and I actually LIKE(D) Bulletboys, but live they were AWFUL, with ECW-esque "Bulletboys SUCK" chants rising up throughout the arena.

I also must confess that I saw Monsters of Rock in like '86 with Van Halen and the Scorpions, and I thought Metallica was bad, bad, bad, but that was before I "got" Metallica, who are awesome.

(edited by JayJayDean on 18.10.05 0700)

---

"You know what you need?
Some new quotes in your sig.
Yeah, I said it." -- DJFrostyFreeze


dwaters
Bierwurst



Since: 16.10.02
From: Connecticut

Since last post: 1 day
Last activity: 23 hours

#26 Posted on | Instant Rating: 3.58
Rod Stewart
Syracuse NY Carrier Dome 1991

I went for the stadium show experience, not the artist.

Not the worst live show I saw overall, but the worst moment.
The guy had to sing the lyrics to "Broken Arrow" while reading OFF A SHEET OF PAPER. He mumbled some apology about it being a new song he didn't know yet. Note to Rod: If you can't bother learning the song ahead of time, don't bother doing it.
Don't insult the fans who paid hard-earned money to see you.

It also didn't help that the opening act was Santana, who blew everybody away with a great Miles Davis tribute (Miles had passed away the day before).



Skarecrow
Polska kielbasa



Since: 5.5.05
From: Maryland

Since last post: 3496 days
Last activity: 3459 days

#27 Posted on | Instant Rating: 4.20
Beck.

HFStival circa 97-98ish?

He was horrible, utterly horrible. The music was garbage, the crowd (which is normally in such an alcohol and drug induced frenzy that it has been known to mosh to the cranberries in the past) was uninterested, and beck had this attitude like he was king of the stage. After 60 agonizing minutes (normal sets at the festival are about 45 min) it was finally over, and he hobbled offstage with his cane... only to reappear about 10 minutes later for an encore that nobody was asking for! I've gone to the HFStival at least 6 or 7 times and I've NEVER seen any band do an encore. It looked like he suprised the fuck out of the stagehands who were busy doing their job setting up for the next band. It wasn't even like he was the last band of the day, the headliner, it was about 4pm in the afternoon! Finally after annother 15 minutes of garbage I had never heard of and never want to hear again, he left the stage. Ugh.


---

Evil Inside =X=
dunkndollaz
Banger
Back to Back Survivor



Since: 3.1.02
From: Northern NJ

Since last post: 28 days
Last activity: 1 day

#28 Posted on | Instant Rating: 7.22
BOSTON at Jadwyn Gym in Princeton, NJ sometime back in the late 70's - the only saving grace was that I had front row tix and my date was blown away by how close we were to their suckitude - which she didn't seem to notice.

(edited by dunkndollaz on 18.10.05 1652)

---

Looks like Jo Dee Messina wants to fight Gretchen Wilson for Shelby Lynne's old seat at the end of the bar down at the Last Call Bar & Grill.....
J. Kyle
Banger



Since: 21.2.02
From: The Land of Aloha

Since last post: 27 days
Last activity: 2 days

#29 Posted on | Instant Rating: 4.80
X-E's co-Worst Poster of all time!
JKyle.com says:
Just to balance things out.

Orgy. Only a 45 minute set, they didn't play Stitches, and they sounded like they hadn't done a sound check.


---
If you read my comic you'll be like the tenth person (after SOK and Tricia) to do so in three years,
Kevintripod
Banger



Since: 11.5.03
From: Mount Pleasant, Pa.

Since last post: 1 day
Last activity: 12 hours

#30 Posted on | Instant Rating: 5.42
(deleted by Kevintripod on 7.12.05 1830)
dunkndollaz
Banger
Back to Back Survivor



Since: 3.1.02
From: Northern NJ

Since last post: 28 days
Last activity: 1 day

#31 Posted on | Instant Rating: 7.22
(deleted by dunkndollaz on 7.12.05 2239)
Leroy
Boudin blanc



Since: 7.2.02

Since last post: 965 days
Last activity: 965 days

#32 Posted on | Instant Rating: 4.32
Autechre in Los Angeles. Their albums are great, but seeing them live was watching two guys play on a computer for an hour.


Stilton
Frankfurter



Since: 7.2.04
From: Canada

Since last post: 4521 days
Last activity: 4521 days

#33 Posted on | Instant Rating: 4.71
Crash Vegas openning for The Tragically Hip in Detroit say mid-90s.

First, Crash Vegas sucked, then The Hip rocked, then some guy about three rows back from me got killed in a fist fight and a security guard stepped on my face to break them up but it was too late. All in all, a horrible experience just to see one of my favourite bands.


---

He was a popular attraction until he choked to death on a corn kernel.
britishiles
Head cheese



Since: 22.7.05
From: Tulsa, OK

Since last post: 1363 days
Last activity: 1333 days

#34 Posted on | Instant Rating: 2.97
I saw White Lion open for Stryper back in '88 and they were bad. The lead singer kept holding the mic towards the crowd for us to sing.

I also saw Van Halen about 10 years ago and they were great. The opener unfortunately was Skid Row. It was right after the OKC bombing so right before they sang "I"ll Remember You" they said they were dedicating it to the victims.

I also saw Styx and the opening band was Kansas and that was about 10 years ago. You know bands you like as a kid are getting really old when the lead singer is till jumping around like a maniac but is wearing a knee brace. Lead singer of Kansas that is. Dennis DeYoung of Styx stuck behind the keyboards.


---

Big Show: Why is he getting the Intercontinental Title shot and not me?
RVD: Ahhh...maybe 'cause you're a tool.
Big Show: Look. I am 7'2". I am 500 pounds. I'm a giant.
RVD: Oh ok. You're a giant tool.
Tenken347
Knackwurst



Since: 27.2.03
From: Parts Unknown

Since last post: 5 hours
Last activity: 2 hours

#35 Posted on | Instant Rating: 3.75
The Tragically Hip did a show at the Odeon in Cleveland a couple years ago. What they did, is they took their large venue tour to a couple small venues. The problem was, it was still set up for a large venue. Lots of lights, strobes, smoke, the works. I literally couldn't look at the band on stage because I got blinded every time I tried. And the crowd was ugly that night, I don't know what their problem was. Wound up leaving half way through the show.
ManiacalClown
Landjager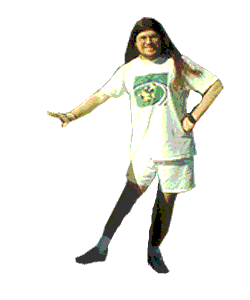 Since: 2.1.02
From: Houston, TX

Since last post: 1882 days
Last activity: 1882 days

#36 Posted on | Instant Rating: 10.00
God help me. I've seen Korn live. I can't think of another possible answer to this.


---
The Goon
Banger
Moderator



Since: 2.1.02
From: Calgary, Alberta, Canada

Since last post: 227 days
Last activity: 200 days

#37 Posted on | Instant Rating: 8.08
Sadly, it was Depeche Mode in Toronto about 10 years back. They had this giant lit "DM" behind them, and they went through the motions like a bunch of robots. I'm not sure they knew or cared what city they were in. The only thing interesting about the show was that there was a guy in the row in front of me dressed like Edward Scissorhands.
DarkRenegade
Bockwurst



Since: 19.5.02
From: YOUR MOTHER!

Since last post: 4089 days
Last activity: 1850 days

#38 Posted on | Instant Rating: 4.82
Behold the "Wise" Words of Renegade Raine, the Bishounen Hunter:



Originally posted by ManiacalClown

---

God help me. I've seen Korn live. I can't think of another possible answer to this.

---


I can, I saw Adema. You know, the band that Jonathan Davis' less talented (and that's saying something) brother heads. But luckily they weren't the only band there.


---
Preview Jeff Hardy's Mexican Juice Bar!
RecklessEric
Head cheese



Since: 23.1.02
From: Maine

Since last post: 180 days
Last activity: 180 days

#39 Posted on | Instant Rating: 5.55
I think they were called "The Riverdales". They opened for Green Day and they started EVERY FUCKING SONG with the 1,2,3,4 like they were The Ramones. On crack.


---
jfkfc
Liverwurst



Since: 9.2.02

Since last post: 780 days
Last activity: 589 days

#40 Posted on | Instant Rating: 5.78
Originally posted by StaggerLee

---

Tie between BUFFALO TOM (I think that was there name) who opened for Julianna Hatfield. Simply boring and no effort to make ANYTHING seem like fun.

---
I saw Buffalo Tom in Frisco back in 1991, and they were incredible - just thought I would throw that out for no apparent reason.

I have a tie for worst band live.

- Menudo, at Six Flags in Jersey, way back. Words cannot aptly describe the "concert". My friend and I were with girls (Menudo was their idea), and there were boobs involved, so they said they wanted us to watch Menudo with them, so we watched Menudo with them. By the end of the night, it all worked out.

- Dwight Yoakum, at Irving Plaza in NYC, also way back. I still cannot to this day figure out who thought it was a good idea to have him open for Husker Du. At least there were square-dancing skinheads in the audience, good times all around.



---

Oderint dum metuant.
Pages: Prev 1 2 3 Next