KJames199
Scrapple
Moderator



Since: 10.12.01
From: #yqr

Since last post: 7 days
Last activity: 6 hours

#1 Posted on | Instant Rating: 6.13
So I was thinking about this - is there even one match on WM23 that's guaranteed to be good?

- CENA/MICHAELS: Michaels is awesome and Cena tries hard, and they'll be given time, so this will probably be the best match on the show. However, Cena's matches often have the benefit of lowered expectations, and this match is going to be expected to deliver big.

- BATISTA/UNDERTAKER: Undertaker will put forth the effort. Batista may or may not, and even if he does, he still sucks.

- LASHLEY/UMAGA: They'll try hard, and they'll get lots of gimmicks to hide their weaknesses since Vince is involved. But Lashley's super green, and nobody really cares about him.

- BENOIT/MVP: Benoit is great, but MVP is super green. This will probably be decent, but I can't see it being great.

- ASHLEY/MELINA: Hahaha no.

- KANE/KHALI: Hahaha no.

- ECW EIGHT-MAN TAG: When the best wrestler of eight is an unmotivated Rob Van Dam (I haven't seen much of Burke yet), things aren't looking good.

- MONEY IN THE BANK: I'm sure this will be okay, but it could really use RVD and Shelton and other guys who are good fits for ladder matches, instead of guys like Finlay and Booker and whoever. Not that I don't love Finlay and Booker because I do.

A (non-comprehensive) list of good wrestlers under contract but not on the card: Ric Flair, Johnny Nitro, Chavo Guerrero, Gregory Helms, Brian Kendrick, Paul London, William Regal, Jimmy Wang Yang, Jamie Noble, Val Venis, Shelton Benjamin, Charlie Haas.

I'm ordering the show anyway, so basically I hope WM23 is awesome, but I've got reservations. Does this card actually sound fantastic to anyone else?


---
JK
Promote this thread!
John Orquiola
Scrapple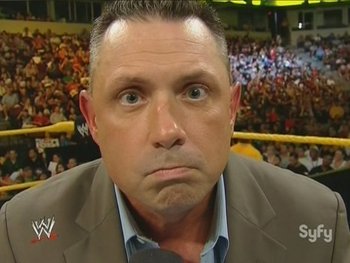 Since: 28.2.02
From: Boston

Since last post: 1724 days
Last activity: 1724 days

#2 Posted on | Instant Rating: 6.04
In sports entertainment, as in life, there are no guarantees.

I mean, yeah, WrestleMania 23 could suck. I agree looking at the show on paper, it could be a trainwreck. On paper, the card doesn't seem that strong and there are certainly a couple of matches on the undercard that one can't imagine will be any good. But WrestleMania isn't about workrate, just like WWE itself isn't about workrate. It's about spectacle and entertainment. Khali vs. Kane, Ashley vs. Melina with all those Divas at ringside fall under the spectacle category. And they're just side dishes for the main course, meant to provide a little variety. WWE does not book a card of seven or eight straight wrestling matches of escalating athletic awesomeness building to a crecendo of workrate nirvana. That's never been what WWE does, nor has that ever been what WrestleMania is about.

Given the pedigree (no pun intended) of WrestleMania and the last couple of months of strong shows WWE has delivered, I think WrestleMania 23 has a good shot of overcoming what seems weak on paper and delivering an entertaining show.

I mean, WrestleMania is the big one, the focal point of what WWE does. If there's one show they have proven they can deliver with, this is it. Whatever you feel about the company or the product or their decisions, look down the list of WrestleManias through the years. Sure, they've missed a few times but with the exception of 9 and a couple of others, WrestleManias usually deliver.

Undertaker and Shawn Michaels, two tried and true veteran big show performers, are in the World Title matches. Cena can hold his own in big matches and he has HBK, one of the best ever, to work with. Batista is a question mark but Undertaker's mystique and the undefeated streak will do half the work. Suspense will be there every time Batista hits a big move and goes for a cover, on the collective anticipation the streak could end.

Money in the Bank will be sick. They're gonna kill each other out there and any of these 8 men would be a cool recipient of a World Title shot. (Some would be better than others but it's a good mix of 8 established main eventers and potential main eventers in there.)

The Battle of the Billionaires has a built in finish that will be good for a laugh. It has Austin in there for comedy and to provide some charisma. Lashley and Umaga will probably toss each other around and hit each other with a lot of shit. (There's really little chance this won't turn into a No DQ match like every other PPV match Vince McMahon is personally involved in.)

There may not be a Match of the Year when it's all said and done but I think most anyone who is ordering the show (and if you're willing to drop $50 then you WANT to see the show) will get their money's worth. I'm not being a starry-eyed optimist here. In recent years I've written essays condeming WWE and WrestleMania on the eve of the big show and ended up eating my words when the show is over.

Relax and have a good time.

(edited by John Orquiola on 28.3.07 1227)
---

Back of the Head: www.backofthehead.com
spf
Scrapple



Since: 2.1.02
From: The Las Vegas of Canada

Since last post: 1233 days
Last activity: 108 days

#3 Posted on | Instant Rating: 5.16
The way I see it there's only one match that's likely to be terrible, and that's the women's match which will go 4 minutes or so at best.

Michaels/Cena will be awesome. I have faith in Michaels on the big stage.

UT/Batista will be kept short, gimmicked up, and meticulously planned out to make sure it stays interesting.

Lashley/Umaga will be intense and violent, the match Lesnar/Goldberg was supposed to be before everything went wrong. And hey, if it sucks they can use the same ending they did that time!
Vince won't let it suck though, since he's so closely attached to it. It may end up being a trainwreck, but it will be an entertaining trainwreck.

Money In The Bank should be fun. No reason to worry there.

Benoit will get a decent opener out of MVP. It won't be great but it won't be anything too objectionable.

Kane/Khali is two giants clubbering with one of them trying to impale the other with a giant hook. There should be a couple of minutes humor value in that.

The ECW match will have gimmicks and blood and enough people so that no one person has to carry the match.

All in all it sounds like everything should mostly range from mediocre to awesome.


---

I'm going bald to help kids with cancer! (stbaldricks.org)
OMEGA
Lap cheong



Since: 18.6.02
From: North Cacalacky

Since last post: 3548 days
Last activity: 1154 days

#4 Posted on | Instant Rating: 8.05
Eh. This worry pops up seemingly every year. The thing about WrestleMania is that it is the one night where EVERYBODY is motivated to have a great match, so the effort is second-to-none.

I have no doubt in my mind that Cena/Michaels is going to be awesome.

Lashley vs. Umaga is going to be heavily scripted with tons of gimmicks and smoke-and-mirrors, and I think this will suprise a lot of people with how fun and entertaining it is (and Umaga proved at Royal Rumble that he can have a great, wild match).

Benoit and MVP have been having 30-minute matches on house shows that have gotten rave reviews, and I think if they are given 15-minutes, they'll deliver a pretty damn good match.

Money in the Bank, with 8 guys, has the potential to be a clusterfuck. But one thing that WWE is great at, that seemingly no other company does well, is that they book these matches solidly. It isn't going to be 8 guys jumping around at the same time, but rather snippets of different guys getting their moment to shine. WWE is the best company in the world, seemingly, when it comes to booking solid and logical multi-man matches.

The ECW vs. New Breed match has high potential to be bad, or at least mediocre. But 7 of the 8 guys are having their first (and, quite possibly, last in a lot of cases)WrestleMania match ever, so I'm sure they'll all be giving 110%.

Melina vs. Ashley and Kane vs. Khali are not destined to be classics, but I'm certain WWE isn't going to give either match much time.

And Undertaker vs. Batista..... well, Batista has been horrible lately. And I doubt they'll be given the benefit of too many gimmicks, since they'll want to save the crazy spots for the MITB match and Umaga vs. Lashley. So this is going to rest on Undertaker. He's been great lately, and he'll never be more motivated than main-eventing WrestleMania in front of 75,000 people. I think Undertaker will try hard, and Batista will give whatever it is he can give, and I'm sure they'll produce something that is at least in the ** range.

Really, I don't think you have anything to really worry about. WrestleMania is when all the guys are super-motivated to give a great performance. And outside of 2 or 3 matches, nothing looks bad. I'm certain that it's going to be a fun 4-hour show.




---
~!~!~!
flairforthegold13
Kishke



Since: 1.5.03
From: Gainesville, FL.

Since last post: 4122 days
Last activity: 4109 days

#5 Posted on | Instant Rating: 9.00
It is in my nature to go along with the collective. I agree with the prior posts.

The big thing about Batista and Undertaker is that by all indications and logic they're going on last. That's going to be tough. The crowd is going to be burnt from the trainwreck spots of the MITB, the Vince getting his head shaved deal, Michaels and Cena probably going 30 minutes and hitting 4 snowflakes, the Hall of Fame stuff etc. etc. etc. from the prior 3 1/2 hours.

The match has had a okay build and the streak deal, but can they do enough to keep the crowd into it or will they set on their hands and wait for the tombstone? I think the effort will be there but we could have Jerico/Hunter type of heat where the crowd just sits on their hands till the title changes hands.


Mr Shh
Lap cheong



Since: 9.1.02
From: Monmouth County, NJ

Since last post: 69 days
Last activity: 69 days

#6 Posted on | Instant Rating: 6.17
- The show will instantly be worth at least twice the price tag if Hornswoggle "pulls a Tomko" (or is that "pulls a Rhyno"?) and TRIES to boost Finlay to the top of the ladder from underneath.

- The biggest potential problem with the MitB match is if it comes across too rehearsed or choreographed. Other than that, the guys in this match are workers who are at least on par with the eight guys from that 4 team TLC match from Smackdown in May 2001, and the match should deliver.

- All but one of the participants in the Battle of the Billionaires are entertaining enough to make this an excellent spectacle. And Umaga should be channeling his Super Samoan Selling to make Lashley's power moves look even more explosive.

- If the ECW 8-man is not a garbage match, then I fear for its potential sloppiness.

- What would keep the show from being great is how many matches the crowd gets to shit on. Hopefully, that number is zero, but Kane-Khali and the women's match obviously are the two that, on paper, can turn the crowd easily. For some reason though, I have positive expectations for Kane-Khali. If it's really, really short, then Kane is good enough to keep it energetic. If it goes longer, they'd have to make it an overbooked garbage match (which is fine by me, too). Khali had a somewhat watchable garbage match against Taker over the summer.

- Cena-Michaels should be superb, but I find it amusing that this match pits the two guys who have suffered the biggest 18-34 male fan backlash in recent history against each other. I'm half-expecting some kind of fan reaction black hole.

- With eight matches announced (two of which should be really short) and a HOF segment, this will be the first time since WMXX that both title matches will get enough time to shine. Whether that's good or bad - only time to tell.

- I think it's really, really cool that Aretha Franklin is going to open the show.

- Is it even worth mentioning that McMahon has taken a lot of "medicine" the past couple of weeks, what with the Trump shove and today's Billion Dollar Bitch Slap? Would it be worth mentioning this interview (detnews.com) with Trump, in which he says "It's a very tough thing to do, but I'm doing it because a lot of money goes to charity."? He's just talking about the match, right?

- Hey, did you know that, in terms of wrestlers actually competing in matches, RAW is the least represented of the three brands? And ECW has many guys on the card as Smackdown.

- Is Bret Hart going to appear? :-)
kentish
Andouille



Since: 19.8.05
From: My Old Kentucky Home

Since last post: 1578 days
Last activity: 831 days

#7 Posted on | Instant Rating: 2.54
I would have more faith in the MITB match if there were less guys. 8 seems like they will be getting in each others way. But it does have tons of potential given the participants.

Shawn should carry Cena to the match of his life, but I doubt it will approach 5 stars.

Hair vs Hair should be entertaining at least, but it might be pretty stiff, too. It better not go on last, either.

Overall, it should be an entertaining show, but nothing too memorable. Much like last year.


---


Dean! Have you been shooting dope into your scrotum? You can tell me! I'm hip!

Matt Tracker
Scrapple



Since: 8.5.03
From: North Carolina

Since last post: 5 days
Last activity: 6 hours

#8 Posted on | Instant Rating: 6.07
This will be my first PPV party since Invasion, and I'm looking forward to cheering or mocking with equal energy. We're gonna get TANKED and enjoy the show.


---

"To be the man, you gotta beat demands." -- The Lovely Mrs. Tracker

My blog will amuse. (heygregory.blogspot.com)
BoromirMark
Potato korv




Since: 8.5.02
From: Milan-Ann Arbor, MI

Since last post: 1435 days
Last activity: 1435 days

#9 Posted on | Instant Rating: 3.17
Slightly off-topic, but...


Originally posted by spf

---

Lashley/Umaga will be intense and violent, the match Lesnar/Goldberg was supposed to be before everything went wrong.

---


Not a chance in hell. The best Lashley and Umaga will put out wouldn't come close to how badass a power-vs-power match Lesnar and Goldberg would've had. And even with the fans shitting on the wrestlers, leading to the wrestlers shitting on the fans and subsequently the match, we STILL got the incredible visual of Goldberg's press slam into a spinebuster on Brock. The only way for Lashley/Umaga to match that one spot would have to involve a sick amount of bloodletting.

(edited by BoromirMark on 29.3.07 1337)

---
KJames199
Scrapple
Moderator



Since: 10.12.01
From: #yqr

Since last post: 7 days
Last activity: 6 hours

#10 Posted on | Instant Rating: 6.12
I'm quite happy that the show was great and, in fact, did not suck!


---
JK