TheBucsFan
TheChiefsFan



Since: 2.1.02

Since last post: 1383 days
Last activity: 1383 days

#1 Posted on | Instant Rating: 4.42
With the recent departure of longtime superstar Stone Cold Steve Austin and (what some/many see as) the mishandling of talents such as Chris Jericho and Rob Van Dam, now seems like an ideal time for seemingly devoted wrestling fans to quit watching. After the fumbling of a WCW/ECW Invasion as well as the flubbed (and, according to some, ill-advised) return of the NWO, some might see an excuse to lose faith in the WWE braintrust. As the WWE writers and executives seem to fall into the same traps that buried WCW in its dying days, from the pushing of an old guard over developing new stars to the disregarding of fans intelligence in favor of ignoring past unfinished storylines, many fans (and apparently even some wrestlers) have become disenchanted with the WWE product.

But I continue watching.

Generally, fantasy booking is a waste of time. I enjoy thinking up potential storylines to myself, and playing them out in my head, but I also realize that in doing this I am sidestepping a lot of issues that WWE officials must face. From ignoring the oh-so-popular backstage politics issue, to disregarding wrestler morale, I have the luxury of assuming everyone is perfectly happy doing everything I ask them to. So that is not very realistic. But what I do think is both fun and realistic is to take a situation in which the WWE writers have seemingly booked themselves into a corner or simply a bad position, and propose a solution.

And that is why I still watch today, and why I will still watch for a long time into the future. I have my own solutions in mind. I have my own plan for turning around WWE television, and it all takes into acocunt surrent situations within the company (both in storyline and real-life terms), and I am anxious to see how close my idea is to Vince McMahon's (or, more accurately I suppose, his employees'). So I will tune in next week to see if they handle Eric Bishoff's arrival the same way I would. And I will tune in Thursday to see if their idea for this General Manager angle is the same as mine. And so it will continue, for who knows how long...


---

Mean Gene: "You know, I don't think it's a question - Goldberg, I don't think it's a question of who's next, I think it's a question of who's left?"
Goldberg: "No, see, that's where you're wrong. It ain't who's left, it's - WHO'S NEXT?"

"Just how hardcore am I? Well this morning, I drank milk that was two days past the expiration!"
-Norman Smiley

"She is one of them! She's CANADIAN!"
-Stevie Ray
Promote this thread!
El Nastio
Banger



Since: 14.1.02
From: Ottawa Ontario, by way of Walkerton

Since last post: 8 days
Last activity: 3 days


ICQ:
#2 Posted on | Instant Rating: 7.33
I'll still be wtaching. No matter the storylines, whose in or out, whose the champs are, I'll still be watching. Just like no matter how bad Nitro got, I still watched it (albiet with the mute button pressed many times to get Tony S. to remain quiet). I'll still be watching the program(s) for one reason;

No matter how bad everything it is, it all comes down to the Art. *REAL* Wrestling is a form of Martial Art. One that I've studied extensivly. And although I should look towards Japan to see the Art in a finer point, there is still shades of it prevailent in the WWE. As long as there's guys like Beniot, Angle, Lance Storm. As long as there's stuff going on in the ring, I'll be watching. Yes, sometimes there's things that will remain an eyesore technically (women's match last week on monday), but still; no matter WHO is there or WHAT happens, eventually it'll all be settled in the ring, and THAT'S what it's all about for me. The Art. Simple enough for me anyway.


---

Montreal Expos, 2002, October, The Fall Classic.

"PLEASE BELIEVE IT!"
Evil Buddha
Pickled pork



Since: 10.1.02
From: Somerville, MA

Since last post: 4132 days
Last activity: 3530 days

#3 Posted on
I'll keep watching, too. Because despite all the backstage BS, with all the confusion over storylines and angles illogic, the WWE still has talent I want to see perform, and questions I want answered in my own mind. I want to see Booker, RVD, Eddy and Benoit. I enjoy watching Noble, Helms, Edge and Angle. I look forward to seeing Misterio debut and wheher Rock will be rusty. Are there stupid shenanigans going on? Oh yeah. However, I can say that in the near 20 years I've been watching McMahon-promoted wrestling, I have not reached the saturation point, where I say to myself, "My life is made worse by sitting here and watching this!" Yeah, I'm disappointed with chunks of the promotion. But there's lots of stuff I do like, enough so that I'll keep watching, with the hope that the product is ever improving. I guess that makes me a lemming...
:-D


---

"Come to the Dark Side... You Know You Want To!"
The Evil Buddha, spreading Alcoholism, Bad Humor and Chaos since 1971
StormRider
Chaurice



Since: 15.7.02
From: Baku, Azerbaijan

Since last post: 5618 days
Last activity: 4949 days


ICQ:
#4 Posted on
I'll also keep watching whenever I get the opportunity, which is very rare these days. I rely on internet recaps for 9 weeks out of every 12 and even on bad shows there always seems to be some good moments. We just have to hope that things turn around and that the good moments increase in frequency until they make a great show.
I've read a lot over the last couple of days from people claiming they won't watch again - BULLSHIT - you're the same as the rest of us, you'll keep watching, waiting for the great mark-out moments which make it all worth while.


---

StormRider - Currently lost in the (former) USSR
Stinger
Cotechino



Since: 29.1.02

Since last post: 5324 days
Last activity: 5323 days

#5 Posted on
I'll continue to watch wwe whenever i get a chance, but I'll never ever buy a wwe ppv again.
WyldeWolf1
Boerewors



Since: 20.6.02
From: Florida

Since last post: 5743 days
Last activity: 5742 days

#6 Posted on
I'm confused right now.

On the one hand, I have invested a lot of time and passion in wrestling. I'm a huge fan of many wrestlers, including Jericho, Benoit, HHH, Flair, Storm...many of them as people as well as performers. I want to see them succeed; I want to see the WWF/E succeed. But there's a problem...

I haven't been entertained lately. Maybe it's because I'm a newlywed and I have *better* things to do. Maybe I'm too busy applying for medical school and making other life-altering decisions. Maybe the WWE just sucks now.

I stopped watching third-tier shows like Heat and Velocity a long time ago, leaving me with four hours of wrestling TV in addition to the hours I spend at Weinerville (which I tend to find more entertaining these days). I'm not a poresu guy...I am a big fan of UFC, PRIDE, etc. I always told myself that if it all got boring one day, I'd spend my time elsewhere. I managed to do that with WCW, but it seems different this time.

I just don't know. When I *quit* baseball and basketball after fourteen years, it was due to an injury. I never stopped missing them, but life went on. I know I'll always like wrestling on some level, but I also know I don't want to spend hour after hour on something I don't enjoy anymore.

Now it looks like I've lost my primary "guiding light" in the world of wrestling, and I extend my best wishes to him. Maybe this is just a bad dream; maybe, like with the Bucs, my years of sticking with it in the bad times will pay off. But maybe...just maybe...it's time that

WyldeWolf1 is walking.

I need to think...I'll be in the john.


---

WyldeWolf1
The Man of 1,007 holds, making him 3 holds better than Chris Jericho!
dunkndollaz
Banger
Back to Back Survivor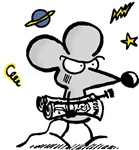 Since: 3.1.02
From: Northern NJ

Since last post: 2 days
Last activity: 2 days

#7 Posted on
I quit watching more than a minute or two here and there about a year ago. I kept up with current happenings through CRZ's recaps and OO's three news updates each week. I'll keep pausing the remote as I go by but it will never be "Must See TV' ever again. I'll miss the recaps more than the actual product.


---

"Tell me a story Jack."

"Fuck you."

"Oh, that's one of my favorites."

-48 Hours
Madame Manga
Boudin rouge



Since: 16.1.02
From: Silicon Valley

Since last post: 671 days
Last activity: 386 days

#8 Posted on
I'm going to make a confession--I'm a relatively new wrestling fan. I didn't watch it at all until last year; right after Backlash 2001 to be precise. Every commentator seems to agree that after WMX7, the WWF/E began its decline, which has continued to this day. Therefore, I stepped aboard a sinking ship at the moment the leaks began...or something like that.

So what? I caught the bug anyway. That has to be a credit to the sport itself, since until I became a wrestling fan I had never been a sports fan of any description. I've watched a lot of old tapes and I've done a lot of reading to catch up on the history. I can hold my own in any conversation between wrestling fans. (The guy at the frame shop was rather surprised that a woman of my age could tell him just why Scott Steiner isn't on WWE TV yet.) I've missed only one Raw and no PPVs since May 2001. I have a lot of Real Life on my plate, and still I make time for wrestling.

This has little or nothing to do with the current writing or the current atmosphere or the current hotshotting. (I care nothing about Eric Bischoff one way or the other; obviously I never saw WCW.) Why do I love wrestling? Simply for the wrestlers, and they are not going anywhere. How could I give up on such a marvelous cast of characters?

I'm sorry that there's a downturn right now, and I'm sorry that many fans aren't having fun any more, but I am still watching, and probably will for the foreseeable future. Is WWE going out of business? I don't think so. I hope I have some sense by now of the traditions and the continuity of professional wrestling, and I don't think that the art of entertaining the crowds with simulated hand-to-hand combat is going to vanish any time soon. I paid for floor seats at Raw in Oakland only a few weeks ago, and I had one of the best times I've had at any live show, including my many visits to the Ashland Shakespeare Festival. ;-)

MM
mountinman44
Sujuk



Since: 8.5.02
From: San Diego, CA

Since last post: 2562 days
Last activity: 877 days

#9 Posted on
I still watch it because it is what it is. It's entertainment. It's fun to watch, and, IMHO, it's a hell of a lot better than what's on on Monday's and Thursday's, at least until MNF comes back.


---

"Young lady, in this house, we obey the laws of thermodynamics!" - Homer Simpson
BobHollySTILLRules
Bockwurst



Since: 3.1.02
From: C-Bus, Ohio

Since last post: 5695 days
Last activity: 5695 days

#10 Posted on
Yep, I'm still more entertained by the WWE than by 99% of the crap they put on TV these days. In another post I said I'd stop watching if Big Show beat Booker this Sunday, but I know it's not true. I'd get up, walk away from the screen, then hear someone's music hit and come running back. I can't help it. I don't know if I'll ever stop watching, the fact that I'm still so optimistic after everything they've done in the last 18 months tells me I'm a fan for life. Plus, at some point they're going to get it back together, it may not be next week, it may not be next month, but they will. And the people that left may come back, they may not, but they will have missed something, something I'm not willing to miss. This isn't the first time this company has been down, sure, they've had competition before, but I refuse to believe that Vince thinks the last 18 months have been good. He knows they haven't, he wants to fix it just as much as we want him to. The solutions seem simple to some of us (I wouldn't want that job) but we don't know all the stuff he has to do. It's easy to say "pull HHH off TV! Fire Stephanie!" but it's nowhere near as easy to actually do it, especially with what he's probably paying HHH. All I know is things will improve and the second I stop thinking they will is the second I stop watching because once you lose confidence in a company you're not a fan anymore. Anyone who is taking their ball and going home, I don't blame you, but it's not something I'm going to do and, sooner or later, you're going to miss something. And to all of you who are sticking around, we're in for one hell of a roller coaster ride, I'll be here with all of you, like always, breaking it down with that positive-skewed opinion I'm becoming known for.

And, for those of you who don't watch, I'd like to ask that you don't ruin it for those of us that do. Don't come on here with "I told you so!" posts and crap like that, if you're not watching the WWE and you're still posting about it then you're ignorant. I didn't watch ECW, I don't post about it, I don't know anything about it. If you're not watching the product now, don't come on here and run it down for those of us who are enjoying it. If you don't watch the show, in my (and I'm sure some others) opinion, you lose the right to criticize it.

(edited by BobHollySTILLRules on 17.7.02 1536)

---

I am Mr. Positivity! Sometimes.

Bengals, Playoffs, 2002.

DON'T BELIEVE IT!

*I* want to be the right one!
deadbeater
Morcilla



Since: 12.2.02
From: Parts unknown

Since last post: 5682 days
Last activity: 5682 days

#11 Posted on
I'll still watch, because there are those in the WWE who care about the final product, or at least what they do.


---

"Business has just picked up" says JR. Then right on cue, Molly enters the arena! Never was JR any better in introducing someone. --Raw 7/15
dMp
Knackwurst



Since: 4.1.02
From: The Hague, Netherlands (Europe)

Since last post: 3 days
Last activity: 9 hours

#12 Posted on
Great to finally see a positive thread.

I know I will keep watching because I am a fan of the sport, a fan of certain (most) performers.

If the show they put on isn't what it should be, I shrug and hope for better weeks. If it is great I smile and I have a good day.
Just like last weeks 'bowling shoe ugly' show? I thought it was alright.
Living in Europe I get to see Raw and SD about a week late, and I mostly know what will happen..Yet still I mark out when someone gets into someone else's face, I mark out for the great match and I mark out for the guys I like.

My point? I don't know where everything is going to head.
But the stuff keeps me entertained..It provides me with 4 great hours of TV, it provides me with an outlet from reality.

Like TheBucsFan said, I too love guessing where stuff is heading, fuck..I had hopes for the nWo even, I knew exactly what I wanted to see. Stuff didn't happen that way (for a large part not even WWEs'fault) and I shrugged, adapted and moved on.

I too believe that things need to be done to attract the viewers again but I see alot of positive things..And that's why I keep tuning in.


---

"...And I use that to fuck them some place fairly uncomfortable."
"What, like the back of a volkswagen ?"
-Mallrats
acrid 2.0
Bauerwurst



Since: 24.6.02
From: Wassenaar, The Netherlands

Since last post: 1482 days
Last activity: 73 days

#13 Posted on
I guess one "bowling shoe ugly" match = a complete "bowling shoe ugly" show. I agree dMp, last weeks show was alright. Actually, I enjoyed it a great deal. And Smackdown as well.

I will continue watching as long as WWE exists, or the guy that tapes them for me doesn't anymore

Angle, Rock, Benoit, Jericho, Booker, Jackie Gayda etc. etc. all deserve it.


---

who?
heh heh...
it's catchin' on.................... SUCKAAAAAAAAAAAA!!!!!!