Dexley's Midnight Jogger
Pepperoni
Moderator



Since: 10.10.02
From: New Hampshire

Since last post: 1540 days
Last activity: 1455 days

#1 Posted on | Instant Rating: 7.92
I got to met former Vice President candidate John Edwards when he was running for President. I had my photo taken with him but it was lost on my computer when I left my job.

I also got to chat with the lead singer of Clutch.
Promote this thread!
Dahak
Frankfurter



Since: 12.5.02
From: Junction City OR.

Since last post: 3304 days
Last activity: 2957 days

#2 Posted on | Instant Rating: 3.28
My list is far more pathetic.
I was at a restaurant and Weird Al walked in. We saw him and he talked to us for about 5 minutes. Seemed like a really nice guy.
I have also talked to my local Congressman Peter Defazio on a couple of occasions. He used to come into my mom's office. Nice guy but seemed busy like he just drank a quad shot mocha.


---

Marge I am just trying to get into heaven not run for Jesus.
Torchslasher
Knackwurst




Since: 17.1.02
From: New F'n Jersey

Since last post: 42 days
Last activity: 41 days

#3 Posted on | Instant Rating: 5.75
I met Goldberg at a local Hooters and I talked with Raven at a chiropractic office. Yep, only wrestling "celebrities" for me.


---

Click Here (czwfans.com)

For all your CZW and Nickels Trivia information.


"Look guys, it's 'Lake Man!' Hope you can fit into our NARROW office, Mr. Big Lake" --MST3K The Collection V. 7

Click Here (myspace.com)
TheBucsFan
TheChiefsFan



Since: 2.1.02

Since last post: 1350 days
Last activity: 1350 days

#4 Posted on | Instant Rating: 4.42
The list of people I interviewed while I was editor of my college newspaper includes: John Kerry, John Edwards, Howard Dean, Dennis Kucinich, Jeb Bush and Ralph Nader (does he count?)...it wasn't until this very second that I realized they were all Democrats save for Jeb. All were in one-on-one settings except for Kerry, and Nader was via the phone.

Outside of politics the list includes Antwaan Fisher, Jon Gruden, Steve Spurrier, Rick Pitino and Chucky Atkins (who?).

Excluding meetings I used my press credentials for...Stan Musial.
Bullitt
Shot in the dark




Since: 11.1.02
From: Houston

Since last post: 600 days
Last activity: 600 days

#5 Posted on | Instant Rating: 6.96
Probably Tim Robbins at a Blue Jays game back in '97.


---
These are my awards, Mother. From Army. The seal is for marksmanship, and the gorilla is for sand racing.

JST
Toulouse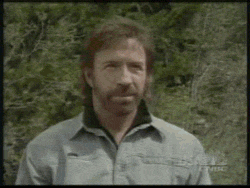 Since: 20.1.02
From: Quebec City, CAN

Since last post: 71 days
Last activity: 5 hours

#6 Posted on | Instant Rating: 5.97
Mine also extend to wrestlers, so you could say the bigger name out of those would be Raven.

I exchanged head nods with Jim Ross back at Raw in Montreal this past summer.


---

JayJayDean
Scrapple



Since: 2.1.02
From: Seattle, WA

Since last post: 818 days
Last activity: 396 days

#7 Posted on | Instant Rating: 6.34
I met Jeff Burton (the NASCAR driver) at the Exhibitor show in Las Vegas a couple of years back.


---

"You know what you need?
Some new quotes in your sig.
Yeah, I said it." -- DJFrostyFreeze


Leroy
Boudin blanc



Since: 7.2.02

Since last post: 906 days
Last activity: 906 days

#8 Posted on | Instant Rating: 4.79
Martin Gore, Marcia Clark, and Juliette Lewis. One is more famous than the other two depending on who you talk.

RZA was my personal favorite.


---

"Those of you who think you know everything are annoying to those of us who do."
David Brent, The Office

"Oedipus ruined a great sex life by asking too many questions."
Stephen Colbert, The Colbert Report
Packman V2
Bratwurst



Since: 16.3.04
From: Albuquerque, NM

Since last post: 19 days
Last activity: 2 days

#9 Posted on | Instant Rating: 5.22
Couple of football players, Roy Williams, Quincy Carter, Chad Hutchinson, La'Roi Glover, Antonio Bryant, and Derek Ross, all former Cowboys. Also met Honky Tonk Man at an Indy show back in the late 90s...his costume and gimmick is so awesome in person.

EDIT: Had almost forgotten, I've met current New Mexico Governor/former US Representative/UN Ambassador Bill Richardson. The guy is huge in person, and came by the county government building during his bid for governor. had some pictures taken of him somewhere, but not sure where they are.

(edited by Packman V2 on 19.4.06 0619)

---
Mr. Boffo
Scrapple



Since: 24.3.02
From: Oshkosh, WI

Since last post: 1729 days
Last activity: 1690 days

#10 Posted on | Instant Rating: 5.12
The only I can think of is pretty far down the list. When I worked at a Burger King in high school, we had Bill Schroeder, WR for the (at the time) Green Bay Packers come in. He ordered a double Whopper combo. And we were really busy so it took a long time. We were all too nervous to say anything to him though (plus, like I said, it was really busy).

Sadly, that's the best I can do.


---

In the real world, WWE believes that no matter what our race, religious creed or ethnic background in America, we all share the common bond of being Americans. American-Arabs are a part of the fabric of America, and they should be embraced by all of us.
drjayphd
Scrapple
Moderator



Since: 22.4.02
From: Outside of Boston

Since last post: 7 days
Last activity: 1 day


ICQ:
#11 Posted on | Instant Rating: 7.06
You wanted the best, you got... Out of Context Quote of the Week.
"I know, I know you are saying "sure there was some bad calls, but Jake Gyllenhaal obviously dropped too many easy catches and Ang Lee had some horrible clock management at the end of each half!"" (krakken2000)


---
Didn't recognize her at the time, but Maura Tierney came into Boston Market when I worked there. In the sparkling new job, Rico Brogna, Joe Andruzzi, and (via phone) Emmett McCarthy of Project Runway fame.


---
Bob C
Chorizo



Since: 5.9.04
From: Downtown

Since last post: 1543 days
Last activity: 1410 days

#12 Posted on | Instant Rating: 4.67
My personal favorite was meeting Guy Lafleur, the hockey legend. Talked with him for 10 minutes, great guy.




---

Tiens mon copain!
The Goon
Banger
Moderator



Since: 2.1.02
From: Calgary, Alberta, Canada

Since last post: 167 days
Last activity: 141 days

#13 Posted on | Instant Rating: 8.08
James Woods once gave me directions on what to look for when buying a big-screen TV.

Seriously.
Nuclear Winter
Boudin rouge



Since: 9.11.03
From: Bedford, Michigan

Since last post: 1484 days
Last activity: 35 days

#14 Posted on | Instant Rating: 5.00
I met Darren McCarty at a Best Buy in Toledo.

I came in the store to buy a copy of ESPN NHL 2K4 (or was it 2K5?), and I didn't see any. So I asked an employee about it, and the guy goes, "Yeah, we have them all stored in the back. Darren McCarty is coming in to sign them a little later."

So I returned a few hours later, bought my game, shook Darren's hand, and got his signature on the game's instruction guide.

Of course, this was during the NHL lockout, and I had no idea that by the time hockey was on again, he wouldn't be a Red Wing.

EDIT: Hey, post 300.

(edited by Nuclear Winter on 18.4.06 2135)

---

Check out the boring Xanga! (xanga.com)
Stupid of the Year (thingsstuff.741.com)
shinstrife
Boudin rouge



Since: 5.10.02

Since last post: 781 days
Last activity: 4 days

#15 Posted on | Instant Rating: 5.00
I met David Draiman, the lead singer of Disturbed when I attened Ozzfest 2003. Back then I was seriously into heavy metal and it was awesome. We really didn't talk, as it was more so a meet and greet but that is the extent of my list.


---
Kevintripod
Banger



Since: 11.5.03
From: Mount Pleasant, Pa.

Since last post: 6 days
Last activity: 3 hours

#16 Posted on | Instant Rating: 5.07
When I was a little kid I met John Travolta when he was doing Welcome Back Kotter at a autograph signing session at my local mall.

I met actor Robert Vaughn and comedian Sinbad at my college.

And I met comedian George Carlin in the streets of Pittsburgh after his limo knocked me down when I was on my way to my car after I had just seen his performance.......True story.

A couple of times I got to meet then-Steeler Rod Woodson at his resturaunt that he used to own in Pittsburgh. One of my buddies was the kitchen manager there, so I always was allowed to sit up in the VIP box. People eating in the resturaunt were always staring at me while trying to figure out which Steeler player I was.

My most recent celebrity run in was a couple years ago when I let Mario Lemieux and his family cut in front of me at the line for the bar during intermission for the Broadway show "Mama Mia" in Pittsburgh. He and his wife thanked me, and then he bought my drink for me.

During that same year I let Pirates owner Kevin MClatchey cut in front of me so that he could put mustard on his hotdog. I was a little impressed that he actually goes and gets in line to get his food like everyone else does instead of having it brought to him by some attendant.


(edited by Kevintripod on 19.4.06 0118)

---

"Oh it's on like Donkey Kong." - Stifler, American Wedding
ekedolphin
Scrapple



Since: 12.1.02
From: Indianapolis, IN; now residing in Suffolk, VA

Since last post: 17 days
Last activity: 2 days

#17 Posted on | Instant Rating: 2.29
I met Isiah Thomas once at my Blockbuster in Indy, and saw Larry Bird in the flesh at Smee's Restaurant behind that Blockbuster. Actually spoke to Isiah, asked him if he was finding everything OK. He said yeah. Seemed kinda shy, actually.
I happened to be headed to the restroom at the same time Larry Bird was headed
out
of the restroom (I
swear
it was a coincidence!), so I said "Hey, how ya doin'?" to him. He didn't reply audibly, he just nodded.
Jared from Subway used to come into my Blockbuster store in Indy every once in awhile, as he lives in Indianapolis and graduated from the same high school as I did. (Though he's a bit older than me and we weren't in high school at the same time, probably).
Other former regular customers of mine were Jonathan Bender (at Blockbuster) and Derrick McKey (at Marsh). Bender always seemed to have an entourage with him, so we didn't really talk all that much. Seemed whenever I saw McKey, he had a knee brace on, so once I told him I hoped he'd feel better soon, and he was grateful for the support.
I met Dale Davis when he came to our middle school once. The rumor going around was that he was dating our vice principal, though I don't know if that's true or not.
That's all I can think of right now, and as you may have noticed, I met
all
of these people while I was still living in Indy. Virginia Beach seems to have a relative lack of people I'd consider famous.
---
"Don't do anything I wouldn't do."
--Stone Cold Steve Austin
Five-Time W of the Day (5/27/02; 7/3/02; 7/30/04; 8/28/04; 12/16/05)
The Only Five-Time (and Last) N.E.W. World Heavyweight Champion
Certified RFMC Member-- Ask To See My Credentials!
dunkndollaz
Banger
Back to Back Survivor



Since: 3.1.02
From: Northern NJ

Since last post: 34 days
Last activity: 2 days

#18 Posted on | Instant Rating: 6.95
I helped pick up Clint Eastwood after he had a complete yard sale skiing in Idaho. Didn't realize who he was until he said thanks for the help.


---

Hey Crab Man !
DrDirt
Banger



Since: 8.10.03
From: flyover country

Since last post: 179 days
Last activity: 81 days

#19 Posted on | Instant Rating: 7.95
Dr. Spock (the baby doctor). Various senators and Reps. Former Interior Secretary Gayle Norton. Dan Glickman. Former Kansas Gov. Bill Graves. Mitch Webster (former Baseball player) John Cale of Velvet Underground Fame. Nobody really famous except maybe to me.


---

Perception is reality
bash91
Merguez



Since: 2.1.02
From: Bossier City, LA

Since last post: 2076 days
Last activity: 176 days

#20 Posted on | Instant Rating: 7.07
I met President Reagan in 1987 when he came to Purdue and our High School band provided the music for part of the event. Among the other politicians I've met are Dick Lugar, Evan Bayh (I threw up on his shoes at an event), Jeanne Kirkpatrick lectured in my International Relations class when I was in college, Nixon's Secretary of Agriculture Earl Butz was a member of my church, and I met most of Indiana's Congressional delegation doing research for a paper on lobbyists and lobbying.

When we lived in Bloomington, we used to see John Mellencamp regularly at the Kroger a block from our apartment where he once ran me over and was incredibly gracious. We'd also frequently see him at the Ryan's just down the road. When I was working as a DJ, I got to meet a lot of musicians but my favorites were probably Warren Zevon, Melissa Etheridge, and the Dead Milkmen.

I'm sure there are others, like Robert Heinlein, but that's all I can remember right now.

Tim


---

Vocatus atque non vocatus, Deus aderit. -- Erasmus


Pages: 1 2 3 4 Next