Papercuts!
Potato korv



Since: 3.1.02
From: Springfield, Mo.

Since last post: 5802 days
Last activity: 5712 days

#3 Posted on | Instant Rating: 0.00
Well, I'm currently not watching either of the "brands" so I'll give you a list of stuff i used to markout to, up until last summer's "InVasion."

Edge and Christian's antics.
Rock's sharpshooter during Smackdown main events right before the PPV.
Foley's antics, preferably with Edge and Christian
The Lionsault
Triple H's entrance
"D-Von, GET THE TABLES!"
The Hardys
Lita
Pedigree! Pedigree! Pedigree!
The Rock Bottom
The sledgehammer shot.
Humorous Rock interviews, especially if they included an impression
TLC
The Stone Cold Stunner
Nearfalls, especially in championship matches


---

--Jason Baldwin
Writer of Stuff About Comic Books
tomvejada
Andouille



Since: 2.1.02

Since last post: 5410 days
Last activity: 5410 days

#4 Posted on
Some more mark-out moments
Some of the Corporate Ministry's antics before the Higher Power (Where to Stephanie?)
Team E-C-K
Most of Wrestlemania X-7
Wind beneath My Ring (Milkamania)
Austin's nonstop Whats in Toronto last September
TLC matches
Regal saying "toerag"
Vince's facial expressions
Bang 3:16
Mr. Socko
Austin attacking Vince at the hospital
Benoit and Jericho winning the tag team titles
Jericho Man of 1000 holds
Eddie returning
Austin winning the title




(edited by tomvejada on 7.5.02 0910)
---
"Catching Hitler was neato!" "Next stop, Hirohito!" Bart Simpson
wannaberockstar
Frankfurter



Since: 7.3.02

Since last post: 628 days
Last activity: 614 days

#5 Posted on
The one.. the only.. the BROOKLYN F'ING BRAWLER!!!
Also, I loved the Jericho/Benoit stuff from WCW days.
The ECW "Invasion" angle
Anything involving Kurt Angle
NOMAD974
Cotechino



Since: 5.1.02
From: D.C. Metro, Maryland

Since last post: 2585 days
Last activity: 2547 days

#6 Posted on
Heel Tactics (ie. poke to the eye)
Non-Blonde female wrestlers
Former real wrestlers (Angle, Stiener, Brock)
Luchadors under 230lbs
NWO
Booker T
RVD
Tag Teams (1 yr together min.)
Raven (as a commentator)
Tazz (as a wrestler)
Cage Matches
Voodoo Chile
Macho Man (please...just 1 more run)



Yun
Salami



Since: 2.1.02
From: Just outside Dudleyville

Since last post: 4582 days
Last activity: 4529 days

#7 Posted on
The first and last time I actually jumped out of my seat, lost all composure and completely marked out like a seven year old was RVD winning the IC championship @ WMX8

Other things I mark out for:

-Any non-Dude Love appearance by Mick Foley
-RVD
-Booker T
-The Hardyz Entrance
-Face Jericho
-Heel Benoit
-Jericho vs. Benoit (Seperately they're good... together they're gold!)
-Heel HHH
-Team RECK
-Near falls, but only if they're at a point where the match could believably end. A near fall five minutes into a PPV main event just doesn't do it for me.
-Raven and Coach (These two rock together)
-Whenever someone mocks "What?" (IE "Say 'what' if you like to sleep with your own sister.")

One time markouts:

-Milkamania
-The return of Cactus Jack (pre-Royal Rumble 2000)
-The Royal Rumble 2000 Table Match
-The Royal Rumble 2001 Ladder Match
-Regal's Hulkamania promo
-The ECW reunion
-Molly breaking a paddle over Trish's head.
-Spike Dudley winning the Euro Title
-Regal taking out Planet Stasiak


---

Everything's cool when you're Yun [point] Cheol [point] Su [point]
StampedeFan23
Morcilla




Since: 12.1.02
From: BC, Canada

Since last post: 3388 days
Last activity: 2924 days

#8 Posted on
I pretty much only mark out for Ric Flair. The man is a god among men. Though, Molly Holly has been tweaking my markdom lately... More later.


---

Are you ready for Mahkan-mania to run wild all over you?
WhoBettahThanDeion
Bockwurst



Since: 4.1.02

Since last post: 5720 days
Last activity: 5556 days

#9 Posted on
I'm not going into detail on some of these because frankly on some of these things and people I'll makr out everytime no matter what:

1. Kurt Angle (period, everything he does is classic to me)
2. Kanyon
3. Lance Storm wrestling
4. "Who Better Than Kanyon" move on the turnbuckles.
5. Heel Austin
6. The Rock (always been a Rock mark even when he's mediocre)
7. Bubba's dancing
8. Bubba FINALLY hitting the elbow off the turnbuckle
9. Vince promos (not the ones involving women)
10. Vince saying "Life sucks and then you die!"
11. RVD's bad promos
12. RVD matches
13. D'Lo Brown matches
14. Hardcore Holly calling people fat
15. Hardcore Holly's suprheavyweight gimmick.
16. Heel Jericho
17. Saturn's moppy gimmick (first couple of weeks)
18. Not over Bradshaw (hate him)
19. Not over X-Pac (hate him the most)
20. X-Pac sucks chant
21. Molly Holly matches
22. My favorite Diva Molly Holly
23. Angle saying "son of a bitch" off mic (says it everytime he's off mic, just watch!)
24. Angle victory
25. Rikishi losses.
26. X-Pac losses
27. Day Test wrestles and I see it on my tv.
28. www.deanmalenkoeatsdogs.com
29. Storm's commentaries (good look inside the wrestelrs life, sometimes, damn book marks!)
30. Moolah's giving birth to a hand (gross out moment I still don't understand)
31. Gerald Brisco
32. Kidman
33. Thinking about Mysterio coming back
34. Thinking about the return of Benoit and Kanyon off the injured list.
35. King hating on Jeff Hardy ("Jeff Hardy will take a bit out of Goldust's weiner!")
36. Goldsut promos.
37. Goldust matches.
38. Golden Globes.
39. Booker T. promos.
40. The thought that one day Trish or Steph might do playboy. (sad...but true!)
41. JR's "My God!"

Well, that's it for now, there's probably about sixty other things I can think of, but I've written enough.



---

Triumph: I kid, I kid. I think Triple H is a great Wrestler! For-Ah! (pause looks around for crowd reaction) Me-Ah! (pause looks around for crowd reaction) To-Ah! Poop-Ah! ON!
BobHollySTILLRules
Bockwurst



Since: 3.1.02
From: C-Bus, Ohio

Since last post: 5720 days
Last activity: 5720 days

#10 Posted on
Okay, I'll bite:

Anything Booker T does
Hardcore Holly's music hitting (obviously, hell I could list 25 Holly things, but that's a waste of our time)
Hogan singing along/doing the hand chop with his theme
D'Lo
Molly Holly with a microphone
Eddie Guerrero eye pokes
RVD promos
the END of William Regal matches
Jonathan Coachman (don't know why, kind of a running joke that stuck)
HHH jobbing
Val Venis (excluding all stupid in-ring promos)
"Hey Yo!"
X-Pac getting anyone's finisher
Kidman chants
Billy & Chucky

Some of my biggest all-time "mark out" moments...
Hardcore Holly returns from broken arm, attacks Angle (mainly cause I was there)
Booker T beats Austin
Angle Milk Truck
Shane-O-Mac returning, finally interrupting another hideous Vince-Trish segment
Hogan drops the leg on Rock at WMX-8 (you could pretty much put that whole match in there)
Taker & Kane finally confront the 2-Man Power Trip
Flair returns to the WWF
Shane announces he bought WCW from Panama City
Mankind beats Rock for WWF Title at Rock Bottom (reversed immediately)
Jericho beats HHH for the WWF Title on Raw
Vince wins the WWF Title (yeah, I loved it, sue me)
Benoit & Jericho win the Tag Titles
Angle wins the WWF Title (1st time)
Jericho wins the WCW Title (wins the "big one")
Venis beats Shamrock for I-C Title at St. Valentine's Day Massacre

old school:
Hogan beats Yoko at WM9 (I jumped up and down on my bed, I ain't afraid to admit it)
HBK beats Bret in Ironman
Janetty beats Michaels for I-C Title on Raw

And finally, the only guaranteed mark-out moment to come for me...
Benoit returns.




---
And I think you're fat. So how do you like me now?
Net Hack Slasher
Banger



Since: 6.1.02
From: Outer reaches of your mind

Since last post: 4926 days
Last activity: 3346 days

#11 Posted on
-A positive thread, I like it

-Trish Stratus - effort/ top 3 sellers in all of WWFerrE
-Lilian Garcia -looking at and smiling extra hard when Trish enters the ring
-Chris Jericho - heel... doing stuff with his hair (colouring the tips red)... Little spining thing at top of entrance.
-RVD- matches... unique backstage promos (everyone else is so hyper, he's so whatever duddeeee)
-Chris Benoit - in ring... yelling at Lilian for screwing up.
-Molly Holly-
-Jim Ross - going insane/marking out/swearing. When all hell buh-gawd is breakin loose... his play by play in general.
-Kurt Angle - in ring... persona... getting really mad and swears.
-Goldust - entrance...
-Odd Couple Bookdust or is it GoldBook
-Hulk Hogan - Hendrix entrence... feather boa
-Austin - motivated Austin, talking at times, when he's in the ring with a challenging opponent and steps up.
-Team RECK - I'm putting in one thing that's not on anymore and that's Team RECK. There was a time that EVERY time they did something it was gold

(edited by Net Hack Slasher on 7.5.02 0254)

(edited by Net Hack Slasher on 7.5.02 0256)
---
LordOfTheSmarks
Chipolata



Since: 18.3.02
From: THE ohio state university

Since last post: 5816 days
Last activity: 5709 days

#12 Posted on
Four things make me mark out more than anything else:

Kurt Angle
Chris Jericho
The Solo Conchairto
A great promo, no matter who it's by, but lately that's been by the Undertaker.


---

"somewhere down in suburbia it ain't right"
tomvejada
Andouille



Since: 2.1.02

Since last post: 5410 days
Last activity: 5410 days

#13 Posted on
Even more mark-out moments:

Cowboy Kurt
Kaientai
Goofy Perry (Moppy)
Raw/Nitro similcast
Roody-Poo Bridge
Rock giving the euology at Austin's funeral a few years ago, and Austin returning that night, only to have Shane hit him with a shovel.
Austin and Vince hugging for the first time.
Angle-Benoit cage match.

Edit: Rather than another post I listed some more mark-out moments.

(edited by tomvejada on 7.5.02 0913)
---
"Catching Hitler was neato!" "Next stop, Hirohito!" Bart Simpson
Spaceman Spiff
Knackwurst



Since: 2.1.02
From: Philly Suburbs

Since last post: 91 days
Last activity: 5 hours

#14 Posted on
I'll just keep it to individual wrestlers:
Angle
Jericho
Last summer's heel Austin
Benoit
Kanyon
Booker T
Mike Awesome
Lance Storm
Kidman
Hurricane (although I like Sugar Shane better)
Chavo
Hugh Morrus
Chuck Palumbo (also Chuck & Billy)
Sean O'Haire
Jamie Knoble
Shannon Moore
Elix Skipper
Kaz Hayashi
Jason Jett
Brock
Flair
Scott Hall
Eddie Guerrero
Rhyno


---

Matthew: You would've loved it, David. A week in a foreign country, strange people, strange customs...
Dave: Oh, I know what you mean. I've been to Canada.
Kawshen
Liverwurst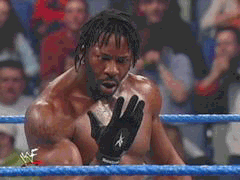 Since: 2.1.02
From: Bronx, NY

Since last post: 3295 days
Last activity: 1555 days

#15 Posted on
See signature pic and avatar.

Special honorable mention goes out to the HEEL Austin. Please come back. I miss you. :(


---

sergeial
Boerewors



Since: 27.2.02
From: Minneapolis

Since last post: 4373 days
Last activity: 4290 days

#16 Posted on
Man, heel Austin sure has gotten a lot of love on this thread--I had thought the consensus was that the heel turn hadn't worked? I'm glad that others agree that heel Austin kicks face Austin's ass. I was so disappointed that they didn't give Austin's heel turn another try last night. Oh well, this is supposed to be a positive thread...

Some more things I mark out for...

Undertaker's topa suicida. I'd love to see it again, but I don't suppose it would suit his heel character.

Also, Undertaker and Angle counter-wrestling around an arm bar.

Net Hack Slasher's sig had me marking out as I read this thread this morning.


---

"I tear my quadracep all the time! I tore it this morning, I'm fine!"-- Kurt Angle
CxMorgado
Boudin rouge



Since: 21.1.02
From: Boston MA is the rippen'ist town...

Since last post: 877 days
Last activity: 779 days

#17 Posted on
Originally posted by sergeial

---

Man, heel Austin sure has gotten a lot of love on this thread--I had thought the consensus was that the heel turn hadn't worked? I'm glad that others agree that heel Austin kicks face Austin's ass.

---


I don't think the consensus was that heel Austin wasn't great, it was that the main portion of the fanbase didn't dig it, except for the W-word...

Anyways besides InVasion Austin I tend to mark out for:

D'lo/Mark Henry as a tag team.

Heel Jericho, heel Tajiri (mist~!), and heel Eddy.

Whenever the Undertaker says stuff about stabbing people in the face, wearing teeth as a necklace, etc. For example:

"Coach, let me ask you a question. Are those your teeth?"
"Yes, sir, they are."
"Would you like to keep your teeth in your mouth?"

I LOVE it when he says shit like that...

Angle running up the turnbuckles to suplex somebody off the top rope... actually pretty much anything Kurt does I tend to mark out for, the dude pretty much single handedly keeps me watching whenever I'm bummed out with the show.

(edited by CxMorgado on 7.5.02 1135)
---
"Wanna see how far I can go. Test my patience, see what I know. Just not happy with nothing to do. Getting bold when there's more than two." - Cro-mags.
Divakind
Mettwurst



Since: 19.2.02
From: Charleston, WV

Since last post: 3831 days
Last activity: 3770 days

#18 Posted on
Individual wrestlers:
Mick Foley
Chris Jericho
X-Pac
Raven
Rob Van Dam
Hogan (sue me, I'm an 'ol Hulkamaniac from when I watched during the '80's)

Various moments:
"Cowboy Kurt" (yippie ki yo, ki yay Golden Boy!)
Spike Dudley's debut on RAW last year
Bubba's dancing
The APA (anyone remember the "Pulp Fiction" takeoff?)
The reformation of ECW
"Milk-o-mania"
Austin beating the f**k out of Lita with a steel chair
The Dudley's 3D on Lita in TLC2 at WM X-7
Walls of Jericho on Benoit atop the ladder (Royal Rumble 2001)
Jericho becoming Undisputed Champion at Vengeance
Rhyno running headfirst into the shopping cart (Hardcore title match at Backlash, 2001)
Rock calling Nash "Big Daddy Bitch"
Stephanie's "departure" from television
Tajiri calling Booker T a "jackass"
"The walrus is gone, koo koo ka joob!"--JR when Paul Heyman was "fired" on RAW 11/19/01
Taker walking the ropes
I know I've already mentioned him once but Raven & Coach on both "Sunday Night Heat" and "Excess".
Tazz's entrance (even though I don't like the Cypress Hill version of his theme that much)
Jericho's entrance
RVD's "Rolling Thunder"




---

"I'm overflowing with the juices of life!"

--Evan Dorkin/Welcome to Eltingville