NickBockwinkelFan
Frankfurter



Since: 10.4.02
From: New York City, NY

Since last post: 2263 days
Last activity: 1028 days

#1 Posted on | Instant Rating: 6.58
Your first car?

Beater or new?

Plus, the year you got your Drivers Licence for a point of reference.

Me: I got my DL in 1985.

My first ride:
1979 Ford Mustang
with The Indianapolis 500 Pace Car decal package
4-cylinder with a puked out turbocharger and a Hurst 4-speed

The blown out turbo made the thing run like absolute crap and contributed greatly to the eye-popping $1500 price tag. My dad wrenched the puked out turbo out and we replaced it with a new one for an additional $750. We sold it for $4500 a few years later.


(edited by NickBockwinkelFan on 9.10.05 0359)

---

"Well, you can't involve friendship with business. It has to be one or the other. It's either business or friendship, or hit the bricks!"
--Life Lessons from Bobby the Brain Heenan WCW Uncensored 2000 preview



Generalissimo Takada's Energy Beverage Provides Maximum Nourishment!
Promote this thread!
AWArulz
Scrapple



Since: 28.1.02
From: Louisville, KY

Since last post: 2 days
Last activity: 2 days

#2 Posted on | Instant Rating: 7.28
Mine was a '63 Ford Falcon beater. I paid a guy $60 for it, bribed my way past the emissions test and drove it for over a year and when it died by the side of the road - I left it right there. I knew I was moving out of California in the next couple of months anyway.

My second car, though, was a '76 Pacer! Yeah!

DL - would have been '73, I guess. 16 years and 1 month, so like november '73. I never got a car until I was in the army. Drove my Dad's Olds on all my early dates - and his truck to other events.


(edited by AWArulz on 9.10.05 0809)

---

We'll be back right after order has been restored here in the Omni Center.
StaggerLee
Scrapple



Since: 3.10.02
From: Right side of the tracks

Since last post: 4 days
Last activity: 22 hours

#3 Posted on | Instant Rating: 2.39
I got my DL in the summer of 86. My first car I bought however was in the summer of 85. A wonderful, baby blue 1976 Pontiac Ventura 4 door sedan. Looked like crap but ran like a charm. I would have had to pay a grand total of $50 for it, but the guy decided to 'let' me cut his grass all summer in trade.

(edited by StaggerLee on 9.10.05 0912)
Mr. Boffo
Scrapple



Since: 24.3.02
From: Oshkosh, WI

Since last post: 1792 days
Last activity: 1753 days

#4 Posted on | Instant Rating: 5.12
Beaters. A bunch of them. But that's really to be expected when you buy cars for like $100. I had quite the bad luck for a time. I'd have the car for a while, then something expensive on it would break.

Let's see, got my license in 1999.
The car I had for the longest time was a 1992 Chevy Cavalier wagon with 100K+ miles on it. Had that one until I bought my first non-beater car about 6 months ago, a 1998 Cavalier.


---

In the real world, WWE believes that no matter what our race, religious creed or ethnic background in America, we all share the common bond of being Americans. American-Arabs are a part of the fabric of America, and they should be embraced by all of us.
bash91
Merguez



Since: 2.1.02
From: Bossier City, LA

Since last post: 2139 days
Last activity: 239 days

#5 Posted on | Instant Rating: 5.33
How about neither? I got my license in 1985 and my first car was a powder blue 1966 Rambler Ambassador that I bought off of my grandmother. When I bought the car, it had about 23K miles on it and was in immaculate condition. Plus, my grandparents loaded the option package when they bought it which meant that I was driving a Q-ship that embarrassed several of my classmates in their 6 cylinder Mustangs and Camaros. Great times and I wish I still had the car but it got sold when I realized I was going through a set of brakes every 3 months and was spending way too much money, like 12 bucks, to fill the tank and replaced with a 1983 Honda Civic 1500S.

Tim


---

Vocatus atque non vocatus, Deus aderit. -- Erasmus


GRL
Frankfurter



Since: 13.7.02
From: Austin

Since last post: 79 days
Last activity: 16 days

#6 Posted on | Instant Rating: 2.90
License in 1994
Car was an 86 Chevy Cavalier
I bounced that car off of damn near everything in town before I got rid of it.


---

"Maybe I'm getting off topic, but this thread already sucks, so I don't feel bad about it. " -LotusMegami


"The only way TV Gangrel could change is if Real Gangrel changed." -Filipino Elvis
Whitebacon
Banger



Since: 12.1.02
From: Fresno, CA

Since last post: 48 days
Last activity: 11 hours


ICQ:
#7 Posted on | Instant Rating: 6.90
Licensed in 1998.

First car was a 1977 Toyota Corolla Sport Coupe (yellow), handed down from my parents. Couldn't complain, as it was free transportation. It definitely qualifies as a beater, though. At some point in the next three years, I bought a 1973 VW Camper bus. That car was a piece of shit, if not fun to own. I now drive a 99 Saturn.


---

Can you touch a rainbow? Can you put the wind in your pocket? No! Such is Neifi!

TheMark 9.6.05 2227.30 - 9.6.05 2242.29. Gone, but not forgotten.
Kevintripod
Banger



Since: 11.5.03
From: Mount Pleasant, Pa.

Since last post: 5 days
Last activity: 1 day

#8 Posted on | Instant Rating: 2.65
I started driving in 1981.

For my very first car, I was given my mothers '74 Ford Pinto.

Two years later (1983), my dad sold the Pinto and gave me his '77 Ford Granada.


---

"Oh it's on like Donkey Kong !!!" - Stifler, American Wedding
Pizza Pasta
Linguica



Since: 29.3.03
From: Douglaston, NY

Since last post: 4168 days
Last activity: 3980 days

#9 Posted on | Instant Rating: 7.55
I didn't get my drivers license until 2002, when I was 26 (hey, I live in NYC, cars aren't essential). I immediately got ripped on a lemon of a 2000 Chevy Malibu which proved a constant source of mechanical problems and also suffered vandalism while parked on the street (someone took a permanent blue magic marker and "tagged" it...this would be a problem since the car was white).

Eventually, after nearly perishing twice in the span of a month in the car (a nice little problem where the engine overworked the breaks and I could reach 50 MPH with no means of stopping), I traded it in over the summer for a 2006 Toyota Camry Solara.

I totally cannot afford the Solara but it is indeed a thing of beauty.
---

"Remember, it's not a lie if *you* believe it." - George Costanza

Geek Soap Box - Music, Mets, Comics, and a Heaping Dose of Right-Wing Politics! (geeksoapbox.blogspot.com)
PeterStork
Sujuk



Since: 25.1.02
From: Chicagoland with Hoosiers, or "The Region"

Since last post: 1187 days
Last activity: 950 days

#10 Posted on | Instant Rating: 6.62
DL'd in 96. My grandfather died a year prior and left me (actually, gave my mother pre-death as to avoid inheriting not only his stuff but his debts as well) his 94 Pontiac Grand Am that he paid cash for. It had less that 20k-30k on it, but some of that was chasing speeders through rural fields (gramps still had the ex-cop instinct in him.)

Two alternators, many brake repairs and no side rear view mirrors later, the car finally crapped out on me in August 2004 at the age of 187,000 miles.


---

exit 670 dot com | digital route 66
DrewDewce
Bratwurst



Since: 2.1.02
From: The Derby City

Since last post: 79 days
Last activity: 56 days

#11 Posted on | Instant Rating: 3.98
Licensed in 1985 at 16 but had been driving for about 4 years already (back roads - I grew up out in the sticks).

First car was a 1972 white 2-door Chevy Impala that I bought for $300. Fabulous car that was taken from me by an old lady in a K-Car of all things as she T-Boned me, which spun me around into another car coming from the opposite direction. Of course, I suffered no injury despite not wearing a seatbelt. That car was a tank I tells ya.


---

It is a good rule in life never to apologize. The right sort of people do not want apologies, and the wrong sort take a mean advantage of them.
P. G. Wodehouse (1881 - 1975), The Man Upstairs (1914)
drjayphd
Scrapple
Moderator



Since: 22.4.02
From: Outside of Boston

Since last post: 70 days
Last activity: 20 days


ICQ:
#12 Posted on | Instant Rating: 5.83
Got my license in 2000, but didn't get my car until August 2002. Same one I have now, a 1998 Saturn SL1, which, while it does have some beater tendencies, is still holding up nicely. Probably doesn't help I'm driving all over southern CT, as I like to cover road games whenever possible. Lately, I've been putting up about 1500 miles/month, something around 30,000 since I got it.


---
You wanted the best, you got... Out of Context Quote of the Week.
"...but that doesn't mean he can't relate an amusing anecdote about the Haiti Kid and one of the Frenchman's testicles." (Hogan's My Dad)
DrDirt
Banger



Since: 8.10.03
From: flyover country

Since last post: 242 days
Last activity: 144 days

#13 Posted on | Instant Rating: 7.35
Liscensed in 1972. First owned a 1968 Plymouth ($400). First new car a 1977 Plymouth Arrow ($2500) which was actually a great little car that got great mileage which was important to me when gas hit 50 cents a gallon (a high price back then).

(edited by DrDirt on 10.10.05 0650)

---

Perception is reality
Rudoublesedoublel
Frankfurter



Since: 2.1.02
From: Kentucky - Home of the 8 time NCAA Champ Wildcats

Since last post: 225 days
Last activity: 154 days

#14 Posted on | Instant Rating: 6.04
DL - June 1986.

First car - 1972 Mustang fastback (looked like a Mach I, but wasn't). We bought it when I was 14 and fixed it up. It was "very" red and looked pretty slick. Unfortunatlely, the motor didn't have much and we quickly realized that we'd have more money in it than it was worth if we did much else, so I ended up with an '84 Camaro in December 1986.

Edit for Drew's comment -

Must be something in Kentucky, because I was hit by an old lady in a K-Car in April 1987. Didn't ruin the car, I think Dad even made a couple of bucks on the deal.

(edited by Rudoublesedoublel on 10.10.05 1026)

---

University of Kentucky basketball isn't a matter of life and death, it's much more important than that.
BOSsportsfan34
Pepperoni



Since: 2.1.03
From: MA

Since last post: 821 days
Last activity: 152 days

#15 Posted on | Instant Rating: 4.52
Got my license in 1984. My first car was a 1980 Ford Pinto. What a piece of shit that car was.

(edited by BOSsportsfan34 on 10.10.05 1140)

---
Jaguar
Knackwurst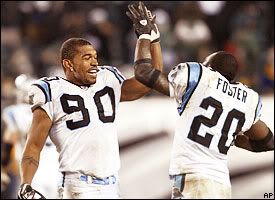 Since: 23.1.02
From: In a Blue State finally

Since last post: 508 days
Last activity: 310 days

#16 Posted on | Instant Rating: 4.61
Got my license in 1999. My first car was a 1984 Nissan Stanza (that actually still had the Datsun tags on it). Paid $900 for a car that was only a few months younger than I was. The car should've been a beater, but it ran great for me. Survived being t-boned by a drug dealer fleeing a bust, and then t-boned on the other side by a neurosurgeon from Duke. That little car was a steel tank.

Unfortunately it died in 2001 as a deer jumped in front of me, and slammed into the plastic grill and killed the engine. Apparently that was the car's one vulnerable point, as the deer left barely a dent in the steel hood.

Stupid plastic.


Oh and so far it's the only car I've taken over 100mph.


---

Jobberman
Kishke



Since: 2.1.02
From: West Palm Beach, FL

Since last post: 1422 days
Last activity: 74 days

#17 Posted on | Instant Rating: 2.48
License in 1990.

My first car was a 1978 Ford Country Squire Station Wagon, wood panel siding. It was my Dad's and had been previously driven by my 2 older brothers and an older sister. The first car that was offically mine was an equally sucky 1982 Ford EXP.
Roy.
Pepperoni



Since: 25.2.04
From: Keystone State

Since last post: 3698 days
Last activity: 1 day

#18 Posted on | Instant Rating: 4.84
1993 Subaru Legacy. 1998 license.

I sorta just took over driving it my senior year of high school. It was both my car and my mother's before that, but once I was allowed to drive to school every day as a senior (we had limited parking spots at school), it was mine and mom bought a new car.

The car could fly, and I put almost 90,000 miles on it on my own. I was hoping it would last through college, and it would have, if I graduated in 4 years. Alas, it died last March when the timing belt went, with just under 165,000 miles total.

I picked up a new Mitsubishi Lancer to replace it. I miss all wheel drive.

(edited by Roy. on 10.10.05 1753)
Alpha Dog
Pickled pork



Since: 10.2.03

Since last post: 819 days
Last activity: 28 days

#19 Posted on | Instant Rating: 6.53
My first ride (licensed in 1990) was a 1979 Ford Fairmont, which has gone on to "fame" and "glory" as the very same ride that Mick Foley would sleep and essentially live in to pursue his dream to be a wrestler (I cannot locate the book right away to find the details).

Sadly, I have no such story with my Fairmont. Got me through a year of high school and a semester at community college before mercifully shuffling loose the mortal coil. What a piece of garbage that car was.


---

The People's W of the Day - 6/3/05
Shem the Penman
Toulouse



Since: 16.1.02
From: The Off-Center of the Universe (aka Philadelphia)

Since last post: 1604 days
Last activity: 1403 days

#20 Posted on | Instant Rating: 5.14
License in 1991. My first car was a Buick Skylark; don't remember the year. It was used but in good shape, but became a beater not long after, when some idiot without insurance T-boned me and smashed in the passenger side.


---

"I don't think anyone anticipated the breach of the levees." -- George W. Bush, Good Morning America, September 1, 2005
Pages: 1 2 Next