Mayhem
Scrapple



Since: 25.4.03
From: Nashville, TN

Since last post: 300 days
Last activity: 185 days

#21 Posted on | Instant Rating: 4.77

When the Houston Oilers relocated to Nashville and christened themselves the Tennessee Titans, I became a fan.
whatever
Bierwurst




Since: 12.2.02
From: Cleveland, Ohio

Since last post: 40 days
Last activity: 7 hours

#22 Posted on | Instant Rating: 2.84
Big time homer here.

The Tribe is my oldest fanhood. I remember listening to them on the radio (RIP, Herb) with my Great-Grandmother back in the early 80's when they were HORRIBLE.

The Browns were next, specifically on December 23, 1989. I was trying to tape the Simpsons Christmas special on Channel 19, but instead taped the end of the Browns-Oilers game. That was the Clay Matthews lateral special, with Kevin Mack bulldozing them into the playoffs. I was hooked big time and haven't looked back.

The Cavs are more of a casual interest. I loved the team in the early 90's. Mark Price is my favorite basketball player.


---

"As you may have read in Robert Parker's Wine Newsletter, 'Donaghy Estates tastes like the urine of Satan, after a hefty portion of asparagus.'" Jack Donaghy, 30 Rock
Corajudo
Frankfurter



Since: 7.11.02
From: Dallas, TX

Since last post: 1412 days
Last activity: 914 days

#23 Posted on | Instant Rating: 7.73
Originally posted by Mayhem

---


When the Houston Oilers relocated to Nashville and christened themselves the Tennessee Titans, I became a fan.

---

My story is similar except I became a Packer fan. Man, I used to love the Oilers. Fuck Bud Adams.

My story is typical--grew up in Houston so I still root for the Rockets and Astros. Texans not so much because I was long gone when they started playing.

Since I've lived in Dallas since '94, hockey team is the Stars, I've adopted the Mavs as my #1b basketball team, the Rangers as my AL team and I've even learned to not hate the Cowboys. I guess I even prefer them to be good.
brick
Bockwurst



Since: 17.1.02
From: Pittsburgh, PA

Since last post: 1844 days
Last activity: 1840 days

#24 Posted on | Instant Rating: 4.00
In order of obsession

NFL

I became a Raiders fan when I started playing peewee football. My old man put in a tape of Howie Long (NFL Hard Knocks) to show me how to use a rip technique. Howie became my favorite player and I became a Raiders fan. Have been ever since.

College Football

My grandfather (RIP) moved in with us as diabieties and heart disease raveged him. The two of us never got along once he moved in. He hated my dog, and I couldn't get past that (I was in 3rd grade, what do you want). So when he put on an Iowa Michigan game and told me how the hawkeyes were going to spank the Wolverines, I bet my allowance that the Maize and Blue would win. When they did and I doubled my money I was hooked.

Hockey

My parrents are both from New England, so we would watch the B's whenever they were on. It helped that their best player (Bourque) played the same position I did. I have to admit that since I moved to Pittsburgh I've followed the Pens more closely than the B's, but thats mostly due to having no faith in Bruins management.

Baseball

When I paid attention it was Baltimore since when I was first introduced to the game, it was going into old memorial park with my old man. I stopped watching baseball about the time that kid stole the ball in Yankee stadium. I'll go to a baseball game once or twice a year now, but could care less about who wins.

Basketball

Other than the fab five, I've never gotten into the game, and don't care about any of the teams.
Reverend J Shaft
Toulouse



Since: 25.6.03
From: Home of The Big House

Since last post: 41 days
Last activity: 3 days

#25 Posted on | Instant Rating: 2.08
I'm from the Detroit area, so I obviously love all things Detroit (even the frickin' Lions)

My father took me to my first University of Michigan football game when I was 22 months old, so that - plus the fact that I graduated from UM - kinda ensured that I bleed maize and blue for the rest of my life.

I also lived in Maryland (just outside of D.C.) for about 5 1/2 years and my best friend lives there, so I gained a fondness for the Redskins (they did win the SB with Doug Williams while I was there) and University of Maryland teams. Don't really have a rooting interest for Baltimore/Washington teams outside of the Skins, though.
Bullitt
Shot in the dark




Since: 11.1.02
From: Houston

Since last post: 628 days
Last activity: 628 days

#26 Posted on | Instant Rating: 6.57
Growing up in Halifax, Nova Scotia in the late 70s-early 80s means you have no home teams to cheer for (unless you count the old Nova Scotia Voyageurs of the AHL.) It also meant you got blasted with eastern teams non-stop...and it tired you out to the point where you wanted to like anyone BUT the teams you saw all the time.

NHL

I always dug the Whalers, then the Penguins when Ron Francis got traded there. When Francis went to Carolina, I dug the Canes.

Having lived in both Ottawa and Calgary, the Sens and Flames are currently teams 1 and 1A.

MLB

Grew up an Expos fan (along with four other people in the world) but have switched allegiances to the Astros since moving to Houston.

NFL

We used to do March Break in Florida all the time. When I started liking football, Dan Marino was just coming into the league. Hence, I'm a big-time Dolphins fan.

NBA

I got tired of hearing about the Celtics, Knicks, Sixers and Pistons in the early 80s. I wanted to be that guy who liked someone totally different, plus I was a small, white point guard who passed before he shot. I became, and still am, a Utah Jazz fan.

VARIOUS

Deportivo La Coruna (spent two months in Spain in '96), Texas (fiancee was born on the UT campus in Austin), Rice (college baseball, always dug their logo), Maine (Black Bear hockey, from living in Maine for a spell in the 90s), Tulane (the Green Wave? Who wouldn't like that?!)

pieman
As young as
he feels



Since: 11.12.01
From: China, Maine

Since last post: 9 days
Last activity: 3 days


ICQ:
#27 Posted on | Instant Rating: 7.30
Originally posted by Bullitt

---

Maine (Black Bear hockey, from living in Maine for a spell in the 90s)

---


But we deported him.....


---


The World Champion New York Football Giants
Spaceman Spiff
Knackwurst



Since: 2.1.02
From: Philly Suburbs

Since last post: 60 days
Last activity: 22 hours

#28 Posted on | Instant Rating: 4.05
For baseball/basketball/hockey, I'm a homer, so I like the Phillies, 76ers, and Flyers.

For football, I started out an Eagles fan, but they were pretty crappy in the early post-Super Bowl '80's. SB XIX (Dolphins/49ers) rolled around, and everyone in school was choosing sides, so I chose the Dolphins, and stuck with them ever since.

For college athletics, I'm a U. of Miami fan, as well as a Penn State fan. I went with The U based off my Miami Dolphins fandom, and Penn State since I'm an alum.


---
britishiles
Head cheese



Since: 22.7.05
From: Tulsa, OK

Since last post: 1331 days
Last activity: 1301 days

#29 Posted on
I was born in Philadelphia and lived there for the first 4 years of my life until I moved to Oklahoma, which has no major pro teams.

Dad was always a Phillies and an Eagles fan so I grew up liking them just like dad. When I started getting interested in hockey I just started following the Flyers just based on Philadelphia as my "home town" even though I am 38 now and everyone else says I am an Okie.

(edited by britishiles on 18.3.08 1308)

---

www.oklafan.com


"Now if you'll excuse me, I'm gonna go backstage. I'm proud of myself, I just beat Brad Armstrong!"
- Arn Anderson on WCW Saturday Night in 1992, in the classiest display I've ever seen of someone putting over an underrated mid-carder that everyone in the locker room knew deserved better than the push he got.
kwik
Summer sausage




Since: 5.9.02
From: Norwich, NY

Since last post: 817 days
Last activity: 797 days

#30 Posted on | Instant Rating: 5.00
Bandwagon jumper here, I suppose. Started noticing football when the Giants won in 86, same with the Mets. I've been to more Bills games than Giants games though. In hockey I've usually wound up following whoever was supplying players to Binghamton's AHL teams, though I'm also partial to the Rangers.

Really, I'm happy watching whoever most of the time, though I prefer seeing success spread around. Gets kind of tiresome seeing the Yankees, Lakers, Celtics, whoever celebrating year after year.


---

Lexus
Andouille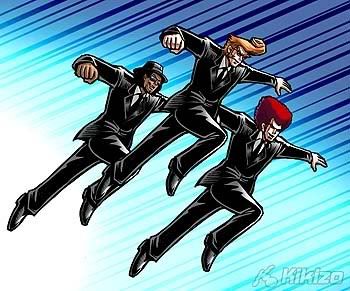 Since: 2.1.02
From: Stafford, VA

Since last post: 7 days
Last activity: 7 days

#31 Posted on | Instant Rating: 6.41
Military brat, moved around everywhere, so my loyalties aren't purely regional.

Basketball: George Mason. I don't care they're a minor, I don't care they have no chance in hell. My friend was the head sports writer at Mason in '06 and made it on ESPN. Professional wise, I take the Miami Heat because of Alonzo Mourning back in the '90s.

Soccer: Manchester United. When I talk of the European game people presume it's because they always win. My 10th grade history teacher played for them and taught me the game.

Football: Go Jets. Lessee, my dad always took me to the Meadowlands to see Jets games when I was a kid, even if he was a Giants fan and saved those tickets for him and his uncles. This was when I lived in Northern VA, so the four hour drive to the game and then stopping off at my uncle's, who was/is a Jets season ticket holder, and talking about the game. He always talked up Boomer Esiason, but I was too into Ronnie Lott. Then, when every 11-13 year old kid had the plain black starter jacket with their team on it, I had the Jets, and had to put up with so much shit for it.

Baseball: I stood on home plate at Yankee Stadium when I was six.


---

"Laugh and the world laughs with you. Frown and the world laughs at you."
-Me.
eventhis
Haggis



Since: 14.9.07

Since last post: 3325 days
Last activity: 3322 days

#32 Posted on | Instant Rating: 5.49
Pros: I was born in Philadelphia, and lived either there or South Jersey until I graduated high school, so my loyalty lies with all the Philly teams (though the Phillies REALLY test my patience). The only exception is in the NBA; during the Michael Jordan-era, I rooted for any team facing the Bulls in the playoffs, just because all the frontrunning, out-of-nowhere Bulls fans were annoying as hell.

College: I'm a Maryland alum, so I roll with the Terps; when it comes to basketball, if the Terps aren't in the tournament, I root for any of the Philly Big 5 schools if they're playing.
The Goon
Banger
Moderator



Since: 2.1.02
From: Calgary, Alberta, Canada

Since last post: 195 days
Last activity: 168 days

#33 Posted on | Instant Rating: 7.88
I'm Toronto born and bred, so I've been happy to cheer for the teams there - Leafs, Jays, Argos, Toronto FC, Raptors (even though I don't watch any basketball).

Hockey-wise, I also support the Islanders due to my boyhood idol being Mike Bossy, and the Flames, just because I loved the Flaming C when they came into existence. I coincidentally ended up living in Calgary.

Baseball - Outside of the Jays, my love for the city of San Diego has made the Padres my de facto NL team (if only they'd bring back the yellow and brown unis).

NFL - I only really started closely following the NFL three years ago during the hockey lockout, but I'll go with the Bills (I met Jim Kelly once and he was nice to me) and the Chargers (see love of San Diego, above).

University - I'm a UWO alum, so the Mustangs are my team. I don't really follow American university sports, but I was at a University of Texas football game once, and it blew my mind, so they're good in my book. Plus I love their burnt orange colour so much we're incorporating it into our wedding colours.

Football - Tottenham (EPL). No idea why.

haz
Landjager



Since: 2.1.02
From: Whitby, Ontario, Canada

Since last post: 1377 days
Last activity: 41 days

#34 Posted on
Interesting question, I just have to respond...

When I was younger, my brothers and I decided we each had to have our own teams to root for, and definitely against one another... I have three older brothers, but this was with the two next oldest to me.

I was probably around 10 or so when this started and I don't think there is any rhyme or reason to the choices I made, other than they had to be different from my brothers choices... I lived in Kingston, Ontario, Canada, which was definitely Leaf-nation then as there were no Senators at the time. The following were the choices then...

NHL- Philadelphia Flyers - my one brother likes the Islanders, so I think this was a choice to battle him as they were in the same division then...

NBA- Milwaukee Bucks - Perhaps I had a thing for underdogs as they sucked when I started cheering for them.

NFL- Miami Dolphins - Used to see all the Bills games on TV and just liked the Dolphins. Anyone but the Bills.

MLB- Pittsburgh Pirates - Was a big fan of Dave Parker and Willie Stargell, so I think that was where it started.

US College - Syracuse was the closed "big" school and as I grew up, we began going to Basketball games there. Always have and always will love the Orangemen!! (NOTE: not Orange, but Orangemen)

Other - Of course, at the time, the Kingston Canadiens, who are now the Kingston Frontenacs of the Ontario Hockey League. Used to have season tickets to the Canadiens to see Ken Linesman, Tony McKegney, Mike Moffatt and other greats...

--------

A few things have changed since then... Now I live in the suburbs of Toronto, so some allegiances have changed

MLB - Blue Jays started shortly after our choices were made, and I still root for them. Would always fall back to the Pirates, but just can't see it happening for them without some sort of MLB miracle...

NBA - Raptors of course now. Still follow the Bucks, but love CB4 and the Raps....

NFL - Will and always will be a DolFan, no matter how bad it gets. Actually have a soft-spot for the Bills, as I listen to WGR Sports Radio from there, but never when they play the Dolphins.

NHL - This is the biggest change. I don't like the Flyers at all. I haven't for years. Yes, I do like the Leafs, it's hard not to when you live here and my kids are big fans. Again, since I listen now to WGR I like the Sabres too...

US College - Always the Orange!!

Other - now a fan of the Oshawa Generals as they are the local team. Junior hockey is probably the easiest to change loyalties on. You cheer for the local team, right...





---

There's a World Container with your name on it, and a billion ways to go bezerk!!
jfkfc
Liverwurst



Since: 9.2.02

Since last post: 748 days
Last activity: 557 days

#35 Posted on | Instant Rating: 7.79
Thurman Munson, Sparky Lyle, Ron Guidry, Goose Gossage, Graig Nettles, Chris Chambliss, and Lou Pinella. My father was a so-so baseball fan, but I went full-bore. No other sport and/or team comes close. The day Thurman was killed put me in a funk for a long, long time. My little league number was 15, I had the huge poster (right from the '71 Topps baseball card) on my wall, and some Burger King cards of him all over. The Chambliss HR against KC in '76 was probably my first real-time sports memory.

I pulled for the Nets back in the Birdsong/Gminski/Chocolate Thunder days, and then the Knicks with Ewing/Mason/Oakley/Starks. The 86 champs and a friend from Chicago (and Ditka) got me into the Bears, and I always rooted for Pat Swilling (and Ditka)...so the Saints, also.
General Zod
Italian



Since: 1.10.05
From: Mesa, Arizona

Since last post: 2144 days
Last activity: 1332 days

#36 Posted on
I grew up in San Diego and the first basketball game I ever went to was the San Diego Clippers vs. Who the hell knows. The Clippers got stomped and on the way out of the stadium I asked my dad if there were any other basketball teams in the area. He mentioned the Los Angeles Lakers and I have liked the Lakers ever since.

The same can not be said of football. I have always loved and will always love the Chargers! As a much bigger football fan than basketball fan, I am much more passionate about my love of the Bolts!





---

Hell, I can get you a toe by three o'clock this afternoon...with nail polish.
KJames199
Scrapple
Moderator



Since: 10.12.01
From: #yqr

Since last post: 5 days
Last activity: 3 hours

#37 Posted on | Instant Rating: 9.07
I like the Detroit Red Wings because I played a lot of NHLPA '93 on the Genesis and the Red Wings were pretty good. But I can't pretend that I've paid any actual attention to hockey in the past 14 years, because I'm a giant poseur. So they're my favourite team but I don't actually give a care.

Not only do I not care about hockey, but I don't like beer. I'm a bad Canadian.

I guess I like the Blue Jays because it was fun when they won the World Series when I was in high school, but again, I don't really care.

I suppose I have to pick the Saskatchewan Roughriders for football since I live in Regina and if I said I didn't like the Riders, people would shoot me. Green and white t-shirts and jerseys are acceptable business attire in this city. Besides, when they won the Grey Cup, I got to honk my horn a lot and that was really fun. Beep beep!

And basketball, I don't even care enough to pick a team to not really care about.


---

JK: LJ, S&H, KMA, FB
j9479
Chorizo



Since: 29.1.03
From: the suburbs

Since last post: 3686 days
Last activity: 2493 days

#38 Posted on
NBA: I got into the Sixers when I got back into watching sports; Iverson was new, and I liked the idea of a guy whom everybody called a thug and did his best to defeat everyone even though he was 6 feet at best. Even though he was traded a ways back, I figured it would be poseur-ish to stop being a fan, so I continue to root, even though it is odd to be in the playoffs and know that we are because of how weak the East is. I supplement my fandom by watching any NBA action I can, as the Sixers are never ever on TV where I'm at.

MLB: As odd as it is, I've been on the east coast all my life and have rooted for the Dodgers from as far back as I can remember. I got into baseball through my grandmother, who liked the Brooklyn team and I guess never stopped rooting for them after they moved. I remember asking them why she stuck with them when they split and her remark was "I live in CT, and I figured I'd still see the same amount of live games (0) that I did when they were in Brooklyn. So, that logic worked out for me, and I stuck with them.
ekedolphin
Scrapple



Since: 12.1.02
From: Indianapolis, IN; now residing in Suffolk, VA

Since last post: 8 days
Last activity: 1 day

#39 Posted on | Instant Rating: 2.29
NBA and NFL: I was raised in Indianapolis, though to be honest I wasn't fully cognizant of either the Pacers' or Colts' existence until '94-ish, when both teams made deep runs into the playoffs.
NCAA: My dad went to Indiana University, so I was raised a Hoosiers fan.
MLB: Having to stay home sick from work for a week due to the flu, all I could really do all day was sit and watch television, and all that was really on were the Nationals games. I got hooked.
---
"There, the vile criminal has been punished by the loss of his beloved snack. Milk chocolate justice, with almonds."
--Haley Starshine, The Order of the Stick
Fan of the Indianapolis Colts (Super Bowl XLI Champions), Indiana Pacers and Washington Nationals
Certified RFMC Member-- Ask To See My Credentials!
Texas Kelly
Lap cheong



Since: 3.1.02
From: FOREST HILLS CONTROLS THE UNIVERSE

Since last post: 229 days
Last activity: 47 days


ICQ:
#40 Posted on | Instant Rating: 4.36
Ladies and gentlemen, the following public service message is brought to you by your friends from D-Generation X, who would like to remind each and every one of you that if you're not down with that, we've got two words for you...
---

NFL: I adopted the Buccaneers as my team in 1997. Growing up in New York, my tendencies always tended towards hard-nosed, defensive-minded football, and while I could have rooted for the Giants, there was nothing overly appealing about them at the time, and I felt that being a homer for one team (the Yankees) was enough. All that left me wanting a team I could call my own. The Bucs were the talk of the NFL early that season, and when they came to Giants Stadium later that year and won a 20-8 slugfest, and I witnessed the great triple threat that they had - Sapp the charismatic trash-talker, Brooks the silent assassin, Lynch the Family Man/Terminator - I had my team. The fact that the uniforms were way cooler than the Giants's could ever dream of being was only a minor detail.

MLB: Being a Yankee fan is simply a product of my upbringing. My parents were both Bronx-born and raised, and I wouldn't have lived if I'd gone any other way. Being able to go to school in Mets country in the late '90s only helped because of all the good-natured taunting I could do.

NHL: I'm a Sabres fan because of one man: Dominick Hasek. The man was an absolute wizard. Still is. I could have moved my loyalties to Detroit with him, but the sensibility of the team and the town had won me over at that point. I dare say it's possible that if he'd come along earlier, I might be a Buffalo Bills fan today.

NCAA: Having gone to a Division II college (CUNY Queens), I allowed myself to adopt one Division I football and basketball team for any reasons I felt were good enough. The SEC naturally attracted me for football because of the defense-minded style, and when I happened across a documentary about the traditions of the school, I settled on the Auburn Tigers for football. (Two years later they went undefeated and got screwed out of a national title by the BCS's hard-on for the Big 12.) For basketball, I eventually got suckered into throwing my lot in with the Illinois Fighting Illini, as a result of posting on a Civilization fansite where a lot of the posters who would talk sports were from Chicago. Their decision a couple of years ago to abandon the Illiniwek tradition almost made me reconsider, but I decided to stick with 'em anyway, if nothing because the 2005 season won me all my pools that year for the first time ever. ;)


---
read a bunch of incoherent nonsense
now 52% more incoherent!
smark/net attack Advisory System Status is: Elevated
(Holds; June 18, 2006)
While the switch from Cena to RVD should alleviate some complaints, the inevitability of the belt's return to Cena (note where Summerslam is this year) and the poor initial showing by the new ECW are enough to keep the indicator where it is for now. The pieces are in place, though, especially on RAW, for improvements to be made to the IWC's psyche in the near future.
Pages: Prev 1 2 3 Next