tricia
Bauerwurst



Since: 5.11.05

Since last post: 30 days
Last activity: 30 days

#1 Posted on | Instant Rating: 4.62
I haven't seen this thread here in this forum and I think that it is a worthy question.

Husband loves his brats; no cookout is complete without those. A Wisconsin thing I guess. I enjoy steaks marinated in teriyaki sauce. We both like grilled sweet corn. When I have enough ambition, I try other vegetables too; bell peppers, mushrooms, onions etc. on skewers. Someday when I amass enough ambition, I will crack open that Thai cookbook and try some satay.

EDIT: charcoal, gas, or other? Charcoal for us; every gas grill Husband has ever had has turned into a birdhouse.

(edited by tricia on 20.7.06 1452)

---

tricia @@@:)
Promote this thread!
Kevintripod
Banger



Since: 11.5.03
From: Mount Pleasant, Pa.

Since last post: 2 days
Last activity: 22 hours

#2 Posted on | Instant Rating: 5.19
I'm a rather boring cook when it comes to cooking on the outdoor grille. Just brats, burgers and hotdogs for me.


---

"Oh it's on like Donkey Kong." - Stifler, American Wedding
haz
Landjager



Since: 2.1.02
From: Whitby, Ontario, Canada

Since last post: 1292 days
Last activity: 902 days

#3 Posted on | Instant Rating: 6.04
I will pretty much try anything on the grill, even in the dead of winter. (as long as I can get the patio door open)

What I like most, though, is doing a whole chicken, mounted on a beer can. Skin gets nice and crispy, while the bubbling beer keeps the internals nice and juicy.


---

Where the wild are strong, and the strong are the darkest ones, you're the Darkest One.
DrDirt
Banger



Since: 8.10.03
From: flyover country

Since last post: 122 days
Last activity: 24 days

#4 Posted on | Instant Rating: 8.02
Swordfish steaks and marinated veggies of any kind. I'll have to try that haz, sounds great.


---

Perception is reality
bash91
Merguez



Since: 2.1.02
From: Bossier City, LA

Since last post: 2019 days
Last activity: 119 days

#5 Posted on | Instant Rating: 7.07
Like Haz, I'll do just about anything on the grill. A current favorite that gets rave reviews is dry-rubbed ribs slow cooked with grilled sweet corn. We've also had a lot of jerked pork this summer which has worked really well with packet grilled onions, potatoes, and carrots with grilled peaches for dessert.

If it ever stops raining here, I think I'll be grilling tonight.

Tim


---

Vocatus atque non vocatus, Deus aderit. -- Erasmus

All others things being equal, the simplest solution is usually stupidity. -- Darwin Minor
dunkndollaz
Banger
Back to Back Survivor



Since: 3.1.02
From: Northern NJ

Since last post: 18 days
Last activity: 3 days

#6 Posted on | Instant Rating: 7.14
In no particular order -

London Broil with a Teriyaki Mustard
Pork Loins with Maple Balsalmic Mustard
Swordfish Steaks with a Habanero Pineapple Sauce
Shark Steaks with a BBQ Sauce
Chicken Mango Sausages from CostCo

Also like to split a tomato - cover both halves with a little olive oil, basil, oregano, salt & pepper - let them roast on the upper rack (or on the side) until they almost fall apart - sprinkle with parmesan before you serve.

And you can't beat a vidalia (sweet) onion split and roasted with butter, salt & pepper.


---

Hey Crab Man !
rinberg
Boudin rouge



Since: 30.1.02
From: South Georgia

Since last post: 2238 days
Last activity: 285 days

#7 Posted on | Instant Rating: 4.95
Add me to the boring list: Burgers, Dogs, Steaks, Potatoes, Corn, Peppers & Onions in foil. I have great intentions of cooking more, like ribs, fish, shrimp.... just about anything. I would really like to smoke some meats, too. There just aren't enough hours in the day.


---

"Programming today is a race between software engineers striving to build bigger and better idiot-proof programs, and the Universe trying to produce bigger and better idiots. So far, the Universe is winning." --Rick Cook
Lexus
Andouille



Since: 2.1.02
From: Stafford, VA

Since last post: 1 day
Last activity: 1 day

#8 Posted on | Instant Rating: 5.30
Yellow Squash marinated in oil and vinegar with a little sea salt is incredible.


---

Hold nothing sacred and you'll never be dissapointed. Especially not this statement.
Deacon Jim
Chipolata



Since: 11.12.03
From: Dallas, TX

Since last post: 1934 days
Last activity: 9 hours

#9 Posted on | Instant Rating: 5.47
Grilled salmon, if done right, is better than sex.


---

formerly known as Von Erich
Wpob
Bierwurst



Since: 21.11.02
From: Williston Park, NY

Since last post: 13 days
Last activity: 17 hours

#10 Posted on | Instant Rating: 3.51
Ke-Bobs. Any kind: shirmp, chicken, steak, pork, you name it, I'll ke-bab it. Also, got to go the all American and say hamburgers and hot dogs.




---

Give me a Sandwich and a Douchebag and there's nothing I can't accomplish!
wmatistic
Andouille



Since: 2.2.04
From: Austin, TX

Since last post: 338 days
Last activity: 222 days

#11 Posted on | Instant Rating: 3.45
Gotta go with shrimp. Just simple in a marinade of butter, parsley, garlic, lemon juice and seasoned salt. Though I saw a new recipe in the latest Bon Appetit that I have to try for a shrimp salad where they grilled the shrimp I think with some smoked paprika and other simple stuff and added it to a spinach salad with hunks of avocado and grilled pearl onions. Yeah, that's gonna happen this weekend.
Oliver
Scrapple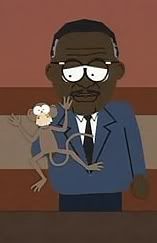 Since: 20.6.02

Since last post: 1091 days
Last activity: 1085 days

#12 Posted on | Instant Rating: 4.70
I like to grill red snapper, catfish, shrimp, and steak when I get a chance to do some sweet BBQ work. I haven't had much an opportunity in recent months, but I can't wait to get started again!


---

Here, look at the monkey! Look at the silly monkey!
JayJayDean
Scrapple



Since: 2.1.02
From: Seattle, WA

Since last post: 761 days
Last activity: 339 days

#13 Posted on | Instant Rating: 6.44
I don't get particularly amibitious on the grill. Other than the usual suspects, I think I peak out at flank steak with portobello mushrooms. I just wanted to add to the thread that I am STRICTLY a charcoal man.


---

"You know what you need?
Some new quotes in your sig.
Yeah, I said it." -- DJFrostyFreeze


too-old-now
Bockwurst



Since: 7.1.04

Since last post: 2519 days
Last activity: 1444 days

#14 Posted on | Instant Rating: 6.51
Originally posted by JayJayDean

---

... I just wanted to add to the thread that I am STRICTLY a charcoal man.

---


"Taste the meat, not the heat" - Hank Hill, Strickland propane.

If I am marinating, then steaks, chicken, or salmon.

If not, burgers and dogs.

I am not particularly fond of grilled veggies other than the summer squash mentioned above, but I love firing up the side burner to steam corn on the cob.

After 25 years of my grill, I just might get a new grill this year when they go end of season clearance sales. There are some pretty awesome stainless steel models out there that have built-in coolers, smooth surface side burners, lots of cutting board space, etc. When they come out with one that has a diswashwer, a sink, and a microwave then my whole kitchen can be outside.