Simba
Frankfurter



Since: 7.8.02
From: Boston, MA

Since last post: 3781 days
Last activity: 3389 days

#1 Posted on | Instant Rating: 6.20
I've been thinking of some nickname for this (future?) tag team that would work. Unfortunately, the combination of Ass, Gunn and Noble really don't give me much to work with. I guess you could use trailer or redneck or um... ass. Bad Ass Rednecks? I dunno... The best I could come up with was Jamie's got a Gunn, but that's just silly.


---

Reserved for future use.
Promote this thread!
InVerse
Boudin blanc



Since: 26.8.02

Since last post: 18 hours
Last activity: 11 hours

#2 Posted on
Double Trouble Crap on a Stick 2?
FurryHippie
Frankfurter



Since: 29.10.02
From: New York

Since last post: 4257 days
Last activity: 2944 days

#3 Posted on
Redneck + Mr. Ass = Red Asses

I apologize.
WaxFish
Longanisa



Since: 22.9.02
From: New Mexico

Since last post: 4884 days
Last activity: 4884 days

#4 Posted on
Torrie & Nidia's Boyfriends

TheMASKEDComputerGeek
Chourico



Since: 7.1.02
From: Franklin, Wisconsin

Since last post: 456 days
Last activity: 229 days

#5 Posted on
Originally posted by Simba

---

Jamie's got a Gunn

---



YES!!!!!


---

Caped Boy: Excuse me, ladies. You may remember me as the guy who came to dinner a few weeks ago with underwear on my head. My name is Keith Stat from Milbourne, New Jersey. State bird, the mosquito. And as you may have heard I am recently a crowned class B dungeon-master. So if any of you would like to play D&D today, please speak now or forever hold your peace.
[He chuckles, and there is an awkward silence at the table.]
Caped Boy: Anyone? Alexa!
[Alexa gives him a withering glare.]
Caped Boy: Maybe you would like to join in? We do need a druid, and you have definitely cast a level 5 charm spell on me.
Alexa: In your dreams, douche-bag!
Caped Boy: Douche-bags are hygienic products, I take that as a compliment. Thank you.
[Keith walks off]
Alexa: Ewww!


- Wet Hot American Summer
Lexus
Andouille



Since: 2.1.02
From: Stafford, VA

Since last post: 13 days
Last activity: 13 days

#6 Posted on
Call it off.


---
It's good to see you Lord Vader.
darkmatcher
Bockwurst



Since: 12.2.03
From: New York, USA

Since last post: 3953 days
Last activity: 3028 days

#7 Posted on
I call it ridiculous.


---

what you say
JST
Toulouse



Since: 20.1.02
From: Quebec City, CAN

Since last post: 70 days
Last activity: 2 days

#8 Posted on
The Unlikely Duo Of Jamie Noble & Billy Gunn.


---
Chico Santana
Boudin rouge



Since: 2.7.02
From: Jaaaaamacia Mon, No Problem.

Since last post: 5331 days
Last activity: 5329 days

#9 Posted on
Ummmm, white trash + an ass man + two sluty girls? How about "White Men Can Hump" or "Skunk n' the Trunk".


---

"SAL BANDINI, WANNA WRESTLE?"
CANADIAN BULLDOG
Andouille



Since: 5.3.03
From: TORONTO

Since last post: 1822 days
Last activity: 1821 days


ICQ:
#10 Posted on
"Bad Idea"


---

EXCLUSIVE JAM-PACKED Randy Orson interview!!! EXCLUSIVE JAM-PACKED book review of Jerry The King Lawyer!!! Plus the end of an EXCLUSIVE JAM-PACKED era and more in the latest Inside The Ropes!!!
EastCoastAvenger
Bockwurst



Since: 4.1.02
From: Clearwater, FL

Since last post: 3269 days
Last activity: 616 days

#11 Posted on
Hey, come on! THis team MIGHT not turn out to suck horribly! Where's your firkin' OPTIMISM?!

Eh. Who am I kidding...

I have toyed with the idea of this team before on my "WWF No Mercy" game, but I was halfway into a case of beer and in the middle of a rousing round of "Who can come up with the shittiest tag team" (I did NOT win by the way. The winner was my little brother, who came up with the memorable stinker... Jeff Jarrett and Essa Rios, Strike Force II)

Side note: Am I the only one who thinks it would be cool to see the APA open an irish pub and run a series of skits loosely based on Spider Robinson's "Callahan's Bar" series?


---

Two hours later they decided to stop at a diner
Because they loved the smell of eggs and coffee
I just had to smoke a cigarette and wear a hat
By the time that they set off again, the sun was starting to set
It made the sky look red like a nuclear ray
One of them said "what do you want more than anything
in this whole wide world
Do you want money, do you want sex, or do you want all that success?"
I thought about that one myself
(Then they came upon the thing)

From, "The Church of Logic, Sin and Love" by The Men
Nate The Snake
Liverwurst



Since: 9.1.02
From: Wichita, Ks

Since last post: 5025 days
Last activity: 4495 days

#12 Posted on
I hereby nominate the name "Bathroom Break" for this new uber-stable. I mean, I like Jamie and Nidia and all, but DAMN.


---

Kansas-born and deeply ashamed
The last living La Parka Marka

"They that can give up essential liberty to gain a little temporary safety deserve neither liberty nor safety." - Benjamin Franklin
darkdragoon
Bockwurst



Since: 26.8.02

Since last post: 4973 days
Last activity: 4973 days

#13 Posted on
Team You Got a Purty Mouth?
Doc_whiskey
Frankfurter



Since: 6.8.02
From: St. Louis

Since last post: 57 days
Last activity: 1 day

#14 Posted on
Aw come on, Billy's been at his best in tag teams, and more TV time for Jamie is always a good thing.
Team Names:
Bad Ass Rednecks
Assnecks
We have hot and easy girlfriends inc.
Ass & Flannel
Noble Asses
The Destroyers
The Jung Rockabilly Dragons
The Gunn totin Rednecks
and finally....Name to be Determined


---

Brazen Snatch
dskillz
Landjager



Since: 2.1.02
From: Houston Texas

Since last post: 4476 days
Last activity: 4181 days

#15 Posted on
Originally posted by FurryHippie

---

Redneck + Mr. Ass = Red Asses

I apologize.

---


Damn, you posted it before I could...


---

January 4th 1999 - The day WCW injected itself with 10 gallons of Liquid Anthrax...AKA...The day Hogan "Defeated" Nash to win the WCW title in front of 40,000.
Super Shane Spear
Bierwurst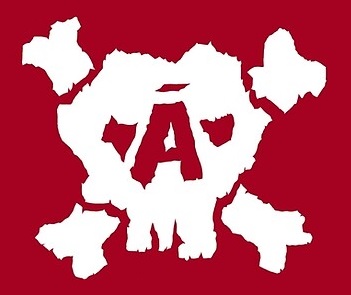 Since: 2.1.02
From: Sector 7 Slums

Since last post: 2868 days
Last activity: 2868 days

#16 Posted on | Instant Rating: 3.08
LET ME HOLLA AT YA PLAYA!Run for your lives! It's Ass Dragon!
Asian Business Man
Cotechino



Since: 30.3.03
From: The Boiler Room

Since last post: 4610 days
Last activity: 4573 days

#17 Posted on
how about this

"Team the little guy should be getting the push that the old guy with a dumbass haircut is getting"

why not just make Gunn ROCKABILLY again.


---
"I do not think you can catch me, for I am super-freaky."
-- Artie, the Strongest Man in the World
InVerse
Boudin blanc



Since: 26.8.02

Since last post: 18 hours
Last activity: 11 hours

#18 Posted on
To steal a line from Chris Rock, how about the Cracker Ass Crackers?
BigVitoMark
Lap cheong



Since: 10.8.02
From: Queen's University, Canada

Since last post: 4654 days
Last activity: 4564 days


ICQ:
#19 Posted on
Cracker Ass Crackers would be a great name if these guys were on Raw and could feud with Teddy Long. Failing that, I feel that using this name with "_____ loves the CAC" said with proper voice inflection as a catchphrase (yes, clipped from Kevin Smith, I know) would get at least mildly over.
Kevintripod
Banger



Since: 11.5.03
From: Mount Pleasant, Pa.

Since last post: 5 days
Last activity: 8 hours

#20 Posted on
"The STD's" ?


---

"This just got a hell of a lot better." - Stifler, American Pie
Pages: 1 2 Next