samoflange
Lap cheong



Since: 22.2.04
From: Cambridge, MA

Since last post: 1708 days
Last activity: 1700 days

#41 Posted on | Instant Rating: 6.29
---

- The sporadic arrivals of all of the things I bought online during post-holiday sales

---


I don't remember what they were, but I also don't remember returning anything.


---

- Trip to Georgia to visit girlfriend's extended family
- Trip to northern California just for fun

---


Both were great.


---

- Moving to a cheaper and more conveniently located apartment

---


I ended up in Somerville, which turned my 5 mile bicycle commute into a 1.25 mile one. But, now we're looking at buying a place in Cambridge, which will get it back up to 3 or 4 mile commute.


---

- Doctoral qualifying exams!

---


I passed. Haven't nailed down a thesis project yet, though.

BONUS 2008 THINGS
- I got engaged in July and married in October. Won't say I didn't see that one coming, but I wasn't expecting it quite yet.
- Said marriage allowed for my girlf... wife and I to plan to buy a place of our own around June/July of 2009. Many thanks to the in-laws!


---

Lloyd: When I met Mary, I got that old fashioned romantic feeling, where I'd do anything to bone her.
Harry: That's a special feeling.
JayJayDean
Scrapple



Since: 2.1.02
From: Seattle, WA

Since last post: 877 days
Last activity: 455 days

#42 Posted on | Instant Rating: 7.40
Originally posted by JayJayDean

---

IJ's fifth birthday (which already happened but qualified)
A trip to Pieland to see my folks (Note: pieman is NOT my Dad.)
Buying the PS3 when I get around to it
Income tax refund (just got my W-2 today)
Finally pulling the trigger on a HD TV
19-0
Junior in a Hendrick car
Pavlik-Taylor II, Pacquaio-Barrera II, and what looks like a great year of big fights

And finally, hiring an assistant (now accepting resumés).

---


Yes.
Didn't go.
Did. Love it.
Hooray.
Did this, too, and also love it.
Fuck.
He seemed happy and his car looked cool, but I expected more wins.
Cotto-Margarito and Vazquez-Marquez III ended up being highlights.

And finally, EFF YOU ECONOMY. (Not currently accepting resumés.)


---

Holy fuck shit motherfucker shit. Read comics. Fuck shit shit fuck shit I sold out when I did my job. Fuck fuck fuck shit fuck. Sorry had to do it....

*snip*

Revenge of the Sith = one thumb up from me. Fuck shit. I want to tittie fuck your ass. -- The Guinness. to Cerebus

The Goon
Banger
Moderator



Since: 2.1.02
From: Calgary, Alberta, Canada

Since last post: 226 days
Last activity: 199 days

#43 Posted on | Instant Rating: 7.98
Originally posted by The Goon

---

I am also looking forward to my wedding. It should be a blast.

Other things, off the top of my head:

-More travel
-Batman and Iron Man movies
-The Calgary Stampede (my answer every year)
-The NFL/NHL playoffs
-Running a decent 10k race
-The USA federal election
-The (possible) Canadian federal election
-Three paycheques in February with the leap year
-Maybe getting a dog

---


Our wedding was the pinnacle of awesomeness.

-Didn't travel as much as I hoped
-Both great movies
-Stampede was, as always, amazing.
-The Super Bowl was memorable, but otherwise nothing too exciting.
-A knee injury stopped me in my tracks (literally).
-Who won the USA election, again?
-Finally, something interesting happening in Canadian politics!
-Money comes, money goes. A new job in September got me a better paycheque, though.
-No dog, yet. Still an option for Twenty Oh Nine.

This was fun!
Lise
Mrs. Guru



Since: 11.12.01

Since last post: 982 days
Last activity: 755 days

#44 Posted on | Instant Rating: 8.64
Originally posted by Lise

---

Buying permanent storage solutions. Sorting through all of the totes we've been storing/rummaging through for the past 4 years. Finishing the south porch, and repairing all the storm damage. Ordering seeds and plants for our garden, planning out the garden, and planting it.

---


HA! No permanent storage solution yet. Wow, can't believe I had myself fooled on that one.
Totes sorted... still haven't gotten rid of the "donate" or sold the "ebay" piles yet. There is also still stuff in totes. Though I did throw out the garbage and shred a lot of things. *MY* stuff in totes is clearly labled and easy to find. Heaven help anyone who wants to find anything in the mixed electronics totes.

South Porch - Unfinished about 1/2 a step further than it was... well, maybe 1 step.

Storm Damage - half done. The roof got done, which was the big one. North porch will hopefully get done this year, and hillbilly gazebo will hopefully turn into something less ghetto (though I suppose hillybilly is as far from ghetto as you can get)

Ordering seeds was fun. Planting happened waaaaay late because of an unusually cold spring. Very little of the plants actually made it to the end of the season, and most of those got eaten by the damn deer.
Dexley's Midnight Jogger
Pepperoni
Moderator



Since: 10.10.02
From: New Hampshire

Since last post: 1599 days
Last activity: 1513 days

#45 Posted on | Instant Rating: 7.26
Originally posted by Dexley's Midnight Jogger

---

I'm looking forward to the new Guns 'n Roses album, Chinese Democracy, if it's finished. Also the new one by Metallica and perhaps if I'm lucky the last Johnny Cash on American Recordings.

I'm also looking forward to getting rid of my 1997 Hyundai Accent with all it's problems and getting my 2003 Honda Accord.

---


I never bought Chinese Democracy. I did buy and enjoy Death Magnetic. Johnny Cash didn't get another posthumous release (yet?).

The car switch has really worked out. My Hyundai had bad brakes, a creaking passenger side door, a drivers side window that wouldn't roll down (made it fun at toll booths) and the Cd's wouldn't eject without removing the face and hitting a button with a screw driver or key.

I did go to the Dominican Republic in October, see Iron Maiden and "Weird" Al in concert and read 23 books.

All in all, a good year.
Oliver
Scrapple



Since: 20.6.02

Since last post: 1207 days
Last activity: 1200 days

#46 Posted on | Instant Rating: 3.35
Originally posted by Oliver

---

-Having a friend visit from Ontario in May
-My vacations to Utah in August and Toronto in December
-Taking on a new apartment (sans roomates!) in February.
-Buying a PS3 when GTA4 is released.

...all thanks to the job that I look forward to going to everyday.

I think 2008 is going to be FUN!

---
Fast forward to today:

The job I loved disintegrated: the boss quit, and we got the anti - the boss that sucked the life and fun out of the job.

Anyhow...I never visited Utah, but instead moved back to Toronto, where I was able to get my own apartment, sans roomies. I never bought a PS3, instead I invested in a new computer.

So, yeah.


---

Unicow, unicow...he's a unicorn cow!
hansen9j
Andouille




Since: 7.11.02
From: Riderville, SK

Since last post: 1 day
Last activity: 7 hours

#47 Posted on | Instant Rating: 7.38
Originally posted by hansen9j

---

If all goes according to plan, I should be getting my CA in 2008. (CPA for you Americans.)

---


Success!


---

It is the policy of the documentary crew to remain true observers and not interfere with its subjects.

If you wanna reach the Co-op, boy, you gotta get by me.
OlFuzzyBastard
Knackwurst



Since: 28.4.02
From: Pittsburgh, PA

Since last post: 401 days
Last activity: 377 days

#48 Posted on | Instant Rating: 3.53
Originally posted by OlFuzzyBastard

---

Super Smash Brothers Brawl, at least eight new episodes of LOST, The Dark Knight, the next two Futurama DVD movies and the election of a brand spankin' new Preznit.

---


It all exceeded my expectations. Super Smash Brothers Brawl still rarely leaves the Wii, we got almost a full season of LOST which was as good as it's ever been, The Dark Knight was a masterpiece, 2008's Futurama movies were both entertaining and at the time President Obama seemed like a pipe dream. (I was betting on Hillary and dreading Rudy myself.)
pieman
As young as
he feels




Since: 11.12.01
From: China, Maine

Since last post: 1 day
Last activity: 8 hours


ICQ:
#49 Posted on | Instant Rating: 7.30
Originally posted by JayJayDean

---


A trip to Pieland to see my folks (Note: pieman is NOT my Dad.)

Didn't go.


---


JJD did not visit Maine and I am still not his dad.


---


The Defending World Champion New York Football Giants
spf
Scrapple



Since: 2.1.02
From: The Las Vegas of Canada

Since last post: 962 days
Last activity: 382 days

#50 Posted on | Instant Rating: 5.16
The wedding went off fine, save of course for the fact that due to miscommunications on many fronts it ended up taking place on the 18th hole of the Frolf course, so before the wedding my groomsmen were shooing off shirtless stoners with cases of Coors Light. Thankfully the wedding went off without a hitch. And the wedding party came down the aisle to the lovely strains of Low Strung's cello version of "Don't Stop Believin'"

(edited by spf on 31.12.08 1230)

---

2007 and 2008 W-League Fantasy Football champion!
Super Shane Spear
Bierwurst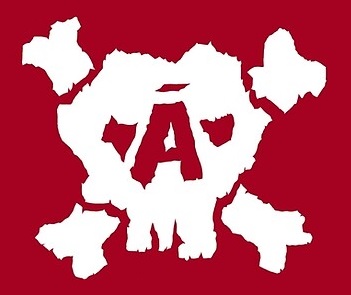 Since: 2.1.02
From: Sector 7 Slums

Since last post: 2928 days
Last activity: 2928 days

#51 Posted on | Instant Rating: 5.69
Originally posted by Super Shane Spear

---

I usually don't frequent this forum much, but I'd thought I'd list a few things that I'm excited for in 2008.

- Cloverfield.

- The Moment of Truth (US - although Mark L Walberg seems like a huge downgrade from Springer.)

- Pitchers and Catchers (like every year)

- A new Metallica album.

- Iron Man.

- The return of Matt Hardy.

- One extra day.

Edit: - Grammar lessons.

Edit Edit: - Oh yeah, and the eight episodes of Lost we get. Duh.



---


Everything on this list with the exception of Lost and Iron Man was highly underwhelming. Well, I guess the ECW championship is something too.

Also, my extremely polarized rating leaped from 4.44 to 5.69.
AWArulz
Scrapple



Since: 28.1.02
From: Louisville, KY

Since last post: 12 days
Last activity: 1 day

#52 Posted on | Instant Rating: 3.69
[My last child goes away to college this year.

>>>>>This one happened - Lincoln Christian

I am sort of expecting my girl to get engaged this year

>>>>>Nope. Still going with the same guy though

I have a good chance of working in Asia for a few months

>>>>>>Never happened.

I am pumped for a week in Atlanta this summer, and one more year of summer camp

>>>>>>Camp didn't happen - see below

on the down side

My father in law, mother in law and step mother are rather sick and my Dad, who seems very well, is over 80

>>>>>>>My father in law and Mother in law are well enough - but my Dad up and died in June.


---
We'll be back right after order has been restored here in the Omni Center.

"That the universe was formed by a fortuitous concourse of atoms, I will no more believe than that the accidental jumbling of the alphabet would fall into a most ingenious treatise of philosophy" - Swift

Mayhem
Scrapple



Since: 25.4.03
From: Nashville, TN

Since last post: 331 days
Last activity: 216 days

#53 Posted on | Instant Rating: 5.16
Originally posted by Mayhem

---


-The birth of my second child in June.

-Watching my little boy (who had multiple surgeries his first few months of life) grow into the healthy, happy, curious & rebellious 3 year old that he's clearly on his way to being.

And congrats to all of you with upcoming nuptials.

---


Ahh, yes ... I now have a beautiful 6 month old little girl ... who is loved by her healthy, brilliant 3 year old brother ...

2008 was great ... beautiful children, a job promotion, playing with a band, etc ...
El Nastio
Banger



Since: 14.1.02
From: Ottawa Ontario, by way of Walkerton

Since last post: 1 day
Last activity: 6 hours


ICQ:
#54 Posted on | Instant Rating: 3.80
- Toss up another W whose getting married (August 23rd here).

It happened, and it was your typical "best day of my life" type of day. Wouldn't have changed a thing!

- Finding an affordable apartment for after said wedding.

Well, we're staying at her parents house house-sitting before while they try to sell it. Definitely fits the cheap part of it!

- Echoing others in this thread, The Detective's second movie is something to look forward to. Why so Serious? Because it looks like it will be awesomely awesome.

And it was.

- Green Lantern comics continue to be my favorite on the stands. Great art, wonderful stories.

GL continued to be awesome, and in my opinion the best on-going comic out there.

- Smash Bros. Brawl. Soon, so soon.

It FINALLY happened, and it was well worth the wait!!

- Hopefully a promotion at work.

Got laid off as my building shut down in June.

- Hopefully getting up to 30 on the Lone Wolves server on Halo 3.

Never did, as a couple other games came along and took time away from Halo 3.

- Maybe taking some courses.

Never did.

(edited by El Nastio on 1.1.09 1802)

---

You know, I really don't know what to put here. Close your eyes and thank of something funny!
Pages: Prev 1 2 3