What'd you get for Christmas this year?
From my pastor, I got a long-sleeved, blue, Washington Nationals T-shirt. How he knew my favorite baseball team and my shirt size is anybody's guess, but he nailed it.
From my dad, I got Volume 2 of Batman: The Animated Series. She straight-up asked me what I wanted.
From my landlady, I got a homemade hat and scarf, and she gave Mom and me a $25 Walmart gift card to share.
And from myself, I got the complete series of
Avatar: The Last Airbender.
(edited by ekedolphin on 26.12.16 0529)
---
"But someone has to pay for what's happened here, and I don't want that someone to be me."
--Gul Dukat,
Star Trek: Deep Space Nine
Certified RFMC Member-- Ask To See My Credentials!
Co-Winner of Time's Person of the Year Award, 2006
Promote this thread!
AWArulz
Scrapple



Since: 28.1.02
From: Louisville, KY

Since last post: 4 days
Last activity: 2 days

#2 Posted on | Instant Rating: 5.64
from my daughter and Son in law I got a money clip fashioned from an old compressor name plate. It's very cool

I got all sorts of loose tea from various family

My son got me an amazon echo dot

and I got me an upgraded iphone (in memory)


---

We'll be back right after order has been restored here in the Omni Center.

That the universe was formed by a fortuitous concourse of atoms, I will no more believe than that the accidental jumbling of the alphabet would fall into a most ingenious treatise of philosophy - Swift
El Nastio
Banger



Since: 14.1.02
From: Ottawa Ontario, by way of Walkerton

Since last post: 40 days
Last activity: 5 days


ICQ:
#3 Posted on | Instant Rating: 3.81
- From my mom I got thick mitts (which will hopefully keep my hands warm) and flannel pants (which considering I work from home, this was very thoughtful).

- Although I haven't received it yet, I *think* my wife got me a copy of Terraforming Mars, which was my favorite board game I played in 2016.

- And the greatest gift I could be given; money to visit my wife's parents (they live three time zones away). It'll be the first time I see my father-in-law since he was diagnosed with terminal cancer. He replaced my actual father in every respect, so it'll be very special to see him and my mother-in-law.


---
"You can't put a price on integrity"
Wpob
Bierwurst



Since: 21.11.02
From: Williston Park, NY

Since last post: 99 days
Last activity: 9 days

#4 Posted on | Instant Rating: 4.81
From my 17 year old daughter - a portrait she painted of my favorite artist - Prince. It is beautiful.

From my 18/13/12 year old sons - tickets for a father/sons day - indoor mini golf, bowling, dinner and a movie.

From my wife - a handwritten letter recapping our 25 Christmases together. I will treasurer it forever.




---

Life is hilariously cruel.



It ain't the six minutes... it's what happens in that six minutes.



I....declare.....BANKRUPTCY!!!!



He's a habitual line stepper.
StaggerLee
Scrapple



Since: 3.10.02
From: Right side of the tracks

Since last post: 79 days
Last activity: 79 days

#5 Posted on | Instant Rating: 1.63
My daughter got me a box of golf balls.
My wife got me a golf glove.
That's because my inlaws bought me a brand new set of golf clubs. (I just started playing and always just rent the old used ones at the country club where we play)

I also got a new stereo/turntable and four albums:
Prince's self titled
Prince 1999
Prince Purple Rain
and Stay Gold by Butch Walker (The best artists you don't know)

(edited by StaggerLee on 4.1.17 1956)
dMp
Knackwurst



Since: 4.1.02
From: The Hague, Netherlands (Europe)

Since last post: 33 days
Last activity: 2 days

#6 Posted on | Instant Rating: 6.75
A whole bunch of cook books (Thai, Indian, Mexican) and various kitchen utensils.
Because the last few years I've been getting more and more adventurous in the kitchen.

Also got the first 3 TPB of 'Saga' a great comic book, and a new wallet.



dunkndollaz
Banger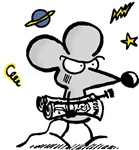 Since: 3.1.02
From: Northern NJ

Since last post: 294 days
Last activity: 281 days

#7 Posted on | Instant Rating: 6.94
I got The Dude's sweater from The Big Lebowski


---

I know my kids are trying to kill me




pieman
As young as
he feels



Since: 11.12.01
From: China, Maine

Since last post: 37 days
Last activity: 2 days


ICQ:
#8 Posted on | Instant Rating: 7.63
Originally posted by dunkndollaz

---

I got The Dude's sweater from The Big Lebowski

---


Pictures or it didn't happen.


---