y4j1981
Kolbasz



Since: 1.4.03
From: Dale City, Virginia

Since last post: 3294 days
Last activity: 3234 days

#1 Posted on
Wal-Mart Pulls Racy Magazines from Store Shelves

NEW YORK (Reuters) - First Sheryl Crow (news) had to go. Then Barbie's pregnant friend was shunned. Now, Wal-Mart Stores Inc. the world's biggest retailer, is axing three men's magazines known for cover photos of scantily-clad models.

Wal-Mart has pulled Maxim and Stuff magazines, published by Dennis Publishing, and Emap Metro LLC's FHM magazine from its shelves, saying some customers were uncomfortable with their covers.

"Wal-Mart has been the most notorious for refusing to carry, for example, music with warning labels," said Marjorie Heins, director of the Free Expression Policy Project based in New York. "Some of these large chains seem to have their marketing decisions driven by ideological rather than truly financial motivations."

In 1996, the retailer refused to sell an album from Sheryl Crow because it contained a lyric talking about children buying guns at Wal-Mart. Last year, it yanked from its shelves Barbie's long-time pal Midge -- a married character doll that featured a stomach with a curled-up baby inside.

The decision to stop carrying the magazines was made last week, company spokesman Tom Williams said. Wal-Mart is the top U.S. seller of products ranging from dog food to diamonds with sales of $244.5 billion in the fiscal year ended January 2003.

All three magazines have seen their U.S. circulation soar, helped by their eye-catching covers and short, cheeky and sex-oriented content.

"We carried those magazines initially in response to customer requests, but we have had customers around the country that have consistently been telling us they're uncomfortable with us carrying these magazines," Williams said.

Maxim magazine has a circulation of 2.5 million, with about 900,000 sold via newsstands. Stuff magazine has a circulation of 1.2 million, with about 450,000 sold on stands.

A spokesman for Dennis Publishing said sales of the publisher's magazines via Wal-Mart accounted for only 1 percent of total circulation.

FHM, or For Him Magazine, has a circulation of 1.1 million. The title was taken off Wal-Mart newsstands in October 2001.

"They put us back on the newsstand with our January and February 2003 issue," a spokeswoman for FHM told Reuters. The magazine has since been removed again.

"Our sales figures at Wal-Mart this year are not significant, only 1 percent of our total circulation," the spokeswoman said.

DOUBLE STANDARD?
Racy covers on magazines racks are not hard to find. Recent covers from music magazine Rolling Stone -- which is sold at Wal-Mart -- featured singer Christina Aguilera (news) wearing nothing but a guitar and heavy make up.

"We are dismayed at the double standard Wal-Mart has set with magazines," Dennis Publishing said in a statement later on Tuesday.

"We hope Wal-Mart will realize that the front covers and contents of Maxim and Stuff are no more provocative than those of other men's magazines such as GQ, Esquire, Details, and Rolling Stone -- and usually less provocative than the covers and contents of many women's magazines," the publisher added. (Additional reporting by Emily Kaiser)

--I figured anyone who shops at Wal-Mart and buys those magazines would like to know. Just gives me more and more reason to buy all my stuff at 7-11.


---

Your Official Sunday, April 13, 2003 Randomly Selected Wiener Of The Day!!
Promote this thread!
timdrake
Polska kielbasa



Since: 17.3.02
From: Boston

Since last post: 1205 days
Last activity: 79 days

#2 Posted on
This is why I'm not a Wal Mart shopper. It's not like they're porn. Just put them on the top shelf for fuck's sake. This probably belongs in the politics folder, but I just hate stupid censorship like this. Let people make up their own minds on what they're going to buy...
Downtown Bookie
Morcilla



Since: 7.4.02
From: USA

Since last post: 315 days
Last activity: 4 days

#3 Posted on
Originally posted by timdrake

---

This is why I'm not a Wal Mart shopper. It's not like they're porn. Just put them on the top shelf for fuck's sake. This probably belongs in the politics folder, but I just hate stupid censorship like this. Let people make up their own minds on what they're going to buy...

---


...or sell.


---

Patiently waiting to be Stratusfied.
Chico Santana
Boudin rouge



Since: 2.7.02
From: Jaaaaamacia Mon, No Problem.

Since last post: 5362 days
Last activity: 5359 days

#4 Posted on
They should not sell Sheryl Crow, because she sucks!

I was at Target one day and they had Maxim with Christina Aguilera almost all naked with her "I want penis" look on the cover about a foot away from all the kid books. I was in awe.

About Wally-World:
People are too sensitive. Though I'm offended by all the assclowns that I get stuck in line behind, and a few off the slow assclowns that work there. Wally-World should just move the mags to the upper back shelves.


---

"SAL BANDINI, WANNA WRESTLE?"
cokeman
Chorizo



Since: 12.4.03
From: nj (back from iraq)

Since last post: 4594 days
Last activity: 4384 days

#5 Posted on
What about glamour and shit like that, they have some pretty provocative covers. Not that I mind. But itís true, that magazine and others like it should be pulled too. Actually they should just not sell magazines anymore because they are all sexually provocative. And if they are not on the cover then it will have an ad in it that is too sexual. Some people have some serious issues.


---
dunkndollaz
Banger
Back to Back Survivor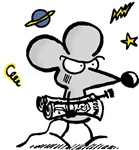 Since: 3.1.02
From: Northern NJ

Since last post: 64 days
Last activity: 4 days

#6 Posted on
The company I work for "firewalled" the so called "lad mags" sites about a year or so ago but did nothing about the sites for Cosmo and the other racier women's mags - I noticed recently that the firewall was lifted - not that I would ever visit those sites on company time.......


---

5 Time 5 Time 5 Time 5 Time 5 Time Wiener of the Day Runner-up
Simba
Frankfurter



Since: 7.8.02
From: Boston, MA

Since last post: 3812 days
Last activity: 3420 days

#7 Posted on | Instant Rating: 6.20
I guess people will just have to read Field and Stream while they're purchasing their guns at Wal-Mart.


---

Reserved for future use.
Mr. Boffo
Scrapple



Since: 24.3.02
From: Oshkosh, WI

Since last post: 1759 days
Last activity: 1719 days

#8 Posted on | Instant Rating: 2.44
Yeah, it's a well-known observation.

Magazines try to sell things to men by putting hot women in them.
Magazines try to sell things to women by putting ... hot women in them.


---

NOTE: The above post makes no sense. We apologize for the inconvenience.
asteroidboy
Andouille



Since: 22.1.02
From: Texas

Since last post: 2737 days
Last activity: 1645 days

#9 Posted on | Instant Rating: 4.95
Ever been in line at a Wal-Mart? You'll see people far more offensive than anyone on a Maxim cover.


---

-- Asteroid Boy


Wiener of the day: 23.7.02

"My brother saw the Undertaker walking through an airport." - Rex
"Was he no-selling?" - Me

Now, a highly respected wrestling columnist!
LeechOfTheNight
Head cheese



Since: 16.1.02
From: New Hampshire

Since last post: 5487 days
Last activity: 4628 days

#10 Posted on
Gotta love Wal-Mart's policy: keep it on the shelves until enough people complain.
ges7184
Lap cheong



Since: 7.1.02
From: Birmingham, AL

Since last post: 41 days
Last activity: 30 days

#11 Posted on
Yeah, that's probably IS the policy, more or less. I don't think this is even the first time these magazines have been pulled, or at least one or two of them. They probably let the complaints build, make a big deal out of pulling them, then when everybody forgets, put them back out there. Then repeat the process.

Of course, if they were selling a heck of a lot of them, they probably wouldn't pull them. But it doesn't exactly sound like they fly off the shelves at Wal-Mart.
Rudoublesedoublel
Frankfurter



Since: 2.1.02
From: Kentucky - Home of the 8 time NCAA Champ Wildcats

Since last post: 192 days
Last activity: 121 days

#12 Posted on
Although I'm opposed to censorship, I'm awed by Wal-Mart's ability to have record companies alter album covers and censor lyrics just for them. If Wal-Mart doesn't want to carry these magazines, no big deal. They're available elsewhere, with the exception of the "one horse" towns where there are no other places to buy magazines or records.

If I owned a store I would consider not selling items that I didn't want to sell (or found offensive). That's my choice and I would recognize that it would cost me some $ale$, but that would be at my discretion. I guess the true question is, how do Wal-Mart's stockholders feel about this decision?