Mr. Heat Miser
Blutwurst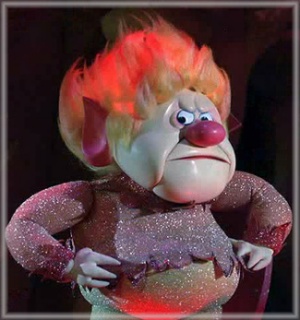 Since: 27.1.02

Since last post: 3881 days
Last activity: 1984 days

#1 Posted on
Wow, I'm amazed that this thread hasn't been started yet...
anyway, here goes:

Noble def. Kidman (unless Billy puts his pants back on!)

Booker def. Show

Evil Canadians def. Hogan/Edge with assistance from Y2J+2

Benoit/Gurrerro over Dudleyz

RVD by DQ over NBT Lesnar

Taker in the triple threat, pinning Rock-E...

is that really all that's been announced, or am I missing something?





---

Everything I touch, starts to melt in my clutch........
I'm too much!
Promote this thread!
Shem the Penman
Toulouse



Since: 16.1.02
From: The Off-Center of the Universe (aka Philadelphia)

Since last post: 1600 days
Last activity: 1398 days

#2 Posted on
Looks like it. wwevengeance.com doesn't even mention Noble/Kidman on its match list. Hopefully this means we'll get some nice long matches this time around. This will be the first PPV I'll have gotten since Mania, so I'm deeply hoping it doesn't suck.

As for the outcome, as long as Booker goes over Show and RVD doesn't lose the belt, I'm happy. Fortunately, those do seem to be the most logical results, but you never know with the WWE.
Eradicator
Kolbasz



Since: 4.1.02
From: Chicago

Since last post: 1178 days
Last activity: 429 days

#3 Posted on
Noble vs. Kidman- Noble retains to keep the strap warm for Misterio, who will win it at Summerslam

Booker vs. Show- Booker by pinfall (I hope!)

Benoit/Eddie vs. Dudleys- Benoit/Eddie

RVD vs. Lesnar- Lesnar takes the belt. For some reason I see them giving him the title and Sumerslam will be title vs. title. After that PPV the IC title will be vacated for a tournament. What better way to complete a monster push than to have him be the first Intercontinetal champion to win the world title in 12 years (not that it helped the Warrior, though)?

The "Anti-Americans" (ugh) vs. The Ameri-nadians-
Storm and Christian take the belts with help from Jericho AND Test. I don't think Jericho will join the group. He'll just want to screw Edge for a buildup to next week's Smackdown! I wish they would have done this tag match on this week's Smackdown! and saved Jericho/Edge for the PPV. Oh well.

Triple Threat: Undertaker/Rock/Angle- Rock takes the belt so we get Rock vs. Brock at Summerslam.

Don't know what else they plan on adding to the card. Six matches seems a little skimpy. And I'm sure the big HHH angle will eat up some time (he'll go to Raw, but stays a face somehow).


---

Yes, indeed I can dig it, Sucker.
MonteCarl
Potato korv



Since: 21.1.02
From: Saginaw, MI

Since last post: 1147 days
Last activity: 176 days

#4 Posted on
Didn't they officially add Jericho/Cena to the PPV on Smackdown? I thought I read that in the spoilers. I only watched half of the show last night, so I don't know if they left it off the show or not.

--Monte N
Y2Disco
Mettwurst



Since: 2.1.02
From: Pennsburg, PA

Since last post: 5148 days
Last activity: 4901 days

#5 Posted on
I keep forgetting the PPV is this weekend. :)


---

"If you like to fight girls so much, why don't you meet me in the ring?"
-Jeff Hardy
mountinman44
Sujuk



Since: 8.5.02
From: San Diego, CA

Since last post: 2588 days
Last activity: 903 days

#6 Posted on
Originally posted by MonteCarl

---

Didn't they officially add Jericho/Cena to the PPV on Smackdown? I thought I read that in the spoilers. I only watched half of the show last night, so I don't know if they left it off the show or not.

---


I don't believe it was mentioned at all. The only thing Steph and Jericho talked about was his future meeting with Edge next week, which means those two aren't leaving Smackdown.


---

"Young lady, in this house, we obey the laws of thermodynamics!" - Homer Simpson
tomvejada
Andouille



Since: 2.1.02

Since last post: 5410 days
Last activity: 5410 days

#7 Posted on
Noble vs. Kidman- Noble retains, loses to Mysterio in the near future.

Booker T vs. Big Show- Booker wins.

Benoit/Eddie vs. Dudleys- Benoit and Guerrero win.

RVD vs. Lesnar- I guess Lesnar.

Team Canada vs. Hogan/Edge- Team Canada wins, after Y2J interferes.

Triple H will go to the Raw brand and turn heel. Hopefully that will come before the main event.

Undertaker vs. Rock vs. Angle- I guess Rock wins, setting up Rock vs. Brock at Summerslam.


---

"Catching Hitler was neato!" "Next stop, Hirohito!"
Bart Simpson
OlFuzzyBastard
Knackwurst



Since: 28.4.02
From: Pittsburgh, PA

Since last post: 401 days
Last activity: 377 days

#8 Posted on
CRUISERWEIGHT: Jamie Noble (C) VS Billy Kidman
FUZZY SAY: Kidman winning it back wouldn't be a shock, but I think they'll keep it on Noble for a while longer.

Chris Jericho VS John Cena
FUZZY SAY: I'm actually pretty positive they did add this match to the show. (Too bad there's no place we can get a transcript of all the interview segments, huh?) If it does exist, Jericho goes over.

WOMENS: Molly Holly (C) VS Torrie Wilson
FUZZY SAY: I've seen this one listed in a few places as well. If it does exist, Molly.

TAG TEAM: Hulk Hogan and Edge (C) VS Lance Storm and Christian
FUZZY SAY: Put me down in the "Edge turns on Hogan" camp. It wouldn't make a world of sense, but it would make for a Horseman-esque heel stable. Edge could be the charismatic leader, Test the enforcer and Storm and Christian would be the tag team.

(Sure, that would work with Jericho, too, but that would also make sense, and you should never ever go with the scenario that makes sense.)

Booker T VS The Big Show
FUZZY SAY: Book. Next?

TABLE MATCH: The New Dudley Boyz VS Chris Benoit and Eddy Guerrero
FUZZY SAY: The Dudleyz went over last time, so the Radicalz take it.

INTERCONTINENTAL: Rob Van Dam (C) VS Brock Lesnar
FUZZY SAY: Brock. Hopefully, getting the IC Title mixed in with the Undisputed title will lead to it's movement to the Smackdown brand.

WORLD: The Undertaker (C) VS Kurt Angle VS The Crock
FUZZY SAY: Are they advertising this as The Rock's return too? How the hell many returns is that in the last month? Four? He'll probably take the belt, seeing as he's only back for a little while and they'll want to take advantage of him on both shows.

HHH?
FUZZY SAY: Gotta be RAW. They need him, and keeping him away from My Baby Stephanie would be a good thing for everyone involved.


---

"The only difference between lilies and turds are those humankind have agreed upon, and I don't always agree."
---George Carlin

"Those who dance are considered insane by those who can't hear the music."
---Anon.
chill
Landjager



Since: 18.5.02

Since last post: 4023 days
Last activity: 4023 days

#9 Posted on
>>POSSIBLE MATCHES (on Heat?)<<

Bradshaw def. Chris Nowinski

Jeff Hardy def. William Regal or whoever he faces

Molly Holly def. Torrie Wilson or whoever she faces

Tommy Dreamer def. whoever he faces


>>ANNOUNCED MATCHES<<

Knoble def. Kidman

Booker def. Show

Christian/Storm def. Hogan/Edge **NEW TAG TEAM CHAMPS**

Benoit/Gurrerro def. The Dudleyz

John Cena def. Chris Jericho

Brock Lesnar def. RVD **NEW IC CHAMPION**

Triple H announces he's going to RAW (evens out with Taker going to Smackdown).

The Rock def. Undertaker and Kurt Angle. **NEW UNDISPUTED CHAMPION** *Since Rock was on Smackdown, that moves Taker to Smackdown.*


(edited by chill on 19.7.02 1316)
insideSOLUTION
Chorizo



Since: 3.1.02
From: toronto, ontario, canada

Since last post: 5694 days
Last activity: 5148 days


ICQ:
#10 Posted on
note: match headings stolen shamelessly from olfuzzybastard.

CRUISERWEIGHT: Jamie Noble (C) VS Billy Kidman -- i'm gonna say kidman, just because a kidman vs rey feud would totally make the crowd insane. maybe.

Chris Jericho VS John Cena -- not sure on if this is happening, considering they didn't list it on smackdown yesterday and there was no mention of it being added. if it does go down, hopefully jericho can cheat to win.

WOMENS: Molly Holly (C) VS Torrie Wilson -- good god, molly better win this match if it occurs. did they list it yesterday? i don't recall it being listed.

TAG TEAM: Hulk Hogan and Edge (C) VS Lance Storm and Christian -- unless edge turns, they will retain the belts.

Booker T VS The Big Show -- booker should win it, if they have half a brain, but that fact is still unconfirmed.

TABLE MATCH: The New Dudley Boyz VS Chris Benoit and Eddy Guerrero -- eddie and benoit.

INTERCONTINENTAL: Rob Van Dam (C) VS Brock Lesnar -- well, it'd be horribly illogical to have lesnar suffer a defeat here, so it still has a 50/50 chance of occuring. i'm picking him to win it though.

WORLD: The Undertaker (C) VS Kurt Angle VS The Crock -- the rock vs lesnar at summerslam.

*jer.
WyldeWolf1
Boerewors



Since: 20.6.02
From: Florida

Since last post: 5768 days
Last activity: 5768 days

#11 Posted on
Jamie Noble vs. Billy Kidman (Cruiserweight title)
Noble is the logical choice if Mysterio is going straight into a title feud, though Kidman has a history of good matches with Rey-Rey.

Chris Jericho vs. John Cena
I go with Jericho here. He may go over clean, but as we've seen in the past, he's great at making his opponent look good. If the WWE wants Cena to look like a major contender right away, a long-term feud here wouldn't be a bad idea. However, I think it's CJ's turn to look good; he's too valuable at the top of the card (which is lacking over on RAW) to spend too much time with the newbies.

Molly Holly vs Torrie Wilson (Women's title)
I'm going with Molly, since Torrie appears to still be honing her craft at this point.

Hogan & Edge vs Team Canada (Tag titles)
This one has a lot of possibilities. Interference on the part of Test is a foregone conclusion. In addition, there will probably be either an Edge heel turn or a Jericho run-in. Either could make this a helluva stable (which I think the WWE could use more of), but the Jericho run-in has the added appeal of letting his feud with Edge build. Too unpredictable to call on that count, but Team Canada goes over in any case.

Booker T vs Big Show
If it's not Booker, I swear...

Dudleys vs Benoit & Guerrero (Table Match)
Benoit & Guerrero. Spike makes them look even better in the process.

RVD vs Brock Lesnar (IC Title)
This is the really tough one. In one scenario, Brock goes over and it's title vs title at Summerslam. In the other, RVD retains, and therefore can make a claim that HE deserves Brock's title shot, or at least the first shot at the World title if Brock wins it. I would go with the latter scenario, since it potentially moves 2 guys into the main event picture on RAW that could spice it up a bit.

Undertaker vs Kurt Angle vs Rock (World Title)
This is dependent on the IC match outcome. Rock definitely goes if Brock wins, and gets to appear on both shows for the duration of his WWE stay (otherwise Taker would have to go full-fledge face before Summerslam, and I don't see that happening). I see Angle going over if RVD wins, and the two eventually meeting at Summerslam.

As far as the Summerslam main event goes, I think there's a good chance that it becomes a triple-threat or four-way match, with some mix of Brock, Rock, RVD, Angle, and Taker.


---

WyldeWolf1
The Man of 1,007 holds, making him 3 holds better than Chris Jericho!
Aphrodites Reflection
Chipolata



Since: 18.6.02
From: Atlanta GA

Since last post: 5573 days
Last activity: 5571 days

#12 Posted on
As for Cena Vs. Jericho, I guess it hasn't been added "officially" but I remember two last week's Smackdown that Vince made the match. It was something like Jericho went in to give up his match with Edge (so the Anti-Americans could go for the belts) and in return Vince gave Jericho a match vs. Cena at Vengence. Is this ringing a bell in anyone else's head?
Spiraling_Shape
Bierwurst



Since: 2.1.02
From: PA

Since last post: 4 days
Last activity: 15 hours

#13 Posted on
Why doesn`t anyone just go to http://www.wwevengeance.com/matches.html?

There is no Women`s Title match or Jericho match listed, but I hope they add at least one of those to the card during Heat.

6 matches so far, and HHH`s "big decision". It`s listed as "Will Triple H join RAW or SmackDown!?" He`s *already* part of SD!..shouldn`t it be "Will Triple H leave SD! for RAW?"

Predictions:

Jamie Noble vs. Billy Kidman (Cruiserweight Title) - Noble`s increasingly-entertaining heel push continues, and Kidman wears another frightening choice of tights.

Booker T vs. Big Show - Booker T, to have some sort of closure to his nWo feud.

Bubba Ray & Spike vs. Benoit & Eddie - Benoit & Eddie, who deserve much better but have no faces to face on RAW.

Hogan & Edge vs. Christian & Lance Storm (Tag Titles) - Christian & Lance Storm, so Edge can stop his transformation into Brutus "The Barber" Beefcake (he`s already cut hair and tags with Hogan!)

RVD vs. Brock Lesnar (IC Title) - This is tough...I don`t know how they can stop Lesnar`s streak if he`s main-eventing SummerSlam..but is he ready to be in the title vs. title position that would put him in? And they keep yanking the IC title off and onto RVD, a la Edge a few months ago. But I predict..hmmm....Lesnar. Bah.

Rock vs. UT vs. Angle (Undisputed Title) - Rock..because they keep shuffling the big belt around too and why not head towards 5 title changes in 6 months (assuming Lesnar wins at SS)? :(

(edited by Spiraling_Shape on 19.7.02 1314)

---

"Hollywood Hulk Hogan lost his hair match to Mother Nature, dude!"
deadbeater
Morcilla



Since: 12.2.02
From: Parts unknown

Since last post: 5707 days
Last activity: 5707 days

#14 Posted on
The Heat matches may be more interesting than the PPV shows.

Wait a minute. Isn't Torrie supposed to be at The World in NYC while Vengeance is playing? Does this mean that Paul E. is doing a double booking angle in response to Sabu joining NWA:TNA?


---

"Business has just picked up" says JR. Then right on cue, Molly enters the arena! Never was JR any better in introducing someone. --Raw 7/15
tomvejada
Andouille



Since: 2.1.02

Since last post: 5410 days
Last activity: 5410 days

#15 Posted on
Torrie is supposed to be hosting the Vengenence party at The World on Sunday, with Dawn Marie.

According to Meltzer, the Y2J-Cena match has been scrapped for no apparent reason.


---

"Catching Hitler was neato!" "Next stop, Hirohito!"
Bart Simpson
NaturalBornThrillerZach
Braunschweiger



Since: 19.7.02
From: St. Louis, MO

Since last post: 5439 days
Last activity: 5438 days

#16 Posted on
Newbie adds his two cents to the predicition thread.

MOLLY HOLLY vs. TORRIE WILSON, WOMEN'S TITLE.
I don't get Smack!Down, so I haven't seen this overnight improvement by Wilson, but given their WCW history, I'd believe it. If Molly can somehow turn Torrie into the new Trish Stratus (eye candy who busts ass and can GO~!), this match could be pretty good. Holly cheats to win after Wilson puts up a good fight.

JAMIE KNOBLE vs. BILLY KIDMAN, CRUISER TITLE.
Knoble needs to keep the belt to job to Rey Rey, so he's going over here. Hopefully, a good showing on PPV by these two will help solidify the division. Knoble is ready to be a break out star, Kidman is treading water until Rey shows up (Misterio always brought out the best in Billy, IMO), and this marks the second straight PPV with a Cruiser title match on it. That's GOTTA be a good sign, right? I wouldn't mind seeing some sort of clusterf--k with Tajiri, Hurricane, Moore, Chavo, Funaki, and finally Rey get involved, to give the entire division some air time.

TAG TEAM TABLE MATCH, DUDLEYS vs. EDDY/BENOIT.
I think Eddy and Benoit need to do some mass destruction here. Spike can do the JOB to "protect" Bubba, since Vince wanted to make him the new big midcard face. This oughta be a showstealer. The TLC matches were mindblowing, and here, you've got two guys who can put together spots and transitions that MEAN SOMETHING in between the holy shit bumps. Good times will be had by all.

NO CO, NO DQ, BOOKER T vs. THE BIG SHOW.
I hope and pray Booker goes over. If not, it better lead to a SummerSlam blowoff where the Book wins clean. I think the feud has gone on long enough, though. Booker, the Main Event is calling. It's showtime.

TEAM CANADA vs. HOGAN/EDGE, TAG TITLES.
The Edge heel turn would rule, but Edge is just so good as a face, I'd hate to see him turn. If Jericho/Cena doesn't happen, I'd like to see them get involved in this. Jericho helping TEAM CANADA retain but not joining them would be sweet. Edge/Jericho at Summerslam as a result. MMM.

ROB VAN DAM vs. BROCK LESNAR, IC TITLE.
Brock is bigger than the IC title. You could do the whole Ultimate Warrior thing and have the World vs. IC champ thing at Summerslam, but I don't want to see it. RVD goes over via DQ or something. Brock goes crazy, but RVD retains the title and his heat.

TAKER, ANGLE, ROCK, UNDISPUTED TITLE.
This is tough. The spoilers say it's Rocky's time. Angle has been the MVP during the ratings decline. I want to see Angle and Rock negate each other, though, and Taker retain. Long title reigns rule. Old legend trying to reach Next Big Thing respect = good angle. Save Brock/Rock for WM or something, once Brock is established as a huge main event heel.

You know, this PPV is solid on paper. If McMahon doesn't go nuts with the booking, plus gives all these matches plenty of time (instead of wasting it on the Triple H Show), this could be the show that the WWE needs to kick off the New Era. Booker/Big Show is the only match that the smarks won't drool over, workrate wise, but if Booker goes over, they'll stay quiet.

Here's hoping.

Zach
Net Hack Slasher
Banger



Since: 6.1.02
From: Outer reaches of your mind

Since last post: 4926 days
Last activity: 3346 days

#17 Posted on
Noble def. Kidman - Noble too interesting of a character to lose the a characterless panty wearing Kidman.

Booker T def. Big Show - Well he better win the Big show.

Benoit/Eddie over Bubba/Spike - Benoit and Eddie both are being dropped to Spike level they should atleast win. No?

Storm/Christian over Hogan/Edge - With Jericho's help

Lesner over RVD - Hey they are doing all the other WCW mistakes, so why not this one. The guy with the artificial push to the world title squashes the #2 title holder for no real reason. (ala Goldberg/Raven)

Rock def. Undertaker & Angle - With Eric Bischoff's unwelcomed help.

Triple H's decision - well we are going to have 25 to half hour of Bischoff and Stephanie kissing Triple H's ass. Saying how he's the greatest superstar that ever walked into the ring and how important he is right now. Eric will say how much Raw will be better with H on it (Funny, I can't remember a single entertaining thing he did on Raw when he was champion after WMX8) While Steph will talk about how Smackdown needs him (Huh, show seems to be better this month then it ever was since the split without a trace of HGH). Want a prediction here's my prediction the show HHH goes to will be worst off.

Well like I've said I've been sitting on the fence in ordering the PPV or not. Nothing jump up to me like a "Wow I must watch". I might have taken my chances of ordering but thinking that I have to sit through 30 minutes of "Triple H is great" I cannot do it... lol








---

I don't get it, everyone loves rats, but they don't want to drink the rats milk?
SmooveK
Goetta



Since: 27.6.02
From: Fukushima, Japan

Since last post: 5091 days
Last activity: 4779 days

#18 Posted on
Anybody think Booker will slam the Big Show? He's been doing it at house shows recently, and that would be a sight to see.

And they HAVE to blow off the feud.

-K


---
See the newly minimalisticated SmooveK.com today. Smoove Komics, pictures, and submit your loyalty to SmooveLand. It's everything you've ever wanted in a website, exactly!

TheBucsFan
TheChiefsFan



Since: 2.1.02

Since last post: 1409 days
Last activity: 1409 days

#19 Posted on | Instant Rating: 4.42
Booker T pins The Big Show
Storm Troopers defeat the AmeriCanadians to capture the tag titles
Jamie Noble defeats Billy Kidman to retain the cruiserweight title
Benoit/Guerrero defeat The New Dudley Boyz in a table match
Rob van Dam retains the Intercontinental Title against Brock Lesnar, but not with a pinfall
The Rock defeats Kurt Angle and the Undertaker to win the WWE Title


---

Mean Gene: "You know, I don't think it's a question - Goldberg, I don't think it's a question of who's next, I think it's a question of who's left?"
Goldberg: "No, see, that's where you're wrong. It ain't who's left, it's - WHO'S NEXT?"

"Just how hardcore am I? Well this morning, I drank milk that was two days past the expiration!"
-Norman Smiley

"She is one of them! She's CANADIAN!"
-Stevie Ray
Freeway
Scrapple



Since: 3.1.02
From: Calgary

Since last post: 1641 days
Last activity: 1329 days

#20 Posted on
Vengeance Predictions:

-Booker T def. The Big Show, then delivers a swank Spinaroonie to boot!
-Rey Misterio Jr returns, taking out Jamie Noble and costing him the Cruiserweight Title to Billy Kidman, setting up the first feud for Misterio.
-Chris Benoit & Eddie Guerrero def. The New Dudley Boyz clean
-Brock/RVD double-KO or double-pin, only way to keep belt on RVD but keep Brock hot
-Triple H chooses RAW over Smackdown, mostly because Stephie IS gaining weight...the fat bitch!
-Jericho and Edge duke it out, leaving Hogan outnumbered against the Canadians, and pinned by Christian for the Tag Team Straps.
-The Rock beats Angle & Undertaker for the Undisputed Title due to Brock interference


---

"That's what the Internet is for, slandering others anonymously" Banky Edwards (Jason Lee), Jay & Silent Bob Strike Back

"Smile." Maguire (Jude Law), Road to Perdition

Pages: 1 2 Next