Torchslasher
Knackwurst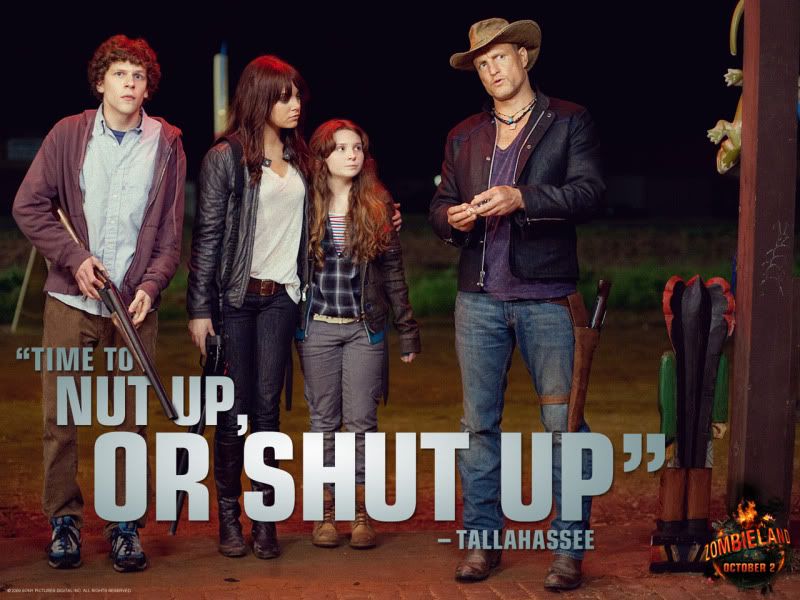 Since: 17.1.02
From: New F'n Jersey

Since last post: 42 days
Last activity: 41 days

#1 Posted on | Instant Rating: 6.44
First off, I never saw House of 1000 Corpses (or House of 1000 Problems as Rob coins it in his director's commentary) in the theater, so I had the advantage of watching this certainly interesting movie on DVD. So the review is on the movie and the DVD.

The Movie- There is no room for apathy or indifference with this movie. You either love it or hate it. I leaned more toward the hate side. The movie actually reminds me of an infinitely better movie, Last House On The Left (Wes Craven's first horror flick).

Quickly summarizing the plot, four twenty-somethings happen upon Captain Spaulding's gas station and museum. Spaulding has a "murder ride" that he shows them, which delves into different serial killers, including Dr. Satan. Chris Hardwick's character (yes, THE Hardwick from MTV's Singled Out) asks for a map to the good doctor's old house. As the kids head out they suffer a flat tire, and eventually meet the Texas Chainsaw Massacre-type family that lives near the old Dr. Satan estate. From there the young people are treated to a fun show, and then to EXCRUCIATING DEATH, in various ways. Or do they??? Okay, they do.

Mr. Rob Zombie directed this travesty, which borrows from every other horror movie ever made. The actors over-emote to the max, which of course is how they were supposed to act, so that's all good I guess. Most of the kids were annoying and you want to see them die, although Hardwick's character actually grew on me. There's a scene with one of the girls and her "dad" that is particularly disturbing. This movie was mainly shock for shock's sake, and it just didn't work. Again, we don't really care for the characters, and the movie is so frenetic that you might give up eventually on it. I know I did. The makeup was really well done though; I'll give them that. Having said that, I think some of the "darker" (and I'm not talking about skin color) posters here will enjoy the almost non-stop violence. This wasn't for me though.

The DVD- Right off the bat, this treatment on DVD almost makes up for the lousy movie. Captain Spaulding comes out and introduces the main menu options, and talks to us about anything and everything. It's actually quite funny, so I recommend letting Spaulding go through his whole spiel. He does swear…a lot, so be ready for that.

In fact, every menu option is accompanied by one of three characters from the movie: Spaulding, Otis or Baby. Some of their banter is funny, such as Otis at the scene selection menu talking about his philosophy on life and his imploring us to choose the scene where he kills "Fishboy". Some of the banter is quite boring, such as the Easter Egg where the three characters take turns "dancing" and crack up while they do so.

The special features are especially weird, alternating between truly interesting and unbelievably unnecessary. For instance, the "Making of Featurette" runs maybe four minutes long. Even better was the "Behind The Scenes" feature, which was two whole minutes of people fixing rope rigging and actors eating food. I have never seen such haphazard work. The selected cast interviews were cool, but there were problems there as well. At one point in the interview with Sid Haig (who plays Captain Spaulding), the chyron flashes one question twice. The first time Sid just talks about something else, and the second time he answers the question that was on the screen. That is unacceptable and I can't believe that there was a mistake like this made. Dumb features are one thing; blatant mistakes are something else. Oh, and don't miss the feature "Tiny Fucked The Stump." Despite the flubs, the DVD is done really well, and Spaulding et al make me feel better for having had sit through the movie with their crazy antics on the DVD. BTW, the scariest feature on the DVD features a couple of the actors talking about making a sequel. NO, please no sequel to this bad movie. And I didn't think the movie made enough money or interest to warrant a second movie. (House of 1001 Corpses perhaps?)

The best feature on the DVD is Rob Zombie's commentary. He talks almost the entire movie with little breaks (well, actually you can tell that his commentary is broken up, because his inflection changes tons during the flick). I'm glad that they turned the movie way down for Zombie's comments. Zombie goes into everything about the movie, almost scene by scene. He freely talks about troubles in shooting, in the stunt work, and in anything else. His self-effacing style is perfect for this movie. Actually, the funniest part is listening to Rob go through the credits. He jokes about the credits having "70" drivers for the two or three cars that were in the actual movie itself. He notes that most of the "stunt performers" were just people that showed up and didn't do much of anything. Zombie lets his hair down (so to speak) and really delivers the kind of commentary track I like.

All in all, I actually would recommend this as a rental. The movie sucks rocks, but the DVD treatment is really entertaining and the actors did look like they were having fun with it. Just don't buy the movie for the movie's sake. You will almost assuredly be disappointed, offended or both.



---

Molly, Stacy and Daffney all in WWE? I suddenly lost all my will to complain about anything regarding the WWE. Hope I don't lose my street cred for this.

TS, the greatest Wiener rated 6.1554 ever to live!! Oops, I mean 5.5...4.5?? Oh, dammit! I guess Notorious FAB was right.
Promote this thread!
DarkRenegade
Bockwurst



Since: 19.5.02
From: YOUR MOTHER!

Since last post: 4029 days
Last activity: 1790 days

#2 Posted on
Renegade,Mistress of Darkness says:


Having said that, I think some of the "darker" (and I'm not talking about skin color) posters here will enjoy the almost non-stop violence.
---


Pfft, I have "Dark" in my name. Non-stop violence? SCORE! Now I REALLY want that movie...


---


MORTAL KOMBAT!

TheMASKEDComputerGeek
Chourico



Since: 7.1.02
From: Franklin, Wisconsin

Since last post: 457 days
Last activity: 229 days

#3 Posted on
Originally posted by DarkRenegade

---

Having said that, I think some of the "darker" (and I'm not talking about skin color) posters here will enjoy the almost non-stop violence.

---


Pfft, I have "Dark" in my name. Non-stop violence? SCORE! Now I REALLY want that movie...
---




For a movie called House of 1000 Corpses, it's actually ridiculously tame. There's a great sequence in the middle involving some police officers, but the best part of the movie by far is the beginning with Captain Spaulding. It's like Tarantino doing 70's horror that whole opening sequence.


---

Caped Boy: Excuse me, ladies. You may remember me as the guy who came to dinner a few weeks ago with underwear on my head. My name is Keith Stat from Milbourne, New Jersey. State bird, the mosquito. And as you may have heard I am recently a crowned class B dungeon-master. So if any of you would like to play D&D today, please speak now or forever hold your peace.
[He chuckles, and there is an awkward silence at the table.]
Caped Boy: Anyone? Alexa!
[Alexa gives him a withering glare.]
Caped Boy: Maybe you would like to join in? We do need a druid, and you have definitely cast a level 5 charm spell on me.
Alexa: In your dreams, douche-bag!
Caped Boy: Douche-bags are hygienic products, I take that as a compliment. Thank you.
[Keith walks off]
Alexa: Ewww!


- Wet Hot American Summer
OlFuzzyBastard
Knackwurst



Since: 28.4.02
From: Pittsburgh, PA

Since last post: 342 days
Last activity: 318 days

#4 Posted on
Yeah, it was perfectly fine in that campy sort of way (it's actually a world of fun to watch with a bunch of people and a copious amount of alcohol) - but there was way too little of Captain Spaulding (who somehow was a completely meaningless character after those first thirty minutes), and there was really no reason to care about any of those kids. (I'm not even sure which of the two girls that was in the end.)

Oh, and Tiny was so totally a Kane rip-off...


---


"George W. Bush is in the middle of his annual 35-day vacation. How many of you get a thirty-five day vacation every year? Yeah, see, that's because they need you at your job... Don't worry, George. Another seventeen months, and you're going to have the longest vacation of your life."
---David Letterman, The Late Show
BoromirMark
Potato korv



Since: 8.5.02
From: Milan-Ann Arbor, MI

Since last post: 1105 days
Last activity: 1105 days

#5 Posted on
I personally *loved* this movie. I went to see it with my Star Wars fan-force group, who also happens to be a group of cheesy horror lovers, and we dubbed it an instant classic. It's not meant to have a mind-bending plot, or characters to care about, it's meant as pure and unadulterated horror CHEESE. I mean, Tiny wore a shirt saying "Cheap Ass Halloween Costume" while delivering the girl a bowl of 'Agatha Crispie's! And I won't mention the name of the liquor store here, but I'm sorry, we cracked up at that.

Aside from those obvious jokes, there were just great cheese elements to laugh at as well. "Gasoline, Murder, and Fried Chicken"? Blatant buttcrack shot? The stereotypical evil redneck family? How about having the two kids in the bunny suits be lowered into a well, only to be attacked (out of NOWHERE!) by ghouls/zombies! And don't forget Dr. Satan's little room, where the remaining girl is chased down by what appeared to be an Umbrella agent from Resident Evil mixed with the Terminator. It's those "What the hell?!" cheese moments that made this movie for me, and it's a laughriot. Hell, most of Otis' dialogue is just fantastic, as it's so over-the-top wacky evilness mixed with big words that probably mean something to him, but have no coherent meaning really. And the part where Otis kills the deputy is just pure genius on Rob's part.

Rent it/buy it, whatever, but don't expect some serious horror movie. Expect pure comical cheese, because that's what it is intended to be.


---

"People use freedom of speech to make up for freedom of thought, which they lack." - Kierkegaard