I Breastfeed John Madden
Head cheese



Since: 13.4.04
From: Des Moines, IA

Since last post: 1184 days
Last activity: 790 days

#21 Posted on | Instant Rating: 0.00
1. Jericho Debut. One of those rare moments where my heart is actually pounding in anticipation...and there was an actual payoff. Mark out moment, bro.

2. Mr. Perfect "retires" Ric Flair. Good, bloody match. Was before the days of Newz sites and I legit couldn't figure out who was losing that one.

3. Austin/HHH v. Benoit/Jericho. Best bout ever on Raw. Insane crowd. Insane finish. Historical. Buried forever.
Dutchie
Kishke
Moderator



Since: 29.1.02
From: PA

Since last post: 54 days
Last activity: 5 days

#22 Posted on | Instant Rating: 8.21
Agreed with the Mr Perfect/Ric Flair 'loser leaves town' match. Bobby Heenan went insane when Ric Flair lost. Heenan was great throughout the whole match and it'd be great if his health was good enough for him to be on Raw 1000.

Agree with the 1-2-3 Kid beating Razor Ramon. It seemed so huge at the time, just unpredictable as they beat that 'anything can happen on Monday night Raw' tagline into the ground with it. I didn't remember that was the same episode Jannetty beat HBK for the IC title - I do remember him coming through the crowd and taking off the hood, which was also cool.

And not really top moments, but personal favorites: Edge & Christian celebrating Edge's birthday with kazoo themes, and Kurt Angle in a little cowboy hat: "I feel like a real cowboy. Yippie-kai-yay."

(edited by Dutchie on 17.7.12 2235)
Wpob
Bierwurst



Since: 21.11.02
From: Williston Park, NY

Since last post: 1 day
Last activity: 14 hours

#23 Posted on | Instant Rating: 8.95
They will probably ignore a lot of humor angles, but I loved Edge and Christian with the kazoos and anything with Angle/ Rock/Austin/Jericho/Foley.

If jericho's debut is not in the top three then I will be stunned. It was the best lead up to and actual debut ever. Sometimes debuts disappoint - this was a clinic on how to do it right.

HHH's return was another one that the crowd made it to be a HUGE moment. I did not think his return would be so big, but it was. Probably his biggest pop ever and that is saying something.

The NAO joining DX. That was pretty huge because they were on the fence for so long. But now, HHH and XPac had there finals members and that stable just blew up after that.



---

Life is hilariously cruel.







El Nastio
Banger



Since: 14.1.02
From: Ottawa Ontario, by way of Walkerton

Since last post: 11 days
Last activity: 2 days


ICQ:
#24 Posted on | Instant Rating: 3.42
I started watching wrestling again right when the McMahon-Helmsey Regime started, and never looked back.

4) "THAT'S LANCE STORM!", which essentially "kicked off" the Invasion angle.

3) Benoit/Jericho vs Triple H/Austin. ALTHOUGH I also need to mention the AWESOME Jericho vs Benoit with Regal as the referee match that helped lead up to this.

2) DX & Radicals Vs.Cactus Jack, The Rock & Too Cool.

1) Jericho "winning" the title was great at the time.
GodEatGod
Bockwurst



Since: 28.2.02

Since last post: 846 days
Last activity: 284 days

#25 Posted on | Instant Rating: 10.00
3) Lita/Trish main event RAW - I'm a big fan of women's wrestling and this is actually one of my favorite matches period, regardless of gender. Still makes me happy to watch.

2) Nexus forms, destroys Cena/Punk/everything in sight - I'd actually gotten pretty into watching the first season of NXT, but felt like they'd pissed away it's potential...and then the attack happened. Since I missed the Summer of Punk due to moving/financial stuff, this is the last time I was really just blown away and jumping up and down about a wrestling angle. Did it pay off? No...but as moments go, hard to beat.

1) Mick Foley wins his first title - The reasons have obviously been stated, but just a feel-good moment that surprised (I wasn't spoiled by Nitro). Also happened at probably the absolute height of my fandom back in college. Purely sentimental.


---

"Never piss off a hawk with a blowgun" - Conan O'Brien
jerichofan717
Pickled pork



Since: 21.12.10
From: Albany, NY

Since last post: 268 days
Last activity: 9 days

#26 Posted on
My Top 3 are as follows.

1) Steve Austin's beer bath on the corporation. I've NEVER heard a crowd roar so loud in person that it felt like the building was shaking.

2) Triple H recruits X-Pac and the NAO to expand DX. This group is one of my favorite stables ever, and the fact that Foley used the crowd's Austin chants while he was being carried out of the ring following the cage match to do some awesome heel work was an added bonus.

3) Jericho's debut. Pretty much for all the reasons people have already said in this thread. Killer execution and a total mark-out moment even though many of us knew who the countdown was for.
RecklessEric
Head cheese



Since: 23.1.02
From: Maine

Since last post: 118 days
Last activity: 118 days

#27 Posted on | Instant Rating: 4.96
-Punk cashing in the title

-The Two-Man Power trip vs. Jericho/Benoit

- The night Vince bought WCW.

My other memories:

There was a Flair return the night he owned half of WWF that sticks out.

-Jericho's debut.

-Tazz's debut

-The Desire video

-The Rock and Stone Cold sing (I was there!)


---

2009-10 Fantasy Football Champion (Wienerville Sloppy Seconds)





2009-10 Fantasy Football Champion (Wienerville War Room)





Dead Last (Wiener Bowl III)
graves9
Sujuk



Since: 19.2.10
From: Brooklyn NY

Since last post: 75 days
Last activity: 46 days

#28 Posted on | Instant Rating: 5.09
Tazz's debut was at the Royal Rumble not on Raw.
John Orquiola
Scrapple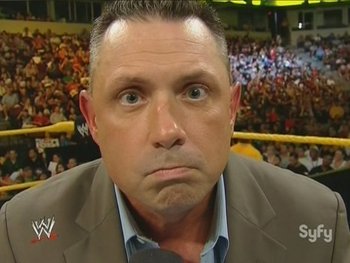 Since: 28.2.02
From: Boston

Since last post: 1391 days
Last activity: 1391 days

#29 Posted on | Instant Rating: 6.27
Someone else mentioned Miz cashing in Money in the Bank. That definitely does deserve a spot on Best RAW Moments.




Angry Miz Girl deserved that Slammy.


---

@CMPunk
"@ZackRyder: @CMPunk She played me bro" I got your back.
Matt Tracker
Scrapple



Since: 8.5.03
From: North Carolina

Since last post: 2 days
Last activity: 2 hours

#30 Posted on | Instant Rating: 8.12
Originally posted by John Orquiola

---

Someone else mentioned Miz cashing in Money in the Bank. That definitely does deserve a spot on Best RAW Moments.

---


I dispute it because it took so long to wear him down and get the pin. I'm glad Miz won it, ended Orton's reign, and survived Cena's AA at Mania to get the Rock-assisted pin.

But Miz may have the weakest MITB cash-in.


---

"To be the man, you gotta beat demands." -- The Lovely Mrs. Tracker
JustinShapiro
Scrapple
Moderator




Since: 12.12.01
From: Pittsburgh, PA

Since last post: 10 days
Last activity: 15 hours

#31 Posted on | Instant Rating: 8.75
Originally posted by Matt Tracker

---

3. Jericho debuts.

2. Jericho/Benoit beat Austin/Hunter for the tag titles.

1. ECW reunites under Paul; ECW/WCW combine; Stephanie reveals herself as the Higher Pocketbook. It happened in Atlanta, and Jericho was fighting Kane when it all started.

---


Whoa, I think those are mine too. But #1 has to roll in Steve Austin coming back the next week as the Old Stone Cold to fight off ECW/WCW.


---

But Miz may have the weakest MITB cash-in.

---


I think Swagger's and Kane's are basically erased from history by virtue of being completely pointless.
BigDaddyLoco
Scrapple



Since: 2.1.02

Since last post: 2 days
Last activity: 1 day

#32 Posted on | Instant Rating: 6.28
I tried to do a quick search, but I was wondering how many episodes of Monday Nitro there were. I'm guessing around 350.
geemoney
Scrapple



Since: 26.1.03
From: Naples, FL

Since last post: 10 days
Last activity: 1 hour

#33 Posted on | Instant Rating: 7.83
Originally posted by BigDaddyLoco

---

I tried to do a quick search, but I was wondering how many episodes of Monday Nitro there were. I'm guessing around 350.

---

286, according to Wikipedia.


---

@gregmparks - live Tweeting of Raw and Impact, wrestling thoughts and other slices of life.
Dr Unlikely
Liverwurst



Since: 2.1.02

Since last post: 3 days
Last activity: 18 hours

#34 Posted on | Instant Rating: 9.30
"Moment" is kind of the sticking point for me. I think one of the best episodes was the previously mentioned April '97 Raw that had the Austin/Bret street fight. That also had Austin stealing Bret and his ambulance, Owen promising he was going to literally kill Austin in retaliation and the closing segment where Pillman came back and joined the Hart Foundation to avenge Austin taking him out from back at the beginning of the feud.

I think its only challenger for overall best episode is the famous Dallas Ten Man episode from February 2000. Similarly, that was an episode with a storyline that held the whole show together. It, too, is series of great moments, with HHH at arguably his most evil, putting Foley in a five-on-one match he can't possibly win (against TWO heel stables!), The Rock turning on a dime during one of his goofy promos to declare that it wasn't going to be five on one, it was going to be "Five On...TWO" (cue insane crowd reaction), Foley cutting a great, aggressive, somewhat forgotten response promo, Too Cool getting the biggest pops of their career when they came out to even the odds and probably the hottest crowd I can ever remember for the duration of the main event and capped off with Kane's return.

(There's a part of me that believes Dallas is where WWE peaked from a storytelling standpoint, even if the wrestling got better the following year with Benoit, Jericho and Angle putting on clinics and Austin's mind-boggling physical rejuvenation. But this episode promised a payoff and story resolution that they refused to give anybody at Wrestlemania 2000. It took until WMXX in 2004 to actually deliver what the end of this episode promised, and I honestly think the meat grinder they put fans through in the meantime is what put the "boom period" to bed.)

Anyway, I think the only time they even try to put together episode-long stories like that anymore are during Beat The Clock shows, and that's something they've been missing for a long time.

But as single moments within, I guess it'd be Austin in the ambulance (the start of Austin's career of vehicle-related crimes) and Rock's "five on two", but I'd argue both are enhanced by being parts of greater wholes.

On the other side, I agree that, as a Moment, the "second" ECW invasion was about as good as anything could possibly be on a live wrestling show. Just beautifully set up where the audience has a second to realize what's about to happen before Heyman starts in with "savor this moment, JR!" and then everybody in the ring nailing the simultaneous turn (the most literal "heel turn" of all time!) where it becomes clear for anyone who hasn't figured it out yet. BUT, the end of that episode was such a downer that it's tainted the turn itself for me. That's arguably the episode that showcased WWE at its best and worst.

(Underrated moment from the invasion that I can't track down: I think it was shortly after the ECW turn, where Jericho and Undertaker were under assault from the Alliance and Jericho was getting destroyed outside the ring. Undertaker takes a moment to think things over, then does his suicide dive out onto the Alliance to save Jericho. Might have been from a Smackdown, though. Anyone remember?)

Anyway, for pure "moments":

-Nexus invasion. Followed a lousy episode (A-Team!) that probably could have been on a "worst Raws" list, but the exact moment that the camera cuts to Tarver standing at the barricade with his NXT mask on, suddenly signalling that this wasn't merely Barrett coming out to cash in his title shot, was electric. It honestly felt like the first time in nearly a decade where they did something completely unexpected and exciting, and they pulled it off flawlessly. Watching it again recently, I remain more convinced than ever that they even had to ad-lib Punk being out there instead of Rey (check out Gallows' reaction when Punk wins the fan vote, and later, Punk leaning in to tell Cena to throw him out to the NXT guys so they could take him out on the floor), which only made the whole thing so much more impressive.

-Bret's "Tough Shit!" Promo from March '97. At the time, I don't think anyone watching really knew what they were doing with Bret, where he kept losing big matches and was slowly being positioned as a complainer. But the end of that Raw, right before WM13, in a partly-dismantled cage after the cage match against Sid, when he finally snapped, dropped a "goddamn" and "if you don't like it, tough shit!" and directly goes after Vince (not yet Mr. McMahon), it came together that they were actually tying things back to the end of the WM12 Iron Man match and developing a new kind of heel. Everything Bret says is technically true (really, he did get screwed at 12 and thereafter), but he's lost it. And in the moment where he's begging Austin (backstage, arguing with him over the screen) and they're talking over each other, he turns into what Austin was earlier that year. A few seconds later, the Undertaker comes out to stop Bret's rant and Bret just dives out of the ring onto him, and shortly after, Austin and Bret are trying to kill each other on the floor, Vince is openly calling Bret a whiner and denying "conspiracy theories" and finally, Michaels wanders out to just be generally a pain in the ass to all four of the guys out there.

I think a case could be made that this was the turning point for the WWF. Bret throwing Raw Announcer Vince McMahon to the ground is the real birth of Mr. McMahon. Losing his shit like he does here sets up the crowd for the double switch at 13 during Bret/Austin II. And in this moment, you get not only a payoff for the main event of WM12, but the set-up for the main event of WM14. Now that's a go-home show.

My controversial #3:
-Pillman 9mm. To me, the beauty of pro-wrestling is the marriage of well-planned and executed matches and the understanding that wrestling is the most ridiculous thing on television. Wrestling is goofy. It will always be goofy. But there's a good way to do it and a bad way to do it.

And Brian Pillman, calmly sitting on his couch in zubaz pants before answering a Kevin Kelly question by taking out a gun and screaming "When Austin 3:16 meets Pillman 9mm, it means I'm gonna SEND HIS ASS STRAIGHT TO HELL!" on a live-via-satellite interview in prime time is the most magnificently batshit thing that has ever happened or will ever happen in pro wrestling.

In all the (far, far too many) years I've watched wrestling, going back to the Rock 'n Wrestling years, I've only ever picked up a phone and called someone to say "Put this shit on now!" once in my life, and this was it. My only regret was I waited until after the part where Austin is doing a phone interview from his truck en route to Pillman's house and lets us know that he's "got a six-pack of whoopass ridin' shotgun", but luckily, I did so before the insanity of Austin drowning a guy in a kiddy pool on beating another guy with a tricycle on Pillman's lawn, then going to the front door, simpy trying the handle and just accepting that, well, hell, door's locked gotta go around back.

And of course, the whole thing ends with Pillman shooting the gun at Austin (shrieking Kevin Kelly and all) and somehow *shooting out the satellite transmission*. To me, this is where they figured out the formula and turned Raw into the live action cartoon they'd wanted wrestling to be for years. Is it "good"? I honestly can't say. But there was no way I was turning that off or flipping over to Nitro.
Rudoublesedoublel
Frankfurter



Since: 2.1.02
From: Kentucky - Home of the 8 time NCAA Champ Wildcats

Since last post: 160 days
Last activity: 89 days

#35 Posted on | Instant Rating: 6.26
1) HBK passes out in the match with Owen. One of the best works in my memory.

2) Owen appreciation night.

3) Foley wins the title.


---

Eight ain't enough.
CRZ
Big Brother
Administrator



Since: 9.12.01
From: ミネアポリス

Since last post: 1 day
Last activity: 1 day


ICQ:
#36 Posted on | Instant Rating: 9.39
Here's a few memorable moments I haven't seen in around 15 years...

5/19/97 - "Sunny Days"


12/15/1997 - Vince introduces the new, edgy WWF


12/29/1997 - Vince continues planting the seeds for 1998's Mr. McMahon:

This clip isn't much but it sure riled up r.s.p-w....if we had only known...


---

ekedolphin
Scrapple



Since: 12.1.02
From: Indianapolis, IN; now residing in Suffolk, VA

Since last post: 14 days
Last activity: 1 hour

#37 Posted on | Instant Rating: 3.16
I only started watching the WWF at
all
in mid-1999, and they became my #1 wrestling promotion after The Radicalz arrived, so there are a lot of RAW moments I didn't see.
But I think I'll have to go with Jericho's stunning (later overturned) title victory over Triple H, Jericho's debut, and Jericho and Benoit stunning Austin and Triple H for the tag titles. (Perhaps my Jericholoism is showing).
The #1 RAW moment I was there for, was Steve Austin's sixth and final WWF Title victory, defeating Kurt Angle when William Regal interfered and joined the Alliance. Took place in Indianapolis in late '01.
---
"Don't do anything I wouldn't do."
--Stone Cold Steve Austin
Fan of the Indianapolis Colts (Super Bowl XLI Champions), Indiana Pacers and Washington Nationals
Certified RFMC Member-- Ask To See My Credentials!
Co-Winner of Time's Person of the Year Award, 2006
Scottyflamingo
Bratwurst



Since: 23.6.10
From: Auburn, AL

Since last post: 1736 days
Last activity: 1465 days

#38 Posted on | Instant Rating: 2.49
Austin Vs Tyson was the most important segment. Put the finishing touches on turning Austin into the superstar he was, got tons of mainstream attention, fired the first shot in Austin Vs. McMahon.
JustinShapiro
Scrapple
Moderator




Since: 12.12.01
From: Pittsburgh, PA

Since last post: 10 days
Last activity: 15 hours

#39 Posted on | Instant Rating: 8.75
Originally posted by Dr Unlikely

---

The Rock turning on a dime during one of his goofy promos to declare that it wasn't going to be five on one, it was going to be "Five On...TWO" (cue insane crowd reaction)

---


Great citation. Foley making Triple H with that feud is routinely pointed out, but he also played a big part in helping Rock figure out how to be a true babyface. "Five on two" completed the evolution from the Rock who had turned face but was still a jerk to the heroic and wonderful Rock.
CRZ
Big Brother
Administrator



Since: 9.12.01
From: ミネアポリス

Since last post: 1 day
Last activity: 1 day


ICQ:
#40 Posted on | Instant Rating: 9.39
My TV-ready Tout (which I guess I can't embed):

http://www.tout.com/m/do3aj1

...and its accompanying clip, which I HAVE embedded:




---

Pages: Prev 1 2 3 Next