Alessandro
Lap cheong




Since: 2.1.02
From: Worcester MA

Since last post: 30 days
Last activity: 4 days

#1 Posted on | Instant Rating: 3.04
I'm not sure how many of you have caught the show "Play to Z" before ... It's on one of the Nickelodeon digital cable channels, and the best way I can describe the format is that it's trying to emulate TechTV's "XPlay" but geared towards the 10-to15-year-old market.

Anyway, last night's episode (which is the first time I've ever watched the show, by the way) promised to name the top five arcade games of all time ... The key phrase being "of all time", because even though I didn't expect their picks to totally match my own (seeing as how they're focusing on a younger age group and all) I was kind of taken aback by their list :

(5) Dance Dance Revolution
(4) Sega Bass Fishing
(3) Track and Field
(2) Space Invaders
(1) Pac Man

Now, the first two I can understand, but as for the other three - well, would anyone here put those in their own top FIFTY list for best arcade games of all time, much less the top five?

No Spy Hunter? No Joust? No DONKEY FREAKIN' KONG?!? I mean, what is the deal here?






---

Alessandro "Hercules" Boondy



Oh yeah! Oh yeah! Suck on my jagon, oh yeah!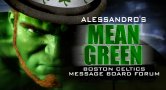 Promote this thread!
senor sangre
Bauerwurst



Since: 31.1.02
From: Fred'burg, VA

Since last post: 5028 days
Last activity: 4627 days

#2 Posted on
Narrowing down so many arcade games to just 5 is pretty hard to do. Especially since there have been so many groundbreakers which other games have improved on. The ones I have the fondest memories for:

- Mat Mania. There was a version with only 3 wrestlers, but another with Insane Warrior, Karate Fighter, Cocoa Savage, The Pirania and Golden Hulk.

- TMNT. Also translated into one of the best NES games. Can also include the Simpsons, X-Men, and Avengers games.

- Double Dragon. Bastard Adobo. Can also lump in Bad Dudes and Final Fight.

- Street Fighter II. The last one I played a lot was Turbo for SNES. I'd imagine that SF3 and the other zillion Capcom fighters have improved the formula. Mortal Kombat started the craze of people bringing in cheat sheets and ridiculous strings of combos, neither of which I enjoy much.

- John Elway's QB. Translated into one of the worst ever NES games.

- Honorable Mentions: Arch Rivals, Gauntlet, Time Pilot 84, Punch Out!!, Birdie King, WWF Superstars, Shinobi


---

Keeping up my 0.14 posts per day...
ShotGunShep
Frankfurter



Since: 20.2.03

Since last post: 4024 days
Last activity: 3911 days

#3 Posted on
Ranking arcade games is really hard. I mean, myself, I would never put pac man or any other old games on the list, but I realize and recognize while others would.

Anyway, I'll just throw up some names...

Street Fighter 2
Mortal Kombat
Killer Instinct
Virtua Fighter
Blitz
NBA Jam
I forget the damned name, but the "gun game" that was immensely popular, damnit you know what I'm talking about

My list is incomplete, cuz I haven't been to the arcade in YEARS...
Net Hack Slasher
Banger



Since: 6.1.02
From: Outer reaches of your mind

Since last post: 5076 days
Last activity: 3496 days

#4 Posted on
Pac Man is a logical choice for #1, it's a classic arcade game. I'm in agreement with you guys Street Fighter 2 was huge and should be in the top 5 (bass fishing?)




---

cause there's limits to our liberties.
'Least I hope and pray that there are,
cause those liberal freaks go too far.

I'll crush all opposition to me
And I'll make Ted Kennedy pay
If he fights back, I'll say that he's gay
HrdCoreJoe
Potato korv



Since: 29.4.02
From: Jax, FL

Since last post: 2545 days
Last activity: 2544 days

#5 Posted on
I can't stress The Simpsons arcade game enough here.


---

Andy Richter does indeed control the universe.
Venom
Boudin rouge



Since: 15.1.03

Since last post: 4092 days
Last activity: 4062 days

#6 Posted on
When I was about 10 years old, my friend Zack invited me to some Boy Scout lock-in party at Chuck E. Cheese. All the arcade games were turned onto Unlimited Credits, and I must've played the Simpsons Arcade game about 4 times through with Homer. Evil Robot Burns kicks ass!

Also, House of the Dead 2 was a favorite of mine.


---
I've got a metal plated spine, and my bitches all in line.
Quezzy
Scrapple



Since: 6.1.02
From: Pittsburgh, PA

Since last post: 9 days
Last activity: 8 hours

#7 Posted on
Well I guess I will have to stick up for bass fishing. I've never played it myself but we have that bass fishing game at both the arcade and the bowling alley here and there is ALWAYS people playing it. Not just people playing it but people lining up to play it. Even moreso than Mortal Kombat and Street Fighter in their days. So it's pretty popular in my part of the country.

My own 3 favorite arcade games
3. Rampage
2. TMNT
1. Double Dragon


---

Lance's Response:

THAT IS AWESOME!
StampedeFan23
Morcilla




Since: 12.1.02
From: BC, Canada

Since last post: 3539 days
Last activity: 3075 days

#8 Posted on
Robotron 2084. That is all.


---

Are you ready for Mahkan-mania to run wild all over you?

I mark for Molly Holly and Lance Storm.
Pool-Boy
Lap cheong



Since: 1.8.02
From: Huntington Beach, CA

Since last post: 2802 days
Last activity: 202 days


ICQ:
#9 Posted on
Centipede, Dig Dug, and Rampart would have to be up there for me as well. And Dragon's Layer. And what about Tetris?


---
Still on the Shelf #10
Teppan-Yaki
Pepperoni



Since: 28.6.02

Since last post: 2424 days
Last activity: 2394 days

#10 Posted on
Originally posted by Pool-Boy

---

Centipede, Dig Dug, and Rampart would have to be up there for me as well. And Dragon's Layer. And what about Tetris?

---


Dragon's Layer? X-rated game, right? Dragon's Lair, on the other hand... ;)


---
Torchslasher
Knackwurst



Since: 17.1.02
From: New F'n Jersey

Since last post: 55 days
Last activity: 55 days

#11 Posted on | Instant Rating: 6.44
It's all about Mad Dog McCree. You remember it, one of the first live-action games, a game that played like Dragon's Lair. Damn that game was hard.


---

The Hurricane main eventing a Raw show? See, the WWE is listening to the 'Net. Well, they're listening to me anyways. Look for the next push to go to Molly.
Dagent913
Bockwurst



Since: 18.11.02
From: Strong Island

Since last post: 5159 days
Last activity: 4690 days

#12 Posted on
My favorite arcade game of all time, and I'll admit to being a bit biased here, has got to be X-Men. Before that, I'd never even seen a game that was just so....BIG! In every way possible. Man, I feel like playing that again now.

Anyway, I hadn't played a game in the arcade in years, until I went to Japan about two years ago. I found a whole bunch of wacky (as in fun) games. I kept coming back to Ninja Assault (ninjas...with guns!) and the Fist of the North Star game.

Also, a buddy of mine recently discovered a Samurai Showdown 4 machine at a laundromat near his house. Guess where's he's been spending all his time recently (geez, he could at least do some laundry while he's there!).


---

What if your grandfather was a kazoo?







Take the "Which Marvel Comics Hero are you" quiz!
Pool-Boy
Lap cheong



Since: 1.8.02
From: Huntington Beach, CA

Since last post: 2802 days
Last activity: 202 days


ICQ:
#13 Posted on
Originally posted by Teppan-Yaki

---




Originally posted by Pool-Boy

---

Centipede, Dig Dug, and Rampart would have to be up there for me as well. And Dragon's Layer. And what about Tetris?

---



Dragon's Layer? X-rated game, right? Dragon's Lair, on the other hand... ;)

---


HAHAHA talk about your Freudian slip... yup, Dragon's LAIR...

The other way might be a bit... frightening....


---
Still on the Shelf #10
vsp
Andouille



Since: 3.1.02
From: Philly

Since last post: 4520 days
Last activity: 775 days

#14 Posted on | Instant Rating: 0.00
If I could own one stand-up arcade machine, it'd be one that I'd have to make a lot of room for -- Darius.

The definitive side-scrolling shooter of the 80's. Stereo sound. Triple-wide screen. An OutRun-style stage grid for added replay value. Some of the nastiest bosses I've ever beaten. I played that bastard at my local arcade until I wore it out.

Along with:

* Bubble Bobble
* Tempest
* Crazy Climber
* Bust-a-Move 2: Arcade Edition (though I already have it on PSX, so Q*bert could step up and replace this one)

These are not my Top 5 based on historical value, commercial success, etc., but merely personal whims.




---

"You may be wondering why I have been making so many references lately to Fox News. The reason is that it is now my cable news network of choice -- because if Iím going to watch the news and be lied to, I want it to be ridiculously obvious that I am being lied to." -- Center for an Informed America, Newsletter #34
The Thrill
Banger



Since: 16.4.02
From: Green Bay, WI

Since last post: 1676 days
Last activity: 310 days

#15 Posted on
"America may have some problems, but it's our home. Our team. And if you don't wanna root for your team...then you should get the hell out of the stadium. Go America."
--Stan Marsh, South Park
---
Austin: "Zaxxon!?"
Crowd: "WHAT?"
Austin: "TRON!?"
Crowd: "WHAT?"


---

Star wipe, and...we're out.
Thrillin' ain't easy.
.
.
THE THRILL
ACW-NWA Wisconsin Home Video Technical Director...& A2NWO 4 Life!


All-Star Championship Wrestling...now a proud member of the NWA!





brick
Bockwurst



Since: 17.1.02
From: Pittsburgh, PA

Since last post: 2026 days
Last activity: 2022 days

#16 Posted on
Common where is Golden Tee,
Star Wars (where you sit down in the machine)
ehh everything else I can remember has already been mentioned


---

if "Washington is a Hollywood for ugly people," then, considering the remarks coming out of Tinseltown about Iraq, "Hollywood is a Washington for the simpleminded."
John McCain
"Iraq will not be defeated" in the war, Iraqie Ambassador Mohsen Khalil told a news conference in Egypt. "Iraq has now already achieved victory - apart from some technicalities."
Pike
Italian



Since: 7.4.03
From: KS

Since last post: 5252 days
Last activity: 5244 days

#17 Posted on
There was a game that was called Black Tiger that was cool to play.
What about karate champ that I played alot also.
What about the king of fighter series can't forget them.



---

Great Muta is a wrestling GOD!! praise the Great Muta.
Oliver
Scrapple



Since: 20.6.02

Since last post: 1357 days
Last activity: 1351 days

#18 Posted on
SOK's top five arcade games:

Street Fighter Alpha 2
--Possibly the most balanced fighting game ever

Rainbow Islands
--Still a challenge after all these years...the bastard son of the Bubble Bobble series

Combatribes
--Best known for the rocking background music

T2: The Arcade Game
--Great gaming if you have a friend. Divide and conquer!

Killer Instinct
--Not a classic, but the graphics are really sweet.

For those in Calgary, the T2 Arcade game, Combatribes, and Killer Instinct are at the Greyhound station on 10th Ave. SW.


---
J.T. Dutch
Pickled pork



Since: 3.1.02
From: SoCal 4 Life

Since last post: 4159 days
Last activity: 529 days

#19 Posted on
Originally posted by The Thrill

---

Austin: "Zaxxon!?"
Crowd: "WHAT?"
Austin: "TRON!?"
Crowd: "WHAT?"

---


... Zaxxon truly OWNED -- the isometric 3-D view was (I believe) the first of its time. I'm sure I dropped over $100 in the 7-11 arcade game trying to master that. I probably spent double that trying to master the Star Wars "sit-down version~!!" game as well.

Incidentally, does anybody remember a place near them that would actually give you a free coke or something for attaining an incredibly high score?? Good days.

Old School Top 5 (Mid 1980's):

5 ... Kangaroo
4 ... Mario Brothers
3 ... Joust
2 ... Galaga
1 ... Ms. Pac-Man


---


"If you wanna get to heaven, start at Dodger Stadium." -- Tommy Lasorda

J.T. Dutch
PayWindah
Weisswurst



Since: 8.6.03
From: Gautier, MS

Since last post: 5056 days
Last activity: 3246 days

#20 Posted on
My Top 5 personal favorite arcade games of all time:

1) Mortal Kombat (the original)
2) Joust
3) Street Fighter 2
4) Bubble Bobble
5) NBA Jam/NFL Blitz (tie)
Pages: 1 2 3 Next