Cerebus
Scrapple



Since: 17.11.02

Since last post: 56 min.
Last activity: 16 min.

#1 Posted on
Oh man this was terrible. I mean this was the worst PPV I've seen in a good long while.

#1 - Tommy Dreamer over Bully Ray.

Very boring match as the opener. Both of these guys have history and from watching this, you'd never know it. Crap.

#2 - Sarita and Rosita over Angelina Love and Winter.

Nothing worked here. It looked like they were trying, but no one was on the same page. there were MANY missed spots and Jim Ross would have called it 'bowling shoe ugly'.

#3 - Hernandez over Matt Morgan

Before the match, Morgan did an interview where he called Hernandez 'Shawn Hernandez' which I think was supposed to mean something, but I didn't get it. The match itself, much like Dreamer and Bully Ray, just didn't work out well. Some 'fan' ran in and was not very quickly taken out. I think that was a plant. Hernandez used fake blood to win which was total bullshit.

#4 - Kazarian over Max and Jeremy Buck and Robbie E.

Not terrible, but it was rather slow and prodding and felt very by the numbers for this kind of match. Underwhelming.

#5 - Beer Money Inc over Ink Inc.

Not surprisingly, this was decent. A few fun spots, but nothing we haven't seen before. Shannon Moore 'turns' on Neal and tries to cheat but fails then gets pissed at Neal after the match when Roode and Storm are getting friendly with Neal. I am not looking forward to a program between Neal and Moore.

#6 - AJ Styles over Matt Hardy.

This was a pretty damn good match. Matt Hardy had his working boots on and AJ was AJ. This was, easily, Matt Hardy's best match since coming in to TNA.

#7 - Mr. Anderson and Rob Van Dam went to a double countout.

Bullshit. The match was a mess, nothing worked here. Van Dam is a spot monkey and Anderson is a slow brawler and neither works well together. Sadly, this might have been the longest match of the night, and I say sadly because even the Orlando crowd didn't seem into it. They shitted all over the ending when both guys were asking for more time and you could hear the audience screaming 'No' more then they were chanting yes.

#8 - Sting over Jeff Hardy in under a minute.

Again, total bullshit. Complete waste of time here. Jeff Hardy looked high. Biscoff came out before the match to make it a 'No DQ' match and Sting clobbered him for it. The bell rang and this was the match...

Hardy goes to throw his shirt to the audience. Sting throws him to a corner. Hardy throws his shirt down. Sting does a Scorpion Death Drop and wins.

YES! That was the main event to TNA's VICTORY ROAD PPV.

Intercut between the matches, we saw Jeff Jarrett and Karen's 'Honeymoon' which was quite stupid as well. It culminated in Jeff promising to call a truce with Kurt Angel at Thursday's iMPACT.

Easily, this was the worst PPV I've seen in years.

EDIT: Shit, I forgot the TNA icon, can someone fix that for me? Thanks!

EDIT 2: I just wanna say that I am not a hater and I actually 'LIKE' TNA. Fuck, I've even admitted on here that I even liked Robbie E. That alone should tell you that I feel really bad for hating this show. I mean... this was REALLY bad.

(edited by Cerebus on 14.3.11 0243)

(edited by Cerebus on 14.3.11 0247)
---

Forget it Josh... it's Cerebustown.
Promote this thread!
graves9
Sujuk



Since: 19.2.10
From: Brooklyn NY

Since last post: 9 hours
Last activity: 2 hours

#2 Posted on
I decided to check out Victory Road even though The PPV had no build or hype and didn't expect much. I expected plenty of silly booking , but not this much. There were some highlights tonight(Styles-Hardy, Ultimate X) but this was a really terrible PPV and again showed why Vince Russo should not be booking for any Wrestling promotion ever again.

This was the worst booked PPV I've seen in forever. I mean you had a #1 contenders match end in a double count out and a World Title Match end in a minute. You had the first three matches have terrible finishes one worse than the other.

The finish to Hernandez-Morgan match was one of the stupidest finishes I've ever seen. Some ''fan'' ran in and was chased away by Hebner and Hebner wasn't seen for five minutes until he was shown knocked out on the outside. Hernandez was busted open but there was no ref so Hernandez sprayed Morgan with something and Jackson James came in saw red stuff on Morgan chest and called for the bell.It didn't get Hernandez any real heat and was stupid even for a First Blood Match.



Dreamer-Bully Ray was awful. I expected at least a somewhat entertaining brawl, but what I got was Dreamer hitting Bully with a Pokemon toy or whatever, and a rubber woman being used in the match. Considering that Devon beat the hell out of Ray last week and helped Dreamer beat Ray tonight I'd say the feud should be over. I doubt it is though.

The Knockout tag team Match was a mess. You had Hebner wandering outside missing like five pins and Velvet missing her cue and running in late.

Hardy-Styles was the best Match of the night. Hardy looked really good and Styles was Styles. Styles being whipped into the guard rail and sliding under the rail was cool as was him pulling out the spiral tap. Flair putting the testicular claw on Styles was funny. Hopefully Styles moves on to the Main Event. I do suspect we get Flair-Styles at Lockdown. Styles might be the only guy that could get a good Match out of Flair. I'm not looking forward to seeing Flair bleed all over the place again. I'm not sure where Hardy goes from here.

Ultimate X was pretty good, but not as good as the previous ones with guys like Sabin, Shelley and Daniels in it. It did tell a good story with Max getting Jeremy to try and help him win the match until the end when Jeremy went after the title and they fought over it.

Beer Money-Ink Inc was fine but nobody thought Ink Inc would win. The crowd wasn't as into the match as you'd think. Moore was heelish in the Match and spit Beer in Storm's face after the Match. Neal was apologetic and Moore yelled at him. I expect Neal to turn heel as well and -the two teams to face at Lockdown.

RVD-Anderson was pretty crappy with a shitty finish. There was a funny chant with some fans chanting restart the match and others yelling no.The announcers talked about how we'll find out what happens on Impact. Good job using a PPV to build to Impact. You are supposed to do the opposite.

No clue what happened in the one minute Main Event. Did Hardy show up high or drunk again? Was Sting too banged up to go? If so it makes the decision to put the belt on him even dumber.

This was not only a terrible PPV, but a costly one as the people that bought it likely won't be buying Lockdown or any TNA PPV anytime soon. There are very few people that buy the PPVs and TNA ran a lot of them off with this PPV.

I don't understand how Dixie Carter can watch a show like this and not say enough is enough and fire Russo. It is amazing that Dixie has this kind of confidence and trust in Russo when it's paid no dividends. Russo has been back for nearly five years and added nothing postive tto TNA. Hogan and Bischoff need to be gone too as TNA has gone even deeper in the crapper since they came in.


I feel bad for the guys on the TNA roster as the majority of the guys bust their asses for the company and a lot of them don't get paid all that well. The company continues to head in the wrong direction and nobody in the position is power seems willing to do anything about it.


(edited by graves9 on 14.3.11 0113)
---
http://defendingthecore.blogspot.com/
http://morehardball.blogspot.com/
Whitebacon
Banger



Since: 12.1.02
From: Fresno, CA

Since last post: 5 days
Last activity: 5 min.


AIM:
ICQ:
#3 Posted on
I'm glad I didn't pay to watch this.
graves9
Sujuk



Since: 19.2.10
From: Brooklyn NY

Since last post: 9 hours
Last activity: 2 hours

#4 Posted on
Originally posted by Whitebacon

---

I'm glad I didn't pay to watch this.

---
I didn't either but I still want a refund.


---
http://defendingthecore.blogspot.com/
http://morehardball.blogspot.com/
Lexus
Bierwurst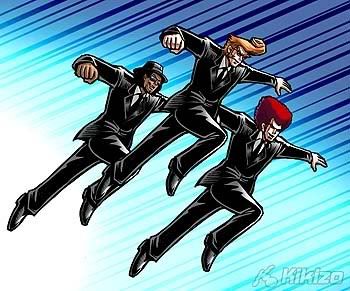 Since: 2.1.02
From: Stafford, VA

Since last post: 26 days
Last activity: 5 days


AIM:
#5 Posted on
What a shame. Just a shame.

I sincerely hope AJ Styles gets a decent push in the WWE the day TNA goes belly up.


---

"Laugh and the world laughs with you. Frown and the world laughs at you."
-Me.
It's False
Scrapple



Since: 20.6.02
From: I am the Tag Team Champions!

Since last post: 15 days
Last activity: 6 days

#6 Posted on | Instant Rating: 8.96
Jeff Jarrett taking Kurt's kids to a theme park in a series of silly skits, a double countout for Anderson/RVD to set up a rematch on free TV, and a one-minute main event that was essentially a replay of the same match Sting and Jeff Hardy just had on free TV.

Oh, and I know the fans are conditioned to think the refs are blind dopes, but what human being in their right mind can't tell the difference between BLOOD and PAINT?

$40 well-spent.

The E's going to have to try very hard if they even want to come close to touching this as Worst PPV of the Year.

EDIT: There are rumors floating around that Jeff Hardy was completely blitzed and in no condition to work, which explains the hasty finish. (EDIT 2: If you re-watch the footage closely, you'll actually see Brian Hebner throw up the "X" sign during Sting's entrance.) Stay tuned.

(edited by It's False on 14.3.11 0154)
---

"Also, yes."
BoromirMark
Potato korv



Since: 8.5.02
From: Milan-Ann Arbor, MI

Since last post: 301 days
Last activity: 301 days


AIM:
#7 Posted on | Instant Rating: 2.93
Click Here (pwinsider.com)


---

Numerous TNA sources are indicating the Sting vs. Jeff Hardy PPV main event went so short due to concerns over Jeff Hardy backstage. I am sure we'll hear more about this in the days to come.

---


Which definitely seems par for the course when dealing with Jeffrey Hardy.

(edited by BoromirMark on 14.3.11 0302)
---

Michigan against the SEC: 20-6-1 (7-4 in bowl games)


wannaberockstar
Merguez



Since: 7.3.02

Since last post: 13 days
Last activity: 13 days

#8 Posted on | Instant Rating: 0.00
Horrible PPV in general with a couple of decent matches (par for the course with TNA).

Three questions:
1. Considering that practically every match ends in blood in TNA, why did they feel the need to end a "First Blood" match with a fake blood comedy finish?

2. Why would you have a semi-main event #1 contenders match go to a count-out.

And 3. If Jeff Hardy was in no condition to perform, why the heck wouldn't you put the two wrestlers that just went to a no-contest into the main event with Sting instead of putting Jeff Hardy out there to do a one minute squash job and completely tick off your audience?

Credit where credit is due, though: AJ/Hardy, Beer Money/Ink Inc, and the Ultimate X match was pretty good.

Where in the world was Samoa Joe and The Pope, though?
Amos Cochran
Lap cheong



Since: 28.8.09

Since last post: 405 days
Last activity: 405 days

#9 Posted on | Instant Rating: 6.67
They need to fire Jeff if he is indeed the cause of that one-minute main event. Even TNA wouldn't be stupid enough to book such a fuck-you to the paying customer without extreme extenuating circumstances.
PaulKTF
Summer sausage



Since: 26.5.06

Since last post: 1653 days
Last activity: 41 min.

#10 Posted on | Instant Rating: 1.00
I feel bad for Sting- they put him in a position where he's expected to work a big main event agaisnt a guy who obviously doesn't care enough about himself, nor Sting, nor the business to stay sober and go out there and wrestle a proper match.

Jeff Hardy scares the hell out of me. TNA- you need to show Jeff the door as an example to Matt, and the rest of the locker room.

Amos Cochran
Lap cheong



Since: 28.8.09

Since last post: 405 days
Last activity: 405 days

#11 Posted on | Instant Rating: 6.67
Of course, any other wrestling company with half a brain would've shot an angle on the fly earlier in the show to replace Jeff with, say, Jeff Jarrett or Matt Hardy.
odessasteps
Scrapple



Since: 2.1.02
From: MD, USA

Since last post: 601 days
Last activity: 568 days

#12 Posted on | Instant Rating: 8.69
Originally posted by Amos Cochran

---

Of course, any other wrestling company with half a brain would've shot an angle on the fly earlier in the show to replace Jeff with, say, Jeff Jarrett or Matt Hardy.

---


or whomever just won the #1 contender's match earlier in the show.


---

Mark Coale
Odessa Steps Magazine
ISSUE FOUR - OCTOBER 2009
Amos Cochran
Lap cheong



Since: 28.8.09

Since last post: 405 days
Last activity: 405 days

#13 Posted on | Instant Rating: 6.67
It's like a really stupid house of cards!
PaulKTF
Summer sausage



Since: 26.5.06

Since last post: 1653 days
Last activity: 41 min.

#14 Posted on | Instant Rating: 1.00
I'm curious; for anyone who paid for this PPV, do you think you'll ever buy another TNA PPV, or are you done?
lotjx
Scrapple



Since: 5.9.08

Since last post: 13 hours
Last activity: 10 hours

#15 Posted on | Instant Rating: 1.23
I thought about buying it, but there are other expenses coming up in the next few weeks, so I passed. Thank God, I did, I can't imagine paying for this and thinking about buying another TNA PPV. If its true, Jeff needs to be fired. You can keep Matt there if you want, but you can't have a guy keep screwing with your Main Events like this. If you want to keep him and get him some help, which he refuses is not the company's fault, but he needs to be pushed so far down the card he can't ever screw with the card again.

It all depends on when Jeff showed up and what condition he was in when he got there. If he was fine when he entered and then got fucked up during the PPV then TNA would be screwed as far as booking the rest of the card especially if they realized he was in no condition during the number one contenders match. If he was screwed up as soon as he entered, yes, they should have changed the main event around to a triple threat with RVD and Anderson. Actually, I would have done that anyway. The fans don't deserve to be treated to one minute main events especially if you are doing one bullshit finish after another. Its not the fans fault that Jeff is a druggie, don't make them suffer.

I also think that Hebner needs to be canned. Even before the PPV, I thought he was bad, tonight helped clarify that position. Its time for him to get at least demoted if he is missing spot after spot in matches. TNA should offer a refund for this, I doubt it, but the next PPV for those who bought this should be half off. I don't see it happening though since the card did go off as scheduled even if the endings blew.

(edited by lotjx on 14.3.11 0733)
The Thrill
Banger



Since: 16.4.02
From: Green Bay, WI

Since last post: 663 days
Last activity: 18 days

#16 Posted on | Instant Rating: 4.25
Welcome home, men of the 2nd Bn, 127th Infantry, 32d "Red Arrow" Brigade, WI Army National Guard! Job well done in Iraq!

I'm down in Florida right now, and visiting Universal Studios Islands of Adventure Sunday, I actually considered attending this PPV.

I'm so glad I didn't now.


---
NWA Wisconsin...Live, Local Pro Wrestling!
Now on Facebook! And Twitter!


graves9
Sujuk



Since: 19.2.10
From: Brooklyn NY

Since last post: 9 hours
Last activity: 2 hours

#17 Posted on
The whole match and entrances of The Match is on You Tube http://www.youtube.com/​watch?​v=Lckr9OLR2Ow I didn't realize how long it took Hardy to come out and yeah he's clearly high as fucking hell. Sting was as angry and disgusted as I've ever seen him. Hebner does throw up the X Signal three minutes into the video.

(edited by graves9 on 14.3.11 0926)

---
http://defendingthecore.blogspot.com/
http:/​/​morehardball.blogspot.com/​
Scottyflamingo
Bratwurst



Since: 23.6.10
From: Auburn, AL

Since last post: 935 days
Last activity: 664 days

#18 Posted on | Instant Rating: 2.77
If I'd been Sting, I would have beat Jeff's ass for real. I would have loved to see this happen back in the day against someone like Harley Race.

I actively pull for TNA because I hate what has become of WWE, but there is nothing to say to defend any of this crap.
Mr Shh
Bratwurst



Since: 9.1.02
From: Bergen County, NJ

Since last post: 3 days
Last activity: 3 days

#19 Posted on | Instant Rating: 7.90
Did the show end obscenely early, or did they adjust everything else accordingly knowing they were doing a 60-second main event? I wonder how long that match was scheduled to last.


---

You askew my mirror. I askew yours.
Behold, my plunger.
Anagrams posted to http://twitter.com/paragonSMASH
Amos Cochran
Lap cheong



Since: 28.8.09

Since last post: 405 days
Last activity: 405 days

#20 Posted on | Instant Rating: 6.67
They stalled for like ten minutes before the start of the match, apparently trying to figure out what to do.

There's just no way TNA comes out of this looking anything less than awful. If it's a shoot, they're fuckups for a)letting Hardy go out to the ring like that and b)not booking a replacement ME. If it's a work...well, it'd be the most self-destructive booking that I could possibly think of.

(edited by Amos Cochran on 14.3.11 0946)
Pages: 1 2 3 4 5 Next