used2bcool
Merguez



Since: 5.11.08
From: Framingham, MA

Since last post: 4 hours
Last activity: 19 min.

#1 Posted on | Instant Rating: 9.00
The Recap for TNA Impact 7.7.11, taped from the Impact Zone in Orlando, FL.

Last week, Sting fed vitamins to Hogan, Steiner joined immortal, a contract was signed between Styles and Daniels, and TNA put on a surprisingly decent show. Also, I found out the they still retroactively name their episodes and those names are on the Impact Wrestling website!

Onto the show!

Immortal are in the ring to start the show, and Bully Ray gets right to the point by calling out Mr. Anderson, presumably to explain his actions from last week. Anderson obliges and does his intro routine, which does not impress Ray. He mocks him with an intro of his own, then calls Anderson a jackoff and tells him to shut up. Ray says Hogan is on the way, but until he gets there, Ray's in charge. Anderson did the right thing last week by dropping Sting on his face, and he'll continue that trend by joining Immortal tonight. Ray says Anderson needs to protect himself from Sting's nuttiness and joining Immortal will make everyone happy. Steiner takes over and tells Anderson to put up or shut up. "You've been screwing around a lot, but now that I'm here, I'll be doing the screwing." I heart Steiner. In a totally manly way, of course. Gunner says it's Sting and Angle versus all of Immortal tonight and Anderson has until the end of the match to make his decision. Gunner says to hit Immortal's music, but Sting appears in the rafters instead. Amidst the chaos, Angle apparates in the ring and cleans house on Immortal. Angle advises Anderson not to make a decision that will make things hard for himself. 1 for 1. It was fairly decent for what it was, and it pushed the Immortal/Anderson story along.

James Storm asks Robert Roode if his arm feels ok. Roode says it's not 100% but he needs the points. This little story irks me tremendously because it doesn't shine a great light on TNA as a company, allowing its employees to compete with serious injuries.

Updated Bound For Glory Series Standings:
Crimson 24
Gunner 21
Morgan, Styles, RVD, Bully Ray, Devon 14
Steiner 7
Roode, Pope, Samoa Joe 0

Match 1: BFG Series: Crimson v Robert Roode: It's not like the result is in any kind of doubt here. Roode uses his quickness to get a quick 2-count but Crimson takes over and dominates, focusing on Roode's bad shoulder. Cravate into a swinging neckbreaker gets 2 for Crimson. Roode stops a suplex series and hits the Blockbuster but his shoulder is hurt. Crimson kicks him in the arm but runs into a spinebuster for 2. Roode goes for his Fujiwara Armbar but Crimson gets to the ropes and it goes downhill fast for Roode. Slingshot Shoulderblock and Red Sky finish in 5 minutes. 2 for 2. Though the result was never in question, this did a fine job of achieving what it set out to do - make Crimson look credible - while shielding Roode with the injury angle.

Abyss is still looking for the mask that he lost last week. Turns out Brian Kendrick has the mask. I can't see how this ends well. Kendrick says he'll give the mask back and that he wants no violence. Kendrick only wants to share thoughts, but I'm pretty sure he's picked the wrong career in that case. Abyss obliges him anyway, so Kendrick lectures him about various religions and philosophies. Kendrick wants to restore the X-Division and he thinks Abyss can help him do that. He will help Abyss become a man, but he must beat him at Destination X to do that. LOGIC~! Kendrick hands the mask back and Abyss promptly puts it on. He thinks for a moment and then proceeds to absolutely wipe the floor with Kendrick. Attaboy! I find myself cheering for Abyss here. Shock Treatment and Black Hole Slam should teach Kendrick to keep his thoughts to himself. 2 for 3. The approach was quite interesting, but the execution fell flat.

Match 2: X-Division Contract Series: Jack Evans v Jesse Sorensen v Tony Nese: Evans is about the color of Sheamus and wears funny pants, which makes him the standout of this match. His entrance consists of a moonsault and break dancing, so he must win. Nese looks like a complete badass. Sorensen is there to make up the numbers. Nese takes over with chain wrestling while Evans gets tossed. Nese heads to the outside but Sorensen dives onto him, only for Evans to hit a springboard 450! That gets 2 counts on both guys, but Nese takes over with a running knee. Sorensen drops Evans on his head but runs into a German from Nese for 2. Evans stops that count with a standing moonsault, and they all head to the top rope to fight it out. Sorensen gets tossed and Nese gets caught with a front suplex, as Evans finishes with a scarcely believable 630 Splash for the win in 6 minutes. 3 for 4. Fantastic stuff, while not on the same level as last week, that did a good job of letting all three guys look like stars. The crowd was way into it. Let's see if TNA's creative gets the hint.

Doug Williams says that Mexican America is doing the exact same thing the Brits did when they first arrived. He lays out an open challenge for Destination X and says that they'll focus on Mexican America and the tag titles after the show.

Alex Shelley, Amazing Red, Robbie E, and Shannon Moore are in the Ultimate X match. You know what's common between the four of them? None of them have been on Impact in weeks!

Velvet Sky once again tells us that she's sick of being the bullied little runt of the roster. I'm not sure if I would call Velvet "little." She promises to rid Impact Wrestling of ODB and Jaqueline, and I can only hope. 3 for 5 We get our first promo-overdrive section of the show and predictably, it sucked.

Angle gets into his locker room where Sting is laying on his locker, singing songs I can vaguely recognize. Angle says they must get through tonight, and Sting promises that this is all just to get through to Hogan. Sting wants Angle to sing his song, but Angle just walks away. What a party-pooper. Here's some amusing pictures of Sting (impactwrestling.com).

Match 3: Handicap Match: Velvet Sky v ODB and Jackie: Since Jackie and ODB are not technically in TNA, how can anyone force them to leave it if they lose the match? Taz rightly points this out. Velvet attacks Jackie with a chair and beats ODB's ass, but eventually Jackie recovers and the Numbers Game(tm Cole) works against Velvet. There isn't much wrestling of note here, as you might expect. ODB wants sweet revenge so she brings the chair back in, but nails Jackie with it due to Standard Heel Miscommunication. Velvet catches ODB with the DDT to end it in 5 minutes. 3 for 6. Terrible, with the only positive being a slim possibility that this will finally end this idiotic feud. Also, Velvet = delicious.

Pope and Devon have a tag match later tonight, so Pope makes an attempt to pacify Devon by offering him a pair of his shades. Devon wants to have nothing to do with that, and threatens Pope, coming off like a total jerk in the process.

There's a video package about the Daniels/Styles match at Destination X, which Daniels says will be a "real match" as opposed to an "X-Division Match." Yep, on the X-Division- specific PPV.

Match 4: Rob Van Dam v AJ Styles v Christopher Daniels v Jerry Lynn: This is like a four-corners match where there are only 2 guys in the ring and the others have to tag in. RVD wants to start with Daniels, but Lynn blind tags himself in. He snaps off headscissors, and Styles comes in. They fight over armdrags but it results in a stalemate. Lynn wants RVD, so they go at it with some counters and rollups. Daniels comes back in to eat Rolling Thunder where RVD looked to have landed on his neck. Daniels gets dumped so it's AJ v RVD, which quickly switches over to AJ v Lynn. Lynn catches him with an Enzuigiri but Daniels is back in and it's a pier-4. Superman Smash from AJ sends Van Dam outside, and Lynn dumps him. Daniels looks for the BME, but Van Dam tags in to break that up and Daniels falls victim to Lynn's Celtic Cross. Van Dam gets rid of Lynn and nails Daniels with the ***** Frog Splash for the win in 7 minutes. 4 for 7. Not mindblowing, but this was meant to be a teaser for the main courses at the PPV, and it worked at that level.

Eric Young has a trailer, and promises to go to Hollywood and defend his title.

Match 5: Bound for Glory Series: Matt Morgan and James Storm v Devon and The Pope: Remember that the points only go to the man who gets the pin. Devon starts with Storm, but Morgan inserts himself into the match and dominates Devon. Morgan wants his elbows in the corner but Storm tags himself in, only for Devon to escape and tag in Dinero. Storm makes a comeback to dump Pope and it's off to Devon again, who eats the elbows this time. Side slam gets 2 for Morgan but Pope is back in and takes out both guys. Storm retaliates with the Lungblower but Morgan stops the pin. Devon takes advantage to dump Morgan, who tweaks his knee. Pope and Storm fight it out, and Pope clocks him with his own title belt. He then tags in Devon to let him get the points in 6 minutes. 4 for 8. Serviceable match, but it only unwittingly served to showcase the stupidity of the stipulation. There really is no reason to have tag matches in a tournament where points are awarded individually.

Jeff Jarrett says he's the King of Mexico and promises to be back next week with a big fiesta. Oh noes!

Hogan attacks Sting backstage and punches him out, all the while Sting talks about the Eye of the Tiger. Hogan then gets his hands on the bat. "Aw, crap." - Sting. Lights out for Sting. Well, you can't say Sting isn't trying. Hogan reminds him how he would never let Sting embarrass him again.

Match 6: Kurt Angle v Immortal (Gunner, Scott Steiner, Bully Ray, and Abyss): Steiner starts but eats the Overhead suplex for 2. Ray hits a neckbreaker but Angle stops the Bubba Bomb with a German suplex. Gunner tries his luck but doesn't fare well, so Abyss is in to get caught with an Ankle Lock. Angle 4 Immortal 0. Gunner finally turns the tide, and Immortal use quick tags to use their numbers and dominate. Ray has a chain, but Anderson comes out to distract him. That allows Angle to catch Ray with the Angle Slam. Anderson heads to Kurt's corner and there's a HOT TAG~! Don't get me started on the deep levels of LOGIC~ involved here. Anderson cleans house but then in a SHOCKING SWERVE~ hits the Mic Check on Angle, giving Immortal the win in 6 minutes. 4 for 9. Oh, terrible, terrible execution. I don't mind Anderson in Immortal, but what was the point of the swerve? Why did Anderson beat on Immortal for about 10 seconds before joining them? Does it achieve anything? There's a lot of heat (which I'm 90% sure is added post-production) as the camera shows the crowd doing nothing. This had Russo written all over it, and not in a good way.

Wrestling Counter: 35 minutes.

The Score: 4 for 9: Another in a string of decent shows that TNA has put together in the past few weeks, marred by a terrible main event devoid of all logic. It did a fine job of setting up the PPV and delivered two good matches and two which were inoffensive. TNA's generally good at go-home shows because they have a set objective in mind, and as a result the show comes off much more focused. This started out really well but unfortunately ran out of steam in the second hour.

Promote this thread!
John Orquiola
Scrapple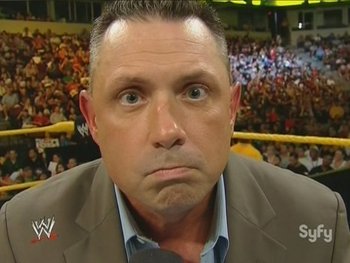 Since: 28.2.02
From: Boston

Since last post: 1397 days
Last activity: 1397 days

#2 Posted on | Instant Rating: 6.29
All I saw was Velvet rid the world of ODB and Jackie Moore. That was the babyfaciest performance of Velvet Sky's babyface career.


---

@BackoftheHead

www.backofthehead.com
El Nastio
Banger



Since: 14.1.02
From: Ottawa Ontario, by way of Walkerton

Since last post: 2 hours
Last activity: 2 hours


ICQ:
#3 Posted on | Instant Rating: 4.72
I looked up that Evans fellow on youtube. The 630 looks impressive, but like the "Swanton" it doesn't look like it has much impact on who he hits it with.

Guy sure seems to like 450's though, I saw him do three different versions in one clip.


---

After a (very) long hiatus, I have begun to write again. And this time, I'm not alone!

Click Here (basisgames.blogspot.com) to check out Basis Games - Video Game/Console Reviews, Commentaries, and Analysis. Check it out!
Scottyflamingo
Bratwurst



Since: 23.6.10
From: Auburn, AL

Since last post: 1742 days
Last activity: 1471 days

#4 Posted on | Instant Rating: 2.77
Originally posted by El Nastio

---

I looked up that Evans fellow on youtube. The 630 looks impressive, but like the "Swanton" it doesn't look like it has much impact on who he hits it with.

Guy sure seems to like 450's though, I saw him do three different versions in one clip.

---


He is crazy and I'm surprised he hasn't killed himself. Saw him do a 630 off a cage to the FLOOR in ROH.

I could see his "You Got Served Hip Hop White Boy" gimmick catching on.
wannaberockstar
Frankfurter



Since: 7.3.02

Since last post: 573 days
Last activity: 558 days

#5 Posted on | Instant Rating: 2.00
I'm still trying to comprehend why Gunner and Crimson are at the top the Bound for Glory series while Bobby Roode, Samoa Joe, and The Pope are at the bottom and Douglas Williams isn't even in it.

I'd question the logic but then I remembered - it's TNA.

Also, I'm no prude but I don't get why TNA feels the need to load almost every promo up with cursing. We get it, you can swear and you're SO different from WWE.

It's *almost* as annoying as Taz's stupid pigeons comments every single time a Knockout enters the ring. Geez, even Lawler toned down that crap.
kentish
Andouille



Since: 19.8.05
From: My Old Kentucky Home

Since last post: 1251 days
Last activity: 505 days

#6 Posted on | Instant Rating: 8.62
Originally posted by Scottyflamingo

---

Originally posted by El Nastio

---

I looked up that Evans fellow on youtube. The 630 looks impressive, but like the "Swanton" it doesn't look like it has much impact on who he hits it with.

Guy sure seems to like 450's though, I saw him do three different versions in one clip.

---



He is crazy and I'm surprised he hasn't killed himself. Saw him do a 630 off a cage to the FLOOR in ROH.

I could see his "You Got Served Hip Hop White Boy" gimmick catching on.

---

I remember seeing that cage spot too, which was years ago in ROH. I always wondered what happened to him. The highlight package featured a lot of contrived spots, but the match was pretty cool. I thought the other 2 looked good as well.


---


"I like your Christ, I do not like your Christians. Your Christians are so unlike your Christ."

-- Mahatma Gandhi

graves9
Sujuk



Since: 19.2.10
From: Brooklyn NY

Since last post: 81 days
Last activity: 52 days

#7 Posted on | Instant Rating: 4.32
I'm amazed how good Jerry Lynn looked after not wrestling a year due to a back injury and being in his last 40's. When he was in there they were moving at a breakneck speed. They also did a good job by having RVD and Lynn in the ring together for like thirty seconds. The four corners match was very , very good. Rvd needed the win the least of the four guys. I wish they'd do something with Daniels. He can be a great heel and is still one of the best wrestlers in the world. He doesn't have credibility right now. The X Division three way was really good and all three guys should be hired. I thought last weeks match was better, but the match was still really good. I wish TNA would have done a better job advertising Destination X, but it's like they don't want you to buy the ppv. Crimson-Roode was a really solid match and told a good story. The Immortal stuff is just a channel changer. Who cares really? Abyss and Eric Young should not be on TV. I mean talk about wastes of space. I dunno what was more pathetic Hogan's punches or the bat shot? Probably the bat shot and that says a lot. I can't wait till there match at BFG. I am looking forward to Destination X which will easily be TNA's best ppv. I am sure the X division will sadly be forgotten after the ppv.

(edited by graves9 on 8.7.11 2047)

---
http://defendingthecore.blogspot.com/
http:/​/​morehardball.blogspot.com/​
wannaberockstar
Frankfurter



Since: 7.3.02

Since last post: 573 days
Last activity: 558 days

#8 Posted on | Instant Rating: 2.00
Originally posted by graves9

---

Eric Young should not be on tv.

---


Hey, he's the television champion!

(I completely forgot too until I looked it up.)