Stilton
Frankfurter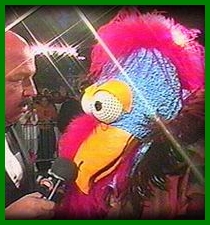 Since: 7.2.04
From: Canada

Since last post: 4519 days
Last activity: 4519 days

#1 Posted on | Instant Rating: 2.47
RAW's resident superheroes, The Hurricane and his trusty sidekick Rosey, lost tonight to Jindrak and Cade…paving the way for the unproven rookies to wrestle as a team in WMXX.

I think this could be a good thing. For one thing, it'll give a chance for Cade and Kindrak to get some big house experience, help them get ready for a push in the tag division.

In the past, the WWE has used a loosing streak as an excuse to break up a tag team and try new things out with the wrestlers in singles roles. Helms and Rosey aren't going anywhere as a team, and aside from a few ironic signs in the crowd about "Hurripowers", I don't think the superhero gimmick is as over as it once was.

Helms could make a huge impact as a cruiserweight babyface. He could truly invigorate that division, I think. Since he won't be wrestling in a tag team in WM, does anyone think we might see Helms join in the Cruiserweight Open?

Rosey has been misused since he arrived on Raw as part of 3 Minute Warning. Would he be more effective on the roster as a classic monster Samoan, à la The Wild Samoans? Just a big scary wall of fat and hair? I believe he would be. He wouldn't certainly be of more use than the wasted clown he's become.

(edited by Stilton on 2.3.04 0100)

(edited by Stilton on 2.3.04 0101)
---

So sayeth Randy Stilton.
Promote this thread!
BigVitoMark
Lap cheong



Since: 10.8.02
From: Queen's University, Canada

Since last post: 4713 days
Last activity: 4622 days


ICQ:
#2 Posted on | Instant Rating: 5.10
I'm absolutely certain we'll see cruisers from Raw, such as Hurricane and Spike Dudley, joining in that CW Open match. They really seem to be making an effort to get as many people as they can on the card, so I think anyone who could conceivably be in this match will be.

And I agree, it's time to split Hurricane and Rosey. Hurricane just hasn't been over to the same degree since he got paired up with the SHIT, and the tag team just hasn't gone anywhere. they've been together for nearly a year now, and if anything was going to happen with them it would have happened by now. He'd be much better off getting a fresh start on Smackdown.


---

Don't you hate pants?
Spaceman Spiff
Knackwurst



Since: 2.1.02
From: Philly Suburbs

Since last post: 90 days
Last activity: 3 hours

#3 Posted on | Instant Rating: 4.05
Helms, in his commentaries on his website, says he feels he did everything he could do in the cruiser division, and would like to stay out of the division for now. Personally, Raw doesn't really have any room for upward mobility, so going back to SD might be his best bet if he wants to move up the card.

I know I've said it many times before, but I'd have him drop the Hurricane gimmick and turn heel w/ the "Sugar Shane" persona. I doubt they'll do it, because 1) the Hurricane gimmick makes merchandise money, and 2) the gimmick is Brian Gewirtz's baby.


---
dskillz
Landjager



Since: 2.1.02
From: Houston Texas

Since last post: 4535 days
Last activity: 4240 days

#4 Posted on | Instant Rating: 5.51
I just want them to bring back 3 Count.

I think Helms had alot to do with the gimmick himself since he is a comic book fan.


---

January 4th 1999 - The day WCW injected itself with 10 gallons of Liquid Anthrax...AKA...The day Hogan "Defeated" Nash to win the WCW title in front of 40,000.
madiq
Boerewors



Since: 27.7.03
From: Brooklyn, NY

Since last post: 3631 days
Last activity: 3624 days

#5 Posted on | Instant Rating: 6.65
So our options are:

1. Hurricane turns on Rosey, goes heel.

2. Rosey turns on Hurricane, goes heel.

3. Hurricane goes to Smackdown, keeps Hurricane gimmick.

4. Hurricane goes to Smackdown, ldrops Hurricane gimmick.

Personally, I don't have a problem with the Hurricane gimmick, but I think the E dropped the ball in transitioning the hokey joke of S.H.I.T. into a real superhero gimmick for Rosey. Instead, they created two jobbers where there once was one. In my opinion, the turning point of the jobberizing of Hurricane was when he confronted Kane and was promptly squashed for his troubles, then Rosey came down to be squashed as well. What could have been a money-drawing feud that would've added a serious edge to Hurricane was pissed away, and Hurricane never recovered.

But if I'm the WWE, *I'm* trying to rehabilitate the Hurricane character, because his merchandise sells, and he is a nice wholesome feel-good character, with HUGE babyface potential, even if he never reaches main event status. The uncertain status of "Sugar Shane" or any other "serious" personae provide a MAJOR deterrent for switching him.

That said, an "Evil" or "Dark" Hurricane is perfectly in line with the character, and just like in the comic book universe, he can emerge from flirting with the Darkside as an even more beloved hero (particularly if a nefarious "Devil's Advocate" is found to be pulling the strings).

And yet, the path of least resistance is to turn Rosey (and really, could you HAVE a less badass name than ROSEY?) heel, thus rehabilitating a monster or henchman heel, while getting Hurricane over as a giant-killer. (Frankly, if you're going that route, you almost want Rosey to be influenced by another heel, like Matt Hardy.)

And if Helms himself is averse to going back to Smackdown, I think that he should stick it out on RAW. In the same way that good booking has made Rey Misterio a big player on Smackdown, despite his size, so could Hurricane become a go-to-uppercarder (sort of a newer, fresher RVD). As much as I think he and Shannon Moore would make a fabulous addition to the Smackdown tag scene, I think that keeping Hurricane on RAW, but rebuilding him through a quality angle is the way to go. Who knows, maybe a good Shawn Michaels or Ric Flair peptalk ("You've got all the tools to be a star in this industry...") would do the trick in the eyes if the fans. But, if course, he has to stop jobbing so damn much...
JST
Toulouse



Since: 20.1.02
From: Quebec City, CAN

Since last post: 129 days
Last activity: 8 days

#6 Posted on | Instant Rating: 6.12
Originally posted by madiq

---

could you HAVE a less badass name than ROSEY?)

---


Roosevelt?


---


Welcome to Wienerboard. Anything by Diane Warren will result in your death.
Net Hack Slasher
Banger



Since: 6.1.02
From: Outer reaches of your mind

Since last post: 4925 days
Last activity: 3345 days

#7 Posted on | Instant Rating: 6.59
I don't get Hurricane's problem being labeled a cruiserweight, the odds of him being in the mix of top of the card is pretty slim. I think him joining the cruiserweight could be a win/win... He gets TV time and can wrestle alot of good opponents and the cruiser division gets some much needed personality especially on the babyface side. After Rey Mysterio who has natural charisma and flash, the cabin is pretty bare.

As for Rosey, even though I hear that he's a real nice guy, maybe it's time to cut bait. He's had a couple of unsuccessful runs now I don't really know what you can do with him now. Maybe Madiq idea isn't too bad, that he could be a Mattitude whipping boy(MFer), but other then a second to someone don't really see much in him... It really is amazing thinking back and hearing about 3 Minute Warning (Island Boys at the time) while in the indies and how they are the best big man tag team to come down since LOD from more then one source. Ooops that was a little off to say the least.


---

smark/net attack wienerville advisory is lowered to BLUE alert - Guarded (Due to Eddie being WWE champ and facing Angle at WM, Benoit winning the Rumble in World title match in mania BUT Kliq members is still a threat - Vince you can save us from these threats) 2/17

Honors for Smartest thing ever written, 5th Horseman "When Victoria, Trish, Molly, and Lilian were in the ring.. I commented to my friends that all of the 4 ladies in the ring were hotter than the all 4 that are fighting over who is the hottest in the WWE"
HallMark
Haggis



Since: 29.5.03
From: Miami

Since last post: 5052 days
Last activity: 5052 days

#8 Posted on | Instant Rating: 2.96
Dude, I don't think he can reprise the "Sugar" Shane gimmick. Remember when he first appeared in the WWE, his name was changed to Gregory Helms. I think the WWE saw the "Shane Helms" moniker was a slight to Fatboy-Backyard Wrestler Shane "O" Mac and Triple H.
The Thrill
Banger



Since: 16.4.02
From: Green Bay, WI

Since last post: 1525 days
Last activity: 159 days

#9 Posted on | Instant Rating: 6.88
Originally posted by Tod deKindes

---

Originally posted by madiq

---

could you HAVE a less badass name than ROSEY?)

---



Roosevelt?

---


Reinhold?

(Thank you, Night Court.)

(EDIT: Post #900 for...Reinhold!?)

(edited by The Thrill on 4.3.04 0734)

---
Star wipe, and...we're out.
Thrillin' ain't easy.
THE THRILL

ACW-NWA Wisconsin Home Video Technical Director...&
A2NWO 4 Life!

(Click the big G to hear the Packers Fight Song in RealAudio!)
bigtotoro
Linguica



Since: 16.2.04
From: houston

Since last post: 5054 days
Last activity: 4005 days

#10 Posted on | Instant Rating: 5.00
Originally posted by The Thrill

---

Originally posted by Tod deKindes

---

Originally posted by madiq

---

could you HAVE a less badass name than ROSEY?)

---



Roosevelt?

---



Reinhold?

(Thank you, Night Court.)

(EDIT: Post #900 for...Reinhold!?)

(edited by The Thrill on 4.3.04 0734)

---


Thank your lucky stars I didn't tell em about...the accordion!
This Is Just Wrong
Linguica



Since: 17.12.03
From: Toronto

Since last post: 5217 days
Last activity: 5162 days

#11 Posted on | Instant Rating: 5.73
the dude seriously needs to drop the Hurricane gimmick

its lame and stupid now

as far as accomplishing all he could in the Cruiser division, what can he really accomplish as a heavyweight...not much, the guy's a jobber because he cant realistically beat even IC level guys

i'd like him back on SD! because even he's a cruiser who is over with the crowd and other than Rey and to a lesser extent Chavo and Tajiri...not many other cruisers are over